Chicken Avocado Salad
You can't consider changing your diet without letting a salad or two slide into your new regime. Salads are very easy to prepare and can taste fantastic. They don't just need to be lettuce, cucumber, and tomato!
Ingredients:
4 lean chicken fillets with no skin
5 cups lettuce leaves
1 avocado
1 cup cherry tomatoes
½ cup mozzarella – you can choose the mini balls or break this up into small pieces yourself.
Basil, salt, and pepper, if required
You'll also need the following to make your marinade:
¼ cup balsamic vinegar
2 tablespoons olive oil
2 teaspoon brown sugar
1 teaspoon garlic – minced
Pinch basil, if desired
Start by placing all the marinade ingredients in one bowl and lightly whisking them together. Now place your chicken fillets onto a baking tray and pour a tablespoon of the marinade over each one. The rest of the marinade is your dressing.
Put a teaspoon of olive oil in a pan and heat it on medium heat. Add your chicken fillets and sear them on both sides. Make sure they are cooked right the way through.
Remove the chicken and allow it to cool before slicing it into small strips.
Now cube the avocado and combine it with the tomatoes, lettuce, mozzarella, and chicken strips. Drizzle some, or all of the remaining marinade over this and serve.
Macros Per Serving:
Fat – 32g
Protein – 22g
Carbs – 10g
Calories – 426
This is another meal that will give you a healthy vitamin boost. In fact, it will give you 113.4% of the vitamin A you need daily and 15.9% of the vitamin C. You'll also get 9.5% of your calcium and 11.6% of your daily iron needs.
Steak Fajitas
Fajitas are generally high in carbs, but you can swap them for thinly sliced sirloin steak and get a high protein, low carb recipe that tastes fantastic.
Ingredients:
1 lb thinly sliced sirloin steak
3 red peppers, you can use other colors if you wish.
1 tablespoon olive oil
1 large onion
Juice from 1 lime
Parsley, if desired
Before you start you'll need to make your seasoning. To do this, mix together 1 teaspoon of each of the following ingredients:
Chili powder
Paprika
Garlic powder
Cumin
You can also add a pinch of oregano, salt, and pepper, if desired.
This seasoning can be stored in an airtight container for 2-3 months.
Now cut your steak into 2 inch wide strips; they should be approximately 6 inches long. Rub these strips in the seasoning mix and leave to one side.
Place your olive oil in a pan and put over medium heat. Once warmed, add the sliced peppers, diced onion, and any spices you desire. These should be tender within 3-5 minutes.
Place a spoonful of these vegetables on top of each sirloin slice, then roll them up and hold them shut with a toothpick. Pop the rolled up pieces back in the pan and cook for 2-3 minutes on each side, ensuring the meat browns nicely.
To serve, add a little lime juice, the parsley, and any other herbs you want. You can also mix up a quick salad to accompany them.
Per Serving (one rollup fajita):
Fat – 1g
Protein – 6g
Carbs – 2g
Calories – 50
Points to Consider
In general, high protein low carb recipes for weight loss actually work. However, you may not want or be able to sustain this type of diet indefinitely.
That's why it's essential you choose menu options and exercises that fit with your lifestyle. This will increase your chances of sticking to a healthy eating plan for the long term.

You should also note the following points:
It is possible that fatty meats, whole dairy products, and other high-fat foods can raise your cholesterol levels. Be careful not to consume too much fat.
High consumption of protein can place extra strain on your kidneys, which could be an issue if you already have a kidney issue.
Some research suggests more frequent urination on a high protein diet with increased disposal of calcium. This has been linked with osteoporosis and kidney stones, although more research is needed.
In short, if you're ready to try these high protein low carb recipes for weight loss, and you have a pre-existing medical condition, it may be worth checking with your doctor first. At least one study found a low-carbohydrate diet resulted in similar or greater improvement in inflammation among obese persons, but reported adipocyte dysfunction.
Getting Started
The great news is that high protein low carb recipes are only the tip of the iceberg. Alongside our great articles, recipes, and workout information, the Fit Father Project also offers a free 1-day meal plan. Here you can access hundreds of other recipes and even exercises to help you lose weight and build muscle.
For a complete overhaul, join the FF30X program.
If you can make it through all three phases, you join the ranks of thousands of existing members.
The entire challenge will motivate and inspire you to share your story with others.
If you enjoyed these high protein low carb recipes for weight loss, consider sharing them with a friend.
Here's A Free Weight Loss Meal Plan For Busy Men 40+
Discover exactly what to eat for breakfast, lunch, and dinner to lose belly fat & feel energized 24/7 without hard dieting...
Your new friend & health coach,

Here's How Busy Fathers Over 40 Are Finally Burning Stubborn Belly Fat & Getting Healthy Without Restrictive Diets or Time-Consuming Workouts
This proven "Fit Father Program" has helped 25,000 busy men 40+ lose weight, rebuild muscle, and finally keep the weight off.
If you're frustrated with stubborn belly fat, failed diets, and time-consuming workouts, this is the answer you've been looking for…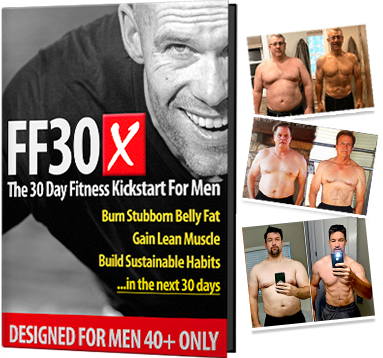 Join 22,000 guys in over 98 countries are using FF30X to lose weight. You get everything you need to succeed – including:
The Fit Father Meal Plan – with simple & delicious recipes
Safe & Effective Workouts Program – only 90 min/week
VIP Accountability Coaching – our Fit Father Team will personally walk you to success, step-by-step.
LEARN MORE ABOUT FF30X >>
See the FF30X Program overview here. You'll discover how this proven Fit Father Program can help you lose weight and actually keep it off – without the complication and restriction of normal diets. »
*Please know that weight loss results & health changes/improvements vary from individual to individual; you may not achieve similar results. Always consult with your doctor before making health decisions. This is not medical advice – simply very well-researched info and high protein low carb recipes for weight loss.