B
eing health-conscious over the holidays is a challenge. From the feasts to the treats, there are plenty of tempting ways to get off track. We have something for you here that will help you out.
These holiday tea recipes are a cozy way to get into the holiday spirit while fitting into your blue jeans.
Check out our jolly recipes below and see which one you'll brew to share!

Holiday Tea Recipes: #1 – A Jolly Mint
Mint is a soothing herb that's been used for many years to ease upset stomachs.
Depending on how big of a feast you've had, you might want a cup or two!
This holiday take on mint tea adds a little spice.
You will need:
Water
Cinnamon stick
Cloves
Allspice
Mint leaves
Honey
Double the recipe to share with your family.
Holiday Tea Recipes: #2 – Citrus Spice
This spiced holiday tea recipe features distinctive citrus notes that sets it apart.
With pineapple, orange, and lemon juice giving some great sweetness, the cloves and cinnamon find a delightful balance.
You will need:
Water
Cloves
Cinnamon stick
Lipton tea bags
Orange juice
Sugar
Pineapple juice
Lemon juice
This 6-serving recipe is sure to start a new tradition!
Holiday Tea Recipes: #3 – Not Your Granny's Cranberry Ginger
This tea merges both cranberry and ginger to give you a tart, fruity treat.
There are many health benefits to cranberry and ginger. Cranberries are known to cleanse the kidneys, while ginger is known to support the immune system.
You will need:
Water
Cranberries
Lemon juice
Ginger
For extra feel-good points on this recipe, make sure your ingredients are organic.
Holiday Tea Recipe #4 – Holiday Tea Punch
This tea is a little sweeter than the rest, but it's an amazing treat to serve at holiday parties.  Here are a few healthy snacks ideas to go along with the tea and keep your guests happy and healthy.
Water
Cranberry tea
Cranberry juice (unsweetened)
Apple juice (unsweetened)
Welch's sparkling red grape juice
Lime juice
Keep It Going
With all this talk of healthy teas, you might be wondering if there's another way you can step up your eating game.
Our free 1-day meal plan might be the perfect place for you to start.

FREE 1-Day Weight Loss Meal Plan For Men 40+
Lose weight. Eat like a man. Enjoy your life. Over 55,000 men are using this.
Get yourself back into great shape - at any age the Fit Father way.

This plan tells you exactly how to eat, morning, noon, and night.
With our perfect Plates principle, you're able to make endless combinations of healthy food. If you're never bored with your diet, why would you ever go off of it?
Try it.
This is what the holiday season is for– making positive changes!
Dr. Anthony Balduzzi, M.D. – Naturopathic Medicine, B.S. – Nutrition, B.S. – Neuroscience
Founder, The Fit Father Project & Fit Mother Project

Dr. Anthony holds dual degrees in Nutrition & Neuroscience from the University Of Pennsylvania, a Doctorate in Naturopathic Medicine, and is also a national champion bodybuilder.

After watching his own Dad lose his health and pass away at the young age of 42, Dr. Anthony founded The Fit Father Project & Fit Mother Project to help busy Moms and Dads get and stay permanently healthy for their families.

Brotherhood Nickname: "Mr. Results"
Bragging Rights: Has helped 10,000+ fathers lose 75,000+ lbs and rebuild lean muscle
If you're interested in a proven and completely laid out "done-for-you" weight loss meal plan & workout routine – designed for you as a busy man…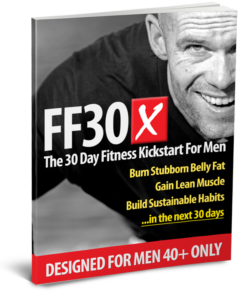 I'd recommend you read the program overview letter for our Fit Father 30-Day Program (FF30X).
Inside FF30X, you'll receive:
The simple & delicious Fit Father Meal Plan
The metabolism boosting Fit Father 30X Workout (under 90 min/week)
VIP email coaching where I'll personally walk you through the program
Read the FF30X Program overview letter here to see how our plan can help you lose weight – without the complication & restriction of normal diets.
Small note about research cited in this article:
*Always remember: weight loss results & health changes/improvements vary from individual to individual. Just because these studies cite certain data does not mean you will experience these results. Always consult with your doctor before making decisions about your health. This is not medical advice – simply very well-researched info on holiday tea recipes.