Holidays are challenging times to stick to fitness goals. You're scheduling holiday celebrations, but are you scheduling holiday workouts?
And during the winter, the days are shorter and colder, which can make it hard to get outside or to the gym to workout.
Plus, when you add holidays to the mix, along with having the kids at home, this is a pretty hectic time.
This is where exercising with your kids is the perfect solution.
Right now is the perfect opportunity to introduce exercise and fitness to your kids. Think of it as physical education and health class all in one!
Plus, you can burn calories and build strength right along with them.
And you will be teaching them about the importance of health and fitness that they can use for years to come.
Try the following holiday workouts the whole family will love!
Want more fitness for the family? Try these exercises for kids!
Here's A Free 24-Min Fat Burn Workout For Busy Men 40+
This powerful workout will reignite your metabolism to burn fat 24/7 like you did in your 20s…
Weight Gain Over the Holidays
Obesity and weight gain are major health issues. Weight gain over the holidays contributes a great deal to this.
You may think that you can simply just lose the weight that you gain over the holidays.
However, studies have found that weight gain over the holidays typically isn't reversed in the spring and summer months.
This means unhealthy choices that you make during the holidays carry over in the long term, and that any year-long weight gains are usually during the holiday season.
Even if you have a full schedule of activities over the holiday season, there are still ways to sneak in quick workouts.
Plus, when you add in workouts with your spouse and kids you won't feel like you are losing out on family time.
One way to get in exercise over the holidays is by doing little mini-workouts throughout the day.
This is perfect for days when you can't get away for a formal training session.
Just because these sessions are short doesn't mean they aren't effective.
Brief, intense exercise can improve cardiovascular health to the same extent as sustained endurance exercise even with lower total exercise volume!
So even a short workout is far better than no workout at all.
Quick At-Home Workouts
High-Intensity Micro Workout
Make sure you have a towel and water available for this short, but intense workout.
High intensity interval training can burn as many calories over 24 hours as longer bouts of lower intensity exercise, even with a much shorter duration!
Burpees with push up for 20 seconds, rest 10 seconds
Tuck jumps for 20 seconds, rest 10 seconds
Mountain climbers for 20 seconds, rest 10 seconds
Spiderman push-ups for 20 seconds, rest 10 seconds
Repeat the circuit twice for a quick 4 minute Tabata style workout. If you have extra time you can add on a third circuit.
Lack of time to exercise during the day because of your busy lifestyle? These micro workouts will change everything!
Stair Workout
If you don't have cardio equipment at home and it's too cold to get outside for a run, you can utilize your stairs to get your heart pumping.
Sprint up your stairs once, walk or jog back down.
Sprint up your stairs, walk or jog back down.
Immediately sprint back up again.
Stop at the top and do 10 push-ups.
Then walk or jog back down.
Sprint up your stairs, walk or jog back down.
Sprint up again, then stop at the top and do 5 burpees.
Walk or jog back down.
Sprint back up a third time.
Stop at the top and do 10 jumping jacks.
Walk or jog back down.
Repeat two times through for a quick and efficient cardio workout that will also strengthen your lower body.
If you can do this 3 or 4 times throughout the day, that's even better!
A 2019 study published in Applied Physiology, Nutrition, and Metabolism found that three bouts a day of vigorous stair workouts done three times a week was highly effective at improving cardiovascular health.
Workout During Commercial Breaks
Some days you can't get to the gym, whether it be a long workday or needing to be at home with your kids.
But chances are you will be taking some time to watch some great holiday classics on TV this year.
Since commercials typically last about two minutes, you can get in this quick workout whenever you have a break in your movie.
Jog in place for 30 seconds. This can start out as a light jog at first, then increase the pace.
Burpees for 30 seconds. You can do these with or without a push-up. Remember to keep your core engaged throughout the movement.
Alternating lunges for 30 seconds. Start out slowly and then gradually increase the intensity. Be sure that your knees don't track over your feet during each movement.
Elbow plank for 30 seconds. Don't let your back arch while holding this position. If you feel your form fading, come out of the plank for a brief second and then resume.
Here's another quick commercial break workout so that you don't get tired of doing the same thing over and over again.
Tricep chair dips for 30 reps. This is a quick exercise you can do whenever you have a couple of minutes. Just move to the edge of your chair or couch and lower your body down into a tricep dip until your arms are parallel to the ground. Push back up, being sure to keep your arms close to your body.
Jump squats for 30 seconds. You can do these awesome quad and glute burners right next to your couch. Be sure that your knees don't track over your feet. Engage your core and maintain good posture throughout to avoid injury.
Push-ups for 30 seconds. Push-ups are a great upper body and core workout. These can be done just about anywhere, and there are a number of variations that can be done throughout the day. You can start out with standard push-ups. The next time you can do military push-ups, or put your feet up on your chair and try decline push-ups. This will allow you to engage different muscles in your chest.
Calf raises for 30 seconds. Stand next to your couch and perform 30 seconds of calf raises. Try changing the angle with this exercise as well. Do 30 reps with your toes pointing forward. Then try the next 30 reps with your toes pointed out, and finally, do another set with your toes pointing in to target all areas of your calf muscles.
These short workouts will give you both cardiovascular and strength training benefits.
Try to move right from one exercise to the next to keep your heart rate up, and to finish before your show starts back up!
Workout With the Family
If you want to get in a longer, more formal workout session during the holidays, you can involve your spouse and kids so you don't feel like you are missing out on family time.
You can create your own at home circuit workout and challenge each other to pump out the most reps.
At-Home Family Workout Circuit
Warm-Up
Of course, you already know the benefits of a good warm-up before a workout. So now is the time to teach this to your kids!
At a young age, you should teach them to begin every workout with a warm-up.
Prior to starting the circuit workout, do a quick 5-minute jog around the backyard.
Or they can do a few minutes of alternating jumping jacks, jump rope, and jogging in place.
Anything to get the heart pumping a little!
Main Set
Perform 30 seconds of each exercise, then rest for 30 seconds, then move to the next exercise.
This will be a quick introduction to high-intensity interval training for your kids, while you will also benefit from a great aerobic and strength training workout.
You should demonstrate each move for your kids so they can see the proper form.
While you want them to work hard during the intervals, be sure to emphasize that the quality of the exercises is more important than the quantity.
Push-Ups
You can have your kids start on their knees and show them how to bring their chest to the ground in a controlled manner before exploding back up.
You can even show them some different push-up variations to try, like narrow or wide push-ups.
Jump Rope
Start with standard jump rope with single hops on both feet.
Once your kids have mastered this you can teach them some other fun versions, like single-leg or side-to-side jump rope.
Air Squats
Show your kids how to squat down until their quads are parallel to the ground.
Start with basic squats and progress to jump squats.
Tricep Dips
You can have your kids sit on the ground with their knees bent and their arms behind them with their fingers pointing forward.
Have them straighten their arms so that their butts are slightly off the ground.
Then demonstrate how to do a tricep dip by bending the elbows to lower their butt to the ground and then extending the arms to come back up.
Or they can put their hands on the edge of a chair with their feet out in front to perform these dips.
Side to Side Hops
Instruct your kids to keep their legs together and knees slightly bent as they jump about 1-2 feet from right to left.
They should swing their arms by their sides as they do this to keep their momentum going.
After completing these five exercises, tell your kids to rest for 1 minute. Then repeat 1-2 times.
This circuit can keep your kids moving for 10-15 minutes and is an awesome introduction to interval training that will boost cardiovascular and strength gains.
Just like with our "adult" workouts, you should teach your kids to cool down after every session as well.
Include some dynamic and static stretches to keep their joints flexible and bodies injury-free.
This is a fun workout that the whole family can enjoy right from your own living room with no need for extra equipment.
Learn how to involve your whole family in your weight loss journey.
Sneak In Some Holiday Workouts This Season
With the kids being home more than ever now, this is the perfect time for the whole family to stay in shape together.
Not only will you be able to fit in a workout, but you will be introducing your kids to a fun and healthy lifestyle.
Along with these at-home exercises, you can also start talking to your kids about other aspects of health and fitness, like nutrition and dietary choices.
Having the kids help with shopping and preparing meals will not only teach them about a healthy lifestyle now but for the rest of their lives.
The Fit Father Project was built around the principles of leading a healthy lifestyle for you and for your family.
Incorporating exercises for your kids to enjoy with you is a part of that ideal.
Here's How Busy Fathers Over 40 Are Finally Burning Stubborn Belly Fat & Getting Healthy Without Restrictive Diets or Time-Consuming Workouts
This proven "Fit Father Program" has helped 38,000 busy men 40+ lose weight, rebuild muscle, and finally keep the weight off.
If you're frustrated with stubborn belly fat, failed diets, and time-consuming workouts, this is the answer you've been looking for…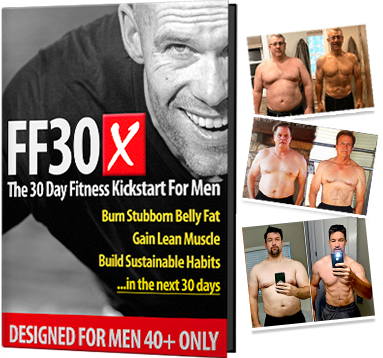 Join 38,000 guys in over 108 countries that are using FF30X to lose weight. You get everything you need to succeed – including:
The Fit Father Meal Plan – with simple & delicious recipes
Safe & Effective Workouts Program – only 90 min/week
VIP Accountability Coaching – our Fit Father Team will personally walk you to success, step-by-step.
LEARN MORE ABOUT FF30X >>
See the FF30X Program overview here. You'll discover how this proven Fit Father Program can help you lose weight and actually keep it off – without the complication and restriction of normal diets. »
*Please know that weight loss results & health changes/improvements vary from individual to individual; you may not achieve similar results. Always consult with your doctor before making health decisions. This is not medical advice – simply very well-researched info on holiday workouts.