I
couldn't begin to count the number of protein bars I've eaten in my life.
From breakfasts to afternoon snacks to gym fuel, protein bars are a HUGE part of my daily routine.

And while protein bars seem like a great way to build your muscles with protein and avoid snacking on "bad" food, they can also fall into the "bad" food category themselves.
How could that be, you ask?
If you've ever read the nutrition labels of protein bars, you've probably struggled to pronounce a few of the ingredients in them.
From soy isolates to unexpected names for sugar, protein bars in our grocery stores are full of processed, chemically-altered ingredients.

But that doesn't mean that your pantry has to be full of that!
We've compiled a list of our top homemade protein bars for you to try.

Say goodbye to unexpected sugar and indecipherable ingredients. Say hello to your new favorite breakfast, snack and gym fuel.
Homemade Protein Bars: The Basics
There are endless kinds of homemade protein bars that you could make, but many of the best follow this formula!
Most homemade protein bars have four main ingredient categories:
Nuts, seeds, oats to form the crunchy basis and provide good proteins, fats and fiber
Dates, dried fruits and nut butters to bind the ingredients together
Unique flavors like spices or dried coconut to make things tasty
Protein powders to ensure you're getting enough protein
There are so many flavor combinations that you can try to satisfy your cravings. Next up are a few of our favorites.
Homemade Protein Bars: Cookie Dough Bars
Just from the name of this homemade cookie dough protein bar, you know this one is going to be delicious. In fact, all of these homemade protein bars taste better to us than the store bought ones!
These baked homemade protein bars are bursting with oats, your choice of nut butter and chocolate.

And the great thing is, they are free of gluten, refined sugar and are vegan! As long as you use plant-based protein powder and chocolate chips that are dairy-free.
1 cups quick oats, ground into a flour
1 cup quick oats
½ cup vanilla protein powder
½ cup Medjool dates, pitted (about 6 large dates)
¼ cup almond butter (or any nut butter)
½ cup unsweetened vanilla almond milk
1 tsp. vanilla extract
Check out the baking instructions for your perfect bite.
Homemade Protein Bars: Matcha Coconut Crunch
Superfood alert! Matcha has become increasingly popular over the years for its huge serving of antioxidants.
These homemade protein bars feature matcha, coconut flakes, almonds and cashews for an unexpected treat.

With their green look, you'll be sure to attract some attention! Share a piece to spread the love for homemade protein bars.
1 1/4

cups

dates

pitted + roughly chopped

1/2

cup

almonds

1/2

cup

cashews

1/4

cup

hemp seeds

1

tsp

vanilla bean or pure vanilla extract

1

tbsp

matcha powder + additional for sprinkling

2

tbsp

cacao nibs unsweetened

1/4

cup

unsweetened coconut flakes
Instead of baking these bars, you pop them into the freezer!
Homemade Protein Bars: Spicy Ginger
Did someone ask for spice? These ginger vanilla homemade protein bars are a delicious combination.


With a secret ingredient of crunchy corn flakes, these bars will have your tastebuds dancing, your teeth crunching, and your waistline in check with its clean protein.
1 cup Gluten Free Old Fashioned Rolled Oats
1/2 cup Erewhon Corn Flakes, crushed (or more oats)
1/2 cup raw almonds, chopped
1/4 cup shredded coconut
1/2 cup crystallized ginger, chopped small
1/3 cup almond butter
1/4 cup maple syrup
2 tablespoons cashew milk (or your choice)
1/2 cup Medjool dates, pitted and chopped small
2 scoops vegan vanilla protein powder
These baked bites will warm you and keep you going throughout the day!
Homemade Protein Bars: Peanut Butter and Chocolate
We had to round out our list with the classic combination of peanut butter (or any nut butter) and chocolate!


These no-bake peanut butter homemade protein bars are just a delight. From the smooth texture to the chocolate drizzle, these are a hit at every household.
We love a healthy take on such classic flavors.
1.5 cups gluten-free rolled oats, blended into a flour

1/2 cup unsweetened/unflavoured vegan protein powder (I use Sunwarrior Warrior Blend Natural)

1/2 cup rice crisp cereal

1/4-1/2 teaspoon fine grain sea salt, to taste

1/2 cup natural peanut butter, almond butter, or sunflower seed butter

1/2 cup pure maple syrup (or liquid sweetener of choice)

1 teaspoon pure vanilla extract

3 tablespoons mini dark chocolate chips

1/2 tablespoon coconut oil
Once you combine your ingredients, all you have to do is wait for them to set in the freezer and finish with a drizzle of chocolate! Yes, please!
Homemade Protein Bars: To Make or Not to Make
The choice is yours, my friend. But let me tell you, life has been naturally sweeter and cheaper once I made the switch to homemade protein bars.
When you think about it, some protein bars these days are going for $4 a pop!
Between paying less and knowing exactly what's going into your protein bars, making them at home is an amazing option.

Share this list with your friends and comment with other recipes you like!
Here's A Free Weight Loss Meal Plan For Busy Men 40+
Discover exactly what to eat for breakfast, lunch, and dinner to lose belly fat & feel energized 24/7 without hard dieting...
Your friend in health,

Here's How Busy Fathers Over 40 Are Finally Burning Stubborn Belly Fat & Getting Healthy Without Restrictive Diets or Time-Consuming Workouts
This proven "Fit Father Program" has helped 25,000 busy men 40+ lose weight, rebuild muscle, and finally keep the weight off.
If you're frustrated with stubborn belly fat, failed diets, and time-consuming workouts, this is the answer you've been looking for…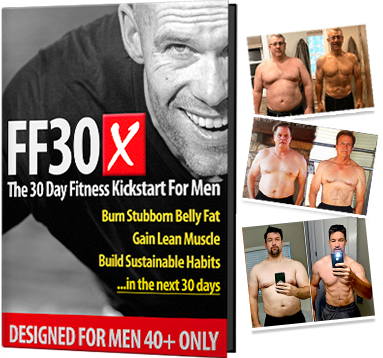 Join 22,000 guys in over 98 countries are using FF30X to lose weight. You get everything you need to succeed – including:
The Fit Father Meal Plan – with simple & delicious recipes
Safe & Effective Workouts Program – only 90 min/week
VIP Accountability Coaching – our Fit Father Team will personally walk you to success, step-by-step.
LEARN MORE ABOUT FF30X >>
See the FF30X Program overview here. You'll discover how this proven Fit Father Program can help you lose weight and actually keep it off – without the complication and restriction of normal diets. »
*Please know that weight loss results & health changes/improvements vary from individual to individual; you may not achieve similar results. Always consult with your doctor before making health decisions. This is not medical advice – simply very well-researched info on homemade protein bars.