C
ongratulations on losing the weight! If you're wondering how to maintain weight loss, we have some great news for you!
Maintaining weight loss is going to be a lot easier than losing weight. The hard part is over, so pat yourself on the back!
Use these tips to build life long habits and make the journey that much easier.
1. Keep a Positive Mindset
The most important part of losing weight and understanding how to maintain weight loss is realizing that you need to change your mindset.
A can-do attitude will help you maintain a healthy diet and active lifestyle.  Keep a positive attitude towards healthy habits.
These are sustainable in the long term and will help you to lose weight and keep it off.
It's that simple – you want to change your lifestyle habits forever.
2. Join a Support Group
If you really want to succeed at weight loss and maintaining weight loss, then you need a good support group.
Telling your best friends and family can help them to understand what you're trying to achieve. Their support can be incredibly beneficial for overcoming hurdles.
Join the FF30X today to get the accountability, support, inspiration, and motivation you need.
You'll learn from the other men who have lost the weight or are in the process of losing it.
Their experiences and advice will be how you maintain the weight loss. You'll even be able to inspire others with your stories in the future.
3. Re-Visit Your Motivation
When you first decided to lose weight, there will have been a motivating factor.
Everyone has their own reason, ranging from a health scare, an inability to keep up with children, or even a desire to look good for a specific event.
Unfortunately, motivation is easily forgotten, especially after you've had the initial success of reaching your target or even just one of your goals.
That's why you need to take a moment to re-visit your original motivation.
It should inspire you to keep going, whether that is learning how to maintain weight loss or even to lose some more weight.
4. Change Your Meal Plan
Even when you know a specific meal plan is good for you, it can be hard to stick to the same thing every day.
That's why you need to mix it up a little and focus on eating the right nutrients more than the exact foods you're eating.

The Fit Father Project offers some great meal plans and recipes. Take a look at this free meal plan to get you started.
Alongside a good meal plan, you should also start integrating the Perfect Plate approach to eating.
The focus with this approach is on ensuring every plate of food you have is ½ vegetables, ¼ protein, and ¼ carbohydrates.
Combine the perfect plate with a smaller than normal plate, and you'll have calorie control, combined with adequate nutrient intake, without any need to monitor everything you eat!
5. Try Meal Prep
Knowing the right food to eat isn't always enough to prevent you from grabbing fast food.
It's a particular risk after a stressful day when you have limited time to make yourself a healthy treat.
However, you can avoid temptation as a part of your commitment to maintaining weight loss.
The secret is to prepare your meals in advance.
This approach works fantastically with the perfect plate. You don't need to prepare whole meals, just vegetables, protein, and carbs.
You can then choose which specific items you're in the mood for, pop them on your plate, reheat if necessary, and enjoy.
It doesn't get much easier than that, and it prevents you from falling off the wagon.
Simply take a couple of hours twice a week to prepare the food for the next few days. That's it! You'll find this technique of how to maintain weight loss really does help. After all, it's all about what food goes into your body:
6. Avoid Processed Foods
Processed foods are convenient, Unfortunately, they also tend to be bad for your waistline.
The main reason is the amount of sugar, salt, and chemicals which are essential to extend the life of the food.
The sugars and chemicals are actually addictive, encouraging you to eat more of them, effectively consuming more calories than you need.
This study looked specifically at processed versus unprocessed foods. Put simply, eat processed foods and expect to gain weight.
7. Check Your Weight
By using the scales two or even three times a week at the same time of day, you'll actually be focusing your thoughts on weight more often.
This means when you think about having that dessert or the last slice of pizza, you'll think of the scales and decide against it.
The scales give you accountability, helping you to maintain weight loss.
8. Grab a Tape Measure
Of course, if you're exercising as well as eating more healthily, you may actually be gaining muscle.
This is going to disrupt your weight loss.
By measuring your waist, thighs, chest, and biceps, you'll be able to determine if improved muscle tone is responsible for your weight staying the same.
9. Schedule Your Exercise Time
When you're trying to learn how to maintain weight loss, you need to start setting yourself a schedule.
If you find that it's easier to make an excuse than it is to actually exercise, then you need to start building a habit.
The best way to build this habit is to simply schedule a time to exercise every day.
Stick to this time and slowly improve the intensity of the exercise.
10. Lift Some Weights
Strength training is generally faster than cardio making it easier to fit into your daily routine.
Strength training is also effective at helping you to burn fat. When you strength train, you're tone muscles, resulting in your body burning more calories.
The more calories you burn, the greater your fat loss.
The next time you need some motivation to maintain weight loss, simply pick up your dumbbells and spend five minutes doing some muscle building exercises.
What Are The 5 Best Muscle Building Exercises For Men 40+?
The secret to building age-defying muscle in your in 40s, 50s, & 60s is to modify the best muscle building exercises (bench, squats, rows) to make them safe on your joints…
11. Enlist a Friend
Sometimes you need the assistance of a friend.
Having a friend to go running with can make a huge difference in whether or not you go.
Having a weight loss friend will hold you accountable and get you through the plateaus and valleys.
You'll also be able to encourage them when at their point of weakness.
Accountability and encouragement is a two-way street that helps both individuals build confidence and achieve goals. 
12. Set a New Goal
You may remember when you first started losing weight that you had a goal.
One of the best ways of maintaining that weight loss is simply to set a new goal.

Ideally, set yourself a weekly goal, and make sure it is achievable. Obviously, don't make it too easy to achieve!
You may be surprised at how much this helps to maintain weight loss.
13. Reward Yourself
If you really want to know how to maintain weight loss, then it's important to start creating some rewards.
Of course, these shouldn't be foods that will ruin your healthy eating plan.
But, you can reward yourself with new fitness gear, clothes, or even a music player. The sky really is the limit.
14. Eat Before You Go Shopping
Never shop on an empty stomach.
Research shows that this encourages you to spend moreand buy higher calories foods. If you're buying groceries, the mistake could be devastating.
Eat a good meal before you buy a few weeks worth of food. It's also a good idea to make a list and stick to it.
If you're preparing your meals in advance, shopping should be relatively simple and straight forward. There isn't even a need to go down the snack aisle.
15. Sleep More
Sleep is actually one of the most important processes for the human body.
When you sleep, your body balances hormones, specifically your appetite and feeling of fullness.
Get between 6-8 hours sleep a night to feel fuller and enjoy a decreased appetite, helping you to maintain the weight loss.
16. Cut Your TV Time
It may seem simple, but the time spent in front of the television equates to a wasted opportunity to burn calories and maintain weight loss.
Simply cut 30 minutes from your TV schedule and move around instead. It will help.
17. Drink Water Like It's Going Out of Style
Water is essential for every cell in the body.

It keeps them hydrated, allows the movement of energy in and toxins out, and it also contributes to keeping your skin young.
But, water also makes you feel full.
Drinking more water and having a glass every time you feel hungry will help you to discover the secrets of how to maintain weight loss.
In short, drinking will cut down your food intake and keep your body functioning properly.
18. Regulate Your Meal Patterns
Research shows eating at approximately the same time every day helps to regulate your metabolism and prevent weight gain.
Whether you eat 3 meals a day or 6, don't start skipping any, just keep them balanced and regular.
A regular eating schedule will prevent overindulging and going off the rails.
19. Buy New Clothes
This corresponds with rewarding yourself but is also a great way to boost your motivation and ability to learn how to maintain weight loss.
Purchasing new clothes that you really like but are a little tight will inspire you to lose extra weight and set yourself a deadline for wearing them. It won't just help you maintain weight loss; it will help you lose more.
20. Try Green Tea
Green tea is thermogenic. This means it raises your core body temperature.
When you drink it, your body has to respond, bringing your core body temperature back to normal. This burns calories helping you to keep the weight off.
21. Remember Fiber Is Your Friend
Fiber makes you feel fuller, helping you to go longer without food or avoid temptation.
It is also good for your digestive system and can even boost your metabolic rate, increasing your calorie burn!
Make sure you add high fiber foods like avocado, raspberries, prunes, figs, and green peas to your diet.
22. Try Intermittent Fasting
Intermittent fasting means that you don't eat or limit your eating to 500 calories for a scheduled period.
While we already recommended a regular eating schedule, intermittent fasting can help burn off a few calories when it's needed.
By doing this, you'll reduce your calorie intake and make up for any mistakes you've recently made.
23. Sign Up for an Event
If you really want to know how to maintain weight loss, then simply sign up to at least one event every year.
It doesn't matter if it's a charity 5k, a full-on marathon, or anything else between.
By committing to an event, you'll have to focus on maintaining weight loss and improving fitness.
It's also a great way to challenge yourself and gain some confidence.
24. Get a Standing Desk
Office workers can spend as much as 6-7 hours a day sitting. Sedentary positions are bad for your back and increase the likelihood of fat build up.
Prevent this issue by switching to a standing desk or at least taking several moments to stand up and walk around.
25. Reduce Stress
Finally, stress is part of modern life, despite being linked with heart disease and other age-related conditions.
Stress also encourages weight gain as the product of the stress hormone blocks the production of other hormones, such as those that control hunger and appetite.
Reduce your stress, and your body will thank you for it in more ways than one.
Get the Help You Need to Maintain Your Weight Loss

If you have recently lost the weight, then congratulations!
If you enjoy pushing yourself, consider working through all three phases of FF30X.
Alternatively, you may be interested in building some muscle at this point.
Packing on a few pounds of muscle is a great way to maintain and improve your look.
Our Old School Muscle program will walk you through the ins and outs of muscle building.
Click the link below to get started with your first workout.
>>> Click here to try our free muscle building workout! <<<
Your new friend & health coach,

Here's How Busy Guys 40+ Are Building Age-Defying Muscle And Strength… Working Out Just 3 Hours Per Week
This proven "Old School Muscle Program For Guys 40+" combines the "old school" bodybuilding secrets with the "new school" science… to produce muscle & strength building results fast.
Only for guys 40+ who want to build muscle.
If you're frustrated with stubborn belly fat, failed diets, and time-consuming workouts, this is the answer you've been looking for…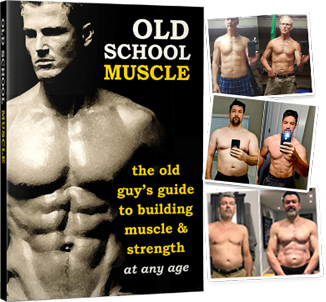 Old School Muscle (OSM) covers every aspect of building muscle for you as a guy 40+:
Old School Muscle (OSM) covers every aspect of building muscle for you as a guy 40+:
The 9-Week Muscle Building Program – safe, joint-friendly exercises
VIP Accountability Coaching – our Fit Father Team will personally walk you to success, step-by-step.
See the Old School Muscle (OSM) Program overview here. You'll discover how this proven program has helped thousands of guys 40+ pack onage-defying muscle and strength – the smart & sustainable way. »