How Busy Fathers Can Benefit from Building a Home Gym
W
hether you are a father of only one child or many, your time is at a premium. It feels like you are being pulled apart between the work schedule and family obligations. There is very little time during the week where you have a moment to just sit down and relax. When the kids are finally asleep and the house is quiet, it is the perfect time to get things accomplished before it all starts over again the next morning.
Does all of this sound familiar to you? With your time being so precious now that you are a father, it is often tough to get to the gym. Remember the days when you used to be in shape and your clothes all fit? When didn't you have to sit down and take a break after running around the yard with your kids? You can have those days back if you really want to. You just need to focus a bit on your health and fitness.
Of course, you are probably thinking that is easy to say, but how do you achieve this change in your lifestyle. How do you create more time in the day so it allows you to hit up the gym and get a workout in? The key is not to go to the gym, but have the gym come to you. More and more fathers are creating their own home gym in an effort to become healthier. You may doubt your ability to build your own home gym, but it is actually easier than you may think.
Benefits to a Home Gym
There are numerous benefits to having a home gym. One of the main advantages is that you can get to it in a matter of seconds. People mistakenly believe that going to the gym only takes up an hour of time every day. The workout may last about an hour, but there is a good chance it takes you another half an hour to drive back and forth. Plus, you are spending money on gas as you transport yourself over and over again. With a home gym, you will be saving time and money in the long haul.
Won't it be nice to get rid of that costly gym membership that you currently have, but never use? If your membership is costing you $40 a month, that is nearly $500 a year alone. Plus, as many of us who have spouses do, you might even be paying for a couple's gym membership. If we put that amount at $70 a month, you are almost spending a thousand dollars a year on a gym membership that you are currently using a couple times a month.
Save that money and put it to use when constructing your own home gym.
In addition, having a home gym means that you are the member of the month every month, and dress codes are optional. You no longer will have to make yourself look presentable in your best athletic duds. You can literally be working out in your pajamas or even your boxers. However, if that is the case, be sure to have your shades drawn. Your neighbors might not appreciate the view.
Furthermore, you know how you get to the gym and there is never anything on the television there that is any good? Now you are in charge of the remote. You will not have to put up with the hassle of watching anymore Housewives shows or sports teams that you could care less about. Put on your tv whatever your heart desires as you become fit and healthy.
Lastly, the most important reason for having your own home gym is the convenience. Whenever you have time to squeeze in a workout, you can do so. Your home gym is open 24 hours a day and even on holidays. If the only free time you have in your schedule is when everyone else is in bed, lace up your sneakers and get to work in your private gym oasis. With a solid diet and workout routine, you'll soon be getting your athletic shape back.



Where to Put Your Home Gym
You might be thinking that you have no space in your house for a home gym. But the gym does not need a thousand square feet to be effective. Even a couple hundred square feet, used in the right way, can give you enough room to workout.
Perhaps you have a spare bedroom that is only used for guests and in-laws once a year. Would it be so bad to have them sleep on the couch or, better yet, in a hotel room? Houseguests that are around for more than 24 hours are not houseguests you need. Change that spare bedroom into something you will use almost daily. Putting a home gym in its place would make it an ideal location.
Another possibility for the location of your home gym could be the basement. If you have a basement, there is a probability that it has some unfinished space. Can you think of a better way to finish it than with your home gym? You don't even have to spruce it up any, just get your gym equipment and move it right in there.
Finally, the best site for your home gym might not even be actually in your house. Garage gyms are prevalent for fathers who need a place to workout. Furthermore, it does provide a buffer from the distractions that are happening inside the house. Every man likes to spend time in their garage. It is like a man cave for those who don't have one in their house. Plus, your wife probably won't care too much about how you situate everything in the garage. You will be given more freedom than you likely would if the gym was in a spare bedroom. There is a good chance one of your friends possibly already have a gym in their garage. Check out examples of garage gyms before you start building your own.
Basic Equipment and How to Get It
You don't have to spend thousands of dollars on creating a home gym that will provide you with a good workout. Most of the equipment in fitness centers and commercial gyms really are things you don't need. Would it be nice to have a preacher curl machine? Sure it would, but you can do other bicep exercises without needing to purchase it. Below are the essential pieces you need when developing your home gym.
Dumbbells
There are hundreds of exercises you can perform with dumbbells alone. And it might be tempting to buy a full set from 10 to 100 pounds, but you have to consider if you really need all of them. To save money, be sure to look on Craigslist and type in a search for dumbbells. If they are brand new it will be the most expensive thing in your home gym. If they are used, it will save you quite a bit of money. As always, when purchasing something on Craigslist, be certain that you are safe and provide the address you are going to another adult. The chances of something happening are rare, but it is always good to have a backup plan if the people decide to lock you up in their basement.
Adjustable Bench
With an adjustable bench, you almost double the number of exercises you can do with the dumbbells. Put the bench in the upright position and you can shoulder presses or seated curls. Place it in the flat position and you will be able to do dumbbell bench press and flys. These are only a mere few of the exercises you can do with the inclusion of an adjustable bench in your home gym. You can get a brand new strong adjustable bench for a couple hundred dollars.
Free Weights and Bar
Free weights are just as important for the home gym as dumbbells. Choosing a strong bar that you can perform exercises with is essential as well. Again, this is a Craigslist special. Many times you can get over 300 pounds of weights for only a hundred dollars if you do some searching.
Squat Rack
The squat rack is not just a place to do squats. It really should get a better name that represents its important in a gym. Perhaps the Everything Rack. Copyright pending. Using a squat rack and your adjustable bench for barbell bench press will save you from having to get an Olympic flat bench press solely for benching. In addition, you can perform shrugs, squats, deadlifts, military press, and even do the unthinkable and curl in the squat rack. Purchase one that has the pull-up bars at the top and handles for dips on the sides. You will use this Everything Rack every single workout.
Resistance Bands
In commercial gyms, you almost certainly use the cable crossover machine frequently. It's convenient since you can do bis, tris, chest, legs, and even back using the cable crossover. However, if you include one in your home gym, it is going to get pricey. Even used ones can fetch a couple thousand dollars. But don't fret because you can do most of the same exercises with resistance bands.
There is even a contraption that allows you to anchor the band to a door, so you can use it at any angle. It is just like having a cable crossover in your home gym. Be careful though! Not all resistance bands are strong enough for a good workout. The first time a resistance band snaps and lashes back at you will make you want to spend a bit more money on your next set.
Some Type of Cardio Equipment
You can't forget the need to do cardio. I know veteran weightlifters that say whenever they want to do cardio they just lift weights faster. It doesn't quite work like that. If you want lower impact, go with a bike or an elliptical. If you enjoy running, by all means, go with a treadmill. There are always used cardio machines to be had cheaply. Tucking it away in the corner of the room will always give you the option to get your inner Prefontaine on.
Add Some Finishings to Your Home Gym
There are always additional things you can do to sort of pimp out your new home gym. If you would like, lay some rubber flooring down. Investing in a Bluetooth radio or a tv could also alleviate some of the boredom that can go along with working out on your own. Putting a mirror up on the wall will allow you to check out your form as well. After a bit, you'll wonder how you survived as a busy father without a home gym in the past.

Ryan Crawley
Writer, The Fit Father Project
Ryan is a fitness expert from Illinois with two decades of experience under his belt. Never one to turn down a challenge, he has taken every class any gym has to offer, even the Dance Kickboxing class. If 70s disco dance music starts playing, everybody should run for cover. You have never lived until you have kicked somebody in the head to Dancing Queen.
If you're interested in a proven and completely laid out "done-for-you" weight loss meal plan & workout routine – designed for you as a busy man…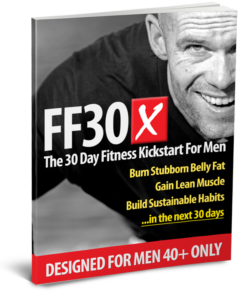 I'd recommend you read the program overview letter for our Fit Father 30-Day Program (FF30X). Inside FF30X, you'll receive:
The simple & delicious Fit Father Meal Plan
The metabolism boosting Fit Father 30X Workout (under 90 min/week)
VIP email coaching where I'll personally walk you through the program
Read the FF30X Program overview letter here to see how our plan can help you lose weight – without the complication & restriction of normal diets.
*Please know that weight loss results & health changes/improvements vary from individual to individual; you may not achieve similar results. Always consult with your doctor before making health decisions. This is not medical advice – simply very well-researched info on getting healthy.