T
he holidays can be an easy time to get off track with your healthy eating and exercise goals. When you do, you'll need to know how to refocus your efforts and get back in line quickly.
I want to share with you below some great tips that you can use to help.
Knowing these could be the difference between getting back on track within a day or two, or spending the whole of the holidays digging a hole.
On top of the usual things that are happening, you'll likely have parties and family gatherings to attend, most of which will include an abundance of food and drink.
It'll be important during this time to avoid getting into the mind-frame of "Screw it! I'll just get back on it on 1st January".
What Should I Do If I Fall Off Track?
Simple… accept it!
Accept that this little blip has happened and then refocus your efforts immediately.
Don't dwell on it, or use it as an excuse to fall off the wagon completely.
Journal what went wrong and get back to your healthy routine. One small detour down the indulgence route will not hurt, but spending days going down it will.
Use your original why, your before and after pictures, and your progress so far to focus yourself on limiting the extravagancies.
Just like an airplane pilot needs to make small course corrections throughout the plane's journey, you should make small adjustments each time you indulge and go off track.
That's the only way you will definitely reach your ultimate destination or goal.
In fact, you can even refocus before this happens. Have a plan before you are in a situation where you may come unstuck so that if you do, you know precisely what to do.
Pre-planning your 'refocus' is a great way to make sure you get back on track immediately.

THE 30-Day Health Program for Men 40+
Fit Father 30X is the world's first sustainable weight loss plan for fathers.
Get yourself back into great shape - at any age the Fit Father way.
Example Of a 'Refocus' Plan
You can use something like the plan below to make sure you get back on track quickly should you have a weekend or a day where you break from your healthy eating and exercise plan.
Make your decision to implement this plan and prepare for it. Make sure you have the supplements available, your food prepared, and your workout gear waiting.
If you're not prepared, you're likely to use any excuse to continue along the wrong path for another day or so until you feel everything is perfect.
Get a minimum of 7 hours sleep (preferably 8 or 9 hours)
Upon waking, have 32oz of water.
Take a multi-vitamin, Fish Oil and Probiotic.
Drink Green Tea and water throughout the day.
Either fast or eat easy digesting, nutrient-dense foods such as shakes, fruits, watery vegetables, or yogurt.
Complete at least 30 minutes of physical activity or a resistance-based workout.
A plan like this will give you a great kickstart back into your normal routine, by increasing your energy, flushing toxins, and getting you moving again.

THE 30-Day Health Program for Men 40+
Fit Father 30X is the world's first sustainable weight loss plan for fathers.
Get yourself back into great shape - at any age the Fit Father way.
Weigh Yourself Each Day For Feedback
Weighing yourself each day is a great way to give yourself feedback, so you know what effect any time away from your normal routine has had.
It's best to weigh yourself at the same time each day, so you get a comparable result. I would advise doing this first thing in the morning, in the nude, before your morning shower.
The thing with weighing yourself daily is not to get too obsessed with the numbers. The idea behind this is to understand if you need to make adjustments.
If your weight goes up, you know that something is amiss. It may be your sleep pattern, a lack of hydration, too much food, etc. Make sure all is in check, adjust anything that isn't and check-in with scales again tomorrow.
If your weight goes down, generally you know you have had a good day. Journal what you've done and do more of it!
As you probably know, this is not a perfect science, but it is a very good indicator of when things are on track or not.
If your weight stays static for too long, despite making adjustments to your diet, exercise, and/or sleep, you can contact us here at support@fitfatherproject.com to let us make some personalized suggestions for you.
So, Just To Refresh…
If you expect you will have some occasions throughout the holidays where you may over-indulge on Christmas pudding or roast potatoes, you should make sure you know how to refocus your efforts.
Have a plan that you can execute the day after you go off track.
Prepare everything you need to follow your plan the night before, so there are no excuses.
Weigh yourself daily to assess any damage and ensure your 'refocus' plan is bringing you back in line.
Re-adjust anything necessary to get to your end destination.
Bear all these things in mind as you enjoy yourself and have an awesome time this Christmas.
Your new friend and health coach,
Stuart Carter, Dip. PT, Precision Nutrition 1
C.O.O, The Fit Father Project & Fit Mother Project

Stuart gained his Diploma in Personal Training & Sports Medicine through Premier Global, back in 2001. In 2018, he completed his Level 1 Precision Nutrition qualification.

Throughout his career in Fitness, Stuart has trained hundreds of clients, worked in almost every position in the industry, and ran his own successful training studio.

After a hiatus away from the Fitness industry, working in Corporate Management and Finance, Stuart returned to what he loves… Fitness! This return led to a chance meeting with Dr. Balduzzi, and a place in the Fit Father Project team.

Brotherhood Nickname: "The Fit Brit"
Bragging Rights: 18 Years in the fitness industry, Author of 'The Easy Fitness Guide', Father of 4 boys and Husband to a Venezuelan beauty.
If you're interested in a proven and completely laid out "done-for-you" weight loss meal plan & workout routine – designed for you as a busy man…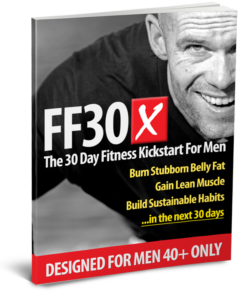 I'd recommend you read the program overview letter for our Fit Father 30-Day Program (FF30X).
Inside FF30X, you'll receive:
The simple & delicious Fit Father Meal Plan
The metabolism boosting Fit Father 30X Workout (under 90 min/week)
VIP email coaching where I'll personally walk you through the program
Read the FF30X Program overview letter here to see how our plan can help you lose weight – without the complication & restriction of normal diets.