Wondering how to stay active in the winter? Whether your winters are cool and mild or downright frigid, it can be hard to stay motivated in the winter months.
The days are shorter and wind, snow, and ice can make it hard to stick to your outdoor workouts.
Plus, dark mornings and an early sunset can lead to a loss of motivation to even want to exercise indoors, let alone outside.
It can make you want to curl up on the couch with warm blanket and comfort foods!
Weight gain over the winter months contributes a great deal to the growing obesity epidemic.
On top of that, studies have found that weight gain over the holidays typically isn't reversed in the spring and summer months.
This means unhealthy choices that you make during the winter tend to carry over in the long term.
But don't let this get in the way of your fitness goals!
There are numerous ways to stay active in the winter and committed to a healthy lifestyle, both indoors and outdoors.
Plus, this is a perfect time to get your kids and family involved!
Here's how to stay active in the winter.
These 4 tips on how to stay active in the winter will help you prevent weight gain and feel better!
How To Stay Active In The Winter
Learn A New Winter Sport
Sometimes the monotony of doing the same workouts and cardio every day out can lead to exercise burnout.
So if you've been running all summer or doing the same HIIT workouts, the winter months are the perfect excuse to add some variety to your exercise regimen with a new winter sport.
Activities like cross country skiing, snowboarding, or snowshoeing are great aerobic workouts that will build incredible cardiovascular fitness along with lower body and core strength.
You can also take the kids out to enjoy some fun in the snow.
Skiing and snowboarding are great winter sports that the whole family can enjoy.
Even something like sledding will get you great exercise from walking up and down the hills.
Here's A Free 24-Min Fat Burn Workout For Busy Men 40+
This powerful workout will reignite your metabolism to burn fat 24/7 like you did in your 20s…
Move Your Outdoor Workouts Inside
While running and biking outdoors can be a bit boring this is sometimes the safest way to enjoy these activities during the winter months.
While the scenery may not be as great, this is a great time to introduce new challenging treadmill or bike interval workouts.
Doing these types of workouts in a controlled environment really allows you to push yourself without worrying about any environmental hazards.
Plus, you can set the speed, incline, or resistance to precise levels so that you can't "cheat" during a tough session.
If you have your own exercise equipment at home, that's a bonus.
If not, the winter months could be a great time to join a gym.
Then you can get your cardio and weight training done all in one place.
Learn how to set up a home workout schedule!
Try A New Group Class
It's easy to lose motivation in the winter months, especially if you are working out by yourself.
But by joining a group exercise class you can regain some motivation by working up a sweat with like-minded fitness enthusiasts.
Boot camp, high-intensity intervals, or spin classes are great ways to challenge yourself.
And the group atmosphere will push you to your limits
If your gym doesn't offer group glasses, there are tons of fitness apps that offer at-home workouts with a group atmosphere.
So clear out some space in your living room and start a new at-home routine to stay active all winter long!
Get Active With Your Kids
With the kids home for the holidays, this is the perfect time to get the whole family involved in a healthy lifestyle.
It can get pretty hectic with the kids cooped up in the house over the holidays.
This makes it a great opportunity to introduce exercise and fitness to your kids.
Think of it as physical education and health class all in one.
Plus, you can burn calories and build strength right along with them.
And you will be teaching them about the importance of health and fitness that they can use for years to come.
The Physical Activity Guidelines for Americans recommend that children and adolescents ages 6 to 17 years do 60 minutes or more of moderate-to-vigorous physical activity daily.
However, the National Survey of Children's Health found that only 24% of kids this age actually achieve this level of activity.
You can create circuit workouts indoors.
Or grab some warm running gear and challenge your kids to some jogs around the block.
Whatever you choose, the more enjoyable you make the activities, the more likely your kids will want to stay engaged in fitness.
Try these 7 exercises for kids to get stronger and start improving their health today!
Outdoor Exercise
Just because it's cold outside doesn't mean you should neglect your cardio workouts.
If your gym is still open there is always the option to join a fitness class or jump on the treadmill at your fitness center.
However, if you don't enjoy wearing a mask while you work out, there are plenty of ways to add cardio at home and outdoors.
Cold temperatures and chilling winter winds mean that you need to be prepared with the right clothing and gear if you decide to take your workouts outdoors.
Since people feel cold when they start their workout they often make the mistake of wearing too much clothing.
It's important to remember that your body will start to warm up as you get going.
And when you start sweating under all those layers this is actually going to create even colder conditions.
To avoid sabotaging your workout with the wrong exercise attire, you need to layer your clothing for outdoor activities.
Choose fabrics that wick moisture away from your skin to avoid excess sweat building up and chilling your body.
For example, wear an inner layer that contains a moisture-wicking fabric, with a second warmer layer, such as a long sleeve shirt.
If there is rain, snow, or high winds you can add a third protective layer, like a jacket or windbreaker.
As you heat up you can shed some of this clothing.
If you are out for a run or walk you can tie the top layer around your waist when you start to warm up.
You could also choose a loop route that comes back by your house or car so that you can leave your extra layers there as you continue your workout.
A little bit of planning ahead will keep you safe and comfortable during your workouts.
Short Days Mean Darker Conditions
Even if you don't live in extremely cold conditions in the winter, such as the southern US, you still have to contend with dark mornings and evenings.
This can make your normal workout routine, such as a bike ride or run, more dangerous.
If you enjoy exercising outdoors, you don't have to stop in the winter.
But the change of season means that when you wake up it's dark and by the time you get home from work the sun has already set.
Again, this doesn't mean you need to skip your workout.
You just need to do a little planning ahead.
If you are walking, biking, or running outdoors before the sun rises or after sunset, you should wear a reflective vest or headlamp.
You can also carry a small flashlight so that others can see you.
Some people even clip small lights onto their running shoes to make themselves more visible to cars.
Here's How Busy Fathers Over 40 Are Finally Burning Stubborn Belly Fat & Getting Healthy Without Restrictive Diets or Time-Consuming Workouts
This proven "Fit Father Program" has helped 38,000 busy men 40+ lose weight, rebuild muscle, and finally keep the weight off.
If you're frustrated with stubborn belly fat, failed diets, and time-consuming workouts, this is the answer you've been looking for…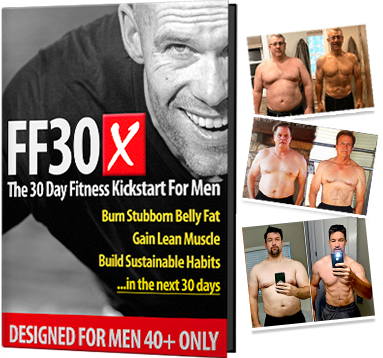 Join 38,000 guys in over 108 countries that are using FF30X to lose weight. You get everything you need to succeed – including:
The Fit Father Meal Plan – with simple & delicious recipes
Safe & Effective Workouts Program – only 90 min/week
VIP Accountability Coaching – our Fit Father Team will personally walk you to success, step-by-step.
LEARN MORE ABOUT FF30X >>
See the FF30X Program overview here. You'll discover how this proven Fit Father Program can help you lose weight and actually keep it off – without the complication and restriction of normal diets. »
*Please know that weight loss results and health changes/improvements vary from individual to individual; you may not achieve similar results. Always consult with your doctor before making health decisions. This is not medical advice – simply very well-researched info on how to stay active in the winter.