Ignoring chronic pain isn't smart, and seeing a doctor because of discomfort doesn't make you weak.
You may have been taught that boys don't cry or that "rubbing some dirt on it" is an acceptable remedy.
However, ignoring chronic pain puts you at risk of worsening health problems or more serious injuries.
Finding the root cause of your pain can improve your quality of life and even save your life in some cases.
Here's how to identify chronic pain, what you can do about it, and when you should talk to your doctor about the discomfort you feel.
Check out this episode of the Fit Father Project Podcast and see how Fit Father Mark erased years of pain and realigned his life!
Why Ignoring Chronic Pain is a Bad Idea
Your body feels pain for a reason. When you have pain that doesn't go away, chances are your body is trying to alert you to a problem.
In many cases, the earlier you seek treatment for chronic pain, the easier it is to treat and the lower your risk of serious complications.
Possible causes of chronic pain in men, especially those over 40, include:
Arthritis
Gout
Past sports injuries
Osteoporosis
Age-related joint wear-and-tear
Narrowed spinal canal
Tumors
diabetes-related nerve damage
Herniated discs
Pinched nerves
Muscle and tendon damage
Tendinitis
Fibromyalgia
Physically demanding job
Fractures
Strains or sprains
Some medications
Temporomandibular joint disorder (TMJ)
Depression
Anxiety
Stress
Other mental health conditions
Excess body weight
Poor nutrition
Lack of strength
Poor spine misalignment
Gastrointestinal (GI) problems
Heart problems
Your pain might be mild and go away within a few days, turn severe, or linger for weeks, months, or even longer.
The reason for chronic pain isn't always clear, but your doctor can usually find its root cause and effectively treat your condition.
Meet Joint RX. The Advanced Joint Support, Recovery Aid, Inflammation & Pain Reducer for Men 40+
Joint RX is for guys feeling the aches of getting older and want a research-backed supplement to feel better & move younger. It will help reduce pain in your problem areas and help you workout with less pain. Joint RX increases your body's natural joint lubrication to boost your healing and recovery so you stay strong & mobile with age.
What Are the Symptoms I Might Experience?
Symptoms that could accompany chronic pain include swelling, stiffness, reduced range of motion, limited mobility, redness, and warmth.
You might also have bruising, weakness, ongoing fatigue, numbness, or tingling because of medical problems associated with chronic pain.
If you have chest pain, along with chest pressure, weakness, and shortness of breath, seek medical attention immediately as these are signs of a heart attack.
When Should I Talk to My Doctor About Chronic Pain?
Any time you have chronic pain and you're not quite sure why, see your doctor for an evaluation.
Some causes of pain are serious and need prompt medical attention.
You won't know this until your provider finds the root cause of the discomfort.
As a general rule, if your pain doesn't go away within a few days or if it's severe, check in with a doctor.
They review your symptoms, medical history, and lifestyle habits.
Your doctor weighs you and checks your pulse, blood pressure, and other vital signs. They also complete a physical exam.
Your doctor could recommend blood tests, nerve tests, X-rays, MRIs, CT scans, or other imaging procedures to find the source of your pain and effectively treat it.
What Are Common Remedies for Chronic Pain?
Home remedies and medical treatments commonly used to reduce chronic pain include:
1. RICE Therapy
RICE therapy stands for rest, ice, compression, and elevation.
This pain treatment may reduce discomfort if you have a minor injury.
Simply rest the painful parts of your body, use ice or heat packs several times a day, and compress an injury by wearing a brace or wrapping it.
2. Sleep
Your body heals during sleep, and not getting enough sleep is often problematic for many root causes of chronic pain.
Aim to get at least 7 hours of sleep each night to maintain exceptional health and reduce your risk of ongoing discomfort.
Set a regular bedtime and sleep in a cool, dark room.
Use a sound machine if you need to and avoid smoking, alcohol, large meals, and caffeine before bed.
Unless your doctor recommends it, avoid taking sleeping pills.
3. Bracing or Taping
Wearing a brace or taping can reduce pain caused by an injury, instability, or swelling.
You might wear a brace on your ankle, knee, or another painful joint while it heals.
Also consider athletic taping, Kinesio® Taping, or other types of taping that better support an injury and reduce pain.
A doctor or athletic trainer can show you the best way to tape an injury.
4. Physical Therapy
Physical therapy is a common holistic treatment for pain that enhances your body's natural ability to heal, increases strength and flexibility, and reduces the risk of future problems.
A therapist can show you which types of stretches and exercises are best for you based on your personalized needs.
5. Regular Exercise
Getting regular exercise may reduce chronic pain caused by a variety of factors, including excess body weight.
The FF30X program for men over 40 offers a variety of muscle-building, fat-burning workouts that help reduce chronic pain.
Depending on the cause of your pain, you may need to avoid certain types of exercises and focus on non-weight-bearing workouts, such as swimming, rowing, cycling, stair climbing, or using an elliptical machine.
Use caution if you have an injury to avoid making it worse.
6. Good Nutrition
Good nutrition can significantly reduce the risk of common causes of chronic pain, such as osteoporosis, obesity, diabetes, injuries, and more.
Joining the Fit Father Project helps you get the nutrition needed to stay healthy overall, have energy, maintain ideal body weight, feel good, have a strong immune system, and reduce your risk of many types of chronic diseases.
As part of your nutrition plan, ask your doctor which dietary supplements for men are best for your personalized needs.
7. Healthy Weight Management
Excess body weight can place extra pressure on your joints, increasing your risk of tissue wear and tear, injuries, and chronic pain.
By maintaining an ideal body weight with the help of the Fit Father Project, healthy weight management will feel like a breeze.
You receive custom meal plans, fat-burning workouts, online health coaching, social support from other fit dads, and much more.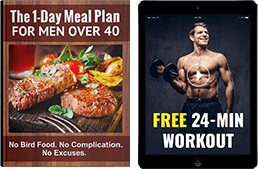 Here's a FREE Meal Plan & Workout For Busy Men 40+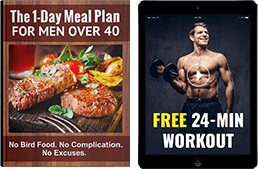 We'll show you exactly what to eat & how to exercise to reignite your metabolism in your 40's, 50's & 60's.
8. Chiropractic Care
If you have poor spinal misalignment, poor posture, a pinched nerve, or a herniated disc, chiropractic care is often an effective pain-relieving solution.
Your chiropractor places pressure on your spine or surrounding tissues, as well as other parts of your body, to improve musculoskeletal functioning and lessen chronic pain naturally.
9. Chronic Disease Management
If the underlying cause of ongoing pain is a chronic disease, your doctor might treat it using oral medicines, injections, dietary supplements, or other treatments that reduce the risk of further problems associated with disease progression.
The earlier your doctor detects a chronic disease, the easier it is to treat.
10. Stress-Reduction Strategies
Stress can most definitely contribute to anxiety, depression, and ongoing discomfort — especially chronic aches and pains.
Natural ways to reduce chronic stress in your life include massage, spending time outdoors, staying physically active, and trying meditation, yoga, or tai chi.
Do these activities with your family or friends!
11. Injections
Many types of injections reduce the ongoing discomfort you may experience because of arthritis, other diseases, or injuries.
Steroid injections help reduce joint inflammation.
Trigger point injections alleviate tension in tight muscle fibers.
Regenerative medicine injections enhance cell regeneration and your body's natural ability to heal.
Examples include stem cell injections and platelet-rich plasm (PRP) injections sourced from your own blood.
Injections could reduce the need for pain medicine or surgery.
12. Electrical Nerve Stimulation
Your doctor could recommend electrical nerve stimulation for nerve problems and other conditions responsible for chronic pain.
During the procedure, your specialist places electrodes on your skin to deliver mild electrical impulses into targeted tissues and reduce discomfort without invasive procedures.
13. Acupuncture
During acupuncture, your specialist places multiple very fine needles through your skin into deeper tissues at strategic areas of your body.
While they do so, you relax on a comfortable exam table.
After a period of time (about 20 minutes or so), they remove the needles, and you can resume normal daily activities.
You may need multiple acupuncture sessions to achieve long-lasting pain relief.
14. Massage Therapy
Another natural chronic pain-relieving strategy is massage.
Therapeutic massage helps stimulate blood flow, relieve stress and tension, and enhance your body's natural ability to heal.
It's often helpful for reducing pain caused by intense workouts, ongoing stress, poor posture, repetitive motions, and more.
15. Surgery
If you have significant tissue damage because of arthritis, a past sports injury, or age-related wear and tear, surgery could be the best option for you.
Your doctor can remove, repair, reconstruct, or replace joints and other tissues to give you long-lasting pain relief.
Don't Ignore, Explore!
Ignoring chronic pain isn't the right choice for many reasons. Instead, talk to your doctor and explore all options for relief.
In many cases, the earlier you get treated for ongoing pain, the lower your risk of worsening pain and serious medical complications.
Don't feel bad about seeing a doctor for pain, as doing so can sometimes save your life.
Choosing natural pain remedies is best, as taking pain medications can lead to addiction and unhealthy side effects.
Instead of ignoring chronic pain, find its root cause by seeing your doctor.
Follow a medical treatment plan, which often includes healthy lifestyle changes, that's best for you to enjoy life to its fullest!
Here's How Busy Fathers Over 40 Are Finally Burning Stubborn Belly Fat & Getting Healthy Without Restrictive Diets or Time-Consuming Workouts
This proven "Fit Father Program" has helped 38,000 busy men 40+ lose weight, rebuild muscle, and finally keep the weight off.
If you're frustrated with stubborn belly fat, failed diets, and time-consuming workouts, this is the answer you've been looking for…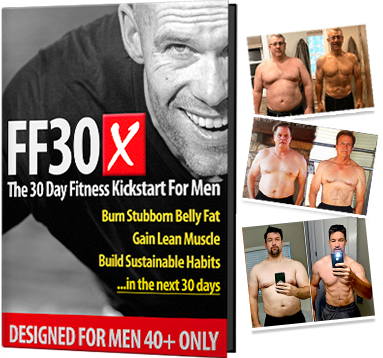 Join 38,000 guys in over 108 countries that are using FF30X to lose weight. You get everything you need to succeed – including:
The Fit Father Meal Plan – with simple & delicious recipes
Safe & Effective Workouts Program – only 90 min/week
VIP Accountability Coaching – our Fit Father Team will personally walk you to success, step-by-step.
LEARN MORE ABOUT FF30X >>
See the FF30X Program overview here. You'll discover how this proven Fit Father Program can help you lose weight and actually keep it off – without the complication and restriction of normal diets. »
*Please know that weight loss results and health changes/improvements vary from individual to individual; you may not achieve similar results. Always consult with your doctor before making health decisions. This is not medical advice – simply very well-researched info on ignoring chronic pain.