T
raveling for extended periods of time can have a dramatic impact on weight loss or muscle building goals. Skipping a week of training is great for recovery, but bad habits can develop when we take week-long breaks on a regular basis.
It's important to maintain a regular fitness schedule, especially for those who travel frequently. Fortunately, we don't have to skip our workouts just because we're traveling.
Here are a few tips and tricks to help you maintain your schedule and stay on track.
National Gym Memberships
The best way to maintain a workout schedule when traveling is to go to the gym. Obviously, you don't want to waste money on a gym membership you're never going to use again, but some gyms do offer travelers a pay per visit option. My local gym lets anyone try their facility free for an entire day once a year.
Getting a gym membership to a national chain is one cost-effective way of maintaining a workout schedule when traveling. Gold's Gym, Planet Fitness, Anytime Fitness, YMCA, and many other gyms offer yearly memberships for a few hundred dollars and have dozens of gyms spread throughout the nation.
Improvising your Workout
It's not always possible to go to the gym. Sometimes we need to find a way to get a satisfying workout without the equipment. Since traveling requires us to bring our bodies along, we can always use gravity to not only supplement our physical fitness but progress it closer to our goals.
Bodyweight exercises can be just as effective as any other routine. Herschel Walker is famous for developing an amazing physique with a routine made up entirely of bodyweight exercises.
Bodyweight Exercises & Calisthenics
Push-ups – Don't just do normal push-ups, mix them up by changing the distance between your hands. Start with your hands close together and spread them apart as your tire down. Do as many push-ups as you can, re-positioning your hands so that you're able to do more. Try the explosive variations like the shoulder-tap, hand clap, thigh slap, single-arm, single-arm raised, single-leg raised, spiderman, knee to chest, and the list goes on and on.
Dips – Using a dip bar is obviously the best choice when it comes to dips, but there are tons of ways and places to do dips. Some kitchens have perfectly positioned counter-tops to do dips. Staircases, playgrounds, or even the edge of a bathtub or chair will work.
Pull-ups – Finding a good pull-up bar is a little more difficult, but you can always take a jog through the park and look for something strong enough. My local park has three different pull-up bars strategically located at points along the trail.
Squats – Bodyweight squats are a great way to work your legs and core and get the heart pumping. Use your glute muscles to do the work. Cross your arms, look at the floor, maintain a neutral spine, and focus on feeling your glutes throughout the entire exercise.
Lunges – Bodyweight lunges are yet another multiple purpose exercise that's great for working the glutes, hips, hamstrings, quads, core, and various muscles of the inner thigh. Engage your core throughout the entire lunge.
Burpees – Start in a plank position, do a squat thrust, explode up into a squat jump, then return to the plank position.
Calf Raises – Calf raises can be done anywhere, at any time. Calf raises can be done on a dime. You can do them whilst making calls or them with your hands on the wall.
Bodyweight Exercises Using a TRX Suspension System
Suspension systems are an entire gym packed into an incredibly lightweight and portable piece of equipment. Hundreds of TRX exercises, each with multiple variations, are used every day by some of the most athletic people on the planet. Here's a short list to get you started.
TRX Push-ups
TRX Bicep Curl
TRX Spiderman Push-ups
TRX Single Bicep Curl
TRX Fallout
TRX Single Leg Squat
TRX Fly
TRX Tricep Extension
TRX Hamstring Curl
Use the TRX Suspension Anywhere
Suspension systems can typically be anchored to anything strong enough to hold your body weight. You can anchor them to a tree, a swing-set, or a door. Suspension exercises are a great addition to any workout schedule and can be combined with bodyweight exercises to create an incredibly challenging workout.
Other Portable Equipment 
If you're looking to pack in a major workout, find a good gym bag and add a TRX suspension system, resistance bands, a battle rope, a jump rope, and a 7-pound kettlebell. Use a towel to wrap the kettlebell and place it in the rope to prevent it from moving around. Some parks will have a safe and quiet area to do a quick workout. In a pinch, you can always stay in the hotel room, but it's definitely a good idea to get out and breathe some fresh air.
Split-Up the Routine
Sometimes the problem isn't a lack of equipment, but the lack of time. In these situations, it might be beneficial to break the routine up into two or three short but intense segments.
Use Furniture and Random Objects
As mentioned earlier, a chair is a great way to get a few dips in while hanging out in the motel room. You can also use the chair or edge of the bed to hold your feet and do some push-ups. Chairs can also be used as improvised dumbbells. Depending on the size of the chair, you may be able to curl it in front of you or use it for triceps extensions. Just make sure to watch out for ceiling fans.
Rocks are heavy, which means they can easily be used to build strength. Wrap a large stone with a towel, toss it into a backpack, and find a hill to run up. Sandbags and pea gravel also work really well (if not better), but you'll miss out on the bonding experience you might have with a large rock.
Focus on Diet
If you have been hitting the gym hard, it's probably a good idea to use travel time to take a break from working out. We recommend taking a full week off every 12 weeks or so anyways, which gives your body time to recuperate. During this time, it's especially important to pay close attention to diet and nutrition. Use the opportunity to try new vegetables and add intermittent fasting to your schedule.
Join Fit Father for Life
If you're looking to lose weight, build muscle, and live a healthy lifestyle for the long term, you should consider joining Fit Father for Life. The FF4L membership gives you access to all of our programs like FF30X, Old School Muscle, and Travel Fit, which includes some of the best ways to stay fit while traveling.
Your new friend & health coach,
Stuart Carter
Head Training Staff, The Fit Father Project
Brotherhood Nickname: "The Fit Brit"
Bragging Rights: 16 Years in the fitness industry, Author of 'The Easy Fitness Guide', Father of 4 boys and Husband to a Venezuelan beauty.
If you're interested in a proven and completely laid out "done-for-you" weight loss meal plan & workout routine – designed for you as a busy man…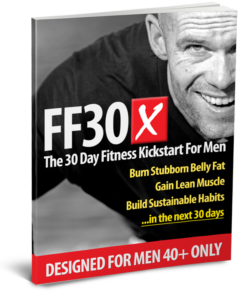 I'd recommend you read the program overview letter for our Fit Father 30-Day Program (FF30X). Inside FF30X, you'll receive:
The simple & delicious Fit Father Meal Plan
The metabolism boosting Fit Father 30X Workout (under 90 min/week)
VIP email coaching where I'll personally walk you through the program
Read the FF30X Program overview letter here to see how our plan can help you lose weight – without the complication & restriction of normal diets.
*Please know that weight loss results & health changes/improvements vary from individual to individual; you may not achieve similar results. Always consult with your doctor before making health decisions. This is not medical advice – simply very well-researched info on improvising your workout routine to fit any schedule.