Is dried fruit healthy? It's one of the many questions people have when to comes to fruit and fruit-based products.
Do you need to completely avoid fruit when trying to lose weight?
What about frozen fruit? Fruit juices?
Like any kind of fruit, there are pros and cons linked with dried fruit, but it's healthy as long as you choose (or make at home) varieties that are free from added sugar and other additives.
But there are certain types of dried fruits to avoid if you can.
Ready to learn the truth and finally answer 'is dried fruit healthy'? Keep reading!
This episode of the Fit Father Project Podcast breaks down the positives and negatives of fruits.
Nutrient Breakdown of Dried Fruit
Dried fruit has been dehydrated, baked, or freeze-dried, and has had much of its water removed during processing.
There are numerous health benefits you can reap by adding dried fruit to your menus, as long as you do so wisely!
The nutritional breakdown of many types of dried fruit, per each 1-ounce serving, is as follows:
Calories: 70-120
Protein: 0-1 grams
Carbohydrates: 8-28 grams
Fiber: 2-5 grams
Fat: 0 grams
The actual amount of calories and macronutrients found in dried fruit depends on the type of fruit you choose, your portion size, the way it's been dried, and whether or not the dried fruit contains added sugar.
You can dry just about any fruit! Examples include:
Apples
Bananas
Pears
Peaches
Plums
Pineapples
Cherries
Blueberries
Strawberries
Blackberries
Raspberries
Apricots
Grapes
Oranges
Lemons
Limes
Rhubarb
Melons
Kiwi fruit
Mangos
Choose more than one type of fruit to dry at a time if you'd like when making homemade dried fruit recipes!
Learn more about eating fruit for weight loss and the best fruits for losing weight.
Pros and Cons of Choosing Dried Fruit
There are pros and cons associated with consuming dried fruit, depending on which type of fruit you choose.
Pros
Many dried fruits are excellent sources of essential nutrients, such as:
Vitamin C
Vitamin A
Folate
Other B vitamins
Magnesium
Potassium
Vitamin K
Manganese
Vitamin E
Dried fruit is also a good source of antioxidants and fiber, both of which can reduce your risk of chronic diseases and their risk factors.
Some dried fruits, including raisins, also contain dietary iron.
Dried fruit is an excellent source of natural sugar, giving you and your family a quick boost of energy between meals, when you're on the go, and before or after workouts.
Consuming dried or fresh fruit before sports training can even enhance your athletic performance!
Dried fruit is also a convenient solution for nourishment when you're on the go, traveling, or need something healthy to pack in work or school lunches.
Because dried fruit doesn't require refrigeration, it has a much longer shelf life than fresh fruit!
Cons
Consuming dried fruit may come with potential drawbacks, depending on the products you choose.
Some commercially made dried fruits contain added sugar, which adds unnecessary calories to the fruit and may increase your risk of weight gain when eaten in excess.
Look for varieties of dried fruit that are free from added sugar and syrups.
View the ingredient list on each nutrition label to know what you're getting.
In addition to added sugar, be on the lookout for other additives in dried fruit that aren't particularly good for your health.
Examples include artificial colors, artificial flavors, and preservatives like sulfur dioxide and other types of sulfites — which can cause allergic reactions in some people.
Depending on how dried fruit gets processed, some nutrient losses can occur.
Fruit that's peeled prior to being dried often contains less fiber, and vitamin and mineral losses can happen when water gets removed from the fruit.
Sun-drying fruit may cause the most nutrient losses, while indoor dehydration and freeze-drying are associated with the least amount of nutrients lost from dried fruit.
While dried fruit is rich in vitamins, minerals, fiber, and natural sugars, it lacks significant amounts of protein and dietary fat.
The good news is that you can pair dried fruit with foods rich in protein or healthy fats, such as nuts and seeds, to boost satiety and the nutrient content of your snack!
Meet SuperFuel. The Delicious Protein Shake Packed With 40+ Energy-Boosting Vitamins & Superfoods (Designed For Busy Men)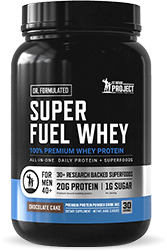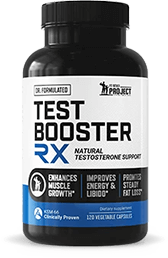 As a busy guy, it's challenging to stay consistent with healthy eating. That's why we created SuperFuel… the delicious "all-in-one" nutrition shake for busy guys 40+ to give your body the protein + key nutrients you need for more energy, fat burning, and muscle building.
What to Watch for When Buying Dried Fruit
The main thing to be on the lookout for when buying dried fruit for yourself and your family is the ingredient list on food labels.
Look for dried fruit that's all-natural, without added sugar, artificial ingredients, or other additives.
Look for an ingredient list containing fruit only, or fruit plus lemon juice, or other natural ingredients.
You might choose organic dried fruit vs non-organic fruit for your family to ensure the fruit you're eating is free from pesticides and other chemicals.
Learn how to read nutrition labels properly and what nutrition facts REALLY mean.
Dried Fruit Recipes
In addition to choosing your favorite prepackaged dried fruit from grocery stores, you might consider drying your own fruit using the homemade recipes below!
You need special equipment for some of the recipes, such as a food dehydrator, a fan, or a home freeze dryer.
Fan-Dried Mixed Fruit
Consider this simple dried fruit recipe to keep on hand for yourself, your spouse, and your kids!
Ingredients
1 quart of water
Apples
Mangos
Pears
Bananas
Apricots
Strawberries
Other favorite fruits
Equipment Needed
1 box fan
4 paper air-conditioning filters
2 bungee cords
6 (14 X 14 inch) plastic dehydrator sheets
Instructions
In a large mixing bowl, combine water and lemon juice. Set the mixture aside.
Peel, core, and dice the fruit (except the strawberries) into 1/2-inch cubes.
Slice the strawberries in 1/8-inch slices.
Place the fruit in your lemon water and soak the mixture for about 2 minutes. Remove the fruit and drain it thoroughly.
Lay a (14 X 14 inch) plastic dehydrator sheet on an air-conditioning filter.
Place the fruit on a plastic dehydrator sheet and cover it with another plastic sheet.
Repeat the process with the remaining plastic sheets and two more filters, stacking them on top of each other.
Top the stack with the remaining empty filter.
Lay a box fan on its side and place the filters on top of it.
Strap the filters to the fan with 2 bungee cords.
Stand the fan upright and set the speed setting to high.
Dry the fruit for about 42-48 hours.
When it's dry, the fruit should be flexible but not sticky.
Remove the fruit from the filters and store it in an airtight container in a dry, cool place in your home.
Serve the dried fruit when you're ready and enjoy!
Baked Mixed Dried Fruit
You can also make dried fruit by baking it using this delicious baked mixed fruit recipe!
Ingredients
Apples
Pears
Peaches
Berries
Cherries
Bananas
Apricots
Other favorite fresh fruits
Instructions
Wash the fruit, remove pits or cores, and slice the fruit into thin slices.
Arrange the sliced fruit on a nonstick baking sheet in a single layer. Make sure the fruit isn't touching any other slices.
Preheat your oven to 170 degrees Fahrenheit.
Place the baking sheet with fruit in the oven and keep the oven door open slightly. Stir the fruit every 30 minutes.
When the fruit is chewy but not crispy (after about 4-8 hours), remove it from the oven.
Let the fruit stand for at least 12 hours at room temperature before placing it in airtight storage containers.
Serve and enjoy!
Homemade Dehydrated Fruit
Dehydrated fruit recipes are simple to make when using a food dehydrator!
Simply choose fruits of your choice and follow the simple instructions below:
Ingredients
Fresh mixed fruits of your choice
Instructions
Slice (and core if needed) fresh fruits into equal slices and place them evenly in a food dehydrator. You can dry small fruits whole, such as grapes, raspberries, and blueberries.
Towel dry the fruit and place it in dehydrator trays, leaving enough space between fruit slices for air to circulate.
Begin drying the fruit according to your dehydrator instructions.
Fruit usually takes 10-12 hours to dehydrate. Leave it in for additional time if needed before removing the fruit from your dehydrator.
Let the fruit cool for about 15 minutes.
Eat the fruit immediately or place it in an airtight container to store it.
Serve and enjoy!
Freeze-Dried Fruit
Freeze dry your fruit instead of dehydrating it if you enjoy the taste of crunchier, airier fruit with a very long shelf life.
You need a home freeze dryer to prepare the freeze-dried fruit recipe below:
Ingredients
Favorite fresh fruits of your choice
Instructions
Slice fresh fruit into even pieces.
Freeze the fruit prior to placing it in your home freeze dryer if you'd like.
Place the fruit in the home freeze dryer and begin the drying process.
When the fruit is dry, your freeze dryer notifies you that the process is complete. It might take about 10 hours, depending on the type of fruit you're drying and the machine used.
Remove fruit from the freeze dryer and place it in vacuum-sealed containers.
Serve freeze-dried fruit when you're ready and enjoy!
Note: if you add water to freeze-dried foods, they often regain their original aroma, flavor, texture, and appearance!
Ways to Add Dried Fruit to Menus
There are many ways you can add dried fruit (without added sugar) to healthy meal plans and menus.
Examples include:
Cereal
Sprinkle dried fruit, such as dried strawberries, blueberries, bananas, or raisins, on top of whole-grain cereal with milk or cooked oatmeal.
Add nuts and seeds too if you'd like!
Trail Mix
After making dried fruit at home or purchasing dried fruit from a grocery store, create a nutritious trail mix for you and your family to snack on.
Consider adding some of the following ingredients to your trail mix: dried fruit, pretzels, whole-grain cereals, nuts, or seeds.
Other Snacks
Dried fruit makes an excellent between-meal snack when you're at work, for kids in school, and before or after workouts.
You can add a protein source, such as turkey jerky, hard-boiled eggs, reduced-fat cheese, Greek yogurt, hummus with fresh veggies, nuts, seeds, or a protein shake to snack on with dried fruit if you'd like!
Smoothies
If you don't have fresh fruit available, use dried fruit instead when making nutritious protein smoothies!
Blend together milk or plant milk, protein powder, dried fruit, ice, and nut butter if you'd like.
Drink smoothies before or after workouts, as a meal replacement for weight loss, or between meals to curb hunger.
Is Dried Fruit Healthy?
It's best not to go overboard with dried fruit or fruit in general.
Fruit contains calories from natural sugar, along with vitamins, minerals, and fiber, but fruit isn't a significant source of protein or satiating fat.
For this reason, the Dietary Guidelines for Americans recommend many men consume about 2-3 servings of fruit daily, depending on their daily calorie needs.
One serving from the fruit group equals 1 cup of fresh fruit, 1 cup of 100% fruit juice, or 1/2 cup of dried fruit.
If dried fruit is the only source of fruit you eat in a day, aim for about 1 to 1 1/2 cups per day.
If you choose fresh fruit, frozen fruit, or 100% fruit juice instead, consume about 2-3 cups daily.
Here's How Busy Fathers Over 40 Are Finally Burning Stubborn Belly Fat & Getting Healthy Without Restrictive Diets or Time-Consuming Workouts
This proven "Fit Father Program" has helped 38,000 busy men 40+ lose weight, rebuild muscle, and finally keep the weight off.
If you're frustrated with stubborn belly fat, failed diets, and time-consuming workouts, this is the answer you've been looking for…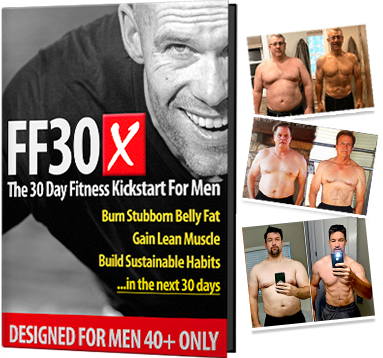 Join 38,000 guys in over 108 countries that are using FF30X to lose weight. You get everything you need to succeed – including:
The Fit Father Meal Plan – with simple & delicious recipes
Safe & Effective Workouts Program – only 90 min/week
VIP Accountability Coaching – our Fit Father Team will personally walk you to success, step-by-step.
LEARN MORE ABOUT FF30X >>
See the FF30X Program overview here. You'll discover how this proven Fit Father Program can help you lose weight and actually keep it off – without the complication and restriction of normal diets. »
*Please know that weight loss results and health changes/improvements vary from individual to individual; you may not achieve similar results. Always consult with your doctor before making health decisions. This is not medical advice – simply very well-researched info on answering the question, is dried fruit healthy?