Sore knees and shoulders come with aging. So if you want to remain active, joint health for men over 40 needs to be a priority.
Years of hard work and physical activity can put a lot of stress on your joints and eventually lead to stiffness, pain, and even arthritis over time.
Being an active dad means you don't want anything to slow you down when it comes to your health and fitness.
That includes joint pain and arthritis.
But even if you feel like your knees and hips are getting a little achy, there are ways to combat joint pain to keep you active and living a high quality of life.
By incorporating exercises that don't pound on your joints and adding some at-home stretches you can loosen up your connective tissue and increase your range of motion and flexibility.
And adding in nutrients and supplements with antioxidant and anti-inflammatory properties will help alleviate the symptoms of arthritis.
These simple tips and tricks will have you well on your way to working out at a high level.
While arthritis may not be completely avoidable, there are a number of ways to improve your joint pain and stiffness so that you can continue living a high quality of life.
Here's everything you need to know about joint health for men over 40!
Meet Joint RX. The Advanced Joint Support, Recovery Aid, Inflammation & Pain Reducer for Men 40+
Joint RX is for guys feeling the aches of getting older and want a research-backed supplement to feel better & move younger. It will help reduce pain in your problem areas and help you workout with less pain. Joint RX increases your body's natural joint lubrication to boost your healing and recovery so you stay strong & mobile with age.
Warning Signs Of Arthritis
If you are an active guy it's normal to experience pain in your joints once in a while, especially after a vigorous workout.
However, when you start to have persistent pain or stiffness on a regular basis related to specific joints this can be an early warning sign of an injury or arthritis.
Pain, stiffness, joint tenderness, and swelling can all be early signs that you are developing arthritis.
This can occur in any joint but is most common in the knees, hips, and even shoulders depending on what types of activities you perform.
Top Tips for Joint Health for Men Over 40
A lot of guys think that you need to decrease your level of activity to avoid joint pain.
However, exercise is actually a critical part of managing joint health as you get older.
While it may seem counterintuitive to increase activity when your body feels achy, the right workouts can actually help improve symptoms.
For example, in clinical trials, both aerobic and strength training have been shown to reduce pain and improve physical function in people with knee osteoarthritis.
There are a number of ways to improve joint health, recovery, and mobility so that you can continue to live an active lifestyle.
At Home Stretches
In addition to your regular workouts, stretches to increase your range of motion will also help ease joint pain.
Be sure to warm up before stretching and at a time of day when your joints are less stiff.
You can try some of these stretches at home to improve your flexibility and decrease joint pain.
Single Knee to Chest Stretch
Lie on your back and bend both knees.
Grab your right knee with both hands and gently pull the knee toward your chest.
You will feel a stretch in the back of your leg and lower back.
Hold for about 30 seconds and then slowly release.
Repeat on the left side.
Leg Swings
This is a great stretch to warm up your lower body prior to a workout and to loosen up your knee and hip joints.
Stand with your feet shoulder-width apart and your hands resting on your hips.
Shift your weight to your left foot, bending your right knee slightly while lifting your right heel.
Swing your right leg forward and backward, allowing your right knee to naturally bend and extend throughout the movement.
Continue for 15-30 seconds, then repeat on the left side.
Arm Circles
This move will increase the flexibility in your shoulders and is also a good warm-up stretch.
Stand with your feet hip-width apart and bring your arms out to your sides at shoulder height, palms facing down.
Circle both arms forward, starting with small circles and then progressing to larger circles.
Complete 10 small circles and 10 large circles, then reverse direction and circle your arms backward.
Cat-Cow
This yoga move will help improve mobility and ease the all too common joint discomfort in your low back.
Start on all fours, with your wrists aligned below your shoulders and your knees aligned below your hips.
Keep your spine extended and your toes tucked under.
Inhale, relax your belly so it moves toward the floor, and gently arch your back, tilting your tailbone and chin toward the ceiling.
Exhale, gently round your spine, draw your chin toward your chest, and untuck your toes, placing the tops of your feet on the floor.
Repeat 10 times.
Here are 10 stretches that you should be doing every day!
Exercises to Improve Joint Health
Exercise can improve joint pain, but it is crucial to pick the right workouts so you don't develop or worsen pre-existing joint problems.
This means choosing lower impact workouts to avoid unnecessary strain on your bones, cartilage, and connective tissue.
Anything that stresses your joints should be limited or avoided.
The most common exercises that tend to enhance joint pain are plyometrics and high-impact moves that involve a lot of jumping and pounding on your joints.
However, this doesn't mean that you can't do high-intensity workouts.
There are tons of low-impact moves and ways to modify your workouts so that you can benefit from high-intensity exercises while still keeping your joints healthy.
Some top exercises to improve joint health include:
Swimming
If you have arthritis or joint pain, activities like running can worsen these symptoms.
On the other hand, swimming is a great low-impact activity.
Since water is 800 times denser than air, you will build strength in your muscles and bones and reduce joint pain without excessive pounding on the hard ground.
Since swimming is more gentle on your joints, this means you can swim more often without worrying about aggravating knee or hip pain.
This will lead to improved cardiovascular endurance without the high risk of injury.
Elliptical Machine
An elliptical machine is a nice alternative to running that still gives you an awesome endurance workout without the pounding on your joints.
Plus, most ellipticals require you to use your arms to increase your momentum, so that you are working both your upper and lower body.
Cycling
Cycling or biking is another low-impact workout that will get your heart pumping while working your lower body and core.
This can be done outdoors, with a home workout bike, or you can even try out a spinning class at your gym.
Yoga
Yoga is an amazing activity for both your body and your mind.
Yoga builds core strength while also improving your balance, flexibility, and coordination.
This is the perfect activity if you have joint pain as the moves are gentle on your joints while also increasing the range of motion in your connective tissue.
Low Impact High-Intensity Intervals
When most guys think of high-intensity intervals they picture jump squats and burpees.
Unfortunately, these high-impact plyometric moves often lead to a lot of joint discomforts.
However, you can still get in a great HIIT workout without worsening your arthritis symptoms by modifying the moves to lower the stress on your joints.
The key is to choose exercises where your feet stay on, or at least close to, the ground.
Setting up a circuit that involves exercises like push-ups, bear crawls, and side lunges can still get your heart rate up while avoiding a high impact on your knees and hips.
Here's A Free 24-Min Fat Burn Workout For Busy Men 40+
This powerful workout will reignite your metabolism to burn fat 24/7 like you did in your 20s…
Nutrition and Arthritis
Diet also plays a significant role in your joint health.
This includes whole foods and supplements that can alleviate pain and improve joint function.
There are tons of dietary supplements out there that claim to "cure" joint pain and arthritis.
It can be difficult to sift through all the information to figure out what really works.
Since arthritis involves joint degeneration and inflammation in the joint lining, nutrients that fight inflammation and contain high levels of antioxidants can help combat joint pain.
Some of the best foods studied that aid in arthritis symptoms are:
Fish
Salmon, tuna, sardines, herring, anchovies, scallops, and other cold-water fish are good sources of omega-3 fatty acids.
Both animal and human studies have shown that omega-3 polyunsaturated fatty acids exert beneficial effects on osteoarthritis symptoms and bony abnormalities.
Nuts
Nuts like almonds, pistachios, and walnuts are rich in antioxidants like vitamin E, B6, magnesium, and omega-3 fats which can combat arthritis inflammation.
Fruits
Fruits and vegetables are loaded with antioxidants.
Research has shown that anthocyanins found in cherries and other red and purple fruits like strawberries, raspberries, blueberries, and blackberries have an anti-inflammatory effect.
In addition citrus fruits, like oranges, are rich in vitamin C, another potent antioxidant.
Vegetables
Leafy green veggies like kale and spinach are packed with antioxidants.
Other research suggests eating vitamin K-rich veggies like broccoli, spinach, lettuce, kale, and cabbage dramatically reduces inflammatory markers in the blood.
Best Supplements For Joint Pain
Nutritional supplements are also an option when trying to improve joint health.
Some of the best-studied supplements for arthritis include glucosamine/chondroitin, hyaluronic acid, collagen, and turmeric.
Turmeric (Curcumin)
Curcumin is the active ingredient of turmeric that has anti-inflammatory, antioxidant, antimicrobial, antirheumatic activity.
Recent trials and medical evidence show that curcumin supplementation is an effective treatment for osteoarthritis with minimal adverse effects.
Hyaluronic Acid
Hyaluronic Acid is a component of cartilage and the fluid within the joints (also called synovial fluid).
Therefore, it plays a key role in keeping the joints lubricated and may help protect the joint cartilage.
A 2020 study found that oral supplementation with hyaluronic acid improved arthritis symptoms, increased joint function, and decreased the need for using other anti-inflammatory medications to manage joint pain.
Collagen
Collagen is a supplement that can be found in foods like fish and meat.
However, it is poorly absorbed in this form because it is not hydrolyzed.
On the other hand, hydrolyzed collagen is more readily absorbed and can protect joint cartilage, and even helps improve cartilage regeneration.
In a 2018 meta-analysis of randomized placebo-controlled trials, collagen supplementation was found to decrease joint pain, improve function, and decrease joint stiffness.
While not everyone will get dramatic results by using these supplements, they are a great add-on therapy along with exercise and a healthy diet.
However, all supplements and over-the-counter medications should be discussed with your doctor before starting.
If you don't want to buy numerous different bottles of supplements, Joint Rx from the Fit Father Project is a great option to improve joint health.
It combines a variety of vitamins and nutrients that have high levels of antioxidant properties that are known to decrease inflammation all in one pill!
Meet Joint RX. The Advanced Joint Support, Recovery Aid, Inflammation & Pain Reducer for Men 40+
Joint RX is for guys feeling the aches of getting older and want a research-backed supplement to feel better & move younger. It will help reduce pain in your problem areas and help you workout with less pain. Joint RX increases your body's natural joint lubrication to boost your healing and recovery so you stay strong & mobile with age.
Here's How Busy Fathers Over 40 Are Finally Burning Stubborn Belly Fat & Getting Healthy Without Restrictive Diets or Time-Consuming Workouts
This proven "Fit Father Program" has helped 38,000 busy men 40+ lose weight, rebuild muscle, and finally keep the weight off.
If you're frustrated with stubborn belly fat, failed diets, and time-consuming workouts, this is the answer you've been looking for…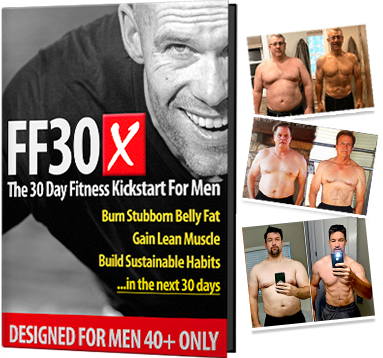 Join 38,000 guys in over 108 countries that are using FF30X to lose weight. You get everything you need to succeed – including:
The Fit Father Meal Plan – with simple & delicious recipes
Safe & Effective Workouts Program – only 90 min/week
VIP Accountability Coaching – our Fit Father Team will personally walk you to success, step-by-step.
LEARN MORE ABOUT FF30X >>
See the FF30X Program overview here. You'll discover how this proven Fit Father Program can help you lose weight and actually keep it off – without the complication and restriction of normal diets. »
*Please know that weight loss results & health changes/improvements vary from individual to individual; you may not achieve similar results. Always consult with your doctor before making health decisions. This is not medical advice – simply very well-researched info on joint health for men over 40.