L
osing weight is not an easy goal. There are articles about it, expensive personal trainers and fad diets all claiming they can help you get fit quick.
Then there's the last notch on your belt, the media and maybe even your wife putting the pressure on.
But before you make any progress, you must accept that there is no "get fit quick" solution that will be sustainable or healthy for you in the long run.

What you'll find here in this article are proven methods that are backed by science and brought to you by a team that wants to support you.
If you're ready to find the motivation you need to lose weight, don't waste any more time on fads.
Read the truth here!

Not having a proper goal
First of all, you need to set a goal for weight loss.

It's just like a goal that you set for yourself at work. For example, if you want to close 15 more transactions within the month, you must identify the smaller steps that will help you get there.
One of our favorite goal-setting tools at the Fit Father Project is SMART goals.
SMART goals are…


• Specific (simple, sensible, significant).
• Measurable (meaningful, motivating).
• Achievable (agreed, attainable).
• Relevant (reasonable, realistic and resourced, results-based).
• Time-bound (time-based, time limited, time/cost limited, timely, time-sensitive).
When you decide on your goal weight to lose every month, use SMART goals to help you manage your target.
To learn more about creating a winning long-term goal, read our blog here.
Not having a reason why
A goal won't be achieved if you don't have a proper reason why you want to achieve it.
When you think about your reasons why you want to become more fit, perhaps some of these factors come to mind:
To set a good example for your kids.
Feeling stronger and more like yourself.
Fitting into your favorite clothes.
Making sure your partner is pleased.
All of these reasons are valid for weight loss motivation.
However, there is something to keep in mind on this journey. While outside pressures like your kids, coworkers or wife may inspire you to get fit, the desire for self-progress must emanate from within.
Read about what motivated me to start a career in helping busy fathers and becoming fit myself.
Not having good habits
Once you identify your main goal and the motivation to help you achieve it, you need the building blocks.
Good habits will keep you on the path of progress.

You might be thinking– "I think I have more bad habits than I do good habits…"
If that's you, this is the perfect time to address that fear!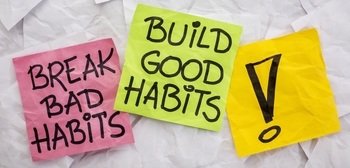 Habits are actions that we repeat until they become second nature. All you have to do to create a good habit is to repeat good behaviors.
In terms of weight loss, there are 3 key habits that you will need.
Commitment to a healthy weight loss diet plan for men.
Consistent exercise.
Resilience even when you are disheartened.
For more good habits that you should practice to be more resolute and goal-oriented, read our blog.
Bored of your exercises
If you're bored of the workouts you've planned to lose weight, have no fear!
We have compiled a list of the most effective workouts for men wanting to lose weight.
All of these workout plans have the goal of keeping you in shape with the least amount of time needed. After all, fatherhood does not come with ample extra time.
For a teaser, here are the 3 best ways to workout. If you're in a rut in your current exercise regimen, give one of these tested methods a try.
HIIT training: alternate short bursts of high-intensity (maximum effort) with periods of low intensity (active rest).
Full body strength training: weight training that focuses on all of the core muscle groups in one session.
Flexibility and mobility: exercises that focus on keeping muscles pliable and resilient to injury.
Take some time to read about and try these methods to see what works best for you.
Injuries or excuses
By this point in your life, past injuries or fear of injuries may be holding you back from training thoroughly.
However, you cannot strengthen your injured muscles or body parts without exercising them.
Even if our injuries are real, often times we use these injuries as excuses to not work out.
Don't let this be you!
Injury is just one excuse that can keep you from achieving your fitness goals.
Tiredness, lack of time, boredom and lack of money are all FAKE excuses that men use to shirk their fitness regimens.

Read how every single one of these excuses is fabricated and is not worth wasting time over.
Don't stop here
Now that you've found the motivation you need to lose weight and achieve sustainable health, DO NOT STOP HERE.
This is just the beginning.

The next step to crushing your fitness goals is right here at your fingertips.
This longer post gives you all the tools that you will need to keep your motivation to lose weight at an all-time high.
With the support of your team here at Fit Father Project, there is no goal that you cannot crush.
Your new coach and friend,

Here's How Busy Fathers Over 40 Are Finally Burning Stubborn Belly Fat & Getting Healthy Without Restrictive Diets or Time-Consuming Workouts
This proven "Fit Father Program" has helped 25,000 busy men 40+ lose weight, rebuild muscle, and finally keep the weight off.
If you're frustrated with stubborn belly fat, failed diets, and time-consuming workouts, this is the answer you've been looking for…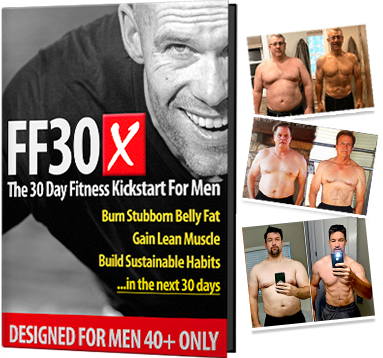 Join 22,000 guys in over 98 countries are using FF30X to lose weight. You get everything you need to succeed – including:
The Fit Father Meal Plan – with simple & delicious recipes
Safe & Effective Workouts Program – only 90 min/week
VIP Accountability Coaching – our Fit Father Team will personally walk you to success, step-by-step.
LEARN MORE ABOUT FF30X >>
See the FF30X Program overview here. You'll discover how this proven Fit Father Program can help you lose weight and actually keep it off – without the complication and restriction of normal diets. »
Small note about research cited in this article:

*Always remember: weight loss results & health changes/improvements vary from individual to individual. Just because these studies cite certain data does not mean you will experience these results/outcomes. Always consult with your doctor before making decisions about your health. This is not medical advice – simply well-researched information. Thanks for reading!