M
ore Americans are more overweight than ever before, and the rate is climbing. More worrying is that the number of people attempting to lose weight has fallen from
56% in 1988 to 49%
in 2014.
If you're one of the people trying to lose weight or no longer trying then it's time you added loss aversion into your daily routine.
The Problem With Weight Loss
Take a look at a photo from 5 or 10 years ago. You'll see a different you. Yes, you might look older and this is almost inevitable. (Hollywood celebrities are generally immune from this aging process thanks to money and clever photography!).
The other thing you'll probably notice is that you're bigger than you used to be. This simple trigger can get you started on your weight loss journey.
However, losing weight means changing your diet. Our free 1-day meal plan can help you see what you should be eating.
Unfortunately, despite the best intentions, it can be difficult to stick to a diet. Let's face it, you're busy. You're probably juggling work, family and a host of social commitments. You can be forgiven for the odd slip.
The problem is that the odd slip-up can be seriously damaging to your weight loss goals, leading to bigger slips.
This is where loss aversion can help you stick to your goals and get the result you want.

Discovering Loss Aversion
The principle behind loss aversion is simple; you don't want to lose something you already have. In fact, you could say that losing something will make you miserable. Replacing it will not generally restore your feeling of elation.
In simple terms, you might prefer not to lose $5 than to gain $5. This is actually an important concept in business economics.
In many situations, this is a bad thing, but you can use it to your advantage.
When you're considering weight loss you want to lose weight! But, food is the biggest temptation. No matter how hard you attempt to stick to your 1-day meal plan, it is often easier when stressed to grab a naughty snack.
Of course, learning stress management activities will help.
However, loss aversion can also be a powerful way to prevent yourself from eating the wrong foods.
All you need to do is create a list of penalties in respect of the foods you are trying to avoid. If you eat one then your penalty will be to give up, or lose something. Money is generally a good penalty; no one wants to lose that!
Putting Loss Aversion Into Practice
The first step in your loss aversion goal is to find a partner. It's best if you can choose someone in the same house as you. This will help to ensure that you are held liable for any slip-up.
Your partner will need to be prepared to create their own penalty list and stick to it!
Your lists should include the food you are most likely to succumb to when stressed:
Chips – $5
Chocolate – $5
Take away food – $10
The list can be as long as you want. Ideally, to help with your weight loss motivation you will remove foods you shouldn't be eating from your home.
Every time you select an item from your penalty list you will need to give your diet partner the indicated amount.
Unless you have exceptionally deep pockets you'll quickly learn not to succumb to temptation. The result is you'll find yourself sticking to your diet plan.
It is important to consider where the money is going. If you are giving it to a friend, who is acting as your diet partner, then you won't want to lose it.
But, if your partner lives with you, and you're giving it to them, you might just feel like it will still be spent on you.
In this case, it would be best to pool the funds and send to a charity. Even better you could choose a cause that you disagree with and promise to send all the funds to it. This is a great way to use loss aversion to help achieve your goals.

Taking Your Loss Aversion Technique One Step Further
It feels great to lose the weight, week by week you'll see the scales moving downwards. This can often be all the motivation you need to keep going.
Of course, the temptation is always present but your loss aversion technique will make a huge difference to how often you succumb.
In fact, you can take this technique a step further.
Again, you'll need a diet partner.


Simply decide how much weight you wish to lose. Then tell your diet partner that you will lose it within a certain time.
For example, you want to lose 20 pounds and you're going to lose 2 pounds a week.
The next step is easy. Decide how much you are going to bet against your own success. The higher the figure the more likely it is that you'll stick to your weight loss targets.
For example, every week you don't lose your chosen 2 pounds you lose $50 to your friend.
Even after you've reached your target you can keep your loss aversion therapy going. Leave the bet in place, if you gain any weight in a week, your friend gets the money.
Use Your Local betting Store

There are some betting shops which will allow you to bet on your own weight loss. In general the larger the amount you wish to lose the better the return will be.
Of course, this approach is slightly different. Your funds are already gone and you're simply attempting to earn more. You also won't get support from a betting shop to maintain your target weight.
The Bottom Line
Successful weight loss involves a good meal plan, exercise and most importantly; you need to resist temptation.
Loss aversion works because you don't want to give away your hard earned funds for no reason. This makes you stick to your healthy eating plan and achieve your weight loss goals.
Just remember, weight loss should be seen as a gradual process. You want to change your eating and exercise habits; this will allow them to last a lifetime.
Your new friend & health coach,

Here's How Busy Fathers Over 40 Are Finally Burning Stubborn Belly Fat & Getting Healthy Without Restrictive Diets or Time-Consuming Workouts
This proven "Fit Father Program" has helped 25,000 busy men 40+ lose weight, rebuild muscle, and finally keep the weight off.
If you're frustrated with stubborn belly fat, failed diets, and time-consuming workouts, this is the answer you've been looking for…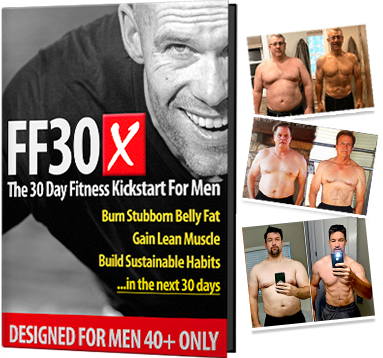 Join 22,000 guys in over 98 countries are using FF30X to lose weight. You get everything you need to succeed – including:
The Fit Father Meal Plan – with simple & delicious recipes
Safe & Effective Workouts Program – only 90 min/week
VIP Accountability Coaching – our Fit Father Team will personally walk you to success, step-by-step.
LEARN MORE ABOUT FF30X >>
See the FF30X Program overview here. You'll discover how this proven Fit Father Program can help you lose weight and actually keep it off – without the complication and restriction of normal diets. »
*Please know that weight loss results & health changes/improvements vary from individual to individual; you may not achieve similar results. Always consult with your doctor before making health decisions. This is not medical advice – simply very well-researched info on loss aversion.