Low sex drive in men, believe it or not, happens to every guy. Like everything else in life, sometimes you just aren't in the mood!
However, if you find yourself uninterested in sex for long stretches of time, this can cause a strain on your relationship.
Having a low libido for an extended period of time may mean you have an underlying medical condition that needs to be addressed.
Low sex drive in men can sometimes be related to one single issue, but more commonly it is due to a combination of factors.
If you are struggling with low libido, it's important to figure out the underlying cause so that you can get back to feeling like your old self again.
Keep reading to learn everything you always wanted to know about the causes of — and solutions to — low sex drive in men!
What Causes a Low Sex Drive in Men?
Here are a few potential causes of low sex drive in men that can be easily treated.
Low Testosterone
Testosterone is the main hormone responsible for building strength and muscle growth.
Along with this, testosterone also plays a major role in libido.
The normal level of testosterone will vary from person to person, and also will fluctuate throughout the day.
However, the American Urological Association (AUA) considers levels that fall consistently below 300 nanograms per deciliter to be low testosterone.
When your testosterone levels decrease, your desire for sex also decreases.
Decreasing testosterone, or low T as it is commonly referred to, is a normal part of aging.
However, there can be other medical reasons for low testosterone levels. And very low testosterone can lead to decreased libido.
Discussing your sex life with a doctor may be the last thing you want to do, but if you are experiencing chronic low libido, having your testosterone levels checked is worthwhile.
This can help your doctor determine not only what your hormone levels are, but if there is an underlying medical issue leading to low T.
Watch this video to learn 6 proven ways to boost testosterone!
Depression
When you are depressed you lose interest in activities, including sex.
Activities that you normally would look forward to, lose all appeal.
This inability to feel pleasure is known as anhedonia, which is a defining trait of depression.
Other symptoms typically associated with depression include decreased appetite, insomnia, extreme sadness, low concentration, and agitation.
If you are experiencing any of these symptoms you should discuss these with your physician.
On top of this, medications used to treat depression can also lead to low libido.
Selective serotonin reuptake inhibitors (SSRIs) and selective serotonin and norepinephrine reuptake inhibitors (SNRIs) are most commonly associated with low libido.
In fact, research has found that sexual dysfunction is one of the main reasons patients choose to discontinue SSRI treatment.
So not only can depression itself decrease sex drive, the treatment can further suppress sexual urges.
By coming up with a proper treatment plan with your doctor that includes both therapy and medications with a low side effect profile, you can avoid these unwanted outcomes.
Here are the keys to staying positive during hopeless times!
Medications
As mentioned above, certain antidepressants can decrease libido.
There are several other medications that have been associated with lowering sex drive as well.
Blood pressure medications, especially beta-blockers which slow the heart rate, are notorious for decreasing libido.
Opiate pain medications, like morphine and oxycontin, can also decrease sex drive.
Hormone treatments used for certain diseases or cancers can impact libido as well.
Dutasteride is a common medication that men use to treat male pattern hair loss and an enlarged prostate.
Unfortunately, this treatment has also been associated with adverse side effects.
One study found that the incidence of sexual adverse events such as decreased libido and impotence was about two times higher in the dutasteride group compared to a placebo group.
If you start a new medication and notice that your sex drive starts to suffer, this doesn't mean that you should stop your medication.
However, you should bring this to your doctor's attention.
Usually, they can change your treatment to something similar with fewer side effects or can alter your treatment in other ways.
Stress
Stress can cause a number of physical manifestations, including a decrease in sexual desire.
When you are stretched thin between work, family, and your personal life, sex drive can plummet.
With so much going on in your life, sex may fall to the bottom of your list of priorities.
This can cause tension between you and your partner, which can further worsen your stress levels.
When you feel overwhelmed with responsibilities, it may be time to step back and give yourself a break from the daily grind.
Stress has a huge impact on your overall health, including your sexual health.
Until you can manage this in your life, your fitness and wellness will suffer.
These at-home stress relief techniques are 5 simple ways to reduce stress!
Low Physical Activity
Too little exercise can also be responsible for a decreased desire for sex in men.
Low levels of physical activity can result in a number of health issues, like obesity and diabetes.
These chronic health issues are associated with decreased sexual drive.
In addition, regular exercise enhances body image and self-esteem, which in turn increases the desire for sex.
A study following men for nine months found that those participating in aerobic exercise noted significantly greater sexuality enhancements.
Moreover, the degree of sexuality enhancement among exercisers was correlated with the degree of improvement in fitness.
Just another reason why physical fitness is so important in overall health!
Over-Exercise
On the flip side, over-exercising can also impact sexual health.
A 2017 study found high levels of chronic and intense exercise was significantly associated with decreased libido in men.
This means it's important to find a balance between not enough and too much physical activity.
While being active is associated with a boost in testosterone and sexual urges, increased volumes of extreme exercise can also result in greater amounts of physical and mental fatigue.
This exhaustion can decrease the desire for sex.
If you are feeling burnt out from your workouts, it's OK to take a few rest days!
Taking a few days off won't cause you to lose any degree of fitness, but will allow your body to recharge.
Rest days are also essential to avoid injuries, keep your immune system boosted, and can also increase your libido.
Overall Fitness Includes a Healthy Libido
Fitness encompasses all aspects of health.
This includes physical strength, endurance, mental health, and sexual health.
Low libido that lasts for weeks to months can be a sign of an underlying medical issue that needs to be addressed.
There are a number of causes of low sex drive in men that can be easily managed.
The key is to figure out the root cause so that the proper treatment can be started.
This can range from simple lifestyle changes to medications.
While all men experience a dip in libido occasionally, if you feel that your decrease in sexual desire has been going on for too long this is something that should be addressed.
Sexual health is just as important as any other area of fitness!
Here's How Busy Fathers Over 40 Are Finally Burning Stubborn Belly Fat & Getting Healthy Without Restrictive Diets or Time-Consuming Workouts
This proven "Fit Father Program" has helped 25,000 busy men 40+ lose weight, rebuild muscle, and finally keep the weight off.
If you're frustrated with stubborn belly fat, failed diets, and time-consuming workouts, this is the answer you've been looking for…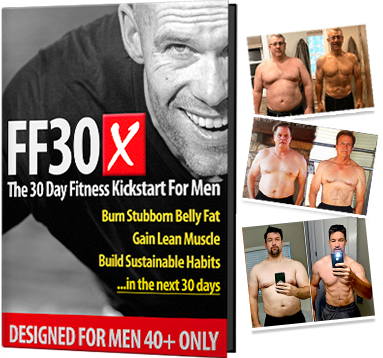 Join 22,000 guys in over 98 countries are using FF30X to lose weight. You get everything you need to succeed – including:
The Fit Father Meal Plan – with simple & delicious recipes
Safe & Effective Workouts Program – only 90 min/week
VIP Accountability Coaching – our Fit Father Team will personally walk you to success, step-by-step.
LEARN MORE ABOUT FF30X >>
See the FF30X Program overview here. You'll discover how this proven Fit Father Program can help you lose weight and actually keep it off – without the complication and restriction of normal diets. »
*Please know that weight loss results & health changes/improvements vary from individual to individual; you may not achieve similar results. Always consult with your doctor before making health decisions. This is not medical advice – simply very well-researched info on low sex drive in men.