While the 'dad bod' has seen a recent resurgence and acceptance, it doesn't mean that all men are comfortable in their skin.
Male body image struggles are real and they happen more often than you might think.
When you think of poor body image, you may imagine an awkward teen or the stereotypical image of a woman worrying about her bathing suit.
But men struggle with body image issues too!
Do you hate the way you look in photos, avoid being in pictures altogether, or steer clear of looking in mirrors?
If so, you're not alone, especially if you're a busy dad over 40.
There are numerous reasons men today feel so much pressure to maintain aesthetically pleasing appearances.
Knowing more about male body image concerns and what you can do to overcome them is vital to leading a fulfilling life!
So if you don't like your 'dad bod' here's what you can do.
Can't find the drive to get in shape? Here's how to stay committed and maintain motivation!
Common Male Body Image Challenges
Some of the most common male body image challenges for men over 40 include:
Feeling Fat
Being overweight or obese affects more than 73% of adults in the United States so if you weigh more than you'd like to, you're not alone.
You might carry excess body weight in your abdominal area, lower back, arms, legs, face, neck, or all over your body.
This in turn can diminish muscle definition and make you feel self-conscious about your appearance.
Reduced Muscle Mass
Having too little muscle mass is another common male body image complaint.
Due to aging, especially being over 40 in men, muscle mass tends to decline.
This is due to various factors, such as reduced testosterone levels, lack of exercise, or poor dietary habits.
Lack of sleep can also negatively affect your weight and body composition.
Ways to combat age-related muscle loss include working out regularly, strength training at least several times per week, getting at least 7 hours of sleep, and eating nutritious foods.
See your doctor if you suspect you have low testosterone to find out if testosterone therapy is right for you.
Beer Gut/Lack of a Six Pack
Gaining weight in your midsection can cause problems with male body image, and the risk of a 'beer gut' increases with age.
The good news is that you don't have to live with excess abdominal fat, and you shouldn't have to, as excess belly fat increases your risk of high blood pressure, high cholesterol, diabetes, and other chronic conditions.
To achieve six-pack abs, do a combination of strength training and cardiovascular workouts most days of the week.
Eat nutritious foods, limit or avoid alcohol, get plenty of sleep, do ab exercises regularly, and lose weight if you carry excess weight in your abdomen.
Thinning Hair
After 40, or even before turning 40 in many cases, you may experience thinning hair.
Balding is a common male body image complaint among men over 40, and for good reason, as having a full head of hair can make you look many years younger.
If thinning hair makes you feel self-conscious, you don't have to live with it.
Adopt healthy habits at home and see your doctor about possible hair regrowth solutions like medications, platelet-rich plasma (PRP) injections, hormone replacement therapy, and others.
Don't forget to eat nutritious foods and take dietary supplements for men over 40.
Sexual Dysfunction
Sexual dysfunction is another male body image issue that's common among men over 40.
You might struggle with erectile dysfunction (ED), low libido, or other problems related to sexual functioning.
If this is the case, adopt healthy habits and see your doctor about possible treatments.
Examples include testosterone therapy, injections, or medications that treat the underlying cause of sexual challenges.
The Natural Testosterone Booster Guys 40+ Are Using For More Energy, Drive, & Results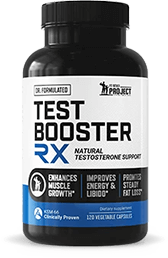 After age 30, your Testosterone levels start declining. Add in some stress and a "less than perfect" diet… everything gets worse fast. You feel tired all the time. It's hard to lose fat. It feels like you lost your edge. That's the sad story that happens to most guys 40+. But now, it doesn't have to be that way for you….
Ways To Deal With Male Body Image Challenges
There are numerous ways you can overcome male body image struggles.
Focus on Working Out
Working out daily is one of the best ways to maximize male body image.
By combining strength training with cardiovascular exercises, you can increase lean mass and enhance your physique.
Regular workouts and sitting down less often give your metabolism a boost, increase your mood, enhance sexual functioning, and help you gain confidence.
Nix Certain Foods and Drinks
Nixing certain foods and drinks from your diet can help you get lean, with less abdominal fat and a lower risk of chronic diseases.
Drinks to consider steering clear of or cutting back on include sodas, other sugar-sweetened drinks, artificially sweetened drinks, and alcohol.
Reduce or remove from your diet white bread, baked goods, other refined grains, sweets, gravies, sugar-sweetened condiments, fried foods, and highly processed meats (regular bacon, ham, sausage, deli meats, etc.).
Choose lean cuts of organic red meat rather than high-fat or processed red meats.
See Your Doctor for Hormone Imbalance
If hormone imbalance is the cause of being overweight, thinning hair, sexual dysfunction, increased body fat, or decreased muscle mass, see your doctor to find out if you're a candidate for testosterone therapy.
It can help you look and feel years younger.
Prioritize Feeling Good
Rather than focusing on having a perfect body, it's important to feel good and have long-lasting energy.
Strict dieting can cause physical and mental fatigue, as well as poor quality of life.
Follow diet and exercise plans that make you feel young and energized.
Avoid Crash Dieting
Crash dieting isn't the answer to getting the six-pack abs of your dreams or dropping weight quickly, as rapid weight loss of 3-5 pounds (or more) weekly often leads to weight regain over time.
Instead, choose diet, exercise, and other lifestyle habits you can stick with for a lifetime.
If weight loss is your goal, accomplish your ideal weight in a safe way by choosing a slow, steady weight-loss rate of about 1-2 pounds per week.
Take Dietary Supplements for Men
Taking dietary supplements designed for men is beneficial for male body image for several reasons.
Such supplements enhance your body's natural testosterone production, reduce the risk of fatigue caused by nutrient deficiencies, and increase your metabolism and ability to burn fat.
Meet Burn RX. The Safe & Effective Metabolism Booster To Help You See Faster Results& Feel More Energized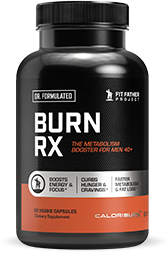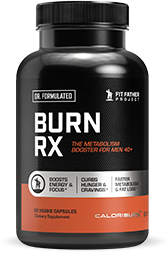 Burn RX is for guys who are working on losing weight and want to see faster and easier results from their eating & exercise efforts. It helps your body burn more fat before, during, and after your workouts, which will improve your body composition while boosting your energy + metabolism.
Know You Don't Have to Be Perfect to Look Attractive
Being attractive is in the eye of the beholder, and you don't have to have a perfect body to achieve an exceptional male body image.
Keep in mind that there's no such thing as a perfect physique.
In fact, social media and magazine images are often filtered to look picture-perfect, but they don't portray the way subjects look in real life.
Get a Tan
Getting a tan can do wonders for male body image.
If you're concerned about sun damage or getting skin cancer, there are safe ways to achieve a tan.
Use sunscreen when you're outdoors (you can still get a nice tan when using sunscreen) or consider a spray tan or self-tanning lotion.
Avoid tanning beds and booths.
Choose Clothes that Accentuate Your Strengths
Wearing the right clothes for your body type can do wonders for the way you look and feel about yourself.
Pick clothes that accentuate your body type and fit the right way (not too tight or too baggy).
What you wear can dramatically improve your body image and you don't have to break the bank to find clothes that flatter your physique.
Exude Confidence
Even if you're not entirely confident in your male body image, act as though you are!
Stand up straight, make eye contact during social interactions, speak clearly with confidence, and smile often.
Acting confident is half of the battle and can improve the way you feel about yourself, as well as how others perceive your body image.
Is There a Body-Positive Movement For Men — Is a 'Dad Bod' OK?
While body-positive movements for men may not be as common as for women, body positivity appears to be a trend that people of all ages are getting behind.
Again, the 'dad bod' is still very much a trend.
You don't have to have a flawless body type to be considered attractive.
The most important thing to keep in mind is that if you feel confident in the way your body looks, feels, and functions, that's what matters most.
And, of course, that you're healthy!
Choose workouts you enjoy doing and can stick with for a lifetime. The same holds true for choosing healthy foods, getting plenty of sleep, and keeping stress levels low.
For more tips about how to maintain an exceptional male body image, get fit, and live your life to its fullest, consider signing up for the Fit Father Project.
Upon joining, you have access to custom meal plans, fat-burning workouts, recipes, health coaching from medical experts, social support from other fit dads, and much more.
Sign up for a free meal plan and workout to improve or maintain a superior male body image today!
Here's How Busy Fathers Over 40 Are Finally Burning Stubborn Belly Fat & Getting Healthy Without Restrictive Diets or Time-Consuming Workouts
This proven "Fit Father Program" has helped 38,000 busy men 40+ lose weight, rebuild muscle, and finally keep the weight off.
If you're frustrated with stubborn belly fat, failed diets, and time-consuming workouts, this is the answer you've been looking for…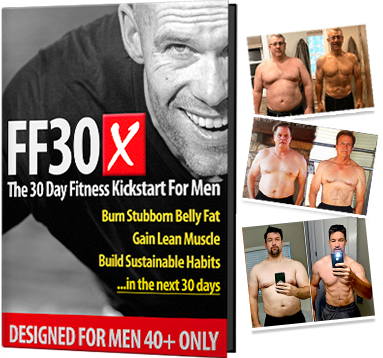 Join 38,000 guys in over 108 countries that are using FF30X to lose weight. You get everything you need to succeed – including:
The Fit Father Meal Plan – with simple & delicious recipes
Safe & Effective Workouts Program – only 90 min/week
VIP Accountability Coaching – our Fit Father Team will personally walk you to success, step-by-step.
LEARN MORE ABOUT FF30X >>
See the FF30X Program overview here. You'll discover how this proven Fit Father Program can help you lose weight and actually keep it off – without the complication and restriction of normal diets. »
*Please know that weight loss results and health changes/improvements vary from individual to individual; you may not achieve similar results. Always consult with your doctor before making health decisions. This is not medical advice – simply very well-researched info on male body image.