You may have heard the term "male menopause" and just dismissed it as silly nonsense. But is it something you should be thinking about?
For women, older age is often associated with mood swings and hot flashes, but do men go through similar hormonal changes?
The answer is YES.
Men go through male menopause (called andropause), which refers to the hormonal changes men experience later in life.
It's real and it's not spectacular!
Male menopause often occurs later in life due to hormone fluctuations linked with aging.
More specifically, low testosterone levels cause male menopause, which sometimes feels debilitating when left untreated.
Men over 40 are especially at risk of male menopause and its unpleasant symptoms.
The good news is that you don't have to struggle through male menopause.
Here's what you need to know about male menopause (andropause), and how to deal with it.
Find out how to boost testosterone levels as you age!
What Are the Symptoms of Male Menopause?
If you develop andropause, you may notice some of the following symptoms:
Depression
Low self-confidence
Decreased motivation
Fatigue
Problems sleeping
Decreased muscle mass
Increased body fat
Weight gain
Difficulty concentrating
Weakness
Erectile dysfunction (ED)
Low sex drive
Infertility
Gynecomastia (development of breasts)
Tender breasts
Decreased testicle size
Reduced bone density
Thinning hair
Mood swings
Hot flashes
Many of these symptoms are similar to female menopause. When left untreated, your symptoms could get worse with increasing age.
What Are the Risk Factors for Low Testosterone?
Older age is the main risk factor for developing male menopause, but other things can boost your risk of low testosterone too.
Examples of male menopause risk factors include:
Older age
Chemotherapy
Radiation
Alcoholism
Ongoing stress
Kidney disease
Cirrhosis of the liver
AIDS
Other chronic diseases
Obesity
Lack of exercise
Poor dietary habits
Adopting healthy habits is one of the best ways to minimize symptoms of male menopause.
The Natural Testosterone Booster Guys 40+ Are Using For More Energy, Drive, & Results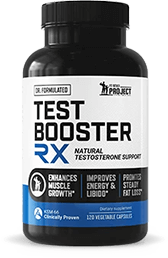 After age 30, your Testosterone levels start declining. Add in some stress and a "less than perfect" diet… everything gets worse fast. You feel tired all the time. It's hard to lose fat. It feels like you lost your edge. That's the sad story that happens to most guys 40+. But now, it doesn't have to be that way for you….
What Can I Do About Male Menopause?
There are several things you can do to reduce your risk of male menopause or its symptoms. Examples include:
Check in With Your Doctor
One of the best ways to minimize male menopause symptoms is to check in with your doctor.
They may offer some of the following treatments to help you look and feel years younger:
Testosterone Therapy
Your provider might recommend testosterone replacement therapy or other treatments that balance hormone levels and reduce unpleasant symptoms of andropause.
You might receive hormone injections, creams, gels, or subdermal pellets implanted beneath your skin to increase low testosterone, your energy levels, and your mood.
Mental Health Treatments
Common mental health treatments for anxiety, depression, and chronic stress include making lifestyle changes, counseling, and medications when necessary.
Keep stress levels low, spend time outdoors, get regular exercise, and maintain healthy body weight.
Allow yourself at least 7 hours of uninterrupted sleep each night and have a strong social support network in place.
Hair Restoration
If you struggle with thinning hair because of male menopause and hormone imbalance, ask your doctor about holistic platelet-rich plasma (PRP) scalp injections.
PRP uses parts of your own blood to stimulate your body's natural ability to regenerate cells and restore hair growth.
Your doctor takes a blood sample from your arm, places it in a centrifuge to extract PRP from the rest of the blood, and injects PRP into strategic areas of your scalp.
ED Treatments
If ED negatively affects your life due to low testosterone levels or other reasons, ask your doctor for solutions.
In addition to testosterone replacement therapy, they likely provide other ED treatments to restore your sex life.
Healthy lifestyle changes, such as weight management, regular exercise, and a nutritious diet, can help too.
Change Up Your Diet
Eating nutritious foods, especially testosterone-boosting foods, is an excellent way to minimize symptoms of male menopause.
Add protein-rich foods, vegetables, fruits, olive oil, oysters, whey protein shakes, coconut, garlic, and nuts to your meal plan.
Shy away from added sugars, sugar-sweetened drinks, refined grains, fried foods, processed meats, and alcohol as much as possible.
A good rule of thumb is to fill half of each plate of food with non-starchy vegetables and the other half with protein-rich foods and fiber-rich starches.
Aim to consume 3 servings of dairy foods (or plant-based equivalents) daily and at least 2 servings of fruit.
Add nutritious fats, such as oils, avocados, nuts, seeds, and nut butter, to each meal and make sure to drink plenty of water (aim for 16 cups of fluids daily for men).
Exercise More
Getting plenty of exercise can increase lean muscle mass, reduce stress, improve sleep, enhance your mood, reduce depression, minimize body fat, and help you manage healthy body weight.
All of these benefits of exercise help keep male menopause symptoms at bay.
Keep Stress Levels Low
Keep your stress levels as low as possible by trying common stress-reduction techniques.
Examples include yoga, massage, tai chi, meditation, reading a book, walking outdoors, and lightening up a busy schedule.
You might also consider daily exercise, taking a mental health day off from work, or going on vacation with your family to keep stress levels in check.
Reduce or Eliminate Alcohol
Studies show that excessive alcohol consumption is linked with lower levels of testosterone.
Alcohol also increases your risk of developing certain types of cancer, so limit or avoid it.
If you choose to drink alcohol, do so in moderation and limit drinking occasions to once per week if you can.
If you struggle with alcohol addiction, see your doctor for assistance to get the help you need to abstain from alcohol.
Take Dietary Supplements for Men
Taking dietary supplements for men can give your testosterone levels a boost, increase muscle mass, and help you maintain ideal body weight.
Consider the following dietary supplements for men:
Testosterone Boosting Supplements
All-natural testosterone-boosting supplements contain key ingredients that enhance your body's natural levels of testosterone to help you look and feel younger.
Bone Support Supplements
With lower levels of testosterone is a higher risk of low bone density and osteoporosis, which is why taking bone health supplements for men over 40 is helpful.
After first checking in with your doctor, consider taking a multivitamin supplement containing calcium and vitamin D, plus extra calcium or vitamin D supplements if necessary.
Protein Supplements
One way to mitigate lean muscle loss associated with lower testosterone levels and male menopause is to take whey protein supplements.
The Fit Father Project protein supplements are top-quality products that enhance lean mass and healthy weight management.
Heart Health Supplements
A healthy heart is more important than ever, especially over 40, as heart disease is a leading cause of death in men and women.
Consider adding heart-health supplements to your daily regimen after first speaking with your doctor.
Metabolism-Boosting Supplements
Male menopause is a common cause of weight gain, fat gain, and lean muscle loss.
To reverse this course and stay lean, try metabolism-boosting supplements.
These products help control hunger, burn fat, and maximize your energy levels.
Joint Health Supplements
Arthritic joints and joint pain are common problems for many men over 40.
Taking supplements designed to improve joint health is one of the keys to enhancing joint function and reducing stiffness and joint pain.
Maintain Ideal Body Weight
Maintaining ideal body weight is one of the healthiest things you can do for your body, testosterone levels, and energy levels.
Harvard Medical School notes that obesity reduces testosterone levels, and healthy weight management is a solution to this problem.
Exercise most days of the week, eat nutritious foods, take supplements for men, drink a lot of water, and get plenty of sleep to make it easier to maintain an ideal weight and reduce unpleasant symptoms of male menopause.
Join a Healthy Living Program
The Fit Father Project is a healthy living program designed for busy men over 40.
The principles you adopt by following the program can help you better stabilize hormone levels and minimize symptoms of male menopause.
The Fit Father Project offers custom healthy meal plans, muscle-building and fat-burning workouts, weekly newsletters, flavorful recipes, health coaching support from medical experts, and more.
To keep male menopause symptoms at bay over 40, start with this free meal plan and workout!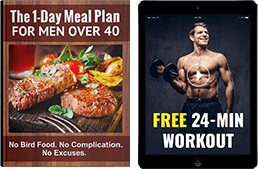 Here's a FREE Meal Plan & Workout For Busy Men 40+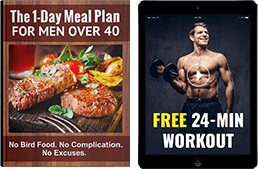 We'll show you exactly what to eat & how to exercise to reignite your metabolism in your 40's, 50's & 60's.
Overcoming Male Menopause Symptoms
Living with male menopause means doing what you can to keep testosterone levels within a normal range and understand the changes that often take place during this time of your life.
Adopt healthy habits at home, see your doctor regularly, and learn ways to cope with mood changes you may encounter because of male menopause.
There's no one-size-fits-all solution when it comes to minimizing male menopause symptoms, so be willing to make lifestyle changes as needed to help you live your best life.
Being physically and emotionally healthy, despite male menopause, is possible with the right lifestyle habits in place!
Here's How Busy Fathers Over 40 Are Finally Burning Stubborn Belly Fat & Getting Healthy Without Restrictive Diets or Time-Consuming Workouts
This proven "Fit Father Program" has helped 38,000 busy men 40+ lose weight, rebuild muscle, and finally keep the weight off.
If you're frustrated with stubborn belly fat, failed diets, and time-consuming workouts, this is the answer you've been looking for…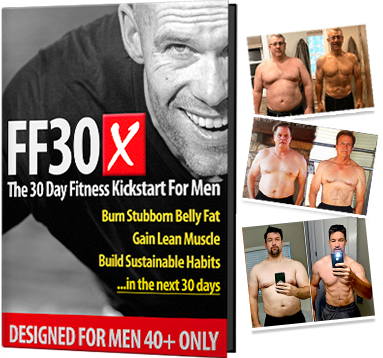 Join 38,000 guys in over 108 countries that are using FF30X to lose weight. You get everything you need to succeed – including:
The Fit Father Meal Plan – with simple & delicious recipes
Safe & Effective Workouts Program – only 90 min/week
VIP Accountability Coaching – our Fit Father Team will personally walk you to success, step-by-step.
LEARN MORE ABOUT FF30X >>
See the FF30X Program overview here. You'll discover how this proven Fit Father Program can help you lose weight and actually keep it off – without the complication and restriction of normal diets. »
*Please know that weight loss results and health changes/improvements vary from individual to individual; you may not achieve similar results. Always consult with your doctor before making health decisions. This is not medical advice – simply very well-researched info on male menopause.