D
id you know that the meal kit industry in the US is worth $5 billion? Having the recipes and ingredients for planned meals delivered to your door makes it easy to prepare healthy meals, right?
Wrong! Nearly 80% of the subscribers that start, will stop using the service after the very first month.
There is a good reason for this.
Although marketed as a meal planner, these types of services only give you limited options.
Also, you have no idea what ingredients or cooking methods are being used to prepare these meals.
If you're looking to get healthier, I would recommend learning what to eat, how to prepare it, and what portions you should be eating at each meal.
Our meal planner offers you variety and helps you lose weight by being in full control of the food you eat.
Once you understand how it works you'll be able to prepare a virtually unlimited range of meals that you know are healthy and enjoyable.
You can see a sample of the meals by checking out our free 1-day meal plan.

How Your Meal Planner Can Help Your Stick To Your Eating Choices
The principle behind a good meal planner is to ensure you know what you're going to eat for each meal throughout the week.
Once you've made the decision of what you'll eat at each meal, you can prepare your grocery list for the week.
Having your list will prevent you from picking up odd treats here and there. If you stick to your list, you'll stop yourself from straying!
Having the right ingredients on hand will mean you can prep your meals easily, twice per week, and have everything ready for each meal.
The Benefits Of A Meal Planner
You'll find there are a huge number of benefits to using a meal planner:
If you're eating 3 meals per day, 7 days per week, that's 21 meals that you need to think about preparing before you actually eat them.
The problem with this is that if you're hungry, you're more likely to grab something quick rather than something that's more healthy.
Using a meal planner and having your meals planned and prepared ahead of time makes it super easy to grab healthy food whenever you need it, without having to think.
All you need to do is prepare your meals for Monday to Wednesday on a Sunday and your meals for Thursday to Sunday on a Wednesday.
Store them in glass containers, in your refrigerator, and you're all set.
Once you've mastered cooking in two batches you'll discover that you spend less time cooking or even thinking about food.


Instead of cooking for up to 1 hour each day, you can simply batch up your foods and prepare 3 or 4 days worth of meals at the same time.
Using our 1-Day Meal Plan, you can get great ideas of the sorts of meals you can eat on the FF30X program.
This has to be a bonus!
You'll notice when you start using a meal planner, that your funds will go further.
In fact, it won't take you long to be able to calculate exactly what your menu choices will cost, before you go shopping.
Not only will you save money by buying just the items you need but you'll be less able to snack during the week.
Unhealthy food simply won't be available.

Keeping your nutrients balanced and the calorie count low is easiest to do when you use a form of portion control.
This could be the perfect plate approach, 50% vegetables, 25% protein and 25% carbohydrates.
By using portion control you'll be easily able to adhere to your calorie limits and reach your weight loss targets.
The essence of losing weight is to eat fewer calories than you burn on a daily basis.


Our programs do not call for calorie counting, but by using the perfect plates method described above, you will easily be able to adhere to your ideal calorie intake.
Choosing your meals in advance will help you understand the number of calories you'll be consuming and ensure they are lower than you need to lose weight.
It's also important to eat a balanced diet. This will ensure your body remains healthy as you lose weight. A meal planner will help you to achieve this balance.

It might seem surprising but by planning your meals in advance you'll discover that you can actually eat a more varied diet than you do now.
This is because you are thinking of your menu choices in advance and will choose a good variety of food rather than resorting to the old faithful when left to choose a meal on the spot.

Preparing Your Meals
Time-saving is one of the biggest advantages of meal planning. If you don't have enough free time as it is, this will help to create some.
By choosing your meals for the week you will be able to purchase exactly the ingredients you need.
You can then split your meals in half. The best idea is to prepare Monday to Wednesday's meals on a Sunday, and Thursday to Sunday's meals on a Wednesday.
Preparing the meals, including snacks, for the next few days should only take 1 to 2 hours; considerably less time than deciding what to cook and preparing it each day.
Consider this, you have chicken 3 times a week and each time you need to grill it for 10 – 15 minutes. By cooking the chicken for all three meals at the same time you will not have increased the cooking time.
But, you will have saved yourself 30 minutes during the week. When you multiply this by the various different dishes you consume, you'll quickly realize how much time can be saved.
You'll be able to spend more time with your family or working out.
You will find that most ingredients can be stored in sealed containers in your fridge and will keep perfectly for this period of time.
All you need to do when you eat is pick out the selected meal and heat if necessary.
Our Resources That Will Help
Our free 1-day meal plan will give you some ideas and a hint at the possibilities available to you when you start using a meal planner.
Whether you're looking for breakfast, lunch, a snack or dinner, you'll find something you like the look of.
Our FF30X program includes full recipes, methods and grocery lists that you'll be able to use throughout the plan.

The Bottom Line
A meal planner should be an essential part of your weight loss program. It will help you to achieve your goals.
But, you must choose the right one!
Start with our free 1-day meal plan today and join the FF30X to discover all the menu options available to you.
It will save you money, help you to lose weight, and even give you more free time. But, more importantly, you'll gain the support of me and all of us at The Fit Father Project.
We've all been there and are ready to help you succeed in your own weight loss goals.
Your new friend & health coach,

Here's How Busy Fathers Over 40 Are Finally Burning Stubborn Belly Fat & Getting Healthy Without Restrictive Diets or Time-Consuming Workouts
This proven "Fit Father Program" has helped 25,000 busy men 40+ lose weight, rebuild muscle, and finally keep the weight off.
If you're frustrated with stubborn belly fat, failed diets, and time-consuming workouts, this is the answer you've been looking for…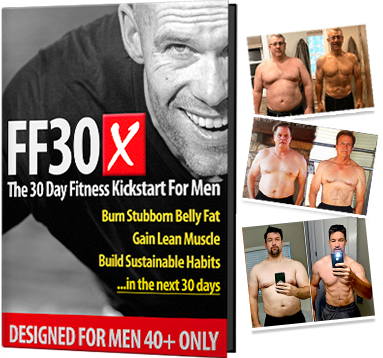 Join 22,000 guys in over 98 countries are using FF30X to lose weight. You get everything you need to succeed – including:
The Fit Father Meal Plan – with simple & delicious recipes
Safe & Effective Workouts Program – only 90 min/week
VIP Accountability Coaching – our Fit Father Team will personally walk you to success, step-by-step.
See the FF30X Program overview here. You'll discover how this proven Fit Father Program can help you lose weight and actually keep it off – without the complication and restriction of normal diets. »
*Please know that weight loss results & health changes/improvements vary from individual to individual; you may not achieve similar results. Always consult with your doctor before making health decisions. This is not medical advice – simply very well-researched info for a meal planner.