S
hopping is one of those things we accept in life as a 'must do' event. If you're looking to shop for healthier foods, a good place to start is with a meal prep grocery list that means you have the correct food when you need it.
Interestingly, using a meal prep grocery list can actually save you money as you'll know exactly what you need and won't be tempted by the 'great offers' the supermarket has.
Research shows that shopping on an empty stomach results in higher calorie foods being bought… AND, leads to a tendency to spend more.
What better excuse do you need to start using a meal prep grocery list today?
What Is Meal Prepping?
Unlike so many things in the modern world, meal prepping is exactly what it says it is, preparing your meals in advance.
In short, you'll want to choose recipes for the next few days, cook the food, and store it.
This helps you choose your meal, warm it up and get to eating any time you need to.
This has a good chance of stopping you from ordering fast food or other high-calorie options.
The process of creating a meal prep grocery list should be 3 phase:
You need to consider what you and anyone else in your home, enjoy eating. Undertaking meal prep doesn't mean you can't enjoy your food!
There are hundreds of recipes to choose from, some examples are below and you can check out the Fit Father Project for more inspiration. This is a good opportunity to choose recipes that are nutritionally balanced.
Get Your Supplies Together
Before you head to the store you need to consider what supplies you may need.
When undertaking food prep it is important to have several high-quality food containers available, these will be for storing your food.
You should already have all the utensils you need to create the actual meals.
Create a Meal Prep Grocery List
The final step, once you know which meals you'll be preparing in advance, is to make a list of all the ingredients you'll need. This is your meal prep grocery list.
There's an example of one below, along with some great recipe ideas!
Once you have this you can head to the store with your meal prep grocery list and purchase all the items you need.
The Benefits Of Meal prepping
Meal prepping is a great way to save money and time. As already mentioned, you're going to save money as you'll only need to purchase the specific ingredients on your list.
You'll also save time as you can make 3 or 4 days meals in a few hours on one afternoon.
Check out these great benefits of creating a meal prep grocery list:
It's worth mentioning it again, preparing food in advance will save you time compared to preparing meals daily.
This extra time is perfect for you to start building up your exercise routine, complementing your new eating habits!
Also, you get to spend the extra time with your family.
Research shows that you can save money
by prepping your meals in advance, you'll only need to purchase the exact ingredients for your recipes.
This can prevent you from over-buying and opportunist buying, both of which can make a serious dent in your finances.
Planning meals in advance allow you to control what food is going into your body. This can help you to eat a calorie-controlled, nutritionally balanced diet.
You'll also be less likely to graze when you shouldn't be.
Both of these things will help you to lose pounds, making meal prep a great weight loss aid.
It is important to balance your consumption of carbohydrates, protein, vegetables, and fat.
Meal prepping can help you to do this as you'll know exactly what is in each of your meals and the nutritional values.
This will help to ensure you're getting the nutrients you need without overeating.
This may seem like a small point, but, research shows that poor-quality diets dramatically increase the risk of heart disease, strokes, diabetes, and cancer.
Meal prep has the potential to save you money, improve your health, and help improve your quality of life as you age.
Whenever you're stressed your body releases a hormone called cortisol. This hormone prepares your body to fight or flight.
Unfortunately, it also blocks the production of many of your other hormones, potentially causing health issues, such as strokes, cardiovascular issues, and diabetes.
Living in the modern world means that you're likely to be stressed daily.
Your body is not capable of distinguishing between life and death scenarios as opposed to stressful situations at work.
Lowering stress can improve your health and your quality of life.
5 Great Recipes To Use With Your Meal Prep Grocery List
Start your meal prep grocery list and be inspired by these 5 recipes:

It's possible to split this recipe into two sections.
For the dressing:
3 Tbsp peanut butter
1 Tbsp brown sugar
Minced garlic clove
Fresh Ginger – ½ tsp
2 Tbsp lime juice
2 tsp soy sauce
Place all these ingredients in the blender and blend, that's it.
For The Salad:
Whole wheat spaghetti 8oz.
Finely shredded red cabbage
2 Carrots
½ cup chopped cilantro
Half cup peanuts
½ cup sliced green onions
Start by putting the spaghetti in a pan of boiling water and cooking it until it's soft. Drain it and rinse it.
While it's cooking put your cabbage and carrots in a shredder and shred them as finely as possible. Chop your peanuts and onions, add them, along with the cilantro to the cabbage, carrots, and the pasta. Mix thoroughly and store.
When you want to eat it simply pour the dressing on and enjoy.
It's good for 4-5 days in your refrigerator.

This is a great recipe to prepare your breakfast in advance, ensuring you have a healthy start to the day no matter how little time you have.
You'll need:
½ cup Oats
1 Tbsp Chia Seeds
Almond Butter 1 Tbsp
Almond Milk ½ cup
Fruit, (optional)
You can use a jar or a bowl to do this. Start by putting the oats into your bowl with your almond butter and chia seeds. Blend this smooth with a little of the almond milk.
Once you've done this add the rest of the milk and stir it.
Then it can be stored in your refrigerator until the morning. It's best to add fruit in the morning, just before you eat your oatmeal.
This recipe contains 9.5g protein, 37.9g carbohydrates, 24g fat, and vitamins A, C, D, B6, B12, K, iron, magnesium, and zinc.

You'll need
:
20 shrimp – peeled
2 chopped avocados
4 chopped tomatoes
2 Tbsp olive oil
Garlic clove minced
½ tsp ground cumin
Chili powder – ½ tsp
¼ tsp onion powder
Pinch salt
Start by heating a skillet until it's really hot, then add the shrimp. The heat will cook the shrimp within a few minutes and ensure they stay juicy.
You can then mix all the other ingredients together and then place the shrimp and other ingredients in the taco.
Top tip: Heat the tacos over your stove flame to give them a charred edge.

This is delicious and surprisingly simple to create.
You'll need:
2 Eggs
1 cup bread crumbs
¾ cup milk
1 onion – finely chopped
Pinch salt
2lbs ground beef
4 minced garlic cloves
¼ cup honey
2 Tbsp tomato puree
1 Tbsp butter
2 Tbsp soy sauce
This is pretty easy to make! The first step is to put a little butter in a pan, you can use olive oil if you prefer. Once it's hot add the ground beef and simmer, turning and stirring regularly until it's a light golden brown.
Transfer it to a bowl and add the rest of the ingredients, stirring constantly to ensure they are well blended. The finer you've cut the ingredients the better.
Once you've blended them you can shape the meatballs by hand and place them on a baking sheet. Alternatively, you can use a muffin tray. They then need to go in the oven for 10-15 minutes at 375°F.
They are perfect served with a light salad.

Chicken is a fantastic source of protein, it's easy to cook, and can be used in multiple recipes. This coconut mango chicken is a great addition to your meal prep grocery list:
You'll need:
4 Chicken Breasts
2 cups basmati rice
1 avocado – sliced
¼ cup of coconut milk 
For the mango marinade:
1 Mango
2 Tbsp olive oil
1 Tbsp lime juice
2 tsp honey
Garlic clove minced
For the corn salsa:
1 cup of corn
½ cup black beans
1 red pepper
Chopped onion, preferably red
A little lime juice
Start by mixing all the ingredients for the mango marinade together in a bowl. You can then place the chicken into a plastic bag and add half of the mango marinade. Leave this to sit for 10 minutes.
While you're waiting, mix the corn salsa ingredients together and cook your rice on the stove in boiling water, according to the instructions on the packet. Once it is cooked, add the sliced avocado and coconut milk.
Allow the rice to cool slightly before putting it into individual containers. Layer the chicken onto the rice and add the corn salsa and the rest of the marinade and seal your containers, that's it!
Meal Prep Grocery List
It may seem like you're going to need a lot of ingredients but your meal prep grocery list isn't as bad as you think. You'll need to take this meal prep grocery list to the store with you:
Peanut butter
Brown sugar
3 garlic cloves
Ginger
Lime juice
Soy sauce
Whole wheat spaghetti
Red cabbage
Carrots
Cilantro
Peanuts
Onions
Oats
Chia Seeds
Almond Butter
Almond Milk
20 shrimp
3 avocados
4 tomatoes
Olive oil
Ground cumin
Chili powder
Onion powder
Chicken Breasts
Basmati rice
Honey
Corn
Black beans
Red pepper
This may seem like a long meal prep grocery list, but don't forget that each of these recipes will do several meals. Prepare all five and you'll have enough to last you all week!
Extra Tips When Starting A Meal Prep Grocery List
Changing your eating habits can be challenging for your body, especially if you're looking to lose weight, start exercising, and even build muscle.
The following tips will help you use your meal prep grocery list to get it right the first time.
Add SuperFuel to ensure your body is getting the protein, vitamins, and other essential nutrients to support your new eating habits.
Discuss with everyone in your household regarding the meals you will all enjoy. It's important to do this before you create your shopping list.
Prepare just 2-3 days worth of meals to start with and choose meals for specific days of the week, to help everyone adjust smoothly.
Always date and label your containers, especially if you keep any in the freezer.
Always prep your food as fresh as possible. Try to organize your shopping trip on the same day as your cooking session.
Don't forget to include snacks in your meal prep lists. You'll need them during the week.
Make sure you put everything you need on your meal prep grocery list. It will ensure the whole process is much simpler. You only want to be shopping once a week.
Extra Motivation To Keep You On The Right Path
To really make a success of your meal prep grocery list you need plenty of menu options and the support of other men striving to achieve the same result as you.
That's what the Fit Father Project is here for.
Check it out today and take the first steps towards finding the new you.
Your new friend & coach,

Here's How Busy Fathers Over 40 Are Finally Burning Stubborn Belly Fat & Getting Healthy Without Restrictive Diets or Time-Consuming Workouts
This proven "Fit Father Program" has helped 25,000 busy men 40+ lose weight, rebuild muscle, and finally keep the weight off.
If you're frustrated with stubborn belly fat, failed diets, and time-consuming workouts, this is the answer you've been looking for…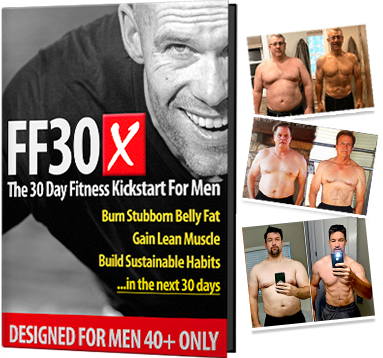 Join 22,000 guys in over 98 countries are using FF30X to lose weight. You get everything you need to succeed – including:
The Fit Father Meal Plan – with simple & delicious recipes
Safe & Effective Workouts Program – only 90 min/week
VIP Accountability Coaching – our Fit Father Team will personally walk you to success, step-by-step.
LEARN MORE ABOUT FF30X >>
See the FF30X Program overview here. You'll discover how this proven Fit Father Program can help you lose weight and actually keep it off – without the complication and restriction of normal diets. »
*Please know that weight loss results & health changes/improvements vary from individual to individual; you may not achieve similar results. Always consult with your doctor before making health decisions. This is not medical advice – simply very well-researched info on a meal prep grocery list.