H
ave you been working out consistently, but haven't seen results? It may be time to start measuring the intensity of your workouts.
The popular saying that "anything is better than nothing" only partially applies to fitness.
For the everyday Joe, a little bit of cardio here and there is much better than drinking a beer and watching ESPN for hours on end.
But for those of us who are seriously trying to slim down and increase our muscle mass, we have to be more strategic!
Simply doing the same workouts day after day without seeing results won't get you anywhere.
As Albert Einstein once said, "the definition of insanity is doing the same thing over and over again, but expecting different results."
So stop banging your head against the wall and learn how you can measure your workout intensity and improve their results!



Why You Should Measure Workout Intensity
Especially as we age and as health risks climb, it can be difficult to know what workouts are best for you.


Measuring workout intensity is important is because it prevents you from working too little or too hard.

That's right– overworking your body can be even more damaging to your body than under-working it.
When you learn how to measure the intensity of your workouts, you will be able to build a fitness routine that plays on your strengths and improves your weaknesses.
You will also be able to identify a "target zone" that the majority of your workouts should fall under.
Physical Cues to Measure Workout Intensity
There are three simple ways that you can measure workout intensity — no gadgets required.
The breathing test: When you begin to work out, your body's oxygen intake is relatively low. During this time, you are most likely breathing out of your nose. Once you switch to a higher intensity zone, your body needs more oxygen and will therefore automatically switch you to mouth breathing.
The appearance test: We all have physical "tells" that indicate when we're in a high-intensity zone. This could be turning red, sweating more, a distant look in your eye or tensing up.
The talking test: Your ability to talk is dependent on your ability to breathe. You will likely go from being able to hold a conversation to breathing between words as you increase intensity.
So what are all of these tests telling you?

If you find yourself breathing out of your mouth during your workout, you are likely in a high-intensity workout zone. But if you can't seem to get enough air in, you may be overworking yourself.


Turning red in the face and sweating is usually a marker of any good workout. But if you are overly red or sweating to an extreme, consider backing off for a few reps.
You should be able to say short, simple sentences while you are working out. If you can only grunt a couple of words, you're training dangerously hard. But if you can monologue about the vacation you're planning, you're not training hard enough.
While these inferences can give you an idea of where your workout ranks, from moderate to vigorous, there is a more scientific way to measure your intensity.
Using Your Heart to Measure Workout Intensity
By using a measurement called BPM (beats per minute), your heart rate can tell you very specifically how intensely you are working out.

Basically, there is a maximum number of BPM that your heart can safely handle during exercise, which is based on your age.


Once you know your maximum heart rate, you can then find your target heart rate.
Your target heart rate is a point where your heart is exercising to the fullest but is not overworked. This ideal heart rate is where you want most of your workouts to be.

Online calculators can help you find your target heart rate.
Once you're at the gym, pause your workouts when you think you're at your target heart rate and take your pulse for 15 seconds.
Multiply the number of pulses in the 15 second period by 4, and check that rate against your target heart rate.
If you are below your target heart rate, you should pick up the pace. Whereas, if you are above your target heart rate, you should take a break and slow the pace of your workouts to avoid overworking your heart.
Of course, if you are within your target zone, good job and keep going!
Reaching Your Target Heart Rate
It's important to stay safe as you work up to your fitness goals.


While exercising within your target heart rate is the best way to reap benefits from your workouts, you should start with a shorter amount of time in your target zone and work up to a longer period of time.
Try separating your workouts into moderate activity as you warm up and vigorous activity as you aim for your target heart rate.
Moderate activities include…
Walking briskly on a treadmill
Tennis doubles
Water aerobics
Cycling less than 10 miles per hour
Vigorous activities include…
Running
Swimming laps
Tennis singles
Hiking uphill
Jump rope

Take Aim at Your Target
Taking a bit more time to find your target can help you achieve your fitness goals for years.


Just like you wouldn't diet without weighing yourself, why would you exercise without knowing your target heart rate?

Once you begin exercising within your target heart zone, the results that you have been waiting to see should come along.
If you're ready to get started, our FF30X 30-Day Program can help take you to the next level.
The FF30X Program is designed specifically for busy men over 40 who are focused on losing weight and getting back in great shape.

With workouts specifically designed for aging men and their particular issues, this program will give you the confidence of your younger years.
With any fitness program, remember to stay patient and focused to achieve your dreams.
Your friend in health,

Here's How Busy Fathers Over 40 Are Finally Burning Stubborn Belly Fat & Getting Healthy Without Restrictive Diets or Time-Consuming Workouts
This proven "Fit Father Program" has helped 25,000 busy men 40+ lose weight, rebuild muscle, and finally keep the weight off.
If you're frustrated with stubborn belly fat, failed diets, and time-consuming workouts, this is the answer you've been looking for…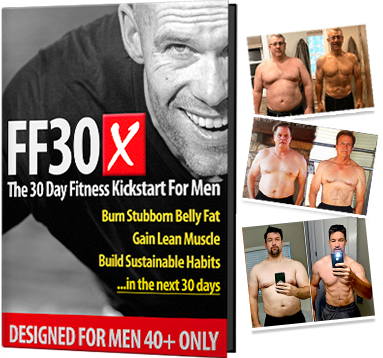 Join 22,000 guys in over 98 countries are using FF30X to lose weight. You get everything you need to succeed – including:
The Fit Father Meal Plan – with simple & delicious recipes
Safe & Effective Workouts Program – only 90 min/week
VIP Accountability Coaching – our Fit Father Team will personally walk you to success, step-by-step.
LEARN MORE ABOUT FF30X >>
See the FF30X Program overview here. You'll discover how this proven Fit Father Program can help you lose weight and actually keep it off – without the complication and restriction of normal diets. »
*Please know that weight loss results & health changes/improvements vary from individual to individual; you may not achieve similar results. Always consult with your doctor before making health decisions. This is not medical advice – simply very well-researched info on workout intensity.