I
f you're tired of being overweight, then you're on the brink of discovering the
motivation to get fit!
The first step is realizing you're overweight and the need to make a change.
The second step is reaching out for information.  Let's take a look at how to manifest that motivation and keep it flowing. On-demand motivation will allow you to achieve your goals, lose excess weight, and even run with your children again.


You're not alone! There are thousands of men who've already joined the FF30X program or even upgraded to the FF4L. If they can find the motivation to get fit then so can you! The great thing is that all these members are here to inspire you and help you to stay motivated. Achieving your goal is possible!
I know it can be challenging at times,  but by finding your motivation, and understanding where it came from, you'll be able to adopt the best approach and really succeed. Perhaps the best part is that you don't need to make radical changes to your current lifestyle and forbid yourself from your favorite pleasures. The motivation to get fit is beyond that.
Understanding The Science, Philosophy & Psychology Of Motivation
Motivation is defined as the reason for a person's actions. In effect, the needs of an individual create the desire to achieve them, which translates as motivation to do what is necessary to reach the specific goal.
These needs are often defined by culture and herein lies a major part of the motivation problem. You need a deep inner motivation to get fit for the rest of your life. The demands of society are not enough.
There is actually a science to motivation. Research shows motivation is affected by the amount of dopamine in your brain. Dopamine is released to make you feel good. This is the reason you feel so positive at the end of the workout.
However, new research suggests that dopamine is released before an activity happens in the awareness of what is about to happen. In essence, this means the release of dopamine will actually help to motivate you to achieve any goal.  Of course, this may not help you to start getting motivated, but it is an important factor in building a habit and staying motivated.
It is important to be aware that motivation is generally an emotional response and not a logical one. For instance, you're unlikely to turn down a pay rise; extra money is always a benefit. However, it may not increase your loyalty to the firm. For this, you need to have your efforts recognized and to feel valued as a person.
An employer is more likely to make you more productive by listening to your ideas, implementing the ones that are beneficial and treating you with dignity in the process. This is the psychology of motivation. The understanding that an emotional connection is necessary to achieve a goal.
How This Relates To Fitness
You need to have an emotional reason behind your motivation to get fit. The most common triggers are a health scare, the realization that you may not be there for your kids as they grow up, or even wanting to look your best for a specific event. You're already considering this by acknowledging that you are overweight and need to gain the motivation to get fit.
You can also feel motivated to act by a moral dilemma. For example, you're unlikely to leave a child to die in a fire if you can do anything about it. This is moral motivation in action, even if it is not a conscious part of your decision process.
Manifesting The Motivation To Get Fit
Okay, motivation is possible and desirable. But, to achieve your fitness goals, you need to make the leap between understanding the causes of motivation and actually implementing them.
If you have a specific goal, you may think that should be enough motivation. Unfortunately, most men prefer to leave things to the last minute. It's probably why you used to do your homework on the bus!
If you have a specific event in mind, such as the school reunion, this will help you to lose weight. However, without the right motivation, you'll postpone starting and lose less weight than you could have. It's also highly probable that you'll put the weight back on after the event.
Fortunately, you can take the following steps to turn the motivation idea in your head into a practical approach to motivation and getting fitter.
Start Small
You can't lose 20 pounds overnight or even safely in a week. But, you can start right now. Try putting on your workout clothes; this is so easy that you won't be able to say no to it. In short, you create a starting point that is impossible to say no to.
If you're looking at changing your diet, then start by buying one healthier item. When you would normally reach for that chocolate bar take the orange instead. You can do this by putting the orange on top of the chocolate bar.
Set A Schedule
Your next step is to create yourself a schedule, in short, make an appointment in your diary for that allotted time. You'll need to complete the start-up process above and think about how you are going to get fitter.  Then you'll quickly find that you are doing more than just thinking about it.
Start Moving
Boost your motivation and get off the couch by doing something. If you're not ready to start exercising then make your movement one that involves heading to the kitchen and starting some meal prep. This can encourage you to eat better during the week which will actually help to build your motivation.
Repeat the Pattern
Developing a plan is essential to building motivation. It should look something like this:
Your alarm beeps to tell you its fitness time.
Put on your chef's apron. It's so easy you have to do it.
Walk into the kitchen and open the cupboards, refrigerator and your cookbooks.
Pick a recipe and get the ingredients ready.
Start cooking and then store the meals for your week.
By doing this twice a week, you'll gain the motivation to prepare healthy meals because you'll follow a simple routine that leads to the right result.
The same is true when you're getting ready to exercise:
Set your alarm for fitness time.
Put on your fitness gear – again it's so easy you have to do it.
Start a warm-up routine; this will get you mentally ready to exercise.
Exercise!
Building A Plan To Maintain Motivation
Your motivation to get fit and stay motivated requires a plan. This can be the real challenge.
Setting Goals
You need a goal. Of course, if your goal is to lose X amount of pounds and get to your target weight but this is too general to help you stay motivated.
Instead break your goal into smaller ones, such as losing 2 pounds a week. This is measurable and achievable. The fact that you actually manage it will help you to stay motivated and keep doing it.
Select A Reward
Alongside setting yourself a small goal you should consider a reward, and no, this should not be food! The reward can be fitness related, such as a new pair of trainers for running or a set of dumbbells to allow you to try the 24-minute workout.
Alternatively, you could promise yourself that trip to a special game or another place that you've always wanted to visit. The thought of the reward will help you to stay motivated during the week.
Create Accountability
Telling your partner or friends about your fitness goals will create accountability.  You'll need to report in weekly to them so that they can track your progress.
In fact, if you want to up the ante a little, you can attach a reward or punishment to this as well. If you don't reach your target, you'll have to pay them a set amount.
Alongside this, especially if you don't think it will make you accountable enough, you should join FF30X. You can then report your results every week, knowing you have to share this info is often all the motivation you need.
Here's How Busy Guys 40+ Are Finally Losing Weight…
If you're in your 40s, 50s, & 60s, you need to eat and exercise differently to lose weight & actually keep it off…
Make It Competitive
Another great way of maintaining your motivation is to get a friend to commit to the same thing as you. It doesn't matter if they don't want to lose as much weight as you. Both of you need to set yourself targets and have a penalty if you don't reach them.
This will help with motivation, but the desire to beat your friend will be extremely beneficial. You may be surprised by how motivational this is even when you don't consider yourself competitive.
Build Your Habit
Everything you are doing is helping you to create a habit. It is the habit that will ensure you keep exercising and eating properly, even if you don't feel motivated to do it.
This is why it is so important to add your fitness to your schedule and then go through a set routine. Even if you don't feel motivated to exercise or eat healthily, the routine will help you to do it and want to do it.
Top Tips & Practices To Stay On Track
Exercise is not enough to get fit. In fact, what you eat is actually 80% of the story. This is why it is important to familiarize yourself with the perfect plate approach to food and check out your maintenance calories.

You can also use these top tips to help you stay on track:
Hydrate
It is important not to underestimate the power of water. In fact, it is essential to the healthy operation if all the cells in your body, which ensures you're able to work out to the best of your ability.
Staying hydrated is also good for your skin and will help you to feel fuller, preventing you from eating food that you shouldn't be.
If you think you have hunger pangs drink some water and then see how you feel 30 minutes later.
Remove The Junk
You know you need to eat healthier food, but it can be hard when your cupboards are full of crisps, sweets and other snacks. Eliminate them from your home. This will make it much harder for you to eat them when you shouldn't be.
Sleep
Every man needs to sleep between 6 and 8 hours a night. This allows your hormone levels to balance, reducing hunger and increasing the feeling of being full. It also reduces your stress levels which allows your body to produce other important hormones, such as testosterone.
Set yourself a bedtime that ensures you get between 6 and 8 hours of sleep every night.
Challenge Yourself
A great way to keep yourself on track is to set yourself a challenge. This can simply be beating your own time or weight lifting capabilities, but it can also be a good idea to sign up to a race.
If you've never run 5k before, then commit to a run in 3 or 6 months; put plenty of reminders up around your house, and you'll see your motivation sky-rocket!
Keep It Varied
It is important to join the FF30X as you'll gain access to hundreds of different workout ideas. This will help you to keep your workouts varied and prevent boredom from creeping in. Avoid boredom and lack of interest by mixing up your routines.  You need to work different parts of your body every day.
Put Your Training Gear In the Right Place
I know it can be hard to get up from the couch after a hard day at work. This is why you need to create little habits that put you in the right mental frame of mind for exercising and eating right.
Find a spot near your favorite seat where you can put your training gear and even your kitchen apron. You can then start your routine without even getting out of your chair; this will get your motivation going even when you don't feel like doing anything.
The real secret to getting and keeping motivation going is as simple as taking small steps every day. Small steps are achievable and allow you to reach the overall goal without needing to think about it.

Here's How Busy Guys 40+ Are Finally Losing Weight…
If you're in your 40s, 50s, & 60s, you need to eat and exercise differently to lose weight & actually keep it off…
Join Us And Get the Motivation To Get Fit Today
The Fit Father project is here to help and support you, just as it has already done for thousands of other men. Join the FF30X today and chat with other men who are working towards their own fitness goals. Their stories can inspire and motivate you just as yours will do the same for others.
If you're already a member of the FF30X then you know how it can help, upgrade to the FF4L today and commit to a new, healthier you for life; you can get and keep the motivation to get fit!
Your new friend & health coach,

Here's How Busy Fathers Over 40 Are Finally Burning Stubborn Belly Fat & Getting Healthy Without Restrictive Diets or Time-Consuming Workouts
This proven "Fit Father Program" has helped 25,000 busy men 40+ lose weight, rebuild muscle, and finally keep the weight off.
If you're frustrated with stubborn belly fat, failed diets, and time-consuming workouts, this is the answer you've been looking for…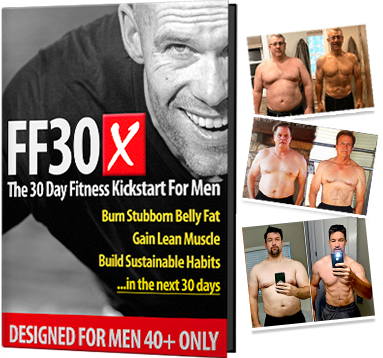 Join 22,000 guys in over 98 countries are using FF30X to lose weight. You get everything you need to succeed – including:
The Fit Father Meal Plan – with simple & delicious recipes
Safe & Effective Workouts Program – only 90 min/week
VIP Accountability Coaching – our Fit Father Team will personally walk you to success, step-by-step.
See the FF30X Program overview here. You'll discover how this proven Fit Father Program can help you lose weight and actually keep it off – without the complication and restriction of normal diets. »
*Please know that weight loss results & health changes/improvements vary from individual to individual; you may not achieve similar results. Always consult with your doctor before making health decisions. This is not medical advice – simply very well-researched info on finding the motivation to get fit.