While you can't change your genetics or natural body habitus, muscle building for skinny men is possible.
Let's face it, it can be hard for anyone to build muscle, but it can be even more difficult for skinny guys to gain lean mass.
To get bigger, you have to increase your calorie intake to see gains.
However, you want this to be in the form of lean muscle.
Building muscle and getting in great shape takes time, discipline, and motivation. That's often easier said than done!
But with some of these top exercise and nutrition tips, muscle building for skinny men can happen!
Meet SuperFuel. The Delicious Protein Shake Packed With 40+ Energy-Boosting Vitamins & Superfoods (Designed For Busy Men)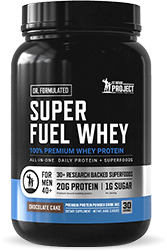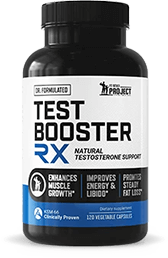 As a busy guy, it's challenging to stay consistent with healthy eating. That's why we created SuperFuel… the delicious "all-in-one" nutrition shake for busy guys 40+ to give your body the protein + key nutrients you need for more energy, fat burning, and muscle building.
Muscle Building for Skinny Men
Everyone is going to be a little different in their ability to put on muscle.
Some of these things are totally in your control, like your workout routine and nutrition intake.
Other aspects, like your genetics and age, are out of your control.
Genetics
For most skinny guys, genetics is what makes it harder to see a big growth in muscle size.
Hormone levels, muscle length, and bone structure all play a role in the amount of muscle you'll be able to build over time.
For skinny guys, the process might be a little slower than it is for others, but with a strong work ethic, anyone can achieve amazing strength gains.
Age
As men age, testosterone levels decrease.
This leads to a decline in metabolism and skeletal muscle mass.
Luckily, engaging in exercise will help boost these levels.
Dietary Intake
The composition of foods you eat will play a critical role in your ability to build muscles.
Protein is the most common nutrients guys think about when talking about muscle growth.
However, carbohydrates and healthy fats will also help stimulate muscle growth when eaten in the correct amounts and at the right times.
Resistance Training
This is pretty obvious, but increasing muscle mass requires that you lift heavy weights.
But just like nutrition, the types of exercise and the timing of your workouts will play a big role in determining how fast you will get those ripped muscles.
Starting a Workout Program
At the beginning of a fitness program, skinny guys may notice faster gains that then slow down slightly.
This is normal as your body will respond to your workouts more quickly in the beginning.
This means at first you can build muscle at a higher rate than those that have been bodybuilding for years.
There is even research backing this up. Studies have shown that resistance exercise leads to changes in skeletal muscle that result in increased muscle size and changes in contractility even after just a single episode of exercise.
This is actually great news for skinny guys that are new to weightlifting.
The quick results help keep you motivated to continue working out.
Once your body starts to adjust to your lifting routine, the process bulking process will slow down somewhat.
This can be even harder in skinny guys. But no worries!
These tips will help maximize your muscle growth and keep you motivated in the weight room.
Learn how to start building muscle TODAY! This video will teach you the essentials of building muscle for beginners.
Top Tips For Building Muscle Mass
Incorporate Resistance Training
Resistance exercise stimulates hormones and growth factors that causes your muscle fibers to increase in size.
This is what eventually gives skinny guys a more ripped, built physique.
You have to incorporate resistance training with heavy weights to build muscle mass.
If you are new to weightlifting, you should always start with a light weight and gradually work your way up each session.
This will help you avoid injury as you progressively get stronger.
In addition, it's a good idea to have a spotter to not only help you with your lifts but to also evaluate your form.
When choosing the types of lifts to do, you should do both full body and compound exercises.
This will target multiple large muscle groups at once.
Lift Heavier Weights With Fewer Reps
Instead of trying to do 10-15 reps of an exercise, choose a higher weight and aim for five to six reps each set.
Then try to do three to four sets of each move.
By doing fewer reps, you can use heavier weights with good form so that you can really work on muscle hypertrophy.
While studies have shown that you can lift lighter weights with higher reps to build muscle, it still seems that using heavier weights is superior for maximizing strength gains.
You may think that lifting heavier weights will put you at a higher risk of injuring yourself.
But you can actually increase your risk of injury due to overuse and repetitive strain if you are doing countless reps with a lower weight.
Instead, focus on slow concentric and eccentric movements with proper form throughout each lift.
Consistently Train at Least Two to Three Times a Week
To build muscle, the general consensus is that you should train each large muscle group two to three times a week.
If you aren't busy, you might be able to split this up and work specific body parts each day.
For example, Monday could be chest and triceps day, Tuesday is leg day, and so on.
However, if you are like most dads, you are pretty busy and may only have a few days a week that you can fit in a workout.
This means training multiple body groups each session by doing two to three full-body workouts a week to hit every muscle group.
Luckily, full-body workouts have shown to be very effective for building muscle when done three times weekly.
A study in the Journal of Strength and Conditioning Research found that a training frequency of three days per week produced superior results compared to once a week.
Proper Nutrition to Maximize Muscle Growth
On top of a proper lifting program, dietary choices are essential to muscle building for skinny men.
Along with this you also want to time when you consume these nutrients.
Protein
No. 1 on every guy's muscle-building nutrition list is protein. And for good reason!
Protein is the building block for muscle growth, so you want to include lean protein sources into your diet throughout the day and following your strength training workouts.
Protein not only builds muscle, but it also spares your lean mass while you are working out and breaking down muscle.
The exact amount of protein you should consume will depend on your specific goals and current weight.
There has been a lot of research trying to figure out the optimal protein intake for active guys.
A recent meta-analysis found that muscle-building gains appear to max out around 1.6 grams per kilogram of body weight.
The authors of this study noted, however, that for those looking to maximize muscle-building gains this number could be increased all the way up to 2.2 grams per kilogram, or about one gram per pound of body weight.
So, if you are a 160-pound guy, you would be aiming for 160 grams of protein per day.
Carbohydrates
Over the years, carbs have gotten a bad rap.
But contrary to some popular belief and media hype, carbs are not all bad.
In fact, carbohydrates are critical for muscle gains, especially on high-intensity training days.
Studies have shown that combining weight training exercise with carbohydrate intake results in significantly greater gains in both slow and fast-twitch muscle fibers than in weight training exercise alone.
This means that after a high-intensity strength training workout you should consume both protein and carbohydrates to maximize your muscle growth.
If you don't have time for a full meal you could grab something like an apple and some peanut butter, or almonds with yogurt.
Numerous studies have even chocolate milk to be a great mix of protein, carbs, and fat after a workout.
You can build muscle on a vegan diet. Here's how.
Eat Protein at Each Meal
The composition and macronutrients in the food you eat throughout the day are also important to enhance muscle growth.
Research has found that eating a moderate amount of protein at each meal stimulates muscle protein synthesis more effectively than eating a large amount of protein at one meal.
Find out how much protein you really need and calculate your daily protein intake!
Even Skinny Guys Can Bulk Up
For skinny guys, building big muscles may seem like a tough task.
But with the right strength training and nutrition program, you can gain muscle mass and improve your overall health.
These tips will help you bulk up and get that strong and healthy-looking physique and be an inspiration to all skinny guys out there looking to build muscles!
Here's How Busy Guys 40+ Are Building Age-Defying Muscle And Strength… Working Out Just 3 Hours Per Week...
This proven "Old School Muscle Program For Guys 40+" combines the "old school" bodybuilding secrets with the "new school" science… to produce muscle & strength building results fast.
Only for guys 40+ who want to build muscle.
If you're frustrated with stubborn belly fat, failed diets, and time-consuming workouts, this is the answer you've been looking for…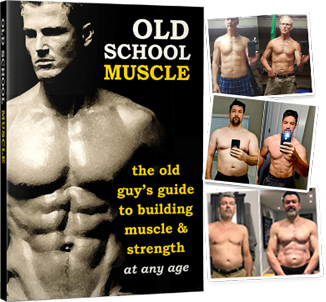 Old School Muscle (OSM) covers every aspect of building muscle for you as a guy 40+:
Old School Muscle (OSM) covers every aspect of building muscle for you as a guy 40+:
The 9-Week Muscle Building Program – safe, joint-friendly exercises
VIP Accountability Coaching – our Fit Father Team will personally walk you to success, step-by-step.
See the Old School Muscle (OSM) Program overview here. You'll discover how this proven program has helped thousands of guys 40+ pack onage-defying muscle and strength – the smart & sustainable way. »
*Please know that weight loss results & health changes/improvements vary from individual to individual; you may not achieve similar results. Always consult with your doctor before making health decisions. This is not medical advice – simply very well-researched info on muscle building for skinny men.