Have you ever dealt with muscle soreness after workouts? We've all had that rough morning the day after a tough workout!
Achy, sore muscles can make you feel like you were hit by a truck.
Muscle soreness a day or two later, also referred to as delayed onset muscle soreness (DOMS), is common after intense strength training, and even cardio workouts.
Fortunately, there are ways to decrease these symptoms so that you can attack your next workout fresh and recovered.
Intense workouts and muscle soreness tend to go hand in hand.
But if you want to get the full benefit of your workouts, you have to incorporate proper recovery methods.
Not only will your body feel better, but it will get you to your next workout fresher and ready to give your full effort.
DOMS can decrease your performance and even just your day-to-day activities after tough workouts.
But with the right recovery tips, you can diminish muscle soreness after workouts, improve your overall fitness and health, reduce injuries, and build muscle and strength.
Keep reading to learn more about muscle soreness after workouts and how to recover to rebuild.
Here's how to get rid of post-workout muscle soreness now, and reduce it after your upcoming workouts.
Recovery For Muscle Growth
When you exercise, you create tiny microtears in your muscle fibers.
Studies show that intramuscular inflammation is a tightly coordinated and dynamic process that eventually leads to muscle remodeling.
This is how you achieve muscle growth.
And while this inflammation is necessary for muscle hypertrophy, it is also what leads to DOMS.
So the first step to decreasing soreness is to give these torn muscle fibers time to rebuild by allowing your body to rest between your strength training sessions.
This is crucial so that muscle tears can repair and rebuild.
Without proper recovery, your body will be constantly breaking down muscle without properly building it back up again.
Not only can this lead to an increased risk of injury and burnout, but you also won't be reaching your maximum muscle-building potential.
Dealing with muscle soreness is sometimes tougher than the actual workouts themselves!
But with the following tips for dealing with muscle soreness after workouts, you will feel better after your workouts and be able to get back to your routine quicker.
Meet Joint RX. The Advanced Joint Support, Recovery Aid, Inflammation & Pain Reducer for Men 40+
Joint RX is for guys feeling the aches of getting older and want a research-backed supplement to feel better & move younger. It will help reduce pain in your problem areas and help you workout with less pain. Joint RX increases your body's natural joint lubrication to boost your healing and recovery so you stay strong & mobile with age.
Dealing with DOMS: Top Tips for Reducing Muscle Soreness After Workouts
Use Compression Garments
Compression gear comes in all shapes and sizes, from socks to pants to long-sleeve shirts and sleeves.
These garments squeeze your extremities which puts pressure on your blood vessels.
This increases blood flow to your muscles to aid in recovery and the removal of waste products, such as lactic acid, after a tough workout.
Research has found that utilizing compression garments for recovery after exercise can help increase power and strength.
In addition, there is evidence that compression gear can also reduce perceived muscle soreness and swelling.
Cold Immersion Therapy
Cold water immersion therapy (also called cryotherapy) has been shown to mitigate DOMS.
A 2015 meta-analysis of 27 research articles found that cooling and especially cold water immersions improved the symptoms of DOMS significantly 24 hours after recovery.
If you've never tried cold water immersion before, you can start out by standing in a cold shower following a workout.
At the end of your shower turn down the temperature as cold as you can handle and stay in for as long as possible.
After trying this a few times you can attempt an ice bath.
To do this just add a couple of bags of ice to a cold bath and submerge yourself in the ice. Try and stay in for at least 5 minutes.
As you become more accustomed to this method of recovery you can increase the time spent in the bath.
Massage Guns
Percussion, or vibration therapy, is one of the newer trends guys are using to help decrease DOMS.
Percussion devices, or massage guns, are marketed under a number of different brands, but all of them use the same principles.
When used correctly, percussive massage devices can be used in a variety of ways to dramatically improve recovery time.
As mentioned above, these devices help with post-workout soreness by increasing blood flow to the muscles used in their training.
This helps target sore muscles in a similar way a massage would.
In addition, massage guns can decrease myofascial adhesions that reduce range of motion and cause even more pain during exercise.
Using a percussive device helps break myofascial and restore range of motion.
Dynamic Stretches Prior to Workouts
Guys typically think about what they can do after a workout to decrease soreness.
But actually what you do before can have just as big of an impact.
Warming up before a workout with dynamic stretching can help decrease DOMS.
Plus, dynamic stretches help increase power output during a workout when compared to static stretching, which can actually decrease power output.
So not only will dynamic stretches help with muscle recovery, they will also lead to a more beneficial workout overall.
Dynamic stretches are exercises where you move your muscles while stretching instead of holding them for prolonged periods of time in a set, or static, position.
Here are some examples of both upper and lower body dynamic stretches to include before and after your next workout:
Inchworm
Start on your hands and feet with your hips in the air in an inverted V position.
Then walk your feet as far forward as possible while keeping your legs straight.
Then, walk your hands out, extending your body into a plank position.
Then raise your hips up again into an inverted V and repeat 5 times.
Leg Swings
Hold on to a wall or chair.
Swing one leg back and forth as if you're kicking a soccer ball.
Do about 10 swings with each leg.
Back and Chest Rotations
Start down on all fours with your knees below your hips and wrists below your shoulders.
Place your left fingertips behind your left ear.
Rotate your upper body to the left, so that your left elbow points up to the ceiling.
Then twist your torso back to the starting position.
Continue for 8 reps on the left, then switch sides and repeat on the right.
Use this ground-up, post-workout stretch routine to get rid of lactic acid from your muscles after your workouts and help to avoid delayed onset of muscle soreness (DOMS).
Foam Rolling
While a warm-up with dynamic stretching can help decrease DOMS, the cooldown does not seem to have as much of an effect on muscle soreness.
However, foam rolling can substantially improve muscle soreness after exercise.
Foam rolling is a form of self-myofascial release (SMR).
Myofascial release is an osteopathic manipulative technique where a physician or someone trained in this modality applies sustained pressure on restricted areas of connective tissue, also known as fascia, that surround your muscles and bones.
They apply pressure to release the restriction in connective tissue so that you have a greater range of motion and less pain.
However, most guys don't have access to a personal trainer right after a sweat session.
Luckily, with a foam roller, you can get a similar benefit by doing this yourself.
With a foam roller, you can target the upper and lower body to improve range of motion and decrease post-exercise soreness.
You simply use your body weight on a foam roller to exert pressure on the targeted muscles and connective tissue.
You can adjust your body position to isolate specific areas of the body and treat restrictions in the soft tissue.
Here are some great foam rolling exercises for after a workout:
Hamstrings
Sit with your right leg on the foam roller and your left knee bent with your hands on the floor behind you.
Roll up and down from your knee to just under your right butt cheek.
Roll back and forth 8-10 times then repeat on with the left leg.
Quads
Lie facedown on the floor and place the foam roller under your hips.
Roll up and down from hip to knees 8-10 times.
Shoulders
Position your body on your right side, with a foam roller under the right side of your chest.
Extend your right arm out on the floor with your right leg straight on the ground, and your left leg propped in front of your body with your knee bent.
Rotate back slightly so your right lower shoulder muscle is in contact with the foam roller.
Slowly roll foam roller a few inches closer to legs, then a few inches closer to head 8-10 times.
Switch sides and repeat.
Learn about the 3 best tools to relieve muscle pain and tightness and how you can use them.
Protein and Carbs After a Workout
Since protein is the building block for muscle growth you should try to include food with quality protein into your diet throughout the day and following your strength training workouts.
Research has found that whey protein has the advantage in aiding muscle growth following a workout.
It is digested quickly, peaks in the blood, and can be used for muscle protein synthesis in the crucial period following a workout where muscle breakdown has occurred.
In an especially intense workout, it is also important to combine protein with carbohydrates to replenish glycogen stores.
Not only this but since carbs cause a rise in insulin, this will shuttle nutrients into your muscle fibers and further aid in muscle recovery.
After a workout, a whey protein shake with additional carbs is a great option.
Studies have even found that fat-free chocolate milk is a great post-workout go-to due to its ratio of protein and carbohydrates!
Other quick go-to snacks after a workout include peanut butter and apples or yogurt and granola.
Meet SuperFuel. The Delicious Protein Shake Packed With 40+ Energy-Boosting Vitamins & Superfoods (Designed For Busy Men)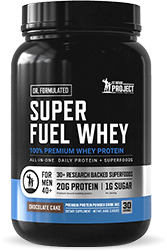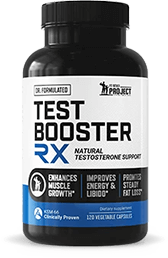 As a busy guy, it's challenging to stay consistent with healthy eating. That's why we created SuperFuel… the delicious "all-in-one" nutrition shake for busy guys 40+ to give your body the protein + key nutrients you need for more energy, fat burning, and muscle building.
Stay Hydrated
It's easy to remember to drink fluids during a tough workout.
But if you really want to help get rid of that muscle burn hours later you have to remember to stay hydrated throughout the day as well.
As already discussed, strength training builds up muscles by first breaking them down and then rebuilding them through protein synthesis.
Building up muscle fibers requires you to be well hydrated.
Dehydration can slow protein synthesis, delay recovery, and increase muscle soreness.
There is no set value of water you should drink every day since this will vary based on your level of activity.
The easiest way to monitor your hydration status is by the color of your urine. It should be pale or clear colored.
Find out the secret to drinking more water and having better hydration!
Sleep
While laying in bed may seem counterproductive to fitness, this is the ultimate recovery tool to decrease soreness after workouts.
While you sleep your body is able to fully recover and repair itself after an intense workout.
Sleep enhances muscle recovery through protein synthesis and human growth hormone release.
Plus getting enough sleep decreases cortisol surges which can increase muscle breakdown.
It is crucial to get 7-9 hours of sleep each night to allow for the best recovery.
Learn some sleep and weight loss facts including how you can leverage sleep to improve your health.
Here's How Busy Fathers Over 40 Are Finally Burning Stubborn Belly Fat & Getting Healthy Without Restrictive Diets or Time-Consuming Workouts
This proven "Fit Father Program" has helped 38,000 busy men 40+ lose weight, rebuild muscle, and finally keep the weight off.
If you're frustrated with stubborn belly fat, failed diets, and time-consuming workouts, this is the answer you've been looking for…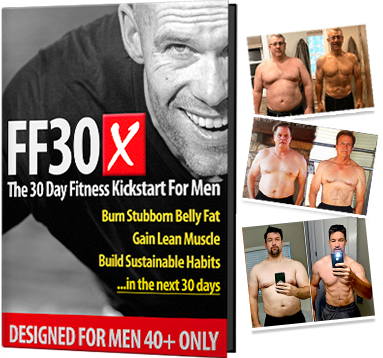 Join 38,000 guys in over 108 countries that are using FF30X to lose weight. You get everything you need to succeed – including:
The Fit Father Meal Plan – with simple & delicious recipes
Safe & Effective Workouts Program – only 90 min/week
VIP Accountability Coaching – our Fit Father Team will personally walk you to success, step-by-step.
LEARN MORE ABOUT FF30X >>
See the FF30X Program overview here. You'll discover how this proven Fit Father Program can help you lose weight and actually keep it off – without the complication and restriction of normal diets. »
*Please know that weight loss results and health changes/improvements vary from individual to individual; you may not achieve similar results. Always consult with your doctor before making health decisions. This is not medical advice – simply very well-researched info on muscle soreness after workouts.