I
t's that time of the year again… New Year's Health Resolutions. Another chance to recommit to losing weight and living healthier in the New Year. No matter what happened with your health last year…
This year, you have back-up and a new game plan.
Welcome to your "Official New Year's Weight Loss Plan For Men" Guide!
If you're anything like me, you want to burn off those extra holiday pounds, get motivated to live healthier, and (hopefully) keep all the pounds off for good.
So, it's time for us to set some serious New Year Resolutions… right?
Not so fast…

Here's How Busy Guys 40+ Are Finally Losing Weight…
If you're in your 40s, 50s, & 60s, you need to eat and exercise differently to lose weight & actually keep it off…
Science Proves It: New Year's Resolutions don't work.
Research has proven it…
92% of New Year's Resolutions fail by March.(1)*

Shocking statistics right?
Losing weight & getting healthier is the #1 resolution worldwide, that means MILLIONS of people are failing at their weight loss goals in a matter of weeks.
The story is almost always the same…
In January, many of us set resolutions to lose weight and live healthier with the best intentions, yet when "life happens" in the New Year, we lose motivation, stop our resolutions, and quickly find ourselves falling back into old patterns.
Here's the TRUTH (and good news)…

It is 100% possible to achieve your weight loss and health goals.

You simply need a much smarter and proven approach to win.


Here at the Fit Father Project, we've personally coached over 25,000 fathers through successful weight loss transformations – where the results actually stick around.
We've seen what works, what doesn't, and how to create lasting weight loss plan for men that actually lasts.
The key to your success is building Sustainable Habits – not empty resolutions.

In this weight loss plan for men guide, I'm going to show you the Exact 5 Step Plan you can follow to ensure you see successful results this year.
Ready to dive in? Grab a pen and paper to jot down some notes.
Let's get started!
Step #1 – Instead of setting big Year Long goals, start by creating a crystal clear 30-Day Target
Most resolutions that FAIL look something like this…
"I want to… (insert vague health improvement – i.e. lose weight/get fitter/be more active) by the end of this year."
The BIG problem with this approach is that it's very difficult for our brains to "emotionally back" these types of vague long-term goals.
First, it's hard for our brains to visualize the "finish line" of what 80 lbs weight loss progress looks like – when we've been struggling for so long.
Second, often our brains don't even fully believe we can actually accomplish those changes we are creating resolutions for.
With these types of vague resolutions, we are really "wishing" for health changes – rather than making specific commitments.
Massive goals with lack of specificity always lead to poor results.


Instead of vague year-long goals, start with small, clear 30 day milestone goals.

Clearly defined short-term "milestone goals" help you…
1) Set an achievable target. With 30-day goals, you will clearly see the first milestone marker of your ultimate goal.
2) Build your confidence & motivation. Nothing builds momentum and motivation like early progress. After your initial results, you will be in a stronger position to set bigger goals.
3) Help you take action. It's much easier to identify the immediate action steps you can take in the next month than visualizing a total life overhaul with a big, vague goal.
Take this year's health transformation one step at a time with some crystal clear 30-day goals.
The best 30-day weight loss milestone goals contain the following:


A specific weight loss target (written in the present tense)
2-3 action steps that you will implement
Reason WHY you want to lose weight
Here is an example of a GOOD 30-day New Year weight loss plan for men:


I am losing 2-3 lbs of body-fat each week from January 1st to January 30th (an 8-10 lb goal). I will achieve this goal by doing the following 2 things: eating 75% of my normal portion size and undertaking 30 minutes of physical activity 6 days per week before work
This goal written above is a good starting point of a New Year weight loss plan for men.
It honors the fact that healthy eating & daily activity are the two most important factors for losing weight.
If you're interested in a completely "done-for-you" eating and workout plan that has helped over 25,000 fathers lose weight, you can click here to read the overview letter for our Fit Father 30-Day Program (FF30X).
It's not "by accident" that our Fit Father Plan starts with at "30-Day Phase #1" that will help you crush your first milestone goal.
Achievable milestone goals are necessary for your success.
Step #2 – Write down your starting body statistics
Now you have your clear goal and 30-day milestone, you need to get clear about your exact starting stats.
Here are a few baseline stats we recommend you take inventory on:

Reason WHY you want to lose weight
Your current body-fat level (ideally measured with DEXA scan/caliper. Alternatively, estimated from the picture below)
Your current average energy level (on a 1-10 rating scale)
Your current sleep amount (# hours)
Your current average daily water intake (#oz)
Your current average daily exercise amount (# minutes)
This isn't about beating yourself up for what you're not doing… it's about taking an honest inventory on where you're starting so you can look back on your progress over the next 30-days.
Personally, I would also take two kinds of pictures to track progress as well (like my old ones shown right):
front-on torso
side-on torso
Although weight and body fat percentage numbers are things we will be tracking, photographs are EXTREMELY useful to capture as well.

Sometimes when your weight is not "moving" down as fast as you'd like, your body is recompositioning with more muscle mass.
Pictures taken 7-14 days apart help visualize these changes.
Now that you've taken your baseline inventory….
Step #3 – Use this New Year weight loss plan for men to set your daily, weekly, & monthly habits
At this point, you have your goal 30-day destination and start point. Now, all you need now is "the route."
Specifically, we need to identify the highest-leverage health habits that will…
Get you from "Point A": (your current stats on Day #1)…
To "Point B": (your goal stats on Day #30)…
In the most easy & efficient manner possible.
To make this guide super useful for you, I am going to break things down into the daily, weekly and monthly habits & action steps that I recommend you follow to produce the the most effective New Year weight loss plan for men & results.
Here Are 6 Action Steps To DO DAILY:
Drink a minimum of 2.5 – 3 litres of water, including 1 litre within 30 mins of waking – Essential for more things than can be listed here!
Weigh yourself daily and note it down – Try to do this at the same time each day, in your "birthday suit." I would suggest first thing, before your morning shower.
Perform 30 minutes of physical activity – Literally anything that gets you slightly out of breath and a light sweat on (Brisk walk, Exercise class, Bike ride, Gardening, Punch bag, etc.). Instead of starting an intense workout routine that will make you so damn sore that you can't move for the rest of January, start with daily activity instead. Research shows that daily activity works very well for weight loss
Pack healthy meals for work– Use your prepped and stored food to put together meals for the day (See "Weekly Tip #2" coming up next).
Journal – 5 minutes in the morning and 5 minutes in the evening is perfect to jot down what you will do to achieve your goal and what you have done/could do better.
Stretch – A quick 5-10 minute stretch routine each morning is great for you to get blood circulating and joints lubricated – helping you get ready to take on the day.
For more information about fat-burning recipe ideas and the best activity plan to increase your metabolism, check out our FF30X Weight Loss Eating & Exercise Plan Here is a link to the program overview letter..
Here Are 4 Action Steps To DO WEEKLY:
Evaluate your week progress – Take a look back over the week and note down what went well, what improvements would have made the week better and what you will change next week.
Grocery shop for the coming week – List out what you will need and go to the grocery store to stock up on the necessities.
Meal prep for the following week – Once you have your chosen foods, prep them for the coming week, so that you can just pick out from your storage each day.
Plan your activity for the next 7 days – Take a look at the class timetable or arrange a bike ride with some buddies. Whatever you are going to do, schedule it in and get on it!
Suggestion: Find a fast & effective fat-burning workout to use. If you're looking for an effective, safe, & time-efficient workout, click the box below to receive our FREE 24-minute fat burning workout.
Here's A Free 24-Min Fat Burn Workout For Busy Men 40+
This powerful workout will reignite your metabolism to burn fat 24/7 like you did in your 20s…
Here Are 3 Action Steps To DO MONTHLY:
Evaluate your measurements – Whatever measurements you took at the beginning of your journey, now is the time to re-take and see the results. Jot them down on the same sheet of paper or log them in a tracker. Anywhere you can compare them is ideal.
Adjust course necessary – Depending on what your results show, you can change up your activity and nutrition. If you are on course, then there may be nothing to change, but if you aren't then a change may be necessary. Be honest about your nutrition and make any changes where you know you may have slipped. Likewise, be honest about any exercise sessions you may have missed or the levels you have exerted yourself.
Have another "photo shoot" – If you took the front-on and side-on torso photographs that I suggested, each month would be a good time to re-take and compare these too.
Step #4 – Be Honest and Realistic!
If your goal is like the one above…
Is losing 2 lb of body-fat per week a realistic goal for you?
Will you honestly make time to exercise for 30 minutes, 6 days per week and will you make sure you are following a meal plan that controls your calories every day?
If you cannot answer these with a 100% yes just yet, then scale back and set a goal that you know has steps that you can honestly take.
Can you exercise for 30 min, 4 days per week? Great! Start there.
Can you only commit to healthy eating M-F to start? Perfect. Start there.
In cases like this, you need to be honest with yourself and set your expectations within the realms of possibility to start with.
As you progress on and see the results of a healthier lifestyle, you will be more prepared to make the additional effort required for better results on your New Year weight loss plan for men.
Set realistic goals at the start and you will be much more likely to continue, improve, and get the results you want.
Step #5: Be kind to yourself and consistency will follow
Losing weight and getting healthy is an incremental process.
You didn't gain weight overnight. It probably happened slowly over weeks, months, and years of unhealthy eating, sleep, and exercise habits…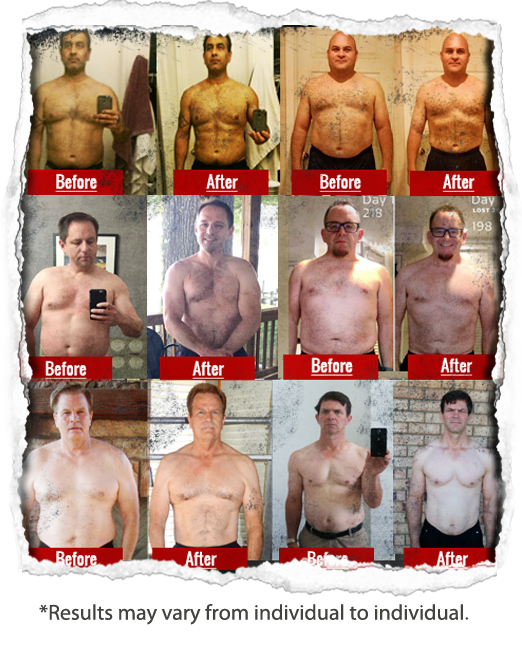 In a similar vein, it will take some time to get back into shape.
YES, you can 100% achieve ANY weight loss goal you desire with the proper plan and accountability coaching like we provide with our FF30X program.
YES, it is a great feeling to write down a MASSIVE goal and visualize how good it will feel to see yourself in the mirror 50+lbs leaner and more energetic…. BUT…..
The truth though is that 50+lbs of weight loss happens in 1 pound increments.

Celebrate those little wins.
Treat yourself kindly and celebrate every pound you release. That will keep you motivated to stay consistent on a New Year weight loss plan for men. And consistency will ultimately help you reach your goal weight.
THIS CAN BE THE YEAR you get the weight off – for good.
As much as us guys like to "do things on our own…"
Setting pride aside and getting help and expert support can be one of the SMARTEST decisions you make.
You don't have to try to lose weight by yourself. Get a program and coach that knows exactly what you should be doing, and follow that plan.
Left to your own devices, it is a thousand times easier to slip back into old patterns and lose your motivation.
We know. We help hundreds of guys fix these problems every single day.
Our expert training staff here at the Fit Father Project is here to help motivate and push you in the right direction if you're finally really to get this area of your life handled.
If you are having any troubles with losing weight, we recommend you take the following action steps:

1) Check out our Fit Father 30X Progam (overview letter linked here).
2) Drop a comment to our training staff on that page, and we'll help you out.
Here at the Fit Father Project, we are brothers united in one common cause, and that is to get fit, strong and healthy for ourselves and for our families!
That is the Fit Father Project way. We are here for you and for each other.
We hope you enjoyed this Official New Year Weight Loss Plan For Men Guide.
Cheers to your massively successful & healthy New Year! 🙂