B
y the end of February, most people will have completely forgotten about their New Year's resolutions. We get it. Creating goals is much easier than sticking to them.
With that said, there are a few things you can do to make it easier to stick to your resolutions.
Recommit to Your New Year's Resolutions
The first thing you have to do is adjust your mindset to be more positive towards your resolutions. You created them for a reason, so don't just forget about them altogether.
Here at the Fit Father Project, we're all about improving health. We view fitness as one of the most important facets of a person's life. While there are many components to the modern life, being fit serves to improve your overall capabilities.
A positive mindset sits at the top of the fitness pyramid. Having a good outlook will help you in any situation.
However, breaking goals can be detrimental to your mindset. Sticking to your goals will build confidence and help you create a more positive mindset, which in turn, helps you to create and stick to more goals in the future.
THE 30-Day Health Program for Men 40+
Fit Father 30X is the world's first sustainable weight loss plan for fathers.
Get yourself back into great shape - at any age the Fit Father way.
Trim the Fat
Creating realistic goals is one of the best ways to improve your chances of completing them.
Many large corporations and businesses have adopted something called SMART goals, which stands for Specific, Measureable, Attainable, Relevant and Time-bound.
Sometimes it's helpful to state the obvious, even if you consider the idea as cliche. There is no denying that SMART goals help.
If you created several New Year's resolutions, but are failing to stick to them, there's a good chance they weren't realistic in the first place.
It might be helpful to re-do your resolutions altogether. Write them down again, but this time match each resolution to a goal. Make sure they're specific, measurable, attainable, relevant, and time-bound. Trim everything down to a sustainable level.
For example, if one of your resolutions was to eat healthier, make it more specific. Write down the foods you would like to cut from your diet and the foods you would like to replace them with.
It's ok to drop the New Year's resolutions that are unrealistic and focus on the most important ones.
Create Incentives
Rewarding yourself is another great way to ensure you are successful. Think of some things you would like to purchase or a few activities you would like to do. If you stick to your New Year's resolutions, reward yourself with something nice.
Fishing is one of my favorite activities. So much so that it can in the way of my goals. I have to force myself to limit the amount of time I spend fishing. Because I spend so much money on traveling and purchasing equipment, I decided to link fishing to my savings account. This means I only go fishing during the weeks I'm able to save money.
No matter what your goals are, you can link them to something you enjoy. Did you lose 10 lbs this month? Reward yourself with that new gadget you've been eying. Just like goals, you improve your chances if you write down the incentives that accompany them.
There's even science that backs up the claim that incentives improve the chances of accomplishing goals. One study followed 120 students with three different groups.
A third of the students were paid just to allow the researchers to track their gym attendance. Another third received the same amount of money to go to the gym at least once in the next month.
The final third was paid the same amount to go to the gym at least eight times.
Even though the final group was paid the same amount to do more work, they were nine times more likely to attend the gym after the experiment was finished.
Include Your Friends and Family
Social pressure can force us to do all sorts of things we don't want to do. Tell your friends and family about your New Year's resolutions.
Make a pact with them and commit to helping one another accomplish your goals.
Simply being asked about your level of success can help with making sure you keep your commitments. The more people you have asking for an update, the better your chances of succeeding.
Dive In Head First
Don't be afraid to start today, as in right now. If you wait till tomorrow to make a change, there's a good possibility that you'll forget about it. If you're able to take steps today, do it.
This is a great opportunity to tell you about our most successful program, FF30X. Thousands of men have benefited from joining the program. By committing to a standardized program, you're much more likely to adopt a better diet and exercise more.
One of the things that makes FF30X so great is that it's broken down into different phases. We have found that men who start and finish the first phase are much likely to make it through all three phases.
THE 30-Day Health Program for Men 40+
Fit Father 30X is the world's first sustainable weight loss plan for fathers.
Get yourself back into great shape - at any age the Fit Father way.
If you're interested in a proven and completely laid out "done-for-you" weight loss meal plan & workout routine – designed for you as a busy man…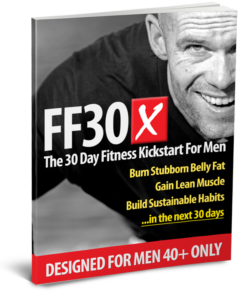 I'd recommend you read the program overview letter for our Fit Father 30-Day Program (FF30X).
Inside FF30X, you'll receive:
The simple & delicious Fit Father Meal Plan
The metabolism boosting Fit Father 30X Workout (under 90 min/week)
VIP email coaching where I'll personally walk you through the program
Read the FF30X Program overview letter here to see how our plan can help you lose weight – without the complication & restriction of normal diets.
*Please know that weight loss results & health changes/improvements vary from individual to individual; you may not achieve similar results. Always consult with your doctor before making health decisions. This is not medical advice – simply very well-researched info on keeping your New Year's resolutions.