Having no energy for kids happens from time to time, but you can still hang with them. And, simple lifestyle changes can boost your energy.
If you have no energy for kids, you're not alone!
We're living in a whole new world, and regardless of that, work, family, and life commitments will always be there.
We get it — you're tired, stressed out, and over-worked.
But there are several ways you can deal with fatigue and give your children the time and attention they deserve.
Follow the tips below to spend quality time with your family when you have no energy for kids.
Looking for ways to get the whole family active? Try these exercises for kids!
No Energy For Kids? Try These Low-Energy Ways to Hangout with Them!
Even if your energy level is non-existent, choose low-energy activities for yourself that encourage your kids to exercise their body, brain, or both!
Create a Scavenger Hunt
Develop a scavenger hunt for your kids using simple index cards, or a scavenger hunt app, when you get home from work.
Scavenger hunts can give you and your children the best of both worlds as kids can run from one clue to the next, excitedly burning off energy, while you relax and enjoy watching.
Make each scavenger hunt challenging, but not too hard, and prepare a prize for your kids when they make it to the end of the hunt.
Judge Kids Contests
If you lack the energy you need to play outdoor sports with your kids, consider judging a drawing, singing, or dancing contest for them instead!
You can get to relax, while your kids participate in something they love and get to spend quality time with their dad.
Read with Your Children
Exercising your kids' brains is just as important as physical exercise.
In fact, studies show that reading to children before kindergarten allows them to hear over a million more words than children who aren't read to, and home-based reading helps close the word gap in kids' development.
If your kids are older, have them read to you instead!
Or simply read a book or magazine while your children read their own books next to you.
You can enjoy peace and quiet, which is a good stress-reliever, while spending time with your kids and expending little to no energy.
Ask About Your Kids' Day
After a long, tiring day at the office and school, have conversations with your kids about their day.
Ask questions about their schoolwork, teachers, friends, and the favorite (or worst) part about their day.
Help your children work through struggles they might encounter, and lead by example.
Maintaining a strong relationship with your kids can carry through into their young adult years and beyond.
Try Puzzles
As with reading, doing puzzles with your kids is a relaxing way to enhance their brain development.
Try jigsaw puzzles, crossword puzzles, math puzzles, or other activities that stimulate the brain.
Enjoy every moment you can spend with your family, even if you don't have the energy to move from the couch.
Play Board Games
If your energy level is too low to be physically active with your kids, try board games instead.
Consider Monopoly, Trouble, Sorry, Clue, Scrabble, Battleship, or Uno — just to name a few.
Other card games, Pictionary, and Cranium are fun for the entire family too!
Rebound a Basketball
Do you have a basketball hoop at or near your home?
If so and you have no energy for kids, consider rebounding for them while they shoot baskets and dribble around.
Though you'll have to stand up and move about a little, you shouldn't have to exert too much energy while being a rebounder for your children.
Offer shooting and dribbling tips to help improve their game.
Play Catch
If your kids love baseball or softball, play catch with them to get off the couch and keep your blood flowing.
You won't have to expend too much energy, as long as your kids can get the ball somewhat close to your glove.
If your energy levels are lower than usual, sit on a chair and have your kids throw to you — or pitch to them while they bat.
Bike While Your Kids Jog
If you're like many families, your kids probably have much more energy than you do at the end of a long workday.
If they're anxious to get outside and run or jog, or they'd like to train for an event or sports team tryout, consider biking next to your kids while they jog.
While you'll still burn a significant number of calories biking slowly, you can relax somewhat and spend quality time with your kids while they train.
Encourage them along the way, or time training sessions to help them reach fitness goals!
Bump Around a Volleyball
If you don't have a volleyball, consider getting one to hang with your children when you have no energy for kids.
While you might have to exert a little energy, bumping around a volleyball doesn't require too much movement.
If the ball gets away from you, encourage your kids to run after it (as long as they're willing to) instead of you.
Ways to Boost Energy Levels
Even the fittest dads get tired from time to time, but living a healthy lifestyle can get you into shape and boost your energy overall.
Doing so helps you stay active with your kids and meet fitness, muscle-building, and weight management goals.
Try the following tips to optimize the way you feel and better keep up with high-energy kids:
Set Aside Time to Exercise
Don't wait until late in the day to exercise, when you're too tired and would rather spend time with your family.
Set aside time to exercise early in the day, when energy levels are often at their peak.
Eat a nutritious snack, drink coffee, or have a protein shake or meal prior to morning workouts.
Or, try fasting cardio right after you wake up to maximize fat-burning.
Consider working out on your lunch break if that works better with your routine.
Aim to complete at least 30 minutes of scheduled exercise most days of each week.
Learn how to set up a home workout schedule that works for YOU!
Stay Active Throughout the Day
Don't let workouts be the only time your body moves.
If you have a desk job, you're likely sitting down the majority of the day, but you can still find ways to incorporate movement into your everyday routine.
Take active breaks often at work, even if they're short.
For example, every hour you could walk briskly for five minutes, climb stairs, or even do squats, push-ups, or sit-ups near your desk.
Consider using a standing desk to increase strength and stamina, and reduce the number of minutes spent sitting down.
Keep your body moving as much as possible to increase blood flow, boost metabolism, and lower your risk of chronic diseases.
After adopting healthy lifestyle habits, you can avoid having no energy for kids and enjoy staying active with them at the end of a long workday!
Lack of time to exercise during the day because of your busy lifestyle? These micro workouts will change everything!
Make Dietary Changes
Making dietary changes is one of the best ways to maintain high energy levels throughout the day, and lose weight if you're overweight or obese.
Healthy eating also optimizes workouts and muscle building.
To plan nutritious meals, try these simple meal planning tips:
Fill half of your plate with non-starchy vegetables
Eat veggies or fruits at each meal
Choose whole grains over refined grains
Fill one-fourth of each plate with proteins
Fill one-fourth of your plate with starches
Pre-prepare healthy foods when you have extra time
Consider healthy food delivery services
Increase your water intake
Say no to alcohol and sugary drinks
Avoid fried foods
Steer clear of processed meats (ham, hot dogs, bacon, etc.)
Eat at home as much as possible
Avoid desserts
Make a few healthy eating changes, one at a time, until eating clean feels easy.
Encourage your entire family to join you in the journey toward healthier living!
Learn how to improve your diet, no matter WHAT diet it is! These 7 rules of healthy eating are always true, no matter what your diet consists of.
Get Your Hormones Checked
Hormone imbalances, specifically low testosterone in men, can cause fatigue and leave you with no energy for kids.
Ask your doctor to check your hormone levels regularly, especially if you're over 40, to find out if they're within a normal range.
If testosterone levels are lower than they should be, which can cause fatigue, unplanned weight gain, increases in body fat, lean muscle loss, low libido, and thinning hair, your doctor might recommend you undergo testosterone replacement therapy.
Do these 7 simple health tests at home to evaluate your health!
Take Supplements for Men
Taking specific dietary supplements for men can boost your energy, so you can stay active with your kids.
Examples of supplements to consider include multivitamins, protein shakes or bars, vitamin D, vitamin B12, magnesium, fish oil, probiotics, creatine monohydrate, and turmeric.
After a simple blood test, your doctor can let you know if you're deficient in specific vitamins or minerals.
If you are, they may recommend you consume additional nutrients from supplements or certain foods.
Whether you're looking to lose weight or just feel more energetic and youthful, here are 6 of the best supplements for men over 40.
Get More Sleep
Getting sufficient sleep is one of the most important ways you can sustain high energy levels, even after a long workday.
Many adults in the United States don't get the sleep their bodies need to function properly.
Sleep also helps you build and maintain muscle mass.
It optimizes appetite control, to help you avoid unhealthy food cravings and unwanted weight gain.
A goal for men is to obtain 7-9 hours of sleep each night, according to the National Sleep Foundation.
If you have difficulty getting a good night's rest, reduce stress, avoid late-night workouts, don't binge eat or smoke right before bed, avoid caffeine and alcohol late in the day, and don't take afternoon naps.
Work out most days of the week, just not late at night.
Use a white noise machine if you'd like to block out sleep-disrupting sounds, and have a protein shake or healthy snack before bed if you feel hungry.
Learn why the Circadian Rhythm and production of sleep hormones are vital parts of getting better sleep.
Lift Weights Regularly
Lift weights regularly to increase strength and give your energy levels a boost over time.
If you don't have a gym membership, no problem!
Check out the Fit Father Project YouTube channel for workouts to build or maintain lean mass, reduce body fat, and feel your best to avoid having no energy for kids.
Strength training for older guys requires a different approach to exercise and muscle building.
Lose Weight if You're Overweight
Weight loss is no easy task for many men, especially men over 40.
Having an effective weight loss plan in place and the motivational support needed to stay on track with your program is the key to long-term success.
If you weigh more than you'd like to, consider the Fit Father Project 30X (FF30X) weight and fat loss program designed specifically with men's need in mind.
The program has helped hundreds of thousands of busy men get and keep lost weight off using simple strategies.
Find out what to expect while losing weight and how you can set REALISTIC expectations.
Increase Your Fluid Intake
Fatigue often occurs with dehydration, when you're not drinking as much water as your body needs.
If your urine is bright or dark yellow in color rather than clear or light yellow, you're likely dehydrated.
Men should aim for at least 16 cups of fluids daily.
You might need more or less than this depending on your size, muscle-to-fat ratio, activity level, and amount of water you lose through sweating.
Track your fluids for a day to determine your usual intake, and make adjustments as needed to meet daily hydration goals for men.
Water is one of the best choices but coffee, tea, milk, and other liquids count as fluids too!
Steer clear of soda, sweet tea, sugar-sweetened juices, and other sugary drinks as much as you can.
Find out what the 6 healthiest drinks are and what you should drink more of!
Join a Men's Health Program
Even if your body weight is within a healthy range, you might still have no energy for kids.
Consider joining the Fit Father Project program for men to burn fat, build or maintain muscle, and feel better overall.
Upon joining the Fit Father Project you have access to other FFP community members, health coaching support, custom meal and menu plans, extensive fat-burning and muscle building workouts, weekly newsletters, recipes, and much more!
Become a Fit Father Project member today or sign up for a free meal plan and workout to live healthier, avoid having no energy for kids, and enjoy your time together as a family!
Here's How Busy Fathers Over 40 Are Finally Burning Stubborn Belly Fat & Getting Healthy Without Restrictive Diets or Time-Consuming Workouts
This proven "Fit Father Program" has helped 25,000 busy men 40+ lose weight, rebuild muscle, and finally keep the weight off.
If you're frustrated with stubborn belly fat, failed diets, and time-consuming workouts, this is the answer you've been looking for…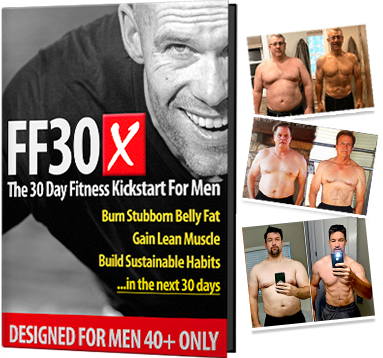 Join 22,000 guys in over 98 countries are using FF30X to lose weight. You get everything you need to succeed – including:
The Fit Father Meal Plan – with simple & delicious recipes
Safe & Effective Workouts Program – only 90 min/week
VIP Accountability Coaching – our Fit Father Team will personally walk you to success, step-by-step.
LEARN MORE ABOUT FF30X >>
See the FF30X Program overview here. You'll discover how this proven Fit Father Program can help you lose weight and actually keep it off – without the complication and restriction of normal diets. »
*Please know that weight loss results & health changes/improvements vary from individual to individual; you may not achieve similar results. Always consult with your doctor before making health decisions. This is not medical advice – simply very well-researched info on what to do when you have no energy for kids.