I
t's nice to mix things up in the kitchen, especially when it's a healthy twist.
The delicious qualities and nutritional value of herbs are a great way to make a subtle change in your cooking that will make a big impact on the overall taste of your dishes.


Unlike adding salt and other spices that can add an unhealthy aspect to your meals, herbs can bring up the flavor in your dishes a healthy way.
If you don't believe me, look no further than history.
Herbs have been used in cooking for thousands (and thousands) of years. This makes sense, as those hunter gatherers would need something to make their meals tastier.
Herbs have been used for cooking, healing ointments and medicine. They also make great house plants!
If you're ready to kickstart your health with the nutritional value of herbs and make some delicious dishes, read on to hear our tips.


The Nutritional Value of Herbs
Herbs are tiny plants that pack a big nutritional punch.

Overall, herbs have been noted to have high traces of polyphenols, which help our bodies with inflammation, prevent cancer and fight against neurological damage over time.


As if that wasn't enough, each herb has its own properties that make them especially good for you.
Peppermint contains a natural oil that can quell IBS pain and nausea.
Sage can improve memory and neurological functions.
Rosemary contains rosmarinic acid that helps fight allergies.
Basil can help your body boost immunity and fight off infections.
Parsley contains myricetin, which has been used for the prevention of diabetes.
Thyme has been studied for its potential to aide acne and high blood pressure.
Cilantro (coriander) can help you maintain a lower weight.
When it comes down to it, herbs are downright awesome.
Not only can you benefit from the nutritional value of herbs, but you can expand your capabilities in the kitchen by using a few sprigs!
Herbs are a wonderful addition to an already-balanced diet.

To make sure you're covering your nutritional bases before you lean on the nutritional value of herbs, sign up for FF30X to gain access to our knowledge base and community.

Cooking with Herbs
No matter what dish you're cooking, you can probably find an herb that will magnify the taste.

It can be difficult to start pairing herbs at first. But once you become more familiar with them, you'll become a natural.


Sometimes considering the herb's origin can help you pair it with different foods.
For example, basil has a few different origins but is usually correlated with Mediterranean cuisine. You can make your own pesto with basil or top off a mozzarella and tomato bruschetta with fresh basil.

Take cilantro next! Most people associate the bright flavor of cilantro with Mexican or Asian cooking. Add cilantro on your next batch of tacos or to your next bowl of curry.

Rosemary is another herb that's native to the Mediterranean area. One of our favorite pairings is lamb with rosemary.

Mint is usually thought of for sweeter dishes, but can top off savory ones as well. With its roots in the Middle East, mint is a delicious complement to this chicken and couscous dish.

Parsley is a very versatile herb used widely in Western cooking. Make your veggies more exciting with this lemon parsley cauliflower dish.
Growing Your Own Herbs
The downside of herbs is that many people will purchase a handful for one specific recipe, and then let the rest wilt.
That's such a waste!
The best way to use up all the herbs in your kitchen is to grow them yourself.


Now, this may sound a little ambitious for some of you, but just hear us out.
All you need to grow your own herbs is a bright window, pots, good soil and herbs.
Luckily, most all herbs grow well indoors! This will help keep bugs off and allow the maximum accessibility when you're cooking.
If you're game to test out your green thumb, follow these steps to get started.
Decide what herbs you want. Before you head to the store and grab every leafy-green herb they offer, stop to consider your cooking style. Do you prefer Asian and Mexican dishes? Cilantro would work for you. Do you enjoy Mediterranean nosh? Try rosemary or basil.
Scout out your growing station. Most people prefer to grow their herbs indoors so they're an arms distance away when cooking. A kitchen window would be most ideal, but you'll need to choose a location where there is direct sunlight for at least 3 to 5 hours a day.
Grab your herbs either in seedling or plant form. It can be exciting to wait for your herbs to grow from seed, but many of us would choose to cut to the chase. Buying already-grown herbs is an easier way to start yourself out.
Clip, enjoy and store your herbs. Sometimes, herbs produce more than you can use. In those cases, it's important to know how to store which herbs. There are two main ways to save your herbs: drying or freezing. Bristly-stemmed herbs like oregano, thyme and rosemary are best dried. Herbs with soft leaves like parsley and basil are better frozen in ice cube trays.
Share the Love for Herbs
Another great benefit of growing your own herbs is always having them to share with your friends.

After all, what's a health craze without friends to share it with?


But in all seriousness, it can be extremely helpful to have a group of active friends when you're trying to live a healthier life.
They can support you, challenge you, and even show you their tricks to staying fit and active.
Here at the Fit Father Project, we've fostered a group of highly motivated fathers who all connect on their fitness goals.
Many of our most active men join our tribe through our ever-popular FF30x— the world's first sustainable diet & exercise program designed exclusively for busy fathers and men over 40 who want to lose weight, burn belly fat, build lean muscle, and get healthy for life.
Learn how you could join our tribe and benefit from FF30x here.
Your friend in health,

Here's How Busy Fathers Over 40 Are Finally Burning Stubborn Belly Fat & Getting Healthy Without Restrictive Diets or Time-Consuming Workouts
This proven "Fit Father Program" has helped 25,000 busy men 40+ lose weight, rebuild muscle, and finally keep the weight off.
If you're frustrated with stubborn belly fat, failed diets, and time-consuming workouts, this is the answer you've been looking for…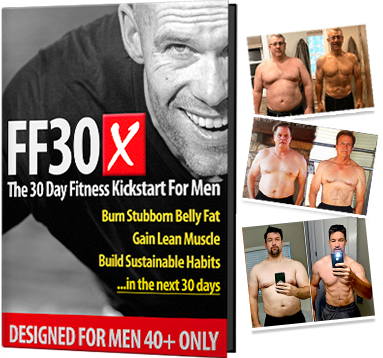 Join 22,000 guys in over 98 countries are using FF30X to lose weight. You get everything you need to succeed – including:
The Fit Father Meal Plan – with simple & delicious recipes
Safe & Effective Workouts Program – only 90 min/week
VIP Accountability Coaching – our Fit Father Team will personally walk you to success, step-by-step.
LEARN MORE ABOUT FF30X >>
See the FF30X Program overview here. You'll discover how this proven Fit Father Program can help you lose weight and actually keep it off – without the complication and restriction of normal diets. »
*Please know that weight loss results & health changes/improvements vary from individual to individual; you may not achieve similar results. Always consult with your doctor before making health decisions. This is not medical advice – simply very well-researched info on the nutritional value of herbs.