The weather is warming up and things are opening up. It's a great time to take advantage of outdoor fitness and get back to nature!
While some of the lockdowns across the US have started to be lifted, many still remain in place.
Even as gyms open up, you may be reluctant to immediately jump back into more crowded environments.
Luckily, you can get in some amazing workouts and enhance your fitness outdoors.
Now that the weather is starting to warm up this is a great time to take advantage of outdoor exercises to improve your overall health, both physically and mentally.
Exercising outdoors is one of the most convenient and enjoyable ways to build your strength and fitness.
From cardio to strength training to yoga and meditation, any number of workouts can be done under the sun.
Keep reading and start building your outdoor fitness plan today!
Don't just sit around the campfire! Try these camping workouts!
Make the Most of the Outdoors
There is something about the crisp morning air or feeling the warmth of the sun during a workout to really push and challenge you during each session.
Running, biking, hiking, and walking are excellent cardio workouts that can be done outdoors.
Plus, the beautiful colors and landscape of the fall make outdoor workouts that much more satisfying.
Outdoor exercise is also a great way to get your family involved in physical activity.
You can get out in the backyard and kick around a soccer ball, have relay races, or play with the kids and dog.
As spring approaches and the weather warms up, this is also an excellent time to explore new parks, hiking trails, and bike paths.
Since exercising outdoors engages all of your senses, you may not even feel like you are working out!
If you are an avid runner or biker, new trails and routes can break up the monotony of your normal routine.
This may even motivate you to go farther and really challenge yourself beyond what you would normally do during an indoor workout.
This video will show you 10 exercises to do in your backyard by yourself or with your family!
Enhance Your Fitness on the Water
As the days get longer and begin to heat up, water activities like kayaking, canoeing, or paddleboarding are awesome full-body workouts to try out.
With canoeing and kayaking, you get a great upper body and core workout.
Paddleboarding also will work your lower body muscles as you steady yourself on your board.
And these activities are so much fun you won't even feel like you're exercising!
Here's A Free 24-Min Fat Burn Workout For Busy Men 40+
This powerful workout will reignite your metabolism to burn fat 24/7 like you did in your 20s…
Try A New Class — OUTSIDE!
Gyms are starting to open up again, so this is the perfect time to try out a new class.
Since COVID guidelines will be around for some time, many group classes are opting to meet outdoors.
Boot camp, yoga, and circuit workouts are classes that are easy to adapt to outdoor sessions, and actually are more fun in this setting.
Outdoor fitness classes are also a nice option because you can meet new people who enjoy similar activities.
Plus, working out with a group will keep your motivation high and push you to finish each workout to your maximum ability.
Take Your Indoor Workouts Outside
Even if your gym doesn't offer outdoor classes, this is still an excellent time to move your normal indoor exercises outside.
Instead of doing yoga or pilates in your living room, take an exercise mat into the backyard to do your workout while you take in the scenery.
You can even set up circuit workouts or HIIT sessions outdoors so that you can enjoy the fresh air while still getting a killer workout.
When comparing indoor and outdoor activities, outdoor settings have been found to be more restorative, which is another reason to try a change of scenery outdoors.
On top of that, studies have shown that people who combine outdoor with indoor physical activity report more positive emotions and well-being associated with exercise, and their connectedness to nature is a significant predictor of well-being.
If you are looking for inspiration for an outdoor circuit workout, you can try out this high-intensity, strength-building workout that only requires a hill along with a bench or object to jump over.
Meet Burn RX. The Safe & Effective Metabolism Booster To Help You See Faster Results& Feel More Energized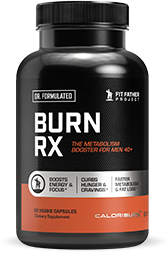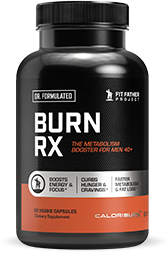 Burn RX is for guys who are working on losing weight and want to see faster and easier results from their eating & exercise efforts. It helps your body burn more fat before, during, and after your workouts, which will improve your body composition while boosting your energy + metabolism.
Outdoor Fitness Circuit
Warm Up
Start with ten minutes of easy jogging outside.
You can also incorporate some jumping jacks or burpees to get your heart rate up and your muscles primed for your workout.
Main Circuit
Move from each exercise to the next with minimal rest in between.
At the end of the circuit rest two minutes.
Then repeat two more times for a total of three rounds.
Hill Sprints
Find a hill that is about 50 meters long that you can sprint up and down.
Sprint up the hill, focusing on really driving your knees up and pushing as hard as you can to the top.
Then jog back down at an easy pace.
Push-Ups
Do 20 push ups on the ground at the bottom of the hill.
This can be any form of push-ups, and you can mix it up for each round to target different muscles in your upper body.
For example, in round one you can do standard push ups.
Then switch it up to narrow push ups to target your triceps more in round two.
Follow this up in round three with wide push ups.
Side Jumps
Find an object, such as a log or beam that you can jump over.
The object should be about 6-10 inches high.
Stand next to the object with your feet about shoulder width apart.
Jump from side to side over the object for 15-20 jumps.
Try to land with your feet together.
Squat as you land and then jump back up as quickly as you can.
Tricep Dips
Find a bench or step and stand with your back to it.
Place your palms on the bench about shoulder width apart.
Extend your legs in front of you and slowly lower your body down until your upper arms are parallel to the ground.
Then push back up.
Repeat this for 20 reps.
Jump Squats
Stand with your feet hip-width apart.
Hinge at the hips to push your butt back and lower down until your thighs are parallel to the floor.
Explode off the floor and jump as high as you can.
Allow your knees to bend 45 degrees when you land, and then immediately drop back down into a squat, and jump again.
Stay in Great Shape with Outdoor Workouts
It doesn't matter if you are a seasoned athlete or just a beginner, outdoor exercises give you the perfect setting to improve your fitness.
Runs, walks, yoga, or even water sports are even better with an amazing outdoor backdrop.
So get outside and take your fitness to the next level with these fun fitness tips for outdoor workouts.
Here's How Busy Fathers Over 40 Are Finally Burning Stubborn Belly Fat & Getting Healthy Without Restrictive Diets or Time-Consuming Workouts
This proven "Fit Father Program" has helped 25,000 busy men 40+ lose weight, rebuild muscle, and finally keep the weight off.
If you're frustrated with stubborn belly fat, failed diets, and time-consuming workouts, this is the answer you've been looking for…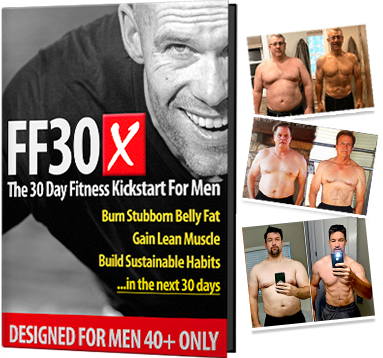 Join 22,000 guys in over 98 countries are using FF30X to lose weight. You get everything you need to succeed – including:
The Fit Father Meal Plan – with simple & delicious recipes
Safe & Effective Workouts Program – only 90 min/week
VIP Accountability Coaching – our Fit Father Team will personally walk you to success, step-by-step.
LEARN MORE ABOUT FF30X >>
See the FF30X Program overview here. You'll discover how this proven Fit Father Program can help you lose weight and actually keep it off – without the complication and restriction of normal diets. »
*Please know that weight loss results & health changes/improvements vary from individual to individual; you may not achieve similar results. Always consult with your doctor before making health decisions. This is not medical advice – simply very well-researched info on outdoor fitness.