Overcoming obstacles is something we all have to deal with, regardless of how big or small they may seem.
In the spring of 2020, Mike found himself struggling to stand up from a kneeling position.
"One day I was out ice fishing and I realized I didn't have the strength to stand up from a kneeling position," recalls Mike. "I had to crawl over to my snowmobile and use my upper body to hoist myself up. At that point, I knew I had to do something about my health."
At the time, Mike was 48 years old and he weighed 230 lbs.
Keep reading to learn how Mike tackled overcoming obstacles head-on and got in the best shape of this life!
Mike's Motivation
"I wanted to be a good role model for my wife and son," says Mike. "I also knew in that condition of poor health, I would not be around to have a good retirement, doing the things that I love to do."
Mike discovered the Fit Father Project on Facebook while searching for videos about how to lose visceral fat.
"I watched a couple of Fit Father videos and joined right away," smiles Mike. "It was time for me to get my health back on track."
Fit Father Mike began overcoming obstacles and started his weight loss journey with Fit Father 30X.
Fit Father 30X is the world's first weight loss program designed exclusively for men over 40.
FF30X includes simple and delicious meal plans, time-efficient and joint-friendly workouts (that can be done at home), daily accountability, and access to the private members-only group.
Goals Shattered
Fit Father members can expect to lose 5-25 lbs in their first 30 days following Fit Father 30X.
Mike lost his first 10 lbs in a little over a week on the program.
He lost a total of 20 lbs on his 28th day following Fit Father 30X.
Non-Scale Victories
In the Fit Father Brotherhood, members share their weight loss successes and their non-scale victories (NSVs).
NSVs are the moments that prove forward progress in the weight loss journey, without seeing a number on a scale.
"I've lost several inches off of my waist," states Mike. "My endurance is sky high. I can easily stand from a kneeling position. In the beginning of my Fit Father journey my clothes fit better, but now they are all too big!"
The online brotherhood group allows Fit Fathers to connect, ask questions, share successes, and hold each other accountable throughout their weight loss journey.
Workouts Designed for Men Over 40
The proven Fit Father 30X program includes workouts that are time-efficient, safe for aging joints, and designed for men over 40.
"One unique aspect of my Fit Father success story is that I was born missing half of my left arm," explains Mike. "I do wear a prosthesis. My workouts weren't perfect. They were challenging, but I still did them."
The Fit Father workouts can be done at home or in a gym.
"I really like the Fit Father programs because you have the choice to do the workouts at a gym or in your own home," says Mike. "That flexibility proved even more important when COVID-19 shut down the local gyms."
Easy-to-Follow Meal Plans
The Fit Father meal plans are easy to follow because of their flexible meal timing schedules.
"I'm a shift worker on the railroad," explains Mike. "The Fit Father meal timing setups vary for different work shifts, which made the program easy to stick to. The combination of proper eating, exercise and accountability certainly helped me stay focused."
Mike's New Healthy Lifestyle
"My life has certainly changed for the better since joining the Fit Father Brotherhood," says Mike. "I now have control over what I eat. I still enjoy food as a form of social recreation, but now I look at food as fuel for my body to sustain itself.
Fit Father Mike has lost 56 lbs. He is now in Phase 3 of the Fit Father weight loss series.
"I have and will continue to recommend the Fit Father programs," says Mike. "My advice to the new members would be to stick with the program and read your mission statement often. If you fall down, get back on track in the morning. The Fit Father programs have shown and taught me that it's mind over matter. We can all overcome our hardships."
Overcoming Obstacles: 4 Lessons to Take from Mike's Success
Lesson 1: The Fit Father program CAN fit into your busy schedule. Fit Father Mike is a shift worker on the railroad. He has a family, life responsibilities, and a busy schedule – and he still managed to complete the time-efficient Fit Father workouts and follow the Fit Father meal timing schedule. You can too!
Lesson 2: Weight loss results do not take years, or even months, to see. Fit Father Mike lost 20 lbs in his first month following the Fit Father 30X program. The sooner you start, the sooner you will see results.
Lesson 3: As a man over 40, you should not follow a program that includes extreme workouts or long hours in the gym. The Fit Father workouts can be done at home and are easy on aging joints. The workouts combine weight training and circuit-style cardio to boost your metabolism, so you see fast, long-lasting results.
Lesson 4: You can overcome your hardships. It does not matter how many times you have failed in the past, or how heavy you are, or how old you are. This Fit Father program will help you lose stubborn weight, gain muscle, and regain your health. This proven step-by-step program has helped thousands of men over 40 around the world finally meet their goals. Fit Father 30X can help you too!
Here's How Busy Fathers Over 40 Are Finally Burning Stubborn Belly Fat & Getting Healthy Without Restrictive Diets or Time-Consuming Workouts
This proven "Fit Father Program" has helped 25,000 busy men 40+ lose weight, rebuild muscle, and finally keep the weight off.
If you're frustrated with stubborn belly fat, failed diets, and time-consuming workouts, this is the answer you've been looking for…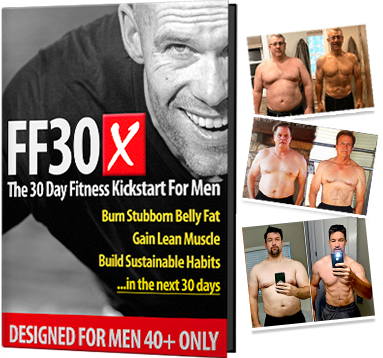 Join 22,000 guys in over 98 countries are using FF30X to lose weight. You get everything you need to succeed – including:
The Fit Father Meal Plan – with simple & delicious recipes
Safe & Effective Workouts Program – only 90 min/week
VIP Accountability Coaching – our Fit Father Team will personally walk you to success, step-by-step.
LEARN MORE ABOUT FF30X >>
See the FF30X Program overview here. You'll discover how this proven Fit Father Program can help you lose weight and actually keep it off – without the complication and restriction of normal diets. »
*Please know that weight loss results & health changes/improvements vary from individual to individual; you may not achieve similar results. Always consult with your doctor before making health decisions. This is not medical advice – simply very well-researched info on overcoming obstacles and how Fit Father Mike lost 56 lbs.