A
ll it takes is a look in the mirror. Suddenly you realize that you're not 22 anymore. But you're not dead yet! It's still possible to lose the extra pounds. In fact, now is the time to get back into shape!
It might seem like a lot of work, but it doesn't have to be!
The secret to getting back in shape is in how you approach your weight loss goals. You need to have a plan.
With the right plan, you will find that weight loss is surprisingly easy. Here are some steps to get you started.
Step 1 – Evaluate the Situation
Let's face it; you're not alone. You might be pushing 40 or 50lbs overweight. But you've got a wife and children to look after, a job that keeps you very busy and barely enough time to sit down.
You know now is the time to get back in shape. You need to decide how much weight you want to lose and then split it into a weekly target.
For example, if you lose 5 pounds a week, you'll hit your target in just 10 weeks; that's not very long!
Step 2 – Adopting The Mindset
You need to believe that you can achieve this goal.
This means developing the right mindset and motivation.
Again, this is easier than you think.
Simply focus on why you wish to lose weight. It might be to be there for your children or simply to enjoy your life for as long as possible.
You may even have a specific event to attend.
Once you've set the motivation, all you need to do is remind yourself of this every day.
Step 3 – Change Your Diet
Our free 1-day meal plan will get you started on your weight loss goals. You can then join the Fit Father Project to access more meal plans and gain the support of others who are undertaking the same journey as you.
Once you've planned your meals, you can even create them in advance. This will help you to avoid temptation.

Step 4 – Add Exercise
Exercise is something that should be added gradually after you've committed to your healthy eating plan.
You need to start according to your own fitness level.
In fact, all you actually need to do to start with is to create a habit. This can be as simple as committing to 30 minutes every day walking around the block. Then progress to jogging, running, or any type of activity you desire.
If you create the habit and choose an exercise you enjoy, then sticking to it is easy. This will make your weight loss process much easier.
Step 5 – Get Support
Our free 1-day meal plan is only the tip of the iceberg. What you really need is the support that we can offer you.
Share stories of your success, get tips from others looking to lose weight, and you'll find that you're more inspired to lose weight. All because you've joined the Fit Father Project.
Step 6 – After You've Reached Your Goal
The most difficult step is actually the last one!
Many people reach their target weight and return to their pre-diet eating. But you don't want to spend all of that time getting back in shape just to fall off the wagon again.
Instead, your new diet should be seen as a healthy eating lifestyle. This will help you to stick to it for the long term and maintain your weight loss.
Losing Weight Takes Time
But it doesn't have to take that long!
At the start of any journey, it can seem like a tedious and difficult path ahead.
However, with our support and by taking it one step at a time, you'll focus on the small weekly goals. It's surprising how quickly these mount up, and your overall goal is achieved.
For example:
Brian Nowicki lost an amazing 109 pounds in just 9 months using the Fit Father approach. You can see the whole case study here.
Of course, he's not the only one! Michael De Vincenzi lost 50 pounds by his 50th birthday, and Jim dropped 41 pounds. There are hundreds of success stories, and you can check out a few of them here.
Now is the Time to Get Back in Shape!
Getting back in shape has never been easier.
You've heard it said that there is no time like the present and this is true. You're already thinking about it. All you need to do is take one small step, and you'll be part of the FFP, allowing you to become a new man.
Here's why now is so important:
Every day you wait can increase your weight and make your job harder.
The FFP is here now, ready to help with a variety of free products, including the 1-day meal plan.
It's easy; just one small step at a time!
Within a week, you'll see improved energy levels, weight loss, and a glimpse of the new (or old) you.
Carpe Diem – seize the day. You want to do it. Otherwise, you wouldn't be reading this.
Everyone at the FFP is here to help you. We all have our own struggles with diet and weight and can emphasize with your struggle. With a little bit of courage and motivation, you'll get back in shape in no time!
That support will enable you to achieve even if you have failed in the past. Join today and see just how much we can offer you!

Start Today!
The FFP has hundreds of articles, guides, and even suggested workouts. After testing out the 1-day meal plan, add in the 24-minute workout when you're ready.
The important thing is that you realize that now is the time to get in shape and take the first step.
That's all you need to do! Our support will guide you and encourage you through the rest of the process.
Your new friend & health coach,

Here's How Busy Fathers Over 40 Are Finally Burning Stubborn Belly Fat & Getting Healthy Without Restrictive Diets or Time-Consuming Workouts
This proven "Fit Father Program" has helped 25,000 busy men 40+ lose weight, rebuild muscle, and finally keep the weight off.
If you're frustrated with stubborn belly fat, failed diets, and time-consuming workouts, this is the answer you've been looking for…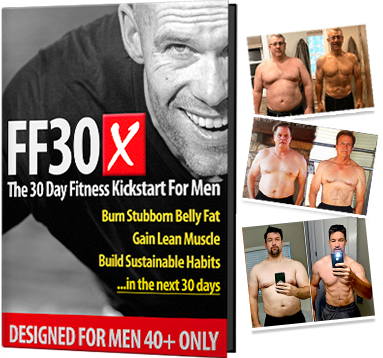 Join 22,000 guys in over 98 countries are using FF30X to lose weight. You get everything you need to succeed – including:
The Fit Father Meal Plan – with simple & delicious recipes
Safe & Effective Workouts Program – only 90 min/week
VIP Accountability Coaching – our Fit Father Team will personally walk you to success, step-by-step.
LEARN MORE ABOUT FF30X >>
See the FF30X Program overview here. You'll discover how this proven Fit Father Program can help you lose weight and actually keep it off – without the complication and restriction of normal diets. »
*Please know that weight loss results & health changes/improvements vary from individual to individual; you may not achieve similar results. Always consult with your doctor before making health decisions. This is not medical advice – simply a case study of what Brian has achieved.