As you get older, you know you need to eat better. Now, you don't have to only "eat the food that your food eats" and give up meat altogether, but adding plant-based meals to your daily routine is a good idea.
You can't live on meat and potatoes alone anymore!
Don't worry; adding plant-based meals to your diet is simpler (and more delicious) than you might think!
You don't have to become a vegetarian to enjoy the numerous benefits associated with plant-based meals.
Altering your menu to eat at least one plant-based meal daily is easy, yet can drastically improve your quality of life.
So put your fears of "rabbit food" to rest. Here's how to add tasty and satisfying plant-based meals to your meal plan.
Here's What Guys 40+ Are Using to Help Burn Fat & Build Muscle...
This great-tasting protein powder is packed with key nutrients to help busy guys have energy all-day long.
Benefits of Plant-Based Meals
There are many benefits associated with adding plant-based meals to your daily menus.
More Energy
Eating plant-based, whole foods over fried foods, highly processed foods, and fatty cuts of meat can drastically improve your energy levels.
Plant-based diets aid in healthy weight management, and losing weight (if you're overweight) can reduce fatigue.
The many vitamins, minerals, and other essential nutrients present in plant foods is one more reason vegan meals can optimize energy levels.
Healthy Weight Management
Studies show that plant-based meal plans are associated with lower body mass indexes (BMIs), increases in satiety, reduced food intakes, improvements in gut bacteria, increases in energy levels, and lower body fat percentages.
One reason plant-based foods aid in weight loss is because these foods are often higher in fiber, lower in calories, and more satiating than highly processed foods.
Many plant foods are also a good source of protein, which further increases satiety and your body's metabolism.
Protein also optimizes muscle building and maintenance.
This video explains the relationship between food and your body.
Disease Fighting Antioxidants
Plant foods are one of the best sources of antioxidants you'll find.
Examples of disease-fighting antioxidants abundant in plant foods include:
Vitamin C
Vitamin A
Vitamin E
Selenium
Manganese
Beta-carotene
Lycopene
Lutein
Zeaxanthin
Antioxidants can protect you against certain types of cancer, other chronic diseases, and illnesses.
Adding these nutrients to your meal plan through plant-based foods is the best way to optimize your overall health and wellness.
A Lower Risk of Health Problems
Adding at least one plant-based meal to daily menus can lower your risk of chronic diseases.
There are numerous reasons for this.
Plant-based diets aid in healthy weight management and they're rich in disease-fighting antioxidants.
The fiber in plant-based foods helps reduce high cholesterol, and therefore your risk of heart disease.
Do these 7 simple health tests at home to evaluate your health!
Examples of Healthy Plant-Based Foods
Here are some of the many nutritious plant-based foods you can choose from.
Legumes
Legumes are loaded with fiber, protein, vitamins, and minerals, which is why many people classify these beans and peas as superfoods.
Examples of legumes include:
Green peas
Chickpeas
Black-eyed peas
Black beans
Pinto beans
Navy beans
Chili beans
Soybeans
Lima beans
Northern beans
Lentils
Other dried beans
Add legumes to daily and weekly meal plans to reap the many health benefits available to you.
Aim to fill about 1/4 of each plate with legumes or other starches when planning plant-based meals.
Beans for weight loss — friend or foe? We unpack the truth in this video.
Plant-Based Meat Substitutes
Plant-based meat substitutes are loaded with protein and often fiber.
These foods make excellent plant-based entrees.
Examples include:
Tofu
Tempeh
Seitan
Meatless veggie burgers
Black bean burgers
Portabella mushrooms
Eggplant
Meat-free crumbles
Meat-free vegan sausage
Plant-based bacon substitutes
Other meat substitutes
Legumes
Felafel
Nuts, seeds, and but butters
You can season plant proteins the same way you do with meat, which is why plant-based meat substitutes taste just like the real thing in many cases.
Aim to fill about 1/4 of each plate with protein-rich foods.
Fruits and Vegetables
Fruits and vegetables are loaded with fiber and antioxidants, but unfortunately, many Americans don't consume the recommended amounts of these superfoods.
Aim to get in at least five servings of fruits and vegetables every day if you can.
Add vegetable powder or frozen fruit to protein shakes between meals, or as meal replacements for weight loss.
Mix in vegetables with soups, salads, casseroles, rice dishes, or meatless protein-rich entrees to increase your veggie intake.
Choose zucchini noodles in place of traditional pasta, cauliflower or broccoli "rice" in place of traditional rice, or mashed cauliflower in place of mashed potatoes.
When planning plant-based meals, aim to fill 1/2 of each plate with non-starchy vegetables, such as cucumbers, tomatoes, bell peppers, broccoli, cauliflower, zucchini, celery, asparagus, spinach, kale, or other leafy greens.
Fill 1/4 of each plate with starches, which might include sweet potatoes, corn, peas, lentils, beans, or other starchy foods.
Learn about eating fruit for weight loss and the best fruits for losing weight.
Whole Grains
Whole grains can give you long-lasting energy.
These superfoods are loaded with protein, fiber, vitamins, and minerals.
Choose some of the following whole-grain foods when planning plant-based meals:
Quinoa
Brown rice
Wild rice
Oatmeal
Whole-grain cereal
Whole-grain pasta
Barley
Bulgur
Buckwheat
Millet
Farro
Spelt
Popcorn
When choosing plant-based meals to improve your health, aim to fill about 1/4 of your plate with whole grains or other starchy foods.
Calcium-Rich Non-Dairy Alternatives
You don't have to consume dairy foods to reap calcium-rich nutritional benefits.
Simply choose non-dairy alternatives as part of a plant-based meal plan.
Examples include:
Almond milk
Coconut milk
Rice milk
Other plant-based milks
Non-dairy yogurt
Vegan cheese
Plant-based protein powder
Make a plant-based protein shake by mixing plant milk with plant-based protein powder plus fruit or nut butter as optional add-ins.
Is dairy bad for you? In this video, we deep dive into the world of dairy.
Plant Fats
Complete each plant-based meal by choosing heart-healthy fats.
Replace animal fats with plant fats to reduce your cholesterol and the risk of heart disease and other chronic conditions.
Pick from the following:
Avocados
Olives
Fatty fish
Nuts
Seeds
Nut butters
Olive oil
Coconut oil
Canola oil
Walnut oil
Other plant-based oils
Hummus
Cook plant-based meals with oil instead of butter, add nut butter to protein shakes, and mix avocado slices, nuts, or olives with salads, soups, side dishes, or entrees.
Dip fresh veggies in hummus or fresh fruit in nut butter. Snack on nuts and seeds between meals.
Which fats are healthy and which should you avoid? This video has the answers.
Which Plant-Based Meals Should I Eat?
If you're ready to replace some of your usual meals with heart-healthy, plant-based foods, consider the following vegan meal ideas:
Breakfast #1
Oatmeal prepared with plant-based milk
Banana slices
Meatless breakfast sausage or meatless bacon substitute
Coffee or tea
Breakfast #2
Tofu, tempeh, or vegan egg substitute scrambled with spinach
Whole-grain toast
Avocado slices
Tomato slices
Coffee or tea
Breakfast #3
A plant-based protein shake made with plant protein powder, plant milk, fruit or nut butter, and oatmeal (optional)
Breakfast #4
Cooked quinoa
Tofu, tempeh, or seitan
Avocado slices
Vegetable juice
Breakfast #5
Whole-grain (low-sugar) cereal
Protein-fortified plant milk
Fruit
Walnuts
Coffee or tea
Lunch #1
Leafy greens with vegetables
Tofu, tempeh, or seitan
Sunflower seeds
Low-sugar, oil-based salad dressing
Lunch #2
A veggie or black bean burger
A whole-grain bun or lettuce wrap
Sliced tomatoes, cucumbers, or pickles
Hummus or mashed avocado
Lunch #3
Brown rice with beans and meatless crumbles
Avocado slices
Lunch #4
Grilled kabobs with tofu or seitan, mushrooms, onions, and bell peppers
Lunch #5
Vegan broth-based soup with veggies, vegan proteins (such as meatless sausage), and avocado slices or vegan shredded cheese substitute
Want to lose fat while enjoying delicious food – without feeling hungry, tired, or battling cravings like restrictive diets? Click here!
Here's A Free Weight Loss Meal Plan For Busy Men 40+
Discover exactly what to eat for breakfast, lunch, and dinner to lose belly fat & feel energized 24/7 without hard dieting...
Dinner #1
Stir fry with seitan and brown rice
Bell peppers, onions, and peas
Dinner #2
Dinner #3
Whole-grain pasta
Eggplant or meatless "chicken" strips
Asparagus
Dinner #4
Roasted potatoes
Meatless crumbles
Zucchini sauteed in olive oil
Dinner #5
Grilled portabella mushroom
Sliced tomatoes
Hummus or vegan guacamole
A whole-grain bun or lettuce wrap
Snack #1
Snack #2
A vegan protein shake or bar
Snack #3
Plant-based, non-dairy yogurt
Fruit
Snack #4
Nuts or seeds
Coconut milk
Snack #5
Coffee mixed with plant milk plus protein powder
The Fit Father "No Think" Meal Plan lays out the exact diet plan (all the best foods, shopping lists, quick-cook recipes, & meal timing schedules). Learn more here!
Here's How Busy Guys 40+ Are Finally Losing Weight…
If you're in your 40s, 50s, & 60s, you need to eat and exercise differently to lose weight & actually keep it off…
Plant-Based Recipes for Your Family!
Try the following plant-based, delicious meals your entire family can enjoy!
Quinoa Chickpea Cakes
You'll be pleasantly surprised when tasting this mouth-watering, plant-based quinoa chickpea cakes recipe.
Ingredients (Cashew Sauce)
1/2 cup of raw cashews soaked in water for several hours
1/2 teaspoon of dill weed
4 tablespoons of lemon juice
1 teaspoon of horseradish sauce
1 teaspoon of Dijon mustard
1 clove of garlic, minced
1/4 cup of diced red peppers
2 tablespoons of water
1/4 cup of unsweetened almond milk
Fresh black pepper to taste
A dash of cayenne pepper
Ingredients (Chickpea Cakes)
1 15-ounce can of chickpeas
1 cup of cooked quinoa
1 cup of shredded zucchini
1/4 cup of finely diced celery
1/4 cup of finely diced red bell peppers
2 tablespoons of finely diced red onion
1 tablespoon of fresh lemon juice
1 teaspoon of vegan Worcestershire sauce
2 tablespoons of vegan mayonnaise
1/4 teaspoon of fresh minced parsley
1 tablespoon of flaxseed meal
3 tablespoons of warm water
1/4 teaspoon of cayenne pepper (optional)
1/4 teaspoon of paprika
1/4 teaspoon of mustard powder
Nutritional yeast flakes (optional)
Thinly sliced scallions for garnish
Black pepper to taste
Instructions
To make the cashew sauce, soak 1/2 cup of cashews in water for 4 hours. Drain and mix them in a blender with the remaining cashew sauce ingredients.
Puree the mixture until it's creamy and smooth, and chill for 30 minutes in the refrigerator.
Preheat your oven to 375 degrees Fahrenheit.
Cook the quinoa until all liquid gets absorbed, and cool it.
Mix 1 tablespoon of flaxseed meal with 3 tablespoons of warm water. Set the mixture aside.
Drain and rinse the garbanzo beans in cold water.
Place them in a large mixing bowl and coarsely mash the beans with a potato masher. Add in the remaining ingredients and stir until well combined.
Spray a non-stick mini-muffin pan with cooking spray.
Spoon the garbanzo bean batter into muffin cups.
Sprinkle nutritional yeast flakes on top if you'd like.
Bake the cakes in the oven for 30-40 minutes or until they're golden brown and crisp.
Cool for about five minutes, and gently remove the cakes from the pan.
Top them with cashew sauce and garnish with chopped chives or scallions if you'd like!
Vegan Breakfast Skillet
Consider this satiating vegan breakfast skillet recipe when planning morning plant-based meals:
Ingredients
1 cup

of diced zucchini

1 cup

of sliced mushrooms

1/2 cup

of chopped green onions

1/2 cup

of red or white onions
A handful of fresh chopped cilantro

1

vegan sausage substitute, sliced

1/2

of a red pepper, diced
1 teaspoon of chili powder and garlic powder

1/2 teaspoon of paprika and cumin

Salt and pepper to taste
Salsa and avocado for serving
Instructions
Place all ingredients in a skillet and cook them over medium-high heat.
Cook the mixture until the vegetables are soft and browned (about 6-7 minutes).
Season the mixture with salt and pepper to taste.
Top it with salsa, avocado, chopped green onion, and fresh cilantro with hot sauce if you'd like!
In this video, we cover how you can lose weight on a vegan diet.
Banana Matcha Protein Smoothie
Try this vegan protein-rich smoothie recipe between meals, after a workout, or as a vegan meal replacement for weight loss.
Ingredients
2

frozen bananas

1 cup

of protein-fortified plant milk

1 cup

of frozen spinach

1/2 cup

of unsweetened non-dairy yogurt

1/2 cup

of chopped (frozen) zucchini

1

tablespoon of matcha green tea powder

1

scoop of vegan vanilla protein powder

2 teaspoon

s of vanilla extract

1

to

2

pitted dates
Instructions
Place all of the ingredients in a blender and blend them until smooth.
Add extra plant milk or water as needed.
Serve the smoothie cold and enjoy it!
Vegan Portabella Mushroom Burgers
In place of traditional hamburgers, consider this mouth-watering, satiating vegan portabella mushroom burger recipe instead!
Ingredients (Mushrooms)
2 large portabella mushrooms
1 tablespoon of miso
1 tablespoon of sesame oil
1 tablespoon of sriracha
A pinch of salt and pepper
Ingredients (Avocado Sauce)
1 very large avocado, cubed
1 teaspoon of rice wine vinegar
1 teaspoon of sesame oil
1 teaspoon of finely chopped ginger or ginger paste
1/4 teaspoon of salt and pepper
A pinch of chili flakes
A pinch of sesame seeds
Instructions
Preheat a grill to medium heat.
Mix together siracha, sesame oil, miso, salt, and pepper in a small bowl.
Brush the mixture onto both sides of the mushrooms.
Prepare the guacamole by combining all avocado sauce ingredients in a small bowl. Mash the mixture together until creamy, and sprinkle it chili flakes and sesame seeds.
Grill the mushrooms for about 4 to 5 minutes until they're tender and juicy. Flip them over and grill for several additional minutes.
Serve the mushrooms with whole-grain hamburger buns or lettuce wraps, and top them with avocado sauce plus cucumber and tomato slices if you'd like!
Want to lose the meat but still get buff? Here are the 7 steps to build muscle on a vegan diet.
Vegan Breakfast Frittata
Try this vegan frittata recipe for breakfast to reap some of the many benefits associated with plant-based meals:
Ingredients
3/4 cup of chickpea flour
3 tablespoons of nutritional yeast flakes
1 cup of water
1 tablespoon of ground flax seeds
3/4 teaspoon of salt
4 medium chard leaves
3/4 cup of broccoli florets
1 cup of diced zucchini
3 tablespoons olive oil, divided
1 teaspoon of low-sodium soy sauce
1/4 teaspoon of black pepper
1/8 teaspoon of garlic powder
1/8 teaspoon of salt
1/8 teaspoon of red pepper flakes
2 to 4 basil leaves
Instructions
Whisk together the chickpea flour, yeast flakes, salt, and flax seeds in a medium bowl.
Add water and whisk until the mixture becomes smooth.
Slice or chop the vegetables.
In a nonstick skillet over medium heat, pour in 2 tablespoons of olive oil and add the chard stems and broccoli (cook for about 2 to 3 minutes).
Add the zucchini, black pepper, soy sauce, salt, garlic powder, and red pepper flakes.
Toss to combine and cook for an additional 6 to 7 minutes, stirring occasionally.
Add chard leaves and cook the mixture for 1 to 2 minutes.
Scoop the vegetables into the bowl of batter and combine well.
Cook the frittata mixture on a skillet over medium heat with 1 tablespoon of olive oil for about 7 to 8 minutes, or until it's browned
Remove the frittata from the heat, garnish it with fresh basil if you'd like, cut it into halves, and enjoy!
To learn more about how to plan nutritious, plant-based meals, sign up for the Fit Father Project or a free FFP meal plan today!
Here's How Busy Fathers Over 40 Are Finally Burning Stubborn Belly Fat & Getting Healthy Without Restrictive Diets or Time-Consuming Workouts
This proven "Fit Father Program" has helped 25,000 busy men 40+ lose weight, rebuild muscle, and finally keep the weight off.
If you're frustrated with stubborn belly fat, failed diets, and time-consuming workouts, this is the answer you've been looking for…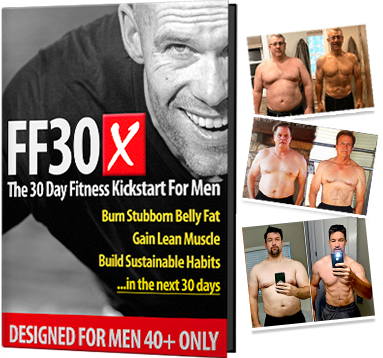 Join 22,000 guys in over 98 countries are using FF30X to lose weight. You get everything you need to succeed – including:
The Fit Father Meal Plan – with simple & delicious recipes
Safe & Effective Workouts Program – only 90 min/week
VIP Accountability Coaching – our Fit Father Team will personally walk you to success, step-by-step.
LEARN MORE ABOUT FF30X >>
See the FF30X Program overview here. You'll discover how this proven Fit Father Program can help you lose weight and actually keep it off – without the complication and restriction of normal diets. »
*Please know that weight loss results & health changes/improvements vary from individual to individual; you may not achieve similar results. Always consult with your doctor before making health decisions. This is not medical advice – simply very well-researched info on plant-based meals.