10 Great Sources of Plant-Based Proteins for Men
V
egan and vegetarian diets are all the rage these days.  In spite of the complications, eating more vegetables cannot be considered a bad thing. If you're considering a vegan or vegetarian diet, or just want to consume more vegetables, understanding plant-based protein sources is a great way to ensure success.
Vegans don't eat any animal products, which includes meat, dairy, whey, or eggs.  The only way to sustain a diet like this is to carefully choose your foods and maximize your protein intake as much as possible.
Fortunately, there are many nutritious and delicious forms of plant-based protein for you to try. Here's the low-down on plant based protein.
What is a Plant Based Protein?
Proteins are a group of amino acids that build the tissues and substance that make up living organisms. The body uses protein to grow muscles, bones, hair, and tissue, build and repair cells, create and control hormones and enzymes, and as energy for moving and thinking.
Plant based protein is protein that comes from, you guessed it, plant sources. But there are also non-plant sources that are considered as plant based protein sources.
Mushrooms
Nutritional Yeast
Spirulina
Fortunately, there are a ton of great ways to obtain an adequate supply of protein using only plant based protein sources.
How Much Protein Do You Need?
The United States Department of Agriculture has set the Recommended Daily Allowance (RDA) of protein at .8 grams for every kilogram you weigh. This is the minimum amount of protein you need to stay healthy.
To find out your RDA of protein, multiply your weight in pounds by .36. For example, a man who weighs 200 pounds would need 72 grams of protein per day at the very minimum.
Active men will need much more protein, up to 2-3 times that amount. 
To get the amount of protein you need, try to eat at least one protein food at each meal.
10 Great Sources of Plant-Based Protein
Amaranth
You might not be familiar with amaranth. Once a staple of ancient Aztecs, amaranth is a seed that's prepared and  eaten like a grain.
Amaranth is gluten-free and full of magnesium, iron, and dietary fiber. It also boasts 9 grams of protein per cup.
Try amaranth as a hot cereal or with vegetables. It's also available as a flour.
Beans
There are so many types of beans, from black beans to chickpeas.
Beans are a vegan staple for good reason–they're packed with protein and nutrition. They can also add texture to your meatless meals.
Protein vary depending on the type of bean. One cup of lima beans contains 15 grams of protein, while a cup of chickpeas or black beans boasts a whopping 39 grams.
Beans are also highly edible as side dish or can be added to soups, salads, wraps, and stir fry.
Peas
Green peas are not just delicious, they're highly versatile and contain a rich amount of nutrients and a good ratio of carbs, fat, and protein.
"Pea protein offers a good profile of micronutrients like manganese, folate, copper, phosphorus, vitamins B6 and B2, niacin, and molybdenum," says Liz Fusco,
Peas can be added to almost any dish, used as a protein powder, and can play an integral role in weight loss or weight gain.
Quinoa
Quinoa is another seed that looks and tastes like a whole grain.
One cup of quinoa has about 8 grams of protein.
One of the best things about quinoa is that it's easy to cook. Dried quinoa is ready to eat in just 10 minutes. You can use quinoa anytime you'd use rice.
Try quinoa in stir-fries, burritos, and side dishes.
Nuts and Nut Butter
Nuts are packed with serious vegan protein. They're also full of heart-healthy fats.
Protein amounts vary by type of nut. One cup of walnuts will get you 12 grams of protein, while a cup of almonds is stuffed with 20 grams of protein.
Peanut butter is another vegan staple. Just 2 tablespoons contain 8 grams of protein.
Nutritional Yeast
This yeast isn't for baking bread! Nutritional yeast is made from fungi, like mushrooms. Its nutty, cheesy flavor makes it a great addition to vegan meals.
Nutritional yeast is the only vegan food source of vitamin B12. The amount of protein it contains varies by brand but usually averages around 4 grams of protein per 1/8 cup serving.
Seeds
Seeds are full of nutrition and protein. They can add a tasty crunch to salads, or stand on their own as snacks. Each type of seed has its own protein content.
Sunflower seeds contain 29 grams of protein per cup, while pumpkin seeds, or pepitas, have 12 grams per cup.
Flax seeds are often used to replace eggs in vegan baked goods. One tablespoon of flax seeds has 1.9 grams of protein.
Spirulina Powder
Spirulina powder is a superfood made from blue-green algae. It is especially high in iron, antioxidants, and vitamins.
There are 4 grams of protein in just one tablespoon of spirulina.
Try adding spirulina powder to smoothies and juices. Spirulina is also available in tablet form.
Lentils
What are lentils? These funny little round things are seeds, and members of the legume family, relatives of beans, nuts, and peas.
You might be familiar with lentils in soup, but this protein-packed food can be used for more than that. Lentils can be used in salads, ethnic dishes, or even roasted. There are about 18 grams of protein in just one cup of lentils.
Broccoli
Surprisingly, many vegetables contain some protein.
One serving of broccoli contains about 4.2 grams of protein. Broccoli also mixes well with other protein sources for meals, such as amaranth, quinoa, or beans.
Plant Based Protein Powders
For anyone commiting to a vegan diet while undertaking a vigourous exercise routine, it may be necessary to supplement your protein intake. Fortunately, there are tons of plant based protein powders available on the market today.
Choosing a plant based protein powder can be difficult with all of the options. Look for a protein powder that is:
Sugar free
Organic
Gluten free
Soy free
Manufactured ethically
Has good ratings
A protein powder with good ratings typically means it tastes good, but it may be worth your while to do some research befor commiting to a purchase. Some of the plant based protein powders are not as palatable as you would hope, but that doesn't mean there aren't a lot of great tasting option out there.
Choose a plant based protein powders from one of the following:
Pumpkin seed protein
Pea protein
Hemp protein
Nut protein
Rice protein
Blend/Mixtures
Powerfood Active, MRM Veggie Series, Vega One, and Pescience Select Vegan are a few name brands that get toss around as having a great taste in addition to a strong nutritional profile.
If you're looking to lose weight with a specialty diet, you may be interested in joining our weight loss program, FF30X. We have helped thousands of men lose fat and gain muscle. We also have tons of resources for helping you with making nutritional decisions.
Download our free meal plan to get started with a new life.
FREE

1-Day Weight Loss Meal Plan For Men 40+
Lose weight. Eat like a man. Enjoy your life. Over 55,000 men are using this.
Get yourself back into great shape - at any age the Fit Father way.
If you're interested in a proven and completely laid out "done-for-you" weight loss meal plan & workout routine – designed for you as a busy man…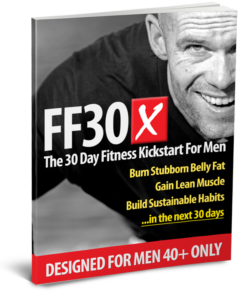 I'd recommend you read the program overview letter for our Fit Father 30-Day Program (FF30X).
Inside FF30X, you'll receive:
The simple & delicious Fit Father Meal Plan
The metabolism boosting Fit Father 30X Workout (under 90 min/week)
VIP email coaching where I'll personally walk you through the program
Read the FF30X Program overview letter here to see how our plan can help you lose weight – without the complication & restriction of normal diets.
*Please know that weight loss results & health changes/improvements vary from individual to individual; you may not achieve similar results. Always consult with your doctor before making health decisions. This is not medical advice – simply very well-researched info on plant-based proteins.