H
ave you ever noticed that things always seem easy for certain people? It's like they have a magic wand that allows them to achieve their goals virtually effortlessly. It may seem unlikely but they simply have
positivity in achieving goals.
The great news is that they don't have a magic wand unless they're pretending to be Harry Potter, but they do have the right attitude.
Developing positivity in achieving goals will make it possible for you to be the one making it look easy to achieve anything!
Of course, you're going to need to make a few changes in order to develop this level of positivity, but that's what the Fit Father Project is here for.
Join the FF30X today and you won't just learn how to increase your positivity, you'll also gain access to a wide array of information that will help you.
Thousands of men have already taken steps towards achieving their goals and they'll support you doing the same.
It doesn't matter whether you're looking to lose weight, build muscle, or get that promotion, you can do it if you develop positivity in achieving goals.

Here's How Busy Guys 40+ Are Finally Losing Weight…
If you're in your 40s, 50s, & 60s, you need to eat and exercise differently to lose weight & actually keep it off…
What Is Positivity?
In simple terms, positivity is defined as 'the practice of being positive or optimistic in attitude'.
In essence, you're looking for the bright side when you're dealing with anything, for the silver lining.
But, as we all know, it can be hard to remain positive when everything seems to be going against you.
In fact, negativity can create a downward spiral, the more negative you feel, the easier it is not to see the positive, and the more your negativity will increase.
This leads to depression and potential health issues.
Research shows that being positive can actually reduce your risk of developing a disease, a logical extension of this is that being negative is more likely to lead to health issues.
Positivity in general terms means believing that anything is possible and that good things will happen. In specific situations, it means always seeing the best possible outcome.
The funny thing is that adopting this approach actually helps it to come true. Visualization, such as picturing a positive outcome, will help you to believe that you can achieve your goals.
In turn, this will help you to actually achieve them. In your mind you already have, your body just needs to catch up!
Positivity In Achieving Goals: Easy Steps You Can Take Today
Check out these steps to improve your positivity, it's easier than you think!

Never underestimate the power of a smile.
You've probably smiled at a cute girl before and been surprised when she's responded, even though she appears to be out of your league. That's positivity in achieving goals working for you.
A smile demands a response, and in most cases, this is another smile. Even if you don't get another smile, you'll notice that you feel a little happier!
There is actually a scientific reason why this happens, the act of smiling causes a release of endorphins, the feel-good hormone in your body.
In short, a smile really does make you feel happier and this influences the moods of those around you, helping to create positivity for yourself and everyone else in the vicinity.

Visualization is a technique that has been used by many top athletes, even the
mighty Arnie
used this to achieve his goals.
The premise is simple, you see yourself having achieved something and your mind believes it to be real. This makes it much easier to actually achieve, because you know it's possible.
All you have to do is set your goal, whether that's to eat healthier, lose weight, or get a promotion.
Visualizing, or picturing, your success also makes you feel good, releasing more of the endorphins that you get when you smile.
This is certain to make you feel more positive, which will help you to achieve your goal!

However, there is a clause to picturing the result! Your vision should be split between the overall goal and a smaller, more achievable goal.
By dividing your overall goal into smaller goals you'll develop a more positive nature because you're actually achieving something.
This reinforces the power of positivity and helps you focus on the next goal.
The key is to ensure that every goal, no matter how small, is a step in the right direction for your overall goal.
For example, if you want to lose 50 pounds, this is not going to happen overnight. But, you can start by using this free 1-day meal plan.
Access this now and commit to your meal plan for tomorrow. Visualize the feeling you'll get when you succeed and you'll find it easier to achieve this small goal.
Learning to eat healthier is an essential part of your journey to losing weight, this 1-day achievement will make you feel more positive, ensure you believe you can achieve your weight loss goal, and start you on the right path.
That's pretty powerful positivity in achieving goals through small steps!

Here's A Free Weight Loss Meal Plan For Busy Men 40+
Discover exactly what to eat for breakfast, lunch, and dinner to lose belly fat & feel energized 24/7 without hard dieting...
You may think of this as turning a negative into a positive. Some people appear to instinctively do this with every situation. Fortunately, you can easily develop the same habit.
The key is to accept that there is always a positive, you just have to find it. The more you practice, the easier it becomes.
For example, if you're stuck in traffic and late for work you're going to feel pretty frustrated. But, you should think of the positives.
These include the fact that you actually have a car and a job.
You can also think about what you could achieve while sitting in traffic. Maybe read a report, check emails, or even make some business calls?
All of that will save you time at the office and boost your productivity, that's a pretty positive result from what can seem like a negative.
It takes time to develop the habit, but consciously thinking about the positive in each situation helps you develop positivity in achieving goals.

A mantra is generally associated with meditation but it can also be a great way to boost your positivity.
You'll need to create a short phrase, such as 'I am what I do', or 'I can achieve anything'.
Once you have a mantra repeat it to yourself first thing in the morning and every time you are worried about tackling a new project or the unknown.
The mantra should inspire you to try, visualization will help you to succeed, dramatically boosting your own positivity.

#6 – Accept & Reject Guilt
It's easy to feel guilty about a missed opportunity or what may have happened if you had done something differently.
However, guilt is not going to help you become a more positive person, it's a negative emotion that will drain your focus and prevent you from doing what needs to be done.
When you feel guilty about something, accept that you should, or could, have done it differently and move on. If necessary, an apology to the relevant person will help to draw a line under the incident.
For example, you've committed to trying the free 24-minute workout 3 times a week and miss a session.
You can't change the fact you've missed it and there is no point in feeling guilty about it, this won't help you to reach your goal or do it next time.
Acknowledge the issue and move on, without worrying about it.

Here's A Free 24-Min Fat Burn Workout For Busy Men 40+
This powerful workout will reignite your metabolism to burn fat 24/7 like you did in your 20s…
#7 – Look Forward Not Back
The past is done and cannot be undone, it is to be learned from but not dwelled upon. With this in mind, you need to learn to focus on the future and what is possible.
This is actually an extension of accepting and rejecting guilt. Once you realize that you can't change what has happened you're ready to face the future and give it 100%, probably determined not to make the same mistake.
That's a fantastic example of using positivity in achieving goals.

If you feel positive you'll notice that those around you feel positive. This is why it's a great idea to surround yourself with positive people.
If you already have positive friends then you're on the right path, hang out with them more.
But, you can also join the FF30X program today and connect with thousands of other men looking to achieve similar goals to yours.
They'll inspire you, motivate you, and generally make you feel more positive, you can do the same back.
Having support is essential to achieve any goal, but the Fit Father Project offers support that is positive and understands where you're heading. That's powerful stuff.

You probably associate your eating habits with weight gain or loss. While you'll need to adopt a healthy eating regime in order to lose weight, you should also consider your diet to help you feel more positive.
As a simple example, processed foods contain large amounts of salt and sugar. When you consume sugar your body produces insulin which converts the sugar into energy or fat.
This results in your blood sugar levels spiking, making you feel great for a short period. Unfortunately, once the initial sugar has been burned off, the high becomes a low, leaving you feeling depressed.
This cycle of emotions is not good for positivity or your waistline.
It's time to start learning about healthy eating, starting with the free 1-day meal plan and change your eating habits.

Here's A Free Weight Loss Meal Plan For Busy Men 40+
Discover exactly what to eat for breakfast, lunch, and dinner to lose belly fat & feel energized 24/7 without hard dieting...
Meditating is an opportunity to calm your mind and remove yourself from the stress of the day. It is not an opportunity to sit and try to think of nothing, that's almost impossible.
But, focusing on one thought, or your personal mantra will allow you to step back and see what the events of the day really mean.
You'll quickly realize that most problems are too small to worry about and the others are just opportunities to improve your positivity.
Remember, you should always look for the positive in any situation.
Removing the stress from your day allows your body to reduce cortisol levels and balance your other hormones.
You'll also discover the opportunity to organize your thoughts and look to the future, toward your next goal.

#11 – Look For Famous Inspiration
Celebrity stories are everywhere and you can use these to feel more positive and inspire yourself.
For example, if you want to lose weight take a look at one of your favorite celebrities that has achieved significant weight loss.
With your new positive attitude, you should be able to see that if they can do it, so can you.
Emulate their success, they can inspire you, although you don't necessarily need to use the same methods as them.

Perhaps the easiest way to build positivity in achieving goals is simply never to give up.
If you set yourself an achievable goal and decide that you won't give up until you reach it, you will get there.
This will make you feel more positive about the experience and about achieving the next goal.
It really is as simple as refusing to quit!

Finally, it is a good idea to be grateful for what you have and what you've already achieved.
This can seem hard to do when you're focused on a new goal but it's worth taking a few moments to be grateful for what you have and what you've achieved.
Not only will this put your current goals into perspective, but it will also remind you that anything is possible, which is being positive.
Positivity In Everything
The future is an open book, so with a little imagination and visualization, you really can achieve anything.
All you need to do is develop positivity in achieving goals.
Having the right attitude is three-quarters of the journey. Mix this with a little effort and the support you'll get when you join the FF30X today and you'll be amazing yourself at what you have achieved.
Being positive simply means believing that you can achieve something. This is actually the first, and often easiest step.
Pick a small goal, tell yourself you can do it, then, as Nike says, 'just do it'.
The sense of achievement will inspire you and boost your positivity in achieving goals. Try it now and be amazed!
Here's How Busy Fathers Over 40 Are Finally Burning Stubborn Belly Fat & Getting Healthy Without Restrictive Diets or Time-Consuming Workouts
This proven "Fit Father Program" has helped 25,000 busy men 40+ lose weight, rebuild muscle, and finally keep the weight off.
If you're frustrated with stubborn belly fat, failed diets, and time-consuming workouts, this is the answer you've been looking for…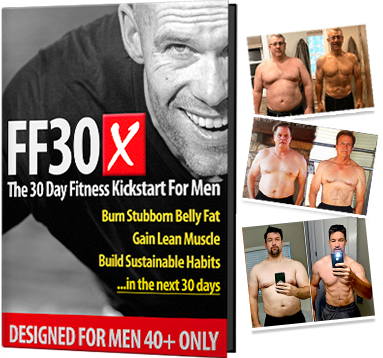 Join 22,000 guys in over 98 countries are using FF30X to lose weight. You get everything you need to succeed – including:
The Fit Father Meal Plan – with simple & delicious recipes
Safe & Effective Workouts Program – only 90 min/week
VIP Accountability Coaching – our Fit Father Team will personally walk you to success, step-by-step.
LEARN MORE ABOUT FF30X >>
See the FF30X Program overview here. You'll discover how this proven Fit Father Program can help you lose weight and actually keep it off – without the complication and restriction of normal diets. »
*Please know that weight loss results & health changes/improvements vary from individual to individual; you may not achieve similar results. Always consult with your doctor before making health decisions. This is not medical advice – simply very well-researched info on positivity in achieving goals.