E
veryone
uses procrastination
at some point in their life. It is simply the process of putting off something that seems difficult.
Research actually shows that people who procrastinate actually have higher levels of stress and lower levels of well being.
"If I have a dozen things to do, obviously #10, #11, and #12 have to wait," says  Joseph Ferrari, a professor of psychology at DePaul University and thought leader on the subject of procrastinating. "The real procrastinator has those  12 things, maybe does one or two of them, then rewrites the list, then shuffles it around, then makes an extra copy of it. That's procrastinating. That's different."

Procrastinating may be something we all do, but it doesn't have to be!
You can beat procrastination and start achieving your goals at a lightning pace.
Ways In Which Procrastination Affects Your Weight Loss
When you decide it's time to lose weight, you immediately place pressure on yourself to achieve a certain goal.
There are two problems with this:
#1 Failure


The first thing you will subconsciously consider is whether you could fail at your task. No one wants to fail; especially not if others know about their goal, but you have to weigh the probability of success in order to know if the goal is appropriate or not.
It's easy think of reasons why you can't start your losing weight today.
The fear of failure actually stops you even starting!
#2 The Immensity of the task

If you're looking to lose 10, 20 or even 100 pounds it can be a daunting challenge.
The bigger the challenge, the more difficult it seems and the more likely you will be to put it off.
You may also perceive the task to be boring, have no real meaning to you or you may simply not know how to do it.
All of these things will make you put it off. In other words procrastinate.
In effect you are saying yes to a comfortable state of mind rather than facing a challenge and potentially entering a negative mood. This is fine in theory but if you never challenge your comfort zone you will never achieve new skills and new opportunities.
How To Beat Procrastination
Fortunately it is possible to beat procrastination and continue your journey; whether you're aiming for weight loss or muscle building these tips will help:
If something seems boring or pointless you're not going to want to do it.
For example, if you need to do 20 push-ups to help achieve your muscle building goals but this seems too tedious then you need to change the way you approach the task.
Instead of focusing on the number 20 ask yourself how many you could do in 30 seconds. It will probably be more than 20.
By changing the task you can make it a challenge and more fun; ensuring you actually do it.
There are plenty of jobs you know should be done but not as many that actually get done. You use procrastination to avoid completing them by distracting yourself or making the task seem unimportant. You may even find validation for your theory.
For example you know that you should do your 24-minute workout. But, by deliberately overrunning on another activity you won't have enough time to do it. You can then justify this by saying you'll start tomorrow or by looking online to find someone who says exercise is bad for you.
This then justifies your procrastination and leaves the task undone.
You need to adopt a new approach; "do it today". This is easier said than done but listing the reasons why you are putting it off can really help you to focus on achieving it.
By setting a time limit you will force yourself to place more effort into a specified task.
For instance, the idea of running for 1 hour when you don't usually run at all is daunting. You're more likely to procrastinate.
But, if you say you're going to run for 5 minutes, and that is all you have time for, then you'll find yourself putting a lot more effort into it. You could actually achieve the same result as if you ran for an hour!
Negative thoughts will not help you to achieve your weight loss or fitness goals. Instead of thinking negatively think of a positive thing you have done.
By focusing on what you have achieved you'll feel more willing to tackle a new challenge and actually achieve your goals; without procrastinating.
Nike's catchphrase is very true. When you don't like the idea of doing something you need to simply do it.
In terms of exercise this means putting your gear on and driving to the gym or the exercise class. You might not want to do the exercise but once you're there you'll find yourself doing it!
As soon as you think "I'll do this later" you need to recognize that this is your cue to say "Just do it now!"
If you put your procrastination into monetary terms you'll suddenly find your brain is eager to get you started.
For example, you don't want to do your 24-minute workout today. So you procrastinate.
Consider the cost of not working out. This might be a failure to win a prize in a competition, you may lose a bet or you may simply have a larger shopping bill because you're still eating unhealthily.
When you realize there is a real fiscal disadvantage you'll feel more motivated to do the task straight away.
Research suggests that many people procrastinate as they are unable to connect to themselves in the future. This makes it difficult to see how an action today will really benefit you.
You can change this.

When you don't feel like working out think about how much better your workout will be the following week. You can also consider how much easier it will be to run round with the children or impress that special someone.
By visualizing the benefit of today's action you'll be more inclined to do it and less inclined to use procrastination.
It is very easy in the digital age to be distracted by the internet or social media sites. When it is time to exercise, switch off all electronic products except for your music and any exercise related electronics.
This will allow you to focus on your 24-minute workout, not dogs surfing or something similar!
It's much more difficult to put something off if it has been added to your schedule. Find a suitable slot for your workout and add it into your schedule for each day.
This will ensure you stick to it and actually move towards your fitness goals.
Sometimes procrastination is simply a sign that you shouldn't be doing the activity. If you find yourself constantly procrastinating over visiting the gym then stop and evaluate.
If you want to build muscle or lose weight but can't get yourself to the gym then maybe you should be looking at other classes or activities you can do at home.
Finding an approach that suits your lifestyle will stop you procrastinating and allow you to reap the desired benefits.
Summing It Up
Procrastination is often seen as the enemy but in many cases it should be used as a tool. When you're procrastinating this means you need to find a new way of achieving your goal.
This could mean a different exercise regime.
Once you've found the right exercise and used these tips to actually get yourself started you'll quickly find that procrastination is a thing of the past!
Your new friend & health coach,

Here's How Busy Fathers Over 40 Are Finally Burning Stubborn Belly Fat & Getting Healthy Without Restrictive Diets or Time-Consuming Workouts
This proven "Fit Father Program" has helped 25,000 busy men 40+ lose weight, rebuild muscle, and finally keep the weight off.
If you're frustrated with stubborn belly fat, failed diets, and time-consuming workouts, this is the answer you've been looking for…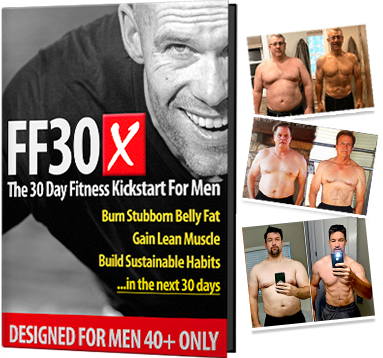 Join 22,000 guys in over 98 countries are using FF30X to lose weight. You get everything you need to succeed – including:
The Fit Father Meal Plan – with simple & delicious recipes
Safe & Effective Workouts Program – only 90 min/week
VIP Accountability Coaching – our Fit Father Team will personally walk you to success, step-by-step.
LEARN MORE ABOUT FF30X >>
See the FF30X Program overview here. You'll discover how this proven Fit Father Program can help you lose weight and actually keep it off – without the complication and restriction of normal diets. »
*Please know that weight loss results & health changes/improvements vary from individual to individual; you may not achieve similar results. Always consult with your doctor before making health decisions. This is not medical advice – simply very well-researched info on conditioning workouts.