It's common knowledge that eating right has a bigger impact on our overall health than working out does.
Even if you accept that truth, it can be hard to find cost-effective and convenient options for healthy eating.
Between a hectic work schedule, balancing your family's needs, and rushing through the workday, it's hard to figure out where eating healthy comes in especially if you're not the main grocery shopper for the family.
But that's where we come in!
We'll share our tips and tricks for quick, healthy meals that will keep you sustained throughout the day.
Portioning With Quick & Healthy Meals
The heart of creating quick, healthy meals is right on your plate.
We use a principle called Perfect Plates to guide us as we create our meals. Perfect Plates allows you to not only choose the right foods, but also to portion them out in the healthiest way.

Using Perfect Plates is also a time saver, as it allows you to avoid counting calories.
Here is how a Perfect Plate is portioned:
One-half plate of non-starchy vegetables
One-fourth plate full of protein foods
One-fourth plate full of starches
Our favorite non-starchy vegetables are cauliflower, tomatoes, leafy greens, celery, broccoli, cucumber, bell peppers, mushrooms, asparagus, green beans, and zucchini.
Examples of healthy starches are legumes, peas, dried beans, lentils, sweet potatoes, corn, quinoa, oatmeal, brown rice, wild rice, other whole grains, and fruit.
Healthy proteins include lean meat, chicken, turkey, fish, seafood, tofu, eggs, low-fat cottage cheese, nonfat Greek yogurt, reduced-fat cheese, plant milk, and protein powder.
Meal Prep Tips for Quick & Healthy Meals
Using the perfect plate method is a really easy way to identify and create quick & healthy meals. Meal prepping, the practice of preparing your meals in advance, makes the decision to eat healthy food easier.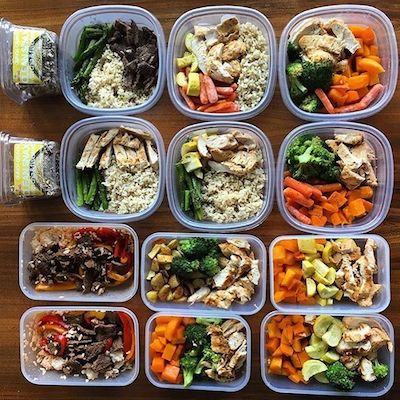 If you are someone who finds doing dishes daily and cooking daily a huge chore, meal prepping is for you.
If you are someone who thinks that healthy foods are too expensive to buy, meal prepping can help change your mind.
And if you're just someone who wants more built-in accountability, meal prepping is definitely for you.
We go into depth on how to successfully meal prep for the healthiest and cheapest meals here:
Buy in bulk – this cuts the cost of healthy foods
Cook twice a week – you'll cut down on dishes significantly
Store your meals – this will give you immediate access to your healthy meals
All of these actions make your meal prepping accessible for you and streamlined to prepare.
Meal prepping does require work on the upfront, but it allows you to eat your meals with confidence.
Here's A Free Weight Loss Meal Plan For Busy Men 40+
Discover exactly what to eat for breakfast, lunch, and dinner to lose belly fat & feel energized 24/7 without hard dieting...
Snacking Alongside Quick & Healthy Meals
Even though you'll be filling up on nutritious and quick, healthy meals, it's important to recognize that snacking is probably still going to happen.
Most people think that when dieting, you have to remove all snacking from your day.
But that's not the case! Healthy snacking is a great way to keep yourself on track for your fitness goals. You just need to find the right snacks.

When choosing your snacks, try to keep it within about 250 calories. This amount will keep you full, but won't ruin a future meal.
The best snacks to accompany quick, healthy meals are all good sources of protein, fiber or healthy fats.
Our favorites are nuts, berries, protein shakes, raw veggies with hummus, greek yogurt, fruit, and almond butter.
Along with choosing nutritious snacks, try drinking water before you eat on them. Drinking water before snacks and meals can help to reduce cravings and keep you hydrated.

Here are a few of our favorite quick & recipes to get you started:
Staying Committed
Even with all the knowledge of how to create quick, healthy meals, it can be difficult to stay committed to a nutritious meal plan.
Especially for those of us who are making a big life change by eating healthy, staying on the right track can be daunting.
The best way we've found to stay committed to eating well is to find a community who are going through the same trials and can support you.

Here at the Fit Father Project, we have trainers who can guide you and fathers like yourself who can relate to you.
The FF30X program offers you training resources and an outlet for your successes and failures. FF30X fits all the criteria of the perfect weight loss plan for men over 40.

Join our brotherhood and experience the difference in workouts and meal plans that really work.
Here's A Free Weight Loss Meal Plan For Busy Men 40+
Discover exactly what to eat for breakfast, lunch, and dinner to lose belly fat & feel energized 24/7 without hard dieting...
Your friend in health,

P.S. If you haven't seen my FREE 1-Day Meal Plan for Men over 40, I highly recommend you click here to get a free copy sent directly to your email. Remember: nutrition is a core foundation of weight loss for men over 40.

Small note about research cited in this article:

*Always remember: weight loss results & health changes/improvements vary from individual to individual. Just because these studies cite certain data does not mean you will experience these results. Always consult with your doctor before making decisions about your health. This is not medical advice – simply very well-researched info on how to make quick, healthy meals.