When many men jump into fitness, they just focus on the duration and intensity of their exercises. What often gets lost in the shuffle is the need for adequate rest between workouts.
While most fitness programs focus on exercises, reps, and sets, recovery is another important aspect that should be incorporated into each and every workout routine to get maximum results.
In fact, most of the exercise-induced strength and endurance gains that men strive for in workouts take place during recovery.
Recovery occurs not only after a workout ends, but also during the workouts.
For example, within an exercise session, there is immediate recovery between sets and short-term recovery between each rep.
Then, of course, there is the more lengthy recovery between workouts.
Full recovery is essential for optimal performance and improvement throughout a fitness program and an overall healthy lifestyle.
Keep reading to learn more about the importance of recovery and rest between workouts.
How Guys 40+ Are Using "Old School" Secrets To Build Age-Defying Muscle
Ever thought you were "over the hill" or "too far past your prime" to build muscle and get strong again? Well, think again…
The Importance of Recovery and Rest Between Workouts
The first question a lot of guys have when starting an exercise program is: How many days a week do I need to workout and how much rest should I be getting between workout days?
To start, fitness and training are always going to be based on your own personal goals and current fitness levels.
However, studies have shown that as men age, the most efficient workout plans involve some form of exercise three times a week as compared to working out once a week.
When you only workout once or twice a week, you are limited to only building muscle and endurance during this time.
Also, when guys try to cram in all of their exercises into one or two days, they end up trying to do too many sets all at once.
This high volume can lead to increased muscle soreness, a higher risk of injury, and overtraining.
By dividing your workouts into three well planned days over the course of a week, you will be able to target all of your major muscle groups.
And since the workouts can be spread out, this will give your muscles the rest and recovery that they need to rebuild and regenerate for the next tough sweat session.
A rest period of 48 hours appears to be an optimal amount of time for muscle recovery.
This appears to be true even after tough workouts.
For example, one study found that in high intensity CrossFit workouts, markers of muscle and metabolic stress returned to normal after 48 hours.
Structuring your workouts every other day, or three days a week, will give you this much-needed recovery without seeing any dips in performance.
When it comes to post-workout muscle soreness, you need a solution that gets rid of it now AND reduces it after your upcoming workouts. This video gives you the solution you need for both.
Rest Periods Within Workouts
Taking adequate rest between workout days is essential to allow your body, and mind, to recover before the next workout.
Another area where rest is key is between each set during your workouts.
Proper rest periods are crucial if you want to increase strength and see an improvement in your overall physique.
During weightlifting, your muscles use energy to contract.
This energy comes from a molecule called ATP.
As the work of a muscle increases, more and more ATP is used and it must be regenerated in order for the muscle fibers to continue contracting.
What Happens if Rest Periods Are Too Short?
To maximize the regeneration of ATP, you need to have enough rest between sets.
By doing this you will be able to lift to your full capacity.
If your rest periods are too short, not enough ATP will be restored and you will not be able to lift to your maximum potential.
For example, if you don't give yourself enough rest you will have to drop down the amount of weight you are using, or may not be able to pump out the last few reps.
Including sufficient rest between sets is essential, particularly when the goal is maximal strength development.
What Are The 5 Best Muscle Building Exercises For Men 40+?
The secret to building age-defying muscle in your in 40s, 50s, & 60s is to modify the best muscle building exercises (bench, squats, rows) to make them safe on your joints…
What's the Best Rest Period Between Sets?
Different rest intervals between sets can produce different responses.
Ultimately this affects chronic adaptations not only in your strength and endurance, but also in your neuromuscular and hormonal responses.
Most guys use a subjective approach to determine a rest interval between sets.
Basically, they start the next set when they "feel" ready.
A general recommendation when training for maximal strength has typically been to rest 2 to 5 minutes between sets.
But 2-5 minutes is a pretty big gap.
So the question becomes, is one length of rest actually better than another?
The rest interval between sets should be based on your training goals.
A guy that is more interested in bodybuilding and increasing muscle size requires a different rest period than a guy training for a triathlon that is trying to increase muscle power and endurance.
Best Rest for Heavy Lifting
For heavy lifting, studies have found that longer periods of rest, up to four minutes, can lead to even more strength gains.
A study from The Journal of Strength and Conditioning Research found that large squat strength gains can be achieved with a minimum of 2 minutes' rest between sets, and little additional gains are derived from resting 4 minutes between sets.
However, if you are looking to build more muscular endurance, utilizing short rest intervals seems to be the better option.
Local muscular endurance is the ability to sustain submaximal muscle contractions for an extended period of time.
If your goal is to develop muscular endurance, studies have shown that it is optimal to incorporate lower weight resistance combined with high reps and shorter rest intervals between sets.
Since you are using lower weights, shorter rest intervals still allow for sufficient recovery.
At the same time, you will be improving your aerobic stamina since you are moving more quickly to the next set.
Here's A Free 24-Min Fat Burn Workout For Busy Men 40+
This powerful workout will reignite your metabolism to burn fat 24/7 like you did in your 20s…
Best Rest For Fit Dads
What does this all mean for a busy dad looking to build muscle and aerobic endurance?
Really, it comes down to your specific fitness goals.
If you are looking to increase the volume of lifting, you may need longer rest intervals initially.
However, as you build strength and fitness your body will adapt so that shorter rest intervals can be utilized without excessive fatigue.
This will give you more time to focus on other aspects of fitness.
If you are more focused on improving muscular endurance, you can incorporate shorter rest periods into your workouts.
This is what is seen in a lot of HIIT workouts where short rest is utilized between periods of high-intensity movements.
For fit dads out there looking to maximize their fitness, the best program is going to likely include a combination of higher weight exercises with longer rest to build muscle, along with days that incorporate lower weight and higher reps with shorter rest periods.
By planning your workouts ahead of time you can get the best of both worlds to improve both your muscular strength, power, and endurance.
Sample Workout Week With Rest Days
If you are trying to plan out your workout to include adequate rest days, your week could look something this:
Monday: Strength Training Day
You can structure this day to include higher weight exercises with longer rest periods of about 3-4 minutes.
Wednesday: High Intensity Resistance Day.
After a 48 hour recovery, try to incorporate lower weights, or even just body weight exercises, with shorter rest periods.
This will help build your muscular and cardiovascular endurance.
Friday: Strength Training Day
After another two day rest period, once again incorporate full-body exercises with higher weights and longer rest periods.
If you are a beginner or just starting a new fitness program, this is a great way to start.
This gives you 48 hours of recovery between workouts, plus a full weekend to recover after Friday.
Learn how to set up a home workout schedule that works for YOU!
Make Rest and Recovery An Essential Part of Working Out
As a busy dad, you want to make sure that you are picking workouts that are going to be the most effective and efficient at getting you in the best shape of your life.
Of course, this means choosing exercises that challenge you in intensity and push you to get that ripped physique.
However, don't forget about rest and recovery!
Recovery is the period where your body takes everything you've done in your workouts and repairs all of the tiny microtears in your muscles to build you back up stronger than before.
In order to reap all of the benefits of your hard work, proper rest between workouts is just as important as the workouts themselves.
Here's How Busy Guys 40+ Are Building Age-Defying Muscle And Strength… Working Out Just 3 Hours Per Week...
This proven "Old School Muscle Program For Guys 40+" combines the "old school" bodybuilding secrets with the "new school" science… to produce muscle & strength building results fast.
Only for guys 40+ who want to build muscle.
If you're frustrated with stubborn belly fat, failed diets, and time-consuming workouts, this is the answer you've been looking for…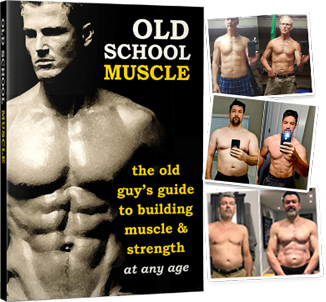 Old School Muscle (OSM) covers every aspect of building muscle for you as a guy 40+:
Old School Muscle (OSM) covers every aspect of building muscle for you as a guy 40+:
The 9-Week Muscle Building Program – safe, joint-friendly exercises
VIP Accountability Coaching – our Fit Father Team will personally walk you to success, step-by-step.
See the Old School Muscle (OSM) Program overview here. You'll discover how this proven program has helped thousands of guys 40+ pack onage-defying muscle and strength – the smart & sustainable way. »
*Please know that weight loss results & health changes/improvements vary from individual to individual; you may not achieve similar results. Always consult with your doctor before making health decisions. This is not medical advice – simply very well-researched info on rest between workouts.