F
act
: Training in cold weather means your body needs to work harder to maintain your core temperature.
The result:
Running in the cold will burn more calories than when you complete it in the warm.
While this fact is great for those of you looking to lose weight, it may not be enough to get you out of your cozy bed and onto the streets.
Here's How Busy Guys 40+ Are Finally Losing Weight…
If you're in your 40s, 50s, & 60s, you need to eat and exercise differently to lose weight & actually keep it off…
I'll be the first to admit, one look out the rain bashed window and the dark sky, which seems to lack even the faintest trace of light; and my bed seems more inviting than ever.
But, it is possible to get up and get training.
Running in the cold, or any kind of exercise outside in inclement weather is not just possible; it's beneficial!
The Benefits of Running In The Cold
You might be surprised at how cold affects your body and how this can become beneficial to you and your workout:

When you start running in the cold, your muscles need to work harder; creating the energy to keep you warm and power your movements.
Muscles require glycogen to power them, and this generally comes from the carbohydrates you consume.
To keep you moving, your body will consume more glycogen than usual and burn more calories; improving your fat loss.
It is important to refuel your body with carbohydrates within 30 minutes of completing your workout to ensure a speedy recovery of your muscles and to give you energy for the day.
This should be part of a balanced diet; like our example Fit Father Project 1-Day Meal Plan.
Running in the cold makes your body work harder; ensuring you build strength quicker.
Your heart, lungs, and circulation will be challenged to become stronger.
This will improve your overall health as well as your strength and speed in training.
Seasonal Affective Disorder is surprisingly common but can be prevented simply by running in the cold. Forcing yourself to go outside will keep you sharp and make you feel better; no matter how cold it is.
It is an incredible feeling when you get back inside and your face is glowing.
Running in the cold will suddenly feel worthwhile, and you should feel like you can achieve anything.
This will help you have the right attitude for the day ahead.
It is worth noting that running in the cold, or any type of outside exercise does require you to be prepared.
Hydration is important, as you will still sweat. You should also wear layers and know the difference between shaking to keep warm and extended periods of shaking which can illustrate the onset of hypothermia.
Always cover your extremities; they will be the first to suffer in the cold.
The 8 Tips Which Will Keep You Training In All Weathers
Now you know that you should be running in the cold, you need to know how you can get yourself out there.
It is important to note that these tips do not just apply to running in the cold.
You can use these tips to improve any type of exercise in the cold.
Step # 1 – Forcing Yourself Out Of Bed
The hardest part of exercising in the morning, whether running in the cold or the warm, is actually getting out of bed.
There are hundreds of excuses you can make that will justify staying in a warm bed and these will often be even more appealing on a cold winters day.
The first step in sticking to an outside exercise routine is to get out of bed:
Get an alarm clock/coffee maker – The sound and knowledge of the coffee will help to wake you up.
Keep mints by the bed and put one in your mouth as soon as the alarm goes. It wakens you and gives you an energy burst.
Hit the shower – There is nothing scary about jumping in the shower first thing. It will get your circulation going and wake you up.
Once you are out of bed, going running in the cold is a step closer.
Step # 2 – Build Tolerance
Running in the cold is often harder because you are not used to the cold, and you think it is colder than it actually is. The best way to deal with this is to acclimatize your body.
Start by wearing gloves, hat and scarf outside but not a coat. You will be surprised at how long you last.
Remove a cover from your bed. Your body temperature lowers naturally when you are asleep; by reducing the covers on your bed you will accommodate lower temperatures easier.
At the end of every shower turn the water to cold for 30 seconds and focus it at the back of your neck. This will increase brown fat cells which improves cold tolerance.
Step # 3 – Stretching First
Cold temperatures mean that your muscles will feel stiffer while having to work harder.
Therefore, not stretching can increase the chance of injury from your workout.
This is one reason why it is important to complete adequate warm-up and stretching exercises before you start running in the cold.
If you work up a little sweat, you'll find the cold weather refreshing, not freezing.
Aim to double your warm-up and stretching routine before you start running in the cold; you will feel the benefits.
Step # 4 – Train Your Mind
Much of the resistance you face is in your mind. You can imagine it is colder than it is or you can tell yourself that you don't have the time, need the sleep or any number of excuses.
However, if you train your mind to accept the fact that you are running, you are much more likely to go running in the cold or the heat.
Tell yourself its just 5 minutes; inevitably you will continue and do your usual circuit but it gets your mind out the door.
Think of the warmth and the reward when you have completed your run; it will make you want to do it.
Step # 5 – Set Your Schedule
A key factor for getting out and exercising in the cold is to set your schedule and stick to it.
Mornings are often the best time to exercise as this will fire your metabolism up for the day ahead.
But this doesn't mean it is the only time to exercise.
Choose your exercise time and set it in your schedule; just as you have to go to a business meeting you will have to go running in the cold; it's in your schedule.
Just remember, getting outside is the real key; once you start exercising you will want to complete your route.
Step # 6 – Select The Right Gear
You can wear your gear the night before; but I wouldn't recommend it.
A better solution is to, first, use the above tips to get you out, and then make sure you have the right gear for the weather you are exercising in.
Here's A Free 24-Min Fat Burn Workout For Busy Men 40+
This powerful workout will reignite your metabolism to burn fat 24/7 like you did in your 20s…
The general rule when running in the cold is to dress as though it is 20°F warmer than it actually is. Exercise makes you warm, the right gear is essential.
Layers are the way forward. They can be removed as you warm up and keep you warm and dry at the start.
Waterproof shoes are a good idea to keep your feet dry in all weathers.
Step # 7 – Get A Partner
Finding someone to exercise with is a tried and tested trick that works throughout the year. The fact that there is someone waiting for you and someone to compete against will drive you out the door every time.
Find a partner and commit to training with them at the same time every day; no excuses!
Step # 8 – Visualize While You Snooze
Finally, if you are still struggling to get running in the cold then visualization is an important tool.
You may have already used it to motivate you to complete our 24-min workout. However, you can also use it to motivate yourself out of bed and into the cold.
Hit snooze on your alarm clock as normal but don't snuggle in. Instead, visualize what you want to look like or yourself finishing the race. You will want to get out of bed!
Summary
Exercising in all weathers is about creating a habit. If you are still relatively new to exercising you will not be keen on running in the cold. This is the main reason that fewer people exercise in the winter than the summer.
However, there are a host of benefits associated with exercising all year round.
Learning to get motivated and keep running in the cold will make it far easier to maintain your summer body; reducing the amount of work you need to do in the spring.
As always I am here to help you achieve your goals. Try the tips above and share your success!
Your new friend & health coach,

Here's How Busy Fathers Over 40 Are Finally Burning Stubborn Belly Fat & Getting Healthy Without Restrictive Diets or Time-Consuming Workouts
This proven "Fit Father Program" has helped 38,000 busy men 40+ lose weight, rebuild muscle, and finally keep the weight off.
If you're frustrated with stubborn belly fat, failed diets, and time-consuming workouts, this is the answer you've been looking for…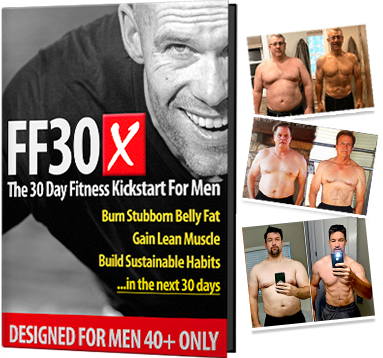 Join
38,000
guys in over
108
countries that are using FF30X to lose weight. You get everything you need to succeed – including:
The Fit Father Meal Plan – with simple & delicious recipes
Safe & Effective Workouts Program – only 90 min/week
VIP Accountability Coaching – our Fit Father Team will personally walk you to success, step-by-step.
LEARN MORE ABOUT FF30X >>
See the FF30X Program overview here. You'll discover how this proven Fit Father Program can help you lose weight and actually keep it off – without the complication and restriction of normal diets. »
Small note about research cited in this article:
*Always remember: weight loss results & health changes/improvements vary from individual to individual. Just because these studies cite certain data does not mean you will experience these results/outcomes. Always consult with your doctor before making decisions about your health. This is not medical advice – simply well-researched information on running in the cold. Thanks for reading!