Want to really ensure your new year's resolutions don't fail? Start with simple resolutions you know you can achieve!
With simple resolutions, you can effectively meet your goals and improve your nutrition, fitness, and overall health and wellness.
Set simple targets to help you achieve the much-needed successes you deserve.
Creating simple resolutions is an excellent way to feel a sense of accomplishment and stay on track with your health this new year.
Set easy goals and track the small steps, which, when added together, can make a big difference in the way you look and feel.
No resolution is too small!
Set simple targets to ensure you can maintain each one for the rest of the year.
The simple resolutions that are right for you depend on your health, lifestyle, schedule, and preferences.
Choose resolutions you can stick with long-term, regardless of how simple or small they are.
Avoid setting targets that are dramatically different from your usual routine.
Baby steps work best when setting simple resolutions is your goal.
Choose the simple resolutions you feel excited about tackling and keep the momentum rolling all year!
Learn how to turn your new year's reflections into real goals!
15 Simple Resolutions for the New Year
When deciding on simple resolutions this new year, use the following sample goals as a guide!
1. Walk or Climb Stairs Every Day
Regardless of whether or not you have time for planned exercise, make time to go for walks or climb stairs every single day!
This resolution could be as simple as walking your dog for 15 minutes each day, walking for 30 minutes after dinner to lose weight, or climbing stairs at the office while on your lunch break!
You likely won't break too much of a sweat, so you can walk or climb stairs without worrying about having to change or take a shower afterward.
2. Use a Sit-Stand Desk While Working
If your job requires to you be at a desk all day, consider getting a sit-stand desk!
Stand up as much as possible throughout the day, as being sedentary puts you at risk of weight gain and many chronic diseases.
Aim to sit down at least 1 hour less every day this new year!
3. Exercise at Least 4 Days Per Week
You don't have to work out every day to get or stay in shape but aim to complete planned exercise at least 4 days per week!
If you already work out four days weekly, set a simple resolution of accomplishing 5-6 days of planned exercise weekly.
Track exercise days in a journal to ensure you succeed at your new year's resolution.
Pick weightlifting, jogging, cycling, rowing, stair climbing, using an elliptical machine, swimming, or playing basketball or other sports!
Even if you only have 20 minutes a day to complete a planned exercise, these short workouts can be highly effective!
Bump up the intensity of your workouts or consider high-intensity interval training (HIIT).
4. Lift Weights at Least Twice Each Week
Setting specific exercise goals helps you complete the most effective muscle-building workouts this new year.
Weightlifting is just as important as cardiovascular exercise to build or maintain muscle mass, as well as minimize body fat.
Choose the simple resolution of lifting weights at least two times per week!
Work all your major muscle groups at least 1-2 times weekly, including your quadriceps, hamstrings, calves, butt, abs, chest, upper and lower back, shoulder, biceps, and triceps.
Here's how lifting weights can help you live a longer and healthier life!
5. Eat 3 Servings of Vegetables Daily
Many busy dads don't eat enough vegetables to meet their body's vitamin, mineral, and fiber needs.
A simple resolution is to consume a variety of vegetables each day and ensure you get at least 3 servings.
Doing so helps you avoid unplanned weight gain, keeps high cholesterol and heart disease risks low, and reduces your chance of developing diabetes.
It can prevent nutrient deficiencies and give you a boost of energy.
Fill half of each plate of food with colorful vegetables at least 3 times daily.
Eat vegetables as a side dish, drink vegetable juice, or add veggie powder to your protein shakes!
Sneak extra vegetables into salads, soups, omelets, stir fry, casseroles, pasta or rice dishes, and more!
6. Consume 3 Servings of Dairy or Plant Milk
Consuming 3 servings of dairy foods or plant milk daily offers a variety of nutritional benefits.
The Dietary Guidelines for Americans also recommends this goal!
Dairy foods and drinks offer you high-quality protein, aid in healthy weight management, and are a good source of calcium, vitamin D, and many other essential micronutrients.
Choose milk, plant milk, cottage cheese, reduced-fat cheese, Greek yogurt, plain kefir, or low-sugar protein shakes at least 3 times daily as a simple resolution this New Year!
7. Drink 16 Cups of Fluids Each Day
To keep energy levels high and help your body function at its best, set a simple resolution of drinking at least 16 cups of fluids every day!
Focus on drinking water.
However, milk, plain kefir, plant milk vegetable juice, 100% fruit juice, coffee, tea, and protein shakes also count toward your 16-cup daily fluid goal!
If one of your new year's resolutions is weight loss, try drinking 2 cups of water before each meal to keep you full from fewer calories.
Doing this makes weight loss much easier.
Track your fluid intake throughout the day by drinking from bottles or cups that hold known amounts.
For example, 1 cup of fluid equals 8 fluid ounces.
8. Lose 1-2 Pounds Each Week for Weight Loss
If your simple resolution is to lose weight, make weekly weight-loss goals attainable and set a final number you can stick with all year long.
Losing 1-2 pounds weekly is safe and highly effective for long-term healthy weight management.
Step on the scale each day to ensure you meet daily and weekly targets.
Studies show that weighing in daily is effective for weight loss and adopting healthy habits for a lifetime.
Step on the scale at the same time every day for best results and allow the Fit Father Project 30X (FF30X) weight loss program to help you stay on track with your weight loss journey!
What is a good rate of weight loss? Check out these weekly weight loss expectations to guide you on your weight loss journey.
9. Cook at Home More Often
Cooking at home more often is a simple, yet highly effective new year's resolution.
Studies show that dining out increases your risk of weight gain and a higher body mass index (BMI).
Set a simple resolution of eating out just 1-2 times (or less, depending on your lifestyle) each week!
Cooking at home is often a cheaper alternative to dining out and makes it easier to plan nutritious menus.
Aim to fill have of each plate of food with vegetables and the other half with healthy protein foods plus fiber-rich starches or nutritious fats to create the perfect plate!
10. Eat Protein Foods at Each Meal
Protein foods are beneficial for your body for a variety of reasons.
Protein helps you maintain muscle mass and healthy body weight, as well as a higher metabolism.
It helps you feel full from fewer calories and keeps your skin, nails, and hair healthy.
Choose some of the following nutritious protein foods during each meal: turkey, chicken, duck, very lean red meat, fish, seafood, and eggs, as well as legumes, nuts, seeds, or seitan.
Milk, plant milk, cottage cheese, plain kefir, Greek yogurt, reduced-fat cheese, and low-sugar protein shakes and bars are also excellent sources of protein!
11. Eat More Fiber-Rich Plant Foods
Plant foods are loaded with vitamins, minerals, fiber, antioxidants, and many other essential nutrients.
Aim to fill at least 3/4 of each plate with plant-based foods.
Choose vegetables, fruits, whole grains (wild rice, quinoa, brown rice, oatmeal, whole-grain pasta, whole-grain bread, etc.), legumes, nuts, seeds, and avocados.
Examples of legumes include peas, dried beans, and lentils.
Fiber-rich plant foods offer a variety of nutritional benefits.
Examples include healthy weight management and a low risk of high blood pressure, high cholesterol, diabetes, heart disease, other chronic conditions.
12. Stop Drinking Soda and Diet Soda
If you're a soda drinker, make a simple resolution to stop drinking it or at least cut back on your soda intake.
This includes regular soda, as well as diet soda containing artificial sweeteners.
Such sweeteners can alter your gut microbiome, increase insulin production, and boost cravings for sugars and sweets.
Some studies show that diet soda is linked with decreased satiety and weight gain.
So, steer clear of any type of soda if you can this season!
Learn more about the dangers of artificial sweeteners.
13. Take Dietary Supplements Designed for Men
Choose a simple new year's resolution this year of taking multivitamins or other dietary supplements as directed by your doctor every day!
Doing this helps boost your energy levels, reduce the risk of nutritional deficiencies, improve overall health and wellness, and lower your risk of chronic diseases.
Check in with your doctor about taking heart support supplements, joint health supplements, probiotics, omega-3 supplements, protein supplements, supplements that support immunity or hormone balance, or other dietary supplements for men.
14. Work Out Your Ab Muscles Daily
While it's usually best not to work the same muscle groups day after day, your abdominal muscles are an exception!
You can exercise your abs every day of the week, or nearly every day, especially if you change up ab workout routines often.
Choose side planks, other oblique exercises, plank jacks, mountain climbers, burpees, shoulder-touch planks, crunches, sit-ups, leg raises, or other highly effective ab exercises to achieve or maintain six-pack abs.
15. Sleep at Least 7 Hours Each Night
As important as sleep is for your body, many busy dads don't get the sleep needed to maximize their health and wellness.
Research shows that getting at least 7 hours of sleep each night reduces your risk of unplanned weight gain, obesity, high blood pressure, diabetes, heart disease, stroke, depression, and death from all causes.
Choose a simple resolution of getting at least 7 hours of interrupted sleep each night. Keep a sleep journal to make sure you meet your nightly sleep goals.
To get the best night's sleep possible, set a regular bedtime, sleep in a cool dark room, avoid late-night workouts or eating binges, don't go to bed hungry, and avoid caffeine, smoking, alcohol, and screen time right before bed.
Meet Burn RX. The Safe & Effective Metabolism Booster To Help You See Faster Results& Feel More Energized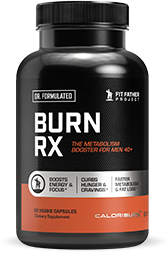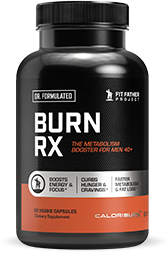 Burn RX is for guys who are working on losing weight and want to see faster and easier results from their eating & exercise efforts. It helps your body burn more fat before, during, and after your workouts, which will improve your body composition while boosting your energy + metabolism.
25 More Simple Resolutions for the New Year
If you're looking for additional simple resolutions to consider this new year, here are a few more ideas!
Drink alcohol no more than once weekly
Find an active hobby
If you're a smoker, stop smoking
Be on time for events
Keep a gratitude journal
Spend more time with family and friends
Go on weekly date nights with your spouse
Make a budget and stick to it
Drink more protein shakes
Keep a daily planner
Set career or income goals
Set a regular bedtime and stick to it
Limit social media activity
Stop eating fast foods
See your doctor each year for a physical
Limit screen time or look at your phone less often
Read one book per month
Eat more organic foods
Volunteer at least once a month
Exercise at least 20 minutes daily
Do at least 2 chores or yard work every day
Weigh Yourself Daily
Schedule at least 20 minutes daily to relax
Take care of your skin, nails, and hair
Eat fewer desserts
You don't have to go overboard when coming up with attainable goals.
Start by picking just a few that match your preferences and lifestyle.
You can always add more resolutions after effectively achieving your initial goals!
The Natural Testosterone Booster Guys 40+ Are Using For More Energy, Drive, & Results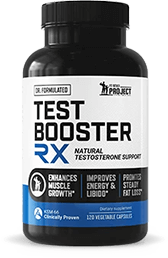 After age 30, your Testosterone levels start declining. Add in some stress and a "less than perfect" diet… everything gets worse fast. You feel tired all the time. It's hard to lose fat. It feels like you lost your edge. That's the sad story that happens to most guys 40+. But now, it doesn't have to be that way for you….
Simple Resolutions: Get Started Today!
Consider the feasibility of simple resolutions this new year and every year!
Make a list of your favorites and narrow them down if needed.
Try to attain at least two or three simple resolutions for an entire year and add to your goal list as needed based on how many successes you're having!
If you need extra motivation to stay on track with your health and fitness goals, let the Fit Father Project guide you.
The highly effective program, designed specifically for buys dads over 40, offers some of the following benefits:
Social support from other fit dads
Online health coaching from medical experts
Muscle-building and fat-burning workouts
Custom meal plans and menus
Weekly newsletters
Delicious, healthy recipes
And more!
In addition to coming up with simple resolutions this new year, consider trying a free FFP meal plan and workout to get and stay motivated for superior health!
Here's How Busy Guys 40+ Are Finally Losing Weight…
If you're in your 40s, 50s, & 60s, you need to eat and exercise differently to lose weight & actually keep it off…
Here's How Busy Fathers Over 40 Are Finally Burning Stubborn Belly Fat & Getting Healthy Without Restrictive Diets or Time-Consuming Workouts
This proven "Fit Father Program" has helped 38,000 busy men 40+ lose weight, rebuild muscle, and finally keep the weight off.
If you're frustrated with stubborn belly fat, failed diets, and time-consuming workouts, this is the answer you've been looking for…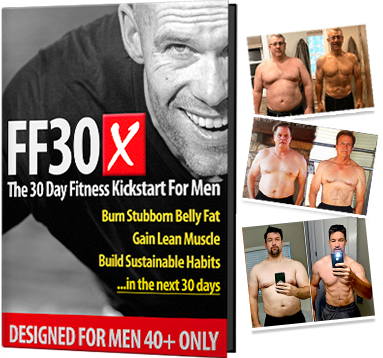 Join 38,000 guys in over 108 countries that are using FF30X to lose weight. You get everything you need to succeed – including:
The Fit Father Meal Plan – with simple & delicious recipes
Safe & Effective Workouts Program – only 90 min/week
VIP Accountability Coaching – our Fit Father Team will personally walk you to success, step-by-step.
LEARN MORE ABOUT FF30X >>
See the FF30X Program overview here. You'll discover how this proven Fit Father Program can help you lose weight and actually keep it off – without the complication and restriction of normal diets. »
*Please know that weight loss results and health changes/improvements vary from individual to individual; you may not achieve similar results. Always consult with your doctor before making health decisions. This is not medical advice – simply very well-researched info on simple resolutions.