Simple Weight Loss Ideas for Men With Busy Lives
H
ow many people in the U.S. go on a diet every year?
Would you be surprised if I told you that the number is estimated at 45 million?
With there being more than 300 million Americans in all, 45 million is actually a relatively small number.
Losing weight – and losing weight fast – is a huge concern across all age groups. For those of us with families and full-time jobs, the challenge can seem almost insurmountable.
Luckily, the Fit Father Project has made it its mission to provide scientifically-based coaching and advice on how to sustainably lose weight, even with the busiest schedule.
No matter if you have teething toddlers, work the night shift, or the hardest time getting up the courage to start going to the gym again – we've got a way for you to start chipping away at weight loss with these simple ideas.
As you read through our simple weight loss ideas for busy men, remember that every day is a good day to start healthy habits.
Simple Weight Loss With Meal Prep
Meal prep is one of the most common approaches to controlling your diet and losing weight. You may be tired of hearing about it, but we'd like to show you why it's so effective.
Meal prep allows you to get your dinners and lunches ready for the entire week in just one day and prevents you from eating junk food out of convenience.
The first two aspects of meal prep that you'll need to decide is timing and food preferences.
For timing, you must choose one (or two) days a week that works for you to prepare all your meals. Common days are Sundays and Wednesdays.
For food preferences, you will need to make a list of your favorite vegetables, lean proteins, and carbohydrates.
Once you've decided on your prep day and favorite foods, all you need to do is cook!
The ability to grab pre-made dinner and lunch for an entire week is incredibly freeing while keeping you within your diet.
Another benefit of meal prep is that by choosing and preparing your meals in bulk, your grocery shopping is cheaper and more straight forward.
FREE

1-Day Weight Loss Meal Plan For Men 40+
Lose weight. Eat like a man. Enjoy your life. Over 55,000 men are using this.
Get yourself back into great shape - at any age the Fit Father way.
Simple Weight Loss With Perfect Plates
The best add-on to meal prepping is to follow the principle of Perfect Plates.
W
hile meal prep will provide consistency and convenience to your simple weight loss diet, Perfect Plates will ensure that you're eating the right foods to lose weight.
Essentially, Perfect Plates include the healthy foods you already like to eat but in the correct portions.
Instead of attempting a complex and super restricting diet, the Perfect Plates theory allows you to control what you eat at each individual meal with simplicity.
A Perfect Plate is made up of 50% vegetables, 25% lean protein and 25% carbohydrates.
Veggies are truly at the base of a Perfect Plate. Our top choices would be spinach, mixed salad greens, steamed broccoli, snap peas, grilled asparagus, baby spinach, steamed carrots, and spaghetti squash.
Lean protein is the second step and is what helps keep you full long after your meal. Our top choices would be organic chicken, wild-caught salmon, tilapia, trout, whole eggs, grass-fed beef, and organic turkey.
When it comes to carbs, you should try to pick those that your body digests slowly. Our top choices would be rolled oats, pumpernickel bread, bread that's whole wheat, brown rice.
Simple Weight Loss With Intermittent Fasting
While meal prep and perfect plates are all about what you eat, intermittent fasting is all about when you eat.
Intermittent fasting means that you fast for a short period of time with the goal of training your body to utilize food more efficiently, and ultimately lose weight.
There are many different styles of intermittent fasting – from fasting 16 hours out of the day all the way to fasting every other day. You can find out which method would work best for you in our intermittent fasting article here.
But what you'll want to understand is how intermittent fasting achieves your weight loss goals.
Simplicity: Intermittent fasting is a no-think weight loss approach. When you set your schedule, you just have to stick to it.
Designed For Weight Loss: When fasting, your body is forced to breakdown the fuel it does have – fat! This trains your body to burn fat through fasting, not just when working out.
Hunger Decreases: Ironically, by fasting, you can reduce your body's hunger hormones. This happens because intermittent fasting reduces fat cells in your body, which reduces the hunger hormone leptin.
Intermittent fasting is a great way to challenge yourself with a strict schedule that once set, is easy to follow.
Simple Weight Loss With The 24-Minute Workout
Now, we all know that there is work to be done outside of the kitchen.
T
he main complaints I've heard about busy men trying to lose weight is that they don't have the time to spend an hour in the gym every day. Between a full day at work and children at home, it's just not feasible.
That's why we designed the 24-Minute Workout. This workout is perfect for men over 40 who feel like their metabolism is slowing down and they need an effective, quick and easy workout routine.
The 24-minute workout builds muscle and cuts fat with one plan. Whether you're heading to the gym, your garage or a park, you can adapt these exercises and take them with you.
Before you write off yet another workout plan – think about it this way.
Do you have 30 minutes of extra time during your day? I've yet to find a man who could honestly say that he doesn't.
Instead of scrolling through social media or turning on ESPN during those 30 minutes, put it to good use.
Use your muscles and challenge your body with the quick, 24-Minute Workout. Your body will thank you with regained energy levels and newfound confidence.
FREE

24-min Fat Burning Workout
All you need is 24 minutes + 10 feet floor space + 1 pair dumbbells
Get yourself back into great shape - at any age the Fit Father way.
Focused Mind, Simple Weight Loss
While there are many small, simple weight loss ideas for you to try, one of the most important aspects of weight loss is in your mind.
It doesn't matter if it's your first time trying to lose weight or your tenth time trying: if you don't have the proper motivation, you will be fighting with yourself all along the way.
We go into great detail on how to build your mental resilience up to conquer weight loss in our past article, but there are a few big callouts that you should remember.
Find Your Why: If you don't know the root of your desire to lose weight, you will not be powered up enough to make a difference. Is it for your health? For your partner? For your kids?
Build Habits: It takes a minimum of 21 days to create a habit – sometimes up to 6 months. Do not allow yourself to waver as you're on the road to success.
Set Goals: People are 42% more likely to achieve their goals if they write them down. So, create a calendar or keep a journal as you work towards your fitness goals.
Celebrate Your Success: Give yourself credit when you make big and small leaps towards the body you want. Tell your friends about it, tell your partner. The positive energy you project about your goals will help you achieve them, especially when times get hard.
Reach out to us at the Fit Father Project for more ways you can hold yourself accountable.
Between the experience of our trainers and the amazing progress of our Fit Father Project men, there are countless stories and pieces of advice we can share.
Your friend in health,
Dr. Anthony Balduzzi
Founder, The Fit Father Project
Brotherhood Nickname: "Mr. Results"
Bragging Rights: Has helped over 10,000 fathers lose over 75,000lbs and rebuild lean muscle
P.S. If you haven't seen my FREE 1-Day Meal Plan for Men over 40, I highly recommend you click here to get a free copy sent directly to your email. Remember: nutrition is a core foundation of weight loss for men over 40.
If you're interested in a proven and completely laid out "done-for-you" weight loss meal plan & workout routine – designed for you as a busy man…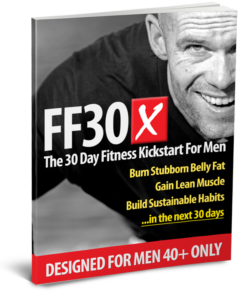 I'd recommend you read the program overview letter for our Fit Father 30-Day Program (FF30X).
Inside FF30X, you'll receive:
The simple & delicious Fit Father Meal Plan
The metabolism boosting Fit Father 30X Workout (under 90 min/week)
VIP email coaching where I'll personally walk you through the program
Read the FF30X Program overview letter here to see how our plan can help you lose weight – without the complication & restriction of normal diets.
*Please know that weight loss results & health changes/improvements vary from individual to individual; you may not achieve similar results. Always consult with your doctor before making health decisions. This is not medical advice – just very well-researched info and simple weight loss ideas.