N
ew Years is the perfect time to reevaluate your weight loss goal. When you turn over a new year, you turn over a new opportunity to define yourself!
Anyone who has tried to lose weight can tell you that the hardest part isn't starting the fitness journey– it's committing to it every single day.
That's why we compiled the key things you need to do to make sure that your weight loss goal is attainable and executable.
Remember, no matter how far you come, progress is progress.
Weight Loss Goal: Set Your Goalpost
First, you need to figure out how much weight you want to lose.


Tools like weight loss calculators can help you determine this.
With a weight loss calculator, you can set what your starting weight is, goal weight, and how active you're willing to be to lose the pounds.
Depending on what you select, your weight loss calculator will adjust the calories you need to cut and amount of time that it will take you to reach your weight loss goal.
Nifty, right?
Weight Loss Goal: Make Your Diet Plan
Once you know the calories you need to cut, it's time to make a plan.


Your diet is the most important part of a weight loss plan.
Without clean eating, all your exercising efforts are useless!

Start with our free 1-day meal plan.
This free 1-day meal plan provides you details into what you should eat for breakfast, lunch, dinner, and snacks.
This meal plan is easily customizable, so it accommodates for food preferences and potential allergies.
Here's A Free Weight Loss Meal Plan For Busy Men 40+
Discover exactly what to eat for breakfast, lunch, and dinner to lose belly fat & feel energized 24/7 without hard dieting...
Weight Loss Goal: Make Your Exercise Plan
Once you have your weight loss diet figured out, you will need to approach your exercise plan.
Everyone's body is different.


That's why we prefer different foods, and also why we prefer different exercises!
From natural strength to previous injuries, there are many reasons why we love or loathe cardio, weight training, etc.
But in order to lose weight, you will need to find an exercise method that you can stick to.

A good place to start is our 24-minute fat burning workout guide.
This workout is designed for busy men over 40 with the intent of reigniting your metabolism.
Only 24 minutes in length, even the busiest men can find time for this!
Here's A Free 24-Min Fat Burn Workout For Busy Men 40+
This powerful workout will reignite your metabolism to burn fat 24/7 like you did in your 20s…
Weight Loss Goal: Stay Accountable
It can be fun to plan your diet and exercise!
Many of us know that starting to achieve your weight loss goal isn't the hard part– committing to the lifestyle is what's difficult.


That's why you need a way to hold yourself accountable!
Try recording your goal weight on a calendar and writing in your exercise plan. That way, you should be seeing your plan in black and white every day.
Journaling in the morning or night is another way to keep yourself accountable. It also helps you to reflect on your progress.
One of the best ways we've found to keep ourselves accountable is to join a weight loss program like the FF30X.
FF30X is a 30-day fitness program that provides instruction on your eating and exercising on your journey.
But almost more importantly, the FF30X provides a community of fitness experts and fellow trainees who are going through the same journey.
Here's How Busy Guys 40+ Are Finally Losing Weight…
If you're in your 40s, 50s, & 60s, you need to eat and exercise differently to lose weight & actually keep it off…
Conquer Your Weight Loss Goal for Good
Take back your health FOR GOOD this time!


Getting fit is definitely a challenge.
But if you truly want to take your health back, now is the time!
The longer you wait, the more you are risking.
With resources like the free 1-day meal plan, 24-minute fat burning workout and FF30X, you are more prepared than ever to conquer your weight loss goal.
Your friend in health,

Here's How Busy Fathers Over 40 Are Finally Burning Stubborn Belly Fat & Getting Healthy Without Restrictive Diets or Time-Consuming Workouts
This proven "Fit Father Program" has helped 38,000 busy men 40+ lose weight, rebuild muscle, and finally keep the weight off.
If you're frustrated with stubborn belly fat, failed diets, and time-consuming workouts, this is the answer you've been looking for…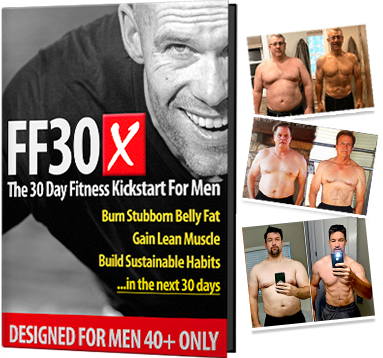 Join
38,000
guys in over
108
countries that are using FF30X to lose weight. You get everything you need to succeed – including:
The Fit Father Meal Plan – with simple & delicious recipes
Safe & Effective Workouts Program – only 90 min/week
VIP Accountability Coaching – our Fit Father Team will personally walk you to success, step-by-step.
LEARN MORE ABOUT FF30X >>
See the FF30X Program overview here. You'll discover how this proven Fit Father Program can help you lose weight and actually keep it off – without the complication and restriction of normal diets. »
*Please know that weight loss results & health changes/improvements vary from individual to individual; you may not achieve similar results. Always consult with your doctor before making health decisions. This is not medical advice – simply very well-researched info on your weight loss goal.