T
aking a social media break is more beneficial than you might think when it comes to your mental health, physical health, and wellness.
No matter who you are or what you do for a living, social media can become addictive or an obsession if you're not careful.
It's imperative to learn how to take regular breaks from social media.
Here are a few common signs that you have a social media problem and strategies to take a refreshing social media break!
Can't stay focused? Learn how to reclaim your attention and accomplish more in a day!
Signs of a Social Media Problem
If you have an addiction to being on social media too much, you may notice one or more of the following signs:
You Can't Stop Looking at Social Media
If you find yourself looking at social medical every hour on the hour when you're awake, it's probably time for a social media break.
This is especially true if you're unable to stop checking social media, despite wanting to.
Social media can become an addiction if you don't take action when you first notice it's causing issues in your life.
Social Media Makes You Sad, Anxious, or Mad
Ask yourself this question: when you look at social media, how does it affect your mood?
Does it make you feel sad, depressed, anxious, or angry? If so, taking a social media break is a good idea.
On social media platforms, people portray themselves the way they'd like to be perceived, even if it's not reality.
This fact might make you feel less than satisfied with your own life.
If social media creates a mood that's less than desirable, it's probably time to take a social media break!
You may be surprised at how much your mood improves during the time away.
Social Media Interferes With Your Job
Are you not meeting your job requirements or turning in poor-quality work because you're distracted by social media?
Are you getting in trouble at work because of social media browsing or poor time management?
Or are you being turned down for job opportunities because of your social media posts?
If you answered "yes" to any of these questions, it's time to take a social media break or, at minimum, avoid looking at social media during work hours.
Be careful about what you post on social media, as current and future employers often look at this.
You Check Social Media While Driving
Do you find yourself checking social media while driving or when stopped at a stoplight in your car?
If so, it's likely time to take a social media break.
Even if you're careful when doing so, checking social media while driving puts you and others around you at risk of a car accident and serious injuries.
Take a break from social media, at least while driving, to ensure your and your family's safety.
You Choose Social Media Over Family and Friends
If your spouse or kids feel neglected by you choosing social over spending time with them, a social media break is in order.
You don't want to regret choosing Facebook, Instagram, or Twitter over the ones you love, so make changes in undesirable lifestyle habits while you still have the chance!
You Prefer Social Media Over In-Person Interactions
If you'd rather browse social media sites than interact in person with family, coworkers, or friends, it's time to reevaluate your priorities.
While nearly everyone longs to be alone from time to time, don't forgo real social interactions for social media communication.
Maintain a good balance of in-person and online interactions to keep your sanity and maintain strong interpersonal relationships.
You Have FOMO (Fear Of Missing Out)
If you browse social media because of a fear of missing out on something, you probably need a social media break.
You likely have the phone numbers or emails of people you enjoy spending time with, so give them a call to hang out and chat in person instead of living in fear of missing out on social activities you may or may not get invited to.
You Make Social Media Posts Daily
Unless you create social media posts as part of your job, take a social media break if you find yourself posting something every day or multiples time daily.
You might notice yourself revisiting your own posts often throughout the day to look for comments, likes, or other signs of reassurance or acceptance.
Forgo the anxiety you might feel after finding out what other people think of your social media posts by taking a break from social media altogether.
Effective Ways to Take a Social Media Break
If you have an addiction to social media, or you use it more often than you'd like to and need a break, consider the following strategies to cut back:
Admit if You're on Social Media Too Much
The first step in changing unhealthy social media habits is to admit that you use it too much.
Evaluate your lifestyle to assess the amount of time you spend on social media.
You're on social media too much if the time you spend using it negatively affects your mood, relationships, job, health, or other important aspects of your life.
Admit it if you have a social media problem that interferes with your quality of life and make a conscious effort to change troublesome habits.
Set Screen Time Limits
Setting screen time limits is always a good idea, even if you're not on social media that much.
The more time you spend looking at a screen, the less time you have to spend exercising, doing active hobbies, sleeping, and spending quality time with loved ones.
Track your usual daily screen time (your phone may automatically track this for you) and make a goal to reduce screen time by a significant amount (maybe by an hour or so daily).
You might set aside certain times of the day for screen time and avoid looking at social media the rest of the day.
Go Cold Turkey
If you struggle to take a social media break, going cold turkey could be a strategy that works best for you.
That means avoiding social media altogether instead of simply cutting back on it.
You might take a social media break for a week, two weeks, a month, or longer — depending on your personal goals and lifestyle.
Prioritize Family and Friends
Make lasting memories with your friends and family, rather than browsing social media to view other people's adventures.
Prioritize spending time with loved ones during this season of your life.
Do something fun together as a family every day, even if it's simply eating dinner together, taking your dog for a walk, going shopping, playing outdoor sports together, or doing yard work.

Get Serious About Your Job
You might be surprised at how efficient you at are work when you omit browsing on social media as part of your daily routine.
Set a goal to limit social media during work hours altogether.
Or only allow yourself to look at social media during your lunch break.
Make your career a priority at this stage of your life by taking a social media break!
Track Hours Spent on Social Media
To get a better idea of how much time you spend on social media, keep a journal and track social media hours and minutes.
You may be surprised at how much of the day you truly spend browsing on social media sites.
After you determine your usual habits, set goals to cut back or eliminate social media entirely.
Know that Social Media Can Portray Fantasy
Don't beat yourself up over the perfect life that coworkers, family members, and friends portray on social media.
Filters often distort looks, taking pounds and years off of users' appearances.
Social media users can be anything they want in the eyes of online viewers, so don't let the portrayal of a perfect life or the fear of missing out affect your mood.
Remember, lifestyles portrayed on social media aren't always what they seem.
Focus on Your Physical and Mental Health
By prioritizing your health, you'll have less time to stress over social media. Set fitness, nutrition, and overall wellness goals, such as:
Exercise at least 30 minutes daily
Do additional activities of daily living for at least 45 minutes daily
Get at least 7 hours of sleep each night
Consume at least 16 cups of fluids daily for men
Sit down less often
Meditate or try yoga
Try a sit-stand computer desk
Brush your teeth after meals and floss daily
Practice stress-reduction strategies
Joining the Fit Father Project designed for busy men over 40 is the perfect way to get or stay on track with healthy habits.
Upon joining you receive custom meal plans, muscle-building (and fat-burning) workouts, recipes, online health coaching support, and much more.
You also have access to a community of other busy fit dads to lean on for advice and moral support.
In conjunction with taking a social media break, try the Fit Father Project's FREE meal plan and workout today!
Here's How Busy Fathers Over 40 Are Finally Burning Stubborn Belly Fat & Getting Healthy Without Restrictive Diets or Time-Consuming Workouts
This proven "Fit Father Program" has helped 38,000 busy men 40+ lose weight, rebuild muscle, and finally keep the weight off.
If you're frustrated with stubborn belly fat, failed diets, and time-consuming workouts, this is the answer you've been looking for…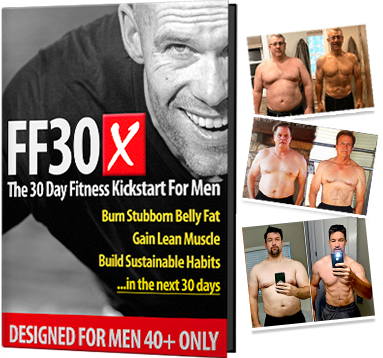 Join 38,000 guys in over 108 countries that are using FF30X to lose weight. You get everything you need to succeed – including:
The Fit Father Meal Plan – with simple & delicious recipes
Safe & Effective Workouts Program – only 90 min/week
VIP Accountability Coaching – our Fit Father Team will personally walk you to success, step-by-step.
LEARN MORE ABOUT FF30X >>
See the FF30X Program overview here. You'll discover how this proven Fit Father Program can help you lose weight and actually keep it off – without the complication and restriction of normal diets. »
*Please know that weight loss results and health changes/improvements vary from individual to individual; you may not achieve similar results. Always consult with your doctor before making health decisions. This is not medical advice – simply very well-researched info on taking a social media break.