I
f you've ever heard of the cabbage soup diet, then you're probably thinking "Is this the option for me?". After all, losing weight isn't easy but at least having a bowl of soup feels like you're eating something. But, don't jump just yet! There are other
soups for weight loss
and other ideas that can help you become the man you want to be.
Because let's face it, soups for weight loss will be low calorie and potentially fill you up for a short time. But, you're going to quickly tire of having soup for every meal. That's why you need to take a look at the 1-day meal plan today and discover an array of healthy foods that you can enjoy while losing weight.
The best part is no food should really be off the menu. Instead you need to focus on the perfect plate method and eating in moderation. You can get hundreds of meal ideas, exercise plans and a huge amount of support by checking out the FF30X program.
The Role Of Soup
Soup can play a role in your weight loss efforts. It's a great choice for an easy lunch, can help you to feel full for longer and it can even be used as a starter to reduce the size of your main meal.
Here are some great soup recipes to get you started:
Chicken & Sausage
Who says you can't have meat in healthy soups for weight loss?
This recipe will give you 160 calories, 2g fat, 22g protein and 12g carbs per cup size serving.
You'll need:
½ cup flour
1 lb low fat sausages cut into small pieces
2 lb skinless chicken breast also cut into small pieces
Chopped onion
Green pepper chopped (and remove the core)
2 pieces of celery chopped
8 cups of chicken broth
1 tsp dried thyme
¼ tsp cayenne pepper (optional)
2 small green onions chopped
Heat your oven to 400°F and put your flour on a sheet. Bake it for approximately 20 minutes until all light brown.
Then stir-fry your sausages on a medium heat with a little cooking spray. Make sure you remove any excess grease after cooking.
Then add the chicken to the pan and cook until brown. You can then gradually add the other ingredients and bring the mixture to a boil. Allow it to simmer for 30 minutes until your chicken is tender; then enjoy.
This recipe will give you 14 cups of delicious soup. You can freeze anything you don't use and have a ready prepared meal for the future.
Red Curry Quinoa
This soup has red curry paste, you'll need to adjust it to your taste buds and enjoy the heat it gives you; especially on a winter's day. It's worth noting this is a vegetarian option.
One cup will give you 164 calories, 4g fat, 26g carbs and 6g protein.
You'll need:
1 tbsp olive oil
½ onion chopped
1 ½ cups Sweet potato chopped small
1 green or yellow pepper chopped
Ground garlic – 2 cloves
1 tbsp curry paste
2 tsp chopped ginger
1 cup quinoa
4 cups vegetable broth; you can use chicken broth or water if you prefer.
2 tbsp lime juice
Start by warming your oil in a pan and then add your pepper, onion and sweet potato. Allow this to simmer for 10 minutes; keep stirring it.
Now slowly add all the other ingredients, stirring as you go. To finish you'll need to add the broth, bring it all to a boil, and then simmer for about 20 minutes until the potatoes are soft.
This should make 6 generous cups.
Roasted Tomato Soup
This can give you a taste of creaminess without indulging in the heavy creams that soups for weight loss simply won't allow.
One cup will give you 174 calories, 7g fat, 24g carbs and 4g protein.
You'll need:
2 cups tomatoes
1 large potato chopped
1 onion chopped
I red pepper chopped
2 cups of vegetable broth
2 cloves garlic crushed
Start by laying the tomatoes and garlic on a baking tray and cook them in the oven for approximately 20 minutes until they are properly roasted.
Separately fry your potato in as little oil as possible, preferably olive oil. Once it has softened a little add in your pepper and onion and simmer for 5 minutes.
Then drain and remove any excess grease before mixing them with the vegetable broth and simmer for another 20 minutes. Then just add your tomatoes and garlic, stir and enjoy.
You should get 4 generous cups from this recipe.
Cabbage Soup
You can't have soups for weight loss without mentioning the humble cabbage soup!
You'll need:
½ head of cabbage chopped
1 cup celery chopped
A cup of onions chopped
carrots – 1 cup chopped
1 green pepper chopped
2 cloves garlic minced
4 cups chicken broth
1 tsp oregano
1 tsp basil
½ tsp red pepper flakes
2 tbsp olive oil
The first step is to add the olive oil to a pan and heat it. You can then add your carrots, peppers, celery and onions. Sauté them for several minutes before adding your crushed garlic and your chicken broth.
Then add your cabbage and tomatoes before stirring and bringing the mixture to a boil. Allow to simmer for approximately 20 minutes until the cabbage is tender.
To finish, add your seasoning, red pepper flakes, oregano, and basil.
This should make 6 generous cups and can be kept in the fridge for several days if required.
Carrot & Moong Dal Soup
This has a delicious fiery color and a smooth, yet exotic taste that will tantalize your taste buds. It certainly isn't what you first think of when considering soups for weight loss.
You'll need:
¼ cup carrots chopped
1/8 cup Moong dal washed and well drained. You can use lentils if you prefer
1/8 cup onions
1 tomato
1/8 cup skimmed milk
½ tsp cumin seeds
2 cloves
1 tsp olive oil
4 cloves garlic chopped small
Black pepper to taste (optional)
Start by adding the olive oil to a pan and putting in the garlic and onions. Sauté them until they start to turn brown.
You can then add in the carrots and sauté for a further 2 minutes.
Separately you need to wash your moong dal and roast them until you can smell their unique aroma. You can then put them in a large bowl, add the cooked vegetables and 1 ½ cups of water.
Once stirred the mixture goes into a pressure cooker until 3 whistles have blown on a high flame. Then reduce the heat and cook for another 3 minutes.
Once cooled you can blend if you wish to get a smoother soup.
To finish, lightly fry the cumin seeds and cloves. Pour over your soup and enjoy.
This mixture is designed to make 2 cups; you can adjust the ingredients to do more if you like.
The Secret To Successful Soups For Weight Loss
The real secret to success with soups for weight loss is to mix your diet. A varied diet remains interesting and becomes sustainable for the long term. This will allow you to lose weight and stick to your diet.
To do this successfully, supplement your soups for weight loss with the free 1-day meal plan and sign up to the FF30X today. You'll get access to hundreds of other recipes and the most important thing of all; the support of other men who have been where you are and are either working towards their goals or have already achieved them.
Soups for weight loss are simply one step in your journey with the FF30X to become the man you want and deserve to be.
Your new friend & health coach,
Stuart Carter
Head Training Staff, The Fit Father Project
Brotherhood Nickname: "The Fit Brit"
Bragging Rights: 16 Years in the fitness industry, Author of 'The Easy Fitness Guide', Father of 4 boys and Husband to a Venezuelan beauty.
If you're interested in a proven and completely laid out "done-for-you" weight loss meal plan & workout routine – designed for you as a busy man…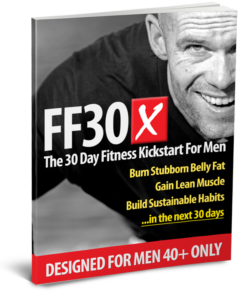 I'd recommend you read the program overview letter for our Fit Father 30-Day Program (FF30X).
Inside FF30X, you'll receive:
The simple & delicious Fit Father Meal Plan
The metabolism boosting Fit Father 30X Workout (under 90 min/week)
VIP email coaching where I'll personally walk you through the program
Read the FF30X Program overview letter here to see how our plan can help you lose weight – without the complication & restriction of normal diets.
*Please know that weight loss results & health changes/improvements vary from individual to individual; you may not achieve similar results. Always consult with your doctor before making health decisions. This is not medical advice – simply very well-researched info on soups for weight loss.