C
hoosing to become a member of the
Fit Father Project
shows that you already have the desire and the commitment to set
long-term goals
and achieve them.
However, sometimes it can seem difficult to reach these goals. The simple fact is that time can appear to be your biggest enemy; too many things to do and not enough time.
You're probably leading a hectic life. Work commitments and the challenges of raising a child mean that you've struggled to maintain the healthy lifestyle that you wanted. You're certainly not alone in this respect.
Fortunately, it is possible to develop a strategy that will help you achieve all your long-term goals, whether you're looking to lose weight, write a book, or even start your own business.
Here are 5 great strategies to help you make your long terms goals a reality:
Strategy 1

– Be Specific With Goals
What long-term goals are you currently working towards?

By their very nature, a long-term goal is a challenge and something that requires a large amount of energy. The problem can be when you have several long-term goals, and you're loosely working towards all of them.
It's time to prioritize. For example, if you have two big long-term goals; to lose weight and write a book, then which is more important and which should you do first?
The best approach is probably to realize that your long-term goal is not weight loss; that's a short-term goal. Your long-term goal will be to adopt a healthier lifestyle, and losing weight is merely one of those steps.
You can build the long-term goal of a healthy lifestyle by changing your eating habits today. This will help you to achieve your short-term goal of weight loss and improve your health and energy levels while reducing your risk of many long-term illnesses.
Writing a book becomes the second long-term goal. You have plenty of time to reach multiple long-term goals, but you will increase your chances of succeeding if you focus on one goal at a time.
The first strategy to adopt is simply to decide what your long-term goals are and which the most important one to reach first is.
Strategy 2

– Get The Support You Need
It is essential to get the right support to help you achieve your long-term goals. There is no reason to think that you have to do it by yourself.
You're already a member of the Fit Father Project. To drive yourself towards the long-term goal of a healthier lifestyle, it's time to commit and get the support you need.
Join FF4L to access a huge array of resources that will help you achieve your goal.
You'll also connect with hundreds of other men who have the same goal as you. Their support will be invaluable when you're struggling to stick to your plan.
It doesn't matter what your long-term goals are. Let others know what they are and allow them to support you.
The fact that you've set out your goals makes you accountable. Visibly working towards them will allow others to see you're serious and help you achieve them.
Strategy 3

– Set a Timetable With Sub-goals
Research has shown that writing down specific goals will increase the likelihood of success.
A long-term goal takes a long time to achieve! You need to break the goal down into achievable steps and then create a timetable to help you reach your goal.
For example, if you want to write a book, then work backward. You know your long-term goal is to complete the story, but how many words do you want to write? The average novel is 80,000 words.
Decide how many words you can write each day and stick to it.
You'll also need to allow time to create the plot, outline the chapters, and write a synopsis.
Your goal could then be broken down into a time slot each day and a commitment to write 1,000 words a day.
This is your timetable. You simply need to focus on each sub-goal, which in this case, is the daily writing. Then your long-term goals will be achieved.
Strategy 4

– Use the If/Then Concept
Let's face it. The journey never goes quite as you think it will. There will always be obstacles and challenges, but most of them you can actually predict!
For instance, if you commit to exercising for 1 hour every day between 5 pm and 6 pm, you know that at some point, your partner will get home early even before you start your session.
The decision is then whether to abandon your routine or to ignore your partner for an hour.
The solution is to rationalize it before the event. Create a statement in your head that says if my partner is home early, then I'll remind them that I have a workout planned and will spend time with them straight afterward.
The 'if' deals with the most likely challenges to your schedule.

The 'then' gives you a course of action to follow.

This removes the need to make a decision,  allowing you to continue towards your long-term goals.
Strategy 5

– Create Habits
Numerous types of events trigger the goal of a healthier lifestyle.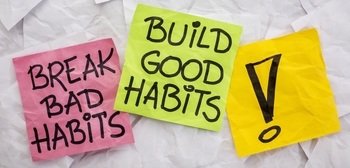 Unfortunately, while motivation is great at getting you started, it won't always keep you going to your long-term goals.
That's why it's important to create habits.
If this is exercising, then schedule the same slot every day for your exercise and stick to it. After a couple of months, it will be a habit that can stay with you for life.
Back this habit up by signing up for FF4L and registering your results on a daily basis. This will help you to build a habit, particularly in the early days.
You'll no longer need to decide to be healthy. It will just be something you habitually do.
The Bottom Line
Reaching all of your long-term goals is achievable and can actually be an enjoyable experience.
You just need to remember the fundamental strategies that will get you there.
Choose your goal and be specific
Get support by telling people what you are doing
Set your sub-goals and schedule them
Commit by considering possible scenarios using the if/then approach
Build good habits
Don't forget we're here to help you reach your long-term goals no matter what they are. Upgrade to the FF4L today and get the support you deserve.
Your new friend & health coach,

If you want a complete health & wellness package 'For Life' – designed especially for you as a busy man…
Then I'd recommend you take a look at our
Fit Father For Life Membership
.
Inside the membership, you'll have
FULL
access to:
FF30X Phase #2.
FF30X Phase #3.
Old School Muscle.
Old School Muscle Phase #2 – Available Q3 2018.
'Total Body Tune-Up' Flexibility Program.
The Travel Fit Program.
The 'Accelerate' Bonus Package.
…And… EVERY program we produce.
See for yourself how these programs have helped men just like you achieve and maintain results and live a healthier and happier life.
*Please know that weight loss results & health changes/improvements vary from individual to individual; you may not achieve similar results. Always consult with your doctor before making health decisions. This is not medical advice – simply very well-researched info on how to achieve your long-term goals.