M
oney is often said to be the root of all evil; this is a debatable point. However, research does show that for
64% of Americans
money is a significant source of stress.
This illustrates perfectly why stress management is essential.
If something as every day as money is leading to 64% of Americans being stressed, then that's over 210,000,000 people that need stress management!
You need this guide to show you how to successfully manage your stress levels; you may be surprised at just how much difference this will make to your workout and life.
Stress is your body's natural response to a huge array of situations.
Being stressed means you're prepared to deal with whatever issue is facing you. A small amount of stress can be extremely beneficial to help you perform better; it can drive you to achieve goals that you may have thought were impossible.
But… too much stress will have a detrimental effect on your health. It has been called the 'silent killer' and has been linked to heart disease, high blood pressure, and even strokes.
How Lowering Stress Levels Will Help Your Workout & Health
Physical and emotional responses are both affected by stress.


The more stressed you are the higher the likelihood that you will feel mentally and physically exhausted.
There is a good reason for this. When you become stressed your body releases the hormone cortisol. This heightens your responses and tells your body to focus on the key functions necessary for either fight or flight.
Unfortunately, the resources in your body will be directed away from less vital processes; such as muscle repair and building. You will take longer to heal and will increase the chances of injuring yourself.
But there's more!

Stress places your body in a heightened state of awareness; being like this all the time will mentally exhaust you and because your energy is focused on the stress response; you will feel physically tired as well.
The Six Stress Management Tips
Stress management; the reduction but not elimination of stress is the key.
You must remember that some stress is good; it will drive you to lift more, complete a run faster or simply feel more energetic.
Let's dive in and see what can help you keep your stress levels in check.
Stress Management Tip #1 – Get Better Sleep
You don't need to stay away from stressful situations. You do need to be able to feel calm during them.
One of the most effective and simple techniques to achieve this goal is to ensure you get at least 6 or 7 hours sleep a night.
This is not always as easy as it seems.
Life is hectic and there are never enough hours in the day, but sleep regulates your cortisol levels and balances your hormones; helping you to feel your best at the start of each day.
We've written several articles here at the Fit Father Project about how you can improve your sleep. You can check out my personal favorite here: "Learn How to Fix Your Sleep Schedule in 6 Easy Steps"
Stress Management Tip #2 – Drink Herbal Tea
Herbal Tea, such as this great Organic India Tulsi Sleep Tea, is incredibly helpful when dealing with stress.
Herbal Teas make it easier for your body to slow down and your mind to switch off, meaning that you'll be able to sleep better (as per tip #1!)
Use herbal teas along with the other tips in this article and you'll soon find that you'll be better able to manage the bad stress in your life and embrace the good stress.
Stress Management Tip #3 – Eating Right
Eating a good diet goes far beyond just helping with stress management, but it deserves a spot in these listings nonetheless.
There are two main stressors on you if you're eating poor choices of food, like chips, candy and processed microwave meals.
Firstly, the anxiety of knowing that what you're putting in your body is bad for you. This creates stress, and sometimes guilt because you know better.
Secondly, the stress that is caused by your blood sugar going up and down like a yo-yo.
If you try to control your crashes with sugary snacks, you'll end up with these highs and lows that cause unnecessary stress to your body and your mind.
Eating a healthy diet will keep your blood sugar stable and will stop you from worrying and stressing about whether you're eating well.
If you need examples of what to eat, our free 1-Day Meal Plan will get you set straight.

Stress Management Tip #4 – Meditation
We couldn't prepare a list of stress management tips for you without adding meditation to it, could we?
Meditation practices have been around for thousands of years and stem from the Hindu traditions of Vedantism.
Today, these practices are used all around the world as a way of dealing with stress, improving relaxation and increasing self-development and awareness.
It's easy to find meditation or mindfulness apps available in app stores for mobile devices.
My recommendations would be either 'Calm' or 'Headspace'. Both apps have free programs and subscription services available.
Trying a 5-minute guided meditation from one of these apps, or simply 5-minutes sitting quietly and concentrating on your breath is a great way to get started with this ancient technique.
Stress Management Tip #5 – Stretching & Yoga
Using stretching and Yoga in a daily practice is also something that has stood the test of time and remained a popular way of managing stress and reducing anxiety.
Allowing your body to move and stretch is a great way to relieve muscle tightness that can really affect your behavior.
If your body is tight and cramped, your mind is going to be too. This means you'll be cranky, stressed and in a generally bad mood.
When your body is loose and free, your mind will be. This will lead to you being less stressed, more focused and in a naturally better mood.
There are some great yoga programs available online and also many good stretching workouts available on YouTube.
I'd recommend checking out one of our videos, right here.
Stress Management Tip #6 – Physical Exercise
Exercise and body movement is one of the best physical de-stressors around and has been proven through many studies and research projects.
When you exercise, you release endorphins into your body, which are natures stress management medicine.
It has been proven that exercising outside or when surrounded by green (even rooms painted green, believe it or not), can have a de-stressing effect on your body and mind.
Taking a 15-30 minute walk outside each day can have a huge impact on your stress levels. Doing this also gives you some time out from the general stressors of daily life, which is a double positive effect.
If you'd like something a bit more intense and want a full workout routine to try out, use our 24-minute fat burning workout… completely free!
Summary
Just as with everything in life, moderation is good. The aim of the Fit Father Project is to assist you in developing a healthy and sustainable lifestyle. That is why these tips are so important.
Some stress is good, too much will damage your health and ruin your workouts.
Using the right stress management tips, as listed above, will ensure you are ready for anything.
Remember:
We're here to support you and guide you on every step of your journey.
It doesn't matter what your current level of fitness is; you can improve your muscle mass and reduce your body fat.
Soon you'll be ready to take on any intensity of exercise you want to while limiting your chances of getting sore and injured.
I appreciate you reading this article and if you found it useful, please share it with anyone else you think it would help.
How Can I Share?
We have social media buttons on the left and below. Just click them to share via Facebook, Twitter, LinkedIn, and Pinterest.
Until next time, I hope this has given you everything you need to improve your stress management techniques and the results of your workouts.
Your new friend & health coach,

Here's How Busy Fathers Over 40 Are Finally Burning Stubborn Belly Fat & Getting Healthy Without Restrictive Diets or Time-Consuming Workouts
This proven "Fit Father Program" has helped 25,000 busy men 40+ lose weight, rebuild muscle, and finally keep the weight off.
If you're frustrated with stubborn belly fat, failed diets, and time-consuming workouts, this is the answer you've been looking for…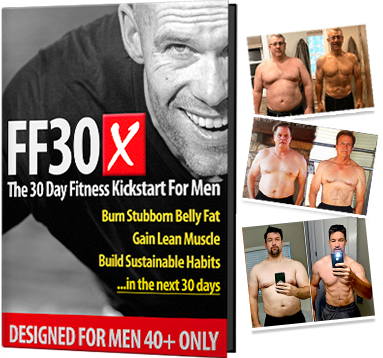 Join 22,000 guys in over 98 countries are using FF30X to lose weight. You get everything you need to succeed – including:
The Fit Father Meal Plan – with simple & delicious recipes
Safe & Effective Workouts Program – only 90 min/week
VIP Accountability Coaching – our Fit Father Team will personally walk you to success, step-by-step.
LEARN MORE ABOUT FF30X >>
See the FF30X Program overview here. You'll discover how this proven Fit Father Program can help you lose weight and actually keep it off – without the complication and restriction of normal diets. »
*Please know that weight loss results & health changes/improvements vary from individual to individual; you may not achieve similar results. Always consult with your doctor before making health decisions. This is not medical advice – simply very well-researched info into stress management.