If you're anything like most of our FF30X Program members here at The Fit Father Project, you've been trying to lose weight and live healthier for a LONG TIME with little actual progress to show for your effort.
You may feel like you've been bumbling around trying to patchwork together information on a proper diet and exercise plan for yourself, but all the "so-called advice" out there may seem way too confusing and complicated.
Does that sound familiar…?
If so, you are in luck today, my friend. Because, in this short guide, I am going to show you the 3-Step Fit Father Battle Plan to take back your health… TODAY!
Watch the video I shot for you below to get started on today's training.
Now before we get into your 3-Step Battle Plan, I want to share a personal story that will explain why you're not currently seeing the fat loss results you desire.
The TRUTH about why you're NOT seeing results you desire.
When I first started trying to lose weight, I used to buy fitness magazines each month – like Men's Health to Flex – to get the latest info on exercises and diet trends.
I would then try to use that information to piece together a plan for myself that would (hopefully) get me into great shape and help me look like the guys on the front covers.
The biggest problem with my patchwork approach to getting fit was that "the advice" I was reading changed so often that I never actually knew what I was doing. I never had a structured plan in place to follow through on.
I would jump from a circuit training to a 4-day split bodybuilding routine
I'd try a low-carb diet for a few weeks before shifting to a high carb, low-fat diet
…all based on the latest magazine article headline.
I was fooled into following the Sensational Headlines that clever editors used to sell magazine subscriptions. Ultimately, I never had a proven, written, and structured plan that I could follow.
The result of my disorganized efforts was, well… NO RESULTS.
I ended up learning this essential lesson the HARD WAY:
"A STRUCTURED DIET & EXERCISE PLAN IS THE #1 KEY TO YOUR SUCCESS."



On that note: I have a few questions for you. Right now…
Do you have a written diet plan that you know with 100% certainty works?
Do you have a written time-efficient workout routine that you know works?
Do you have support from healthy coaches who will keep you accountable?
Here's The Truth: 99% guys who are FRUSTRATED with their weight and health, answer "NO" to one or all of the questions above.
If you answered "NO" to any of the above questions, we need to fix this right now.
Specifically, we need to get you started on:
A simple eating plan – that's delicious, fast, & sustainable
A time-efficient workout – that boosts your metabolism in uner 90 min/week
An accountabiltiy plan – that keeps you motivated & on-track
In the rest of this guide, we're going to break down exactly what you need in these 3-key areas. And if you're ready to start seeing fast results, I'm going to invite you to join our FF30X Program that hands you the complete program you need.
More google searching and information gathering is not your solution.

Having the RIGHT INFORMATION that's put into a STRUCTURED ACTION PLAN that you can implement is the key to getting rid of your belly, feel healthier, and seeing real results.
On that note, here are "The 3 Essential Elements" you need in your health plan…
Key #1: A sustainable healthy eating plan:
As we've covered throughout our Fit Father Project blog and this free training series, starting a healthy eating plan is your #1 most powerful tool to get rid of belly fat and feel more energetic.

And as you know, restrictive diets will never work for you long-term.
You need a simple & effective healthy eating plan that will not only help you lose your unwanted belly fat but also enable you to keep it off for good.
Your eating plan needs to be…
simple – no complicated meal planning.
balanced – no crazy restrictions of carbs & fats that your body needs.
sustainable – the plan has to be enjoyable over the long term.
schedule-based – your meal timing is planned around your work schedule.
affordable – the meal plan has to work for your finances & family.
Almost all "diets" lack these key elements.
They are either way too complicated (eat 6 meals per day), way too restrictive (super low carb plans), or unsustainable (companies that ship garbage "astronaut food" to your door every week).

When our team started coaching men through weight loss transformations, we were so disappointed with the "options" available that we started to develop our own eating approach.
Ultimately, we've spent the past 10 years refining our own Fit Father Meal Plan approach that incorporates all these key elements.
It's effective. It's simple. It's balanced. It's affordable. It's incredibly sustainable.
It's also why over 35,000 fathers have used this plan to lose fat.
If you'd like to see exactly how you should be eating, I want to invite you to learn more about our Fit Father 30X Program which hands you this powerful meal plan.
Click here to read the Fit Father 30X Program Overview Letter to learn more.

The proper meal plan may be the FOUNDATION of your health & weight loss plan, but you also need this second key element…
Key #2: A safe, effective, & time-efficient workout plan:
As a busy father in your 40s & 50s, you need to approach exercise differently than younger guys.
Your workout routine need the following FIVE (5) ELEMENTS:
time-efficient – 30-45 min workouts 2-4x/week to boost your metabolism.
safe – no dangerous exercises that will hurt your shoulders, back, & knees.
strength-based – building muscle is a key to staying lean & strong as we age.
metabolism-boosting – you need exercises to boost fat burning.
at-home – you need simple workouts you can do with minimal equipment.
When we started coaching busy fathers through health transformations, we couldn't find a workout program that fit these essential criteria.



• Yes, there here are intense workouts like Crossfit, but they're too damaging and high risk for older joints (jumping off boxes and throwing barbells).
• Yes, there are cardio-focused workouts like P90X, but those sessions take 90 minutes of jumping in front of your TV to see any results.
…and you don't build strength and muscle like more effective lifting methods.
Because busy men over 40 who want to lose weight need a specific approach to exercise, we decided to build the perfect workout plan for fathers.
We call it our Fit Father 30X Workout.

The workouts focus on: Strength, Flexibility, & Fat-Burning Cardio. All in one.
We hand you both the "at-home" and "at-the-gym" versions of the workout routines so you can perform the exercises anywhere with minimal equipment.
All of the exercise sessions can be completed in under 45 minutes per session – just 2-4 workouts per week.
This comprehensive exercise approach ensures that you're burning fat and building muscle on a safe and time-efficient plan designed specifically for you as a busy father over 40.
If you'd like to see exactly how you should be exercising, I want to invite you to learn more about our Fit Father 30X Program which hands you our powerful workout plan along with the Fit Father Meal Plan.
Click here to read the Fit Father 30X Program Overview Letter to learn more.
Key #3: Regular Check-Ins & Accountability:
The best diet plan and workouts alone are not enough to ensure your success.
You also need this final element: ACCOUNTABILITY

When "life happens," we get stressed, and we start to drift off track with our healthy eating & workout plan, we need coaching and support to keep us accountable.
No matter how tough and dedicated we are, we all still need accountability. All the best athletes and performers have coaches.

That's why throughout your transformation on our Fit Father 30X Program, you'll have regular accountability check-ins with our Fit Father Project Coaches to ensure you are staying on track with your eating & exercise.
Our accountability plan is a key element that separates our program from the pack. We don't just hand you the proven program and then leave you to fend for yourself. We are in your ear from Day #1 coaching you the entire way.
Here's exactly how the Fit Father 30X accountability plan works:
When you get started with Fit Father 30X, you tell us which day you'd like to start the program.
We send you the meal plan and workouts for you to review.
When you're ready to start the program, you drop us an email and we kick off your 30-days of accountability coaching.
We email you daily to check-in with tips, inspiration, and some really powerful surprise bonuses.
Our Fit Father 30X Program is not another diet book or DVD program you'll leave in the plastic wrap. It's a proven and accountable plan.
Normally to have this degree of accountability, you'd have to hire a personal trainer at a rate of $75-$200 per hour – multiple times per week. That's over $1000 per month for accountability.

With our Fit Father Program, we've put the entire program online, and we have coaching staff across the world, so we're able to offer you the same 24/7 accountability for around the price of 1 single hour of personal training.

That's real value.

It's what we would expect from a program, so we provide that same level of excellence for you.
The combination of the perfect meal plan, workouts, and accountability is why our program members experience such incredible results.
I want to invite you to check out these testimonial video messages from some of our program members. These are Real Men + Real Results.
Hear Nick's story above. *Results vary from individual to individual.

These hard-working fathers finally found our FF30X plan, made the decision to invest in their health, followed our simple step-by-step system, and ultimately transformed their lives.
Hear Ben's story above. *Results vary from individual to individual.

If you'd like to be the next proud member of our Fit Father 30X Brotherhood and take back your health, click the below link to take a look at our program overview letter.
Hear Mike's story above. *Results vary from individual to individual.

When you make the smart decision to give the Fit Father 30-Day Program a shot, we can send you over the complete program today.
My team will get you instant access to the meal plans, workouts, accountability plan… and some incredible "surprise" bonuses.

Click here to read the FF30X Program Overview Letter to see how our plan can help you get healthy – without the frustration of normal diets.
Really looking forward to seeing you inside your Fit Father 30X Program.
Your new friend & health coach,
Here's How Busy Fathers Over 40 Are Finally Burning Stubborn Belly Fat & Getting Healthy Without Restrictive Diets or Time-Consuming Workouts
This proven "Fit Father Program" has helped 38,000 busy men 40+ lose weight, rebuild muscle, and finally keep the weight off.
If you're frustrated with stubborn belly fat, failed diets, and time-consuming workouts, this is the answer you've been looking for…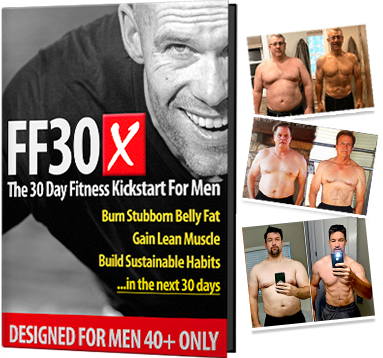 Join
38,000
guys in over
108
countries that are using FF30X to lose weight. You get everything you need to succeed – including:
The Fit Father Meal Plan – with simple & delicious recipes
Safe & Effective Workouts Program – only 90 min/week
VIP Accountability Coaching – our Fit Father Team will personally walk you to success, step-by-step.
LEARN MORE ABOUT FF30X >>
See the FF30X Program overview here. You'll discover how this proven Fit Father Program can help you lose weight and actually keep it off – without the complication and restriction of normal diets. »
Small note about research cited in this article:

*Always remember: weight loss results & health changes/improvements vary from individual to individual. Just because these studies cite certain data does not mean you will experience these results/outcomes. Always consult with your doctor before making decisions about your health. This is not medical advice – simply well-researched information on how to take back your health. Thanks for reading!