Do you suffer from low testosterone? Or are you just getting older and feeling a little more fatigued, weaker, or depressed?
You could benefit from a testosterone booster.
But don't take just anything!
Flip through any men's magazine or watch one sporting event and you're bound to get bombarded with testosterone booster ads, promising everything from renewed strength to the best sex of your life.
It can be easy to dismiss these ads and many of those products ARE junk. But testosterone is important.
You can't talk about fitness without discussing testosterone.
This hormone is essential for strength gains, endurance, and building muscles. And, testosterone produces male traits like muscle mass, facial hair, and libido.
As men age, testosterone levels naturally fall and lean body mass decreases.
The normal level of testosterone varies from person to person, and also will change throughout the day.
However, the American Urological Association (AUA) considers levels that fall consistently below 300 nanograms per deciliter (ng/dL) as low testosterone.
So what can you do to stop it?
More importantly, should you listen to those ads and "talk to your doctor to see if a testosterone booster is right for you"?
Read on to find out!
If you're considering any kind of booster, here's what you need to know before you buy a supplement.
The Importance of Testosterone
Low testosterone causes decreased physical performance, low libido, osteoporosis, poor sleep, depressed mood, and fatigue.
The prevalence of low testosterone increases with age and affects approximately 4-5 million men in the United States.
When testosterone decreases significantly some men are treated with prescribed testosterone therapy.
However, prescription testosterone therapy is not for guys with only slightly low testosterone levels.
In addition, this treatment isn't for everyone depending on their other underlying health conditions.
For these reasons, a lot of guys turn to herbal and nutrient-based supplements to combat symptoms of low testosterone.
But with so many products out there, it is hard to figure out what actually works and what products are safe to use.
Can a Testosterone Booster Really Work?
Testosterone supplements are marketed as testosterone boosters (T-boosters).
Like all supplements, T-boosters are not regulated by the FDA.
Plus, no two T-boosters contain the same type of ingredients.
Since there are no FDA regulations, T-boosters are often put out on the market without having any proven benefit.
However, this doesn't stop supplement companies from making bold claims without any supporting evidence.
It takes a little research to determine what will give you actual results.
Choosing a Testosterone Booster
Luckily, there are specific nutrients that have a beneficial impact on testosterone levels.
If you are looking for a product that is safe and actually provides results, these are the ingredients you want to see on the nutrition label.
Boron
Boron is one nutrient that is associated with higher testosterone levels.
For example, in one study, after only one week of boron supplementation of six milligrams a day, testosterone levels increased significantly.
In addition, boron also decreased inflammatory biomarkers in these same men.
Ashwagandha
Ashwagandha is a supplement that is marketed for numerous conditions, including depression, anxiety, and heart health.
On top of that, this herbal supplement may also boost testosterone levels.
For instance, in a 2019 study, there was a statistically significant increase in testosterone in males that took 240 mg of ashwagandha over a 60 day period.
Another study from the American Journal of Men's Health found that Ashwagandha intake was associated with a 14.7% greater increase in testosterone.
Not only does Ashwagandha boost testosterone levels, but it is also a safe supplement that has been used for many years.
Shilajit
One supplement that you may not have heard of is Shilajit.
This is actually a rock exudate found in the sedimentary rocks of mountain ranges, such as the Himalayas.
Research shows that supplementation with Shilajit (PrimaVie® Shilajit) increases free testosterone, total testosterone, and dehydroepiandrosterone in healthy men.
In turn, this promotes increases in lean mass and muscular strength.
These results were also demonstrated in a more recent study from 2019, where researchers found that eight weeks of PrimaVie® Shilajit at 500 mg a day improved muscular strength in men.
Based on these findings, Shilajit supplementation may have a beneficial effect on fitness by improving levels of fatigue and potentially increasing muscle mass and strength.
Eurycoma longifolia (Longjack Extract)
Eurycoma longifolia, also known as Tongkat Ali, is a Southeast Asian herb.
This herb is enriched with many beneficial phytochemicals, and studies show both the safety and benefits of this supplement in boosting testosterone levels.
In one trial, men were given 200mg of Eurycoma longifolia for one month. These men had significantly improved symptoms as well as increased levels of testosterone.
This shows that this supplement may also be useful in overcoming the symptoms of low testosterone.
Learn how to increase testosterone with these essential tips.
What About Vitamins and Minerals to Boost Testosterone?
In addition to herbal supplements, vitamins and minerals also help boost testosterone and improve energy levels.
Vitamin D
Several studies have found a positive link between vitamin D intake and improved testosterone levels.
Vitamin D is also important for bone health and immunity, so all men should be sure that they are consuming the recommended amount of this nutrient.
Since Vitamin D can be hard to find in high amounts in foods other than milk or fortified products, supplementation is a good way to ensure adequate intake.
Magnesium
Magnesium is an essential mineral involved in energy metabolism.
This mineral plays a role in muscle contraction and overall physical performance.
For example, studies show that magnesium also increases free and total testosterone values in sedentary people and in athletes.
Zinc and Vitamin B6
Similarly, the combination of vitamins and minerals also have an impact on testosterone.
For example, researchers found that a zinc-magnesium-B6 formulation improved testosterone levels of athletes engaging in intense physical activity when compared to placebo.
Combining nutrients in the right ratios further boosts testosterone levels.
Learn if Testosterone Replacement Therapy (TRT) is right for you.
Improve Testosterone Levels and Improve Your Fitness Gains
Supplements are just one piece of the puzzle for guys looking to get in great shape.
But for guys with low testosterone levels, this is a very important piece.
Testosterone plays such a big role in muscle growth and strength gain.
Therefore, low T levels will impact your fitness goals even if you have a great diet and exercise program in place.
There are so many different products labeled as testosterone boosters on the market today.
It is hard to sort out all of the evidence to determine what will get you results, and what products are just a money-making scam.
To get the most out of your testosterone booster, look for quality ingredients that have evidence to support their efficacy.
Not every product will contain all, or even any, of these substances.
Luckily the Fit Father Project has a great testosterone booster that is backed by science.
The Natural Testosterone Booster Guys 40+ Are Using For More Energy, Drive, & Results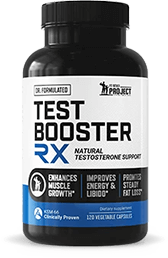 After age 30, your Testosterone levels start declining. Add in some stress and a "less than perfect" diet… everything gets worse fast. You feel tired all the time. It's hard to lose fat. It feels like you lost your edge. That's the sad story that happens to most guys 40+. But now, it doesn't have to be that way for you….
Test Booster RX
Test Booster RX (TBRX) combines the vitamins, minerals, and herbal ingredients mentioned above in doses that will get you proven benefits.
As always, remember to discuss any supplements with your physician to discuss possible side effects and interactions with your current medications.
Of course, you still need to stay dedicated to your fitness and diet.
However, if you suffer from low testosterone levels, the addition of a quality testosterone booster like TBRX will get you even closer to your fitness goals.
Here's How Busy Fathers Over 40 Are Finally Burning Stubborn Belly Fat & Getting Healthy Without Restrictive Diets or Time-Consuming Workouts
This proven "Fit Father Program" has helped 38,000 busy men 40+ lose weight, rebuild muscle, and finally keep the weight off.
If you're frustrated with stubborn belly fat, failed diets, and time-consuming workouts, this is the answer you've been looking for…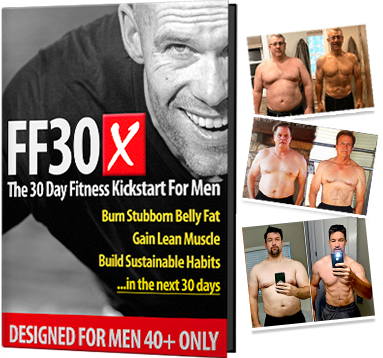 Join 38,000 guys in over 108 countries that are using FF30X to lose weight. You get everything you need to succeed – including:
The Fit Father Meal Plan – with simple & delicious recipes
Safe & Effective Workouts Program – only 90 min/week
VIP Accountability Coaching – our Fit Father Team will personally walk you to success, step-by-step.
LEARN MORE ABOUT FF30X >>
See the FF30X Program overview here. You'll discover how this proven Fit Father Program can help you lose weight and actually keep it off – without the complication and restriction of normal diets. »
*Please know that weight loss results & health changes/improvements vary from individual to individual; you may not achieve similar results. Always consult with your doctor before making health decisions. This is not medical advice – simply very well-researched info on testosterone boosters.