Forget those old recipes filled with marshmallows and syrup! Try some healthy Thanksgiving sweet potato recipes instead!
With or without a big get-together, fall is the season to get cozy and make a delicious mess in the kitchen.
Cooking during the holidays is full of tradition and fun. But sometimes, our traditions aren't too healthy.
Many people consider holidays a time to break from their diet and indulge.
And while a little bit of indulgence can be okay, it can break the healthy fitness habits that you've worked to make.
Instead, you could think of the holidays as a way to find new, delicious, and healthy takes on classic flavors.
And that's exactly what we've done for Thanksgiving sweet potato recipes!
Read on to find how your favorite Thanksgiving dish can transform into a healthier treat.
What if we told you there was a way to have a completely guilt-free Thanksgiving? Click here to learn more!
Here's A Free Weight Loss Meal Plan For Busy Men 40+
Discover exactly what to eat for breakfast, lunch, and dinner to lose belly fat & feel energized 24/7 without hard dieting...
Thanksgiving Sweet Potato Recipes for Breakfast
That's right. Sweet potatoes can make their way into a healthy breakfast for the holidays!
Get a load of this: baked sweet potato oatmeal.
This crispy, sweet, and filling recipe will have your whole kitchen smelling like fall.
As breakfasts go, this one is packed with fiber that will help you keep going throughout the day, not to mention the iron, calcium, vitamin B, and C that sweet potatoes have in them!
In order to make this delicious dish, you will need the following ingredients:
2 cups of uncooked steel-cut oats
1/3 cup maple syrup (or less to reduce sugar)
2 teaspoons of cinnamon
1/4 teaspoon salt
1/4 teaspoon fresh nutmeg
1 cup sweet potato puree
2 tablespoon ground flax seed
1 teaspoon baking powder
1 1/2 cups milk (choose almond milk if reducing dairy intake)
1 1/2 tablespoons coconut oil melted
1 large egg beaten (egg can be removed if on a vegan diet)
1 teaspoon vanilla
Once you follow the instructions and wait for your oatmeal to bake, your morning will take a turn for the best.
Thanksgiving Sweet Potato Recipes for Lunch
Yes, it's true. Sweet potatoes can make their way into lunch recipes too!
Take this sweet potato hummus, for example. It's the perfect healthy side to a hearty lunch during the holidays.
Sweet potato adds a subtle sweetness and velvety texture to your normally savory hummus.
No matter what you use to spoon it, you'll be eating this new take on a Thanksgiving sweet potato recipe by the mouthful.
1 large sweet potato (about 1½ pounds), peeled, cut into large pieces (about 3 cups)
2 garlic cloves, smashed
Olive oil
3 tablespoons pure tahini or tahini butter
1½ teaspoons kosher salt
1 lime
Your guests will be surprised by the secret ingredient in your hummus!
Thanksgiving Sweet Potato Recipes for Dinner
Looking to spice up the holidays?
This sweet potato curry has you covered right to the very last slurp.
While most people incorporate sweet potatoes as a Thanksgiving side dish, you can bring it to center stage this year.
Sweet potato curry is a savory, sweet, and oh-so-warm addition to your holiday table.
Read the nutritious and delicious ingredients below.
1 lemongrass stalk

1 2" piece ginger

4 garlic cloves

2 tablespoons vegetable oil

Kosher salt

¼ cup red curry paste

2 tablespoons tomato paste

1 4.5-oz. can crushed tomatoes

2 13.5-oz. cans coconut milk

1½ pound sweet potatoes

¾ pound small or young carrots

6 medium shallots

1 red Thai chili

1 tablespoon fresh lime juice

Steamed jasmine rice

Thinly sliced scallions, basil leaves, cilantro leaves with tender stems, and lime wedges
Thanksgiving Sweet Potato Recipes for Dessert
The last place we'd want to skimp on sweet potatoes is on the dessert table.
But not to worry, we found the perfect addition to round out your Thanksgiving sweet potato recipes!
This baked sweet potato brings chocolate and nutty crunch to perfection, all at 5 grams of sugar per serving (that's a BIG win when it comes to holiday desserts).
Check out this minimal (but delicious) ingredients list:
1 medium sweet potato
1 tablespoon coconut butter
1 tablespoon almond butter
2 teaspoons toasted coconut flakes
2 teaspoons toasted pecans
2 teaspoons dairy-free, gluten-free chopped dark chocolate
1/4 teaspoon cinnamon
This sweet take on a baked potato is sure to amuse any kiddos at the table and delight everyone's palate.
Here's How Busy Guys 40+ Are Finally Losing Weight…
If you're in your 40s, 50s, & 60s, you need to eat and exercise differently to lose weight & actually keep it off…
Enjoy the Holidays!
Now, it's likely that not every recipe on your Thanksgiving table will be as healthy as these.
Surviving the holidays without breaking your diet may seem impossible, but it's actually simpler than you may think.
In our free one-day meal plan, we explain how to portion your plate into a Perfect Plate.
It's amazing how much good just portioning your plate can do for your holiday waistline.
Be sure to check out our free one-day meal plan. Not only can it help you get through the holiday season, but it can help you set intentions for New Year's resolutions!
Here's How Busy Fathers Over 40 Are Finally Burning Stubborn Belly Fat & Getting Healthy Without Restrictive Diets or Time-Consuming Workouts
This proven "Fit Father Program" has helped 38,000 busy men 40+ lose weight, rebuild muscle, and finally keep the weight off.
If you're frustrated with stubborn belly fat, failed diets, and time-consuming workouts, this is the answer you've been looking for…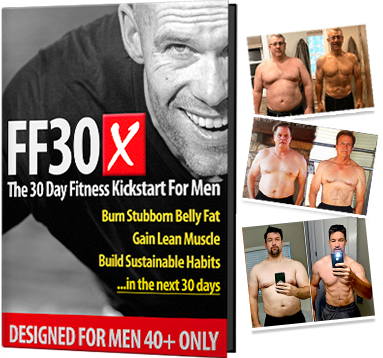 Join 38,000 guys in over 108 countries that are using FF30X to lose weight. You get everything you need to succeed – including:
The Fit Father Meal Plan – with simple & delicious recipes
Safe & Effective Workouts Program – only 90 min/week
VIP Accountability Coaching – our Fit Father Team will personally walk you to success, step-by-step.
LEARN MORE ABOUT FF30X >>
See the FF30X Program overview here. You'll discover how this proven Fit Father Program can help you lose weight and actually keep it off – without the complication and restriction of normal diets. »
*Please know that weight loss results & health changes/improvements vary from individual to individual; you may not achieve similar results. Always consult with your doctor before making health decisions. This is not medical advice – simply very well-researched info on Thanksgiving sweet potato recipes.