As fathers, we all want special unbreakable bonds with our spouse and our children. Think of classic tv fathers like Ward Cleaver and Howard Cunningham for a bit of guidance on how to accomplish this. You don't have to name your kids Richie and Beaver to have a close relationship with them. If you aren't growing together, then you are growing apart.
There will be times you grow frustrated with family. Raising teenagers can be difficult for even the best parents. My father would often become so disenchanted with his nine kids he would just up and leave the house for a few hours at a time. However, in doing so, he was alienating himself from the family. To be a good parent, you have to take the good with the bad.
Part of the bad is sitting the children down and having a serious talk with them. It could be about a separation, the birds and the bees, or just the latest general drama. However, one unhappy conversation you may have to have with your children can be extremely unpleasant. How do you tell your child they have to lose weight and become healthier?
Nobody wants to hear they are getting fat, even if they are. Even the toughest individual can get their feelings hurt when a loved one says they need to lose a few pounds. But as a caring father who wants their children to live long and healthy lives, sometimes you have to have the uneasy and painful weight loss chat.
Of course, part of the blame for your children being overweight comes back directly to you. Are you currently overweight? Do you bring unhealthy food in the house for everyone to eat? Do you have a workout routine that you stick to week in and week out?
Listed below are a few exciting workouts you can do with the entire family. Nearly 40 percent of adults in the United States are obese, and the problem starts to form in childhood. Blow the dust off of your workout clothes and make getting in shape a family adventure.
Visit the High School Track
Almost every high school in the nation has a track that the public can use. They are carefully planned and constructed with exercise in mind. Plus, it will be easy to document your distance and time as you are running by using a measured track rather than just running around a block in your neighborhood.
Take your whole family to the track a couple times a week. Use the stopwatch on your phone and record personal best times. Even video your family as they run and play it back for them later on. Perhaps you have the next Prefontaine in your family and don't even know it. Soon all of you will be running for the gold in Munich as you grow healthier by the day.
Go for a Hike
There are over 10,000 state parks located in the United States alone. There is probably one not too far away from where your family currently lives. States parks are a forgotten commodity and all families can visit them once a week without getting even close to being bored. Taking a weekly hike through the woods and along the paths will not only be great exercise, but it will be getting your family back to nature. You could even turn it into a full weekend adventure with camping, fishing, and ghost stories next to the fire. You may be concerned about your family's health, but by exploring national parks, you are forming everlasting bonds as well.

Family Boot Camp
There are creative and fun group activities that would be perfect for you and your family. One that is gaining in popularity is the family boot camp. There are exercise routines and obstacle courses for everyone to take part in. The instructors will keep it all exciting, so very little planning is needed by you at all. One of the best parts is that there will not be any drill instructors associated with these events like you might have seen on Full Metal Jacket. I guarantee no one will call you Private Pyle and scream obscenities at you. Instead, your family will have a great time at a well-orchestrated fitness event.
5K It!
If the weather is willing, it seems there is a new 5k event every single week of the year. Just within my 30-mile radius, there have been about 20 5ks in the last month. They all seem to have creative names and benefit different charities, but they all are essentially the same thing. It's a 3.1 mile race for people of all ages.
You may be thinking that the brakes have to be pumped right at this moment. Maybe you are thinking there is no way you can run 3.1 miles, let alone your children. Do not worry about this. There are people that walk half the race and run the other half. All of you could run half a mile, walk half a mile, and keep that pattern going for the whole thing. You are only competing against yourself as you start doing more and more 5ks over time. Signing up your family for a 5k every couple weeks will get you much-needed exercise, and numerous free t-shirts.
Family Bike Rides
Family bike rides might have seemed to disappear along with the Brady Bunch, but Mike and Carol Brady knew it was a great exercise for the entire family and it was quite enjoyable, too. Even Alice came along for it on training wheels. I'm not saying you have to invite your housekeeper, but getting your spouse and kids on bikes for a ride once a week should be quite doable.
Pick out a couple scenic routes that you routinely can take for your bike rides. Avoid any areas that have too much traffic for your liking. It's not a pleasurable experience if you have to play Frogger dodging in and out of traffic. Biking will soon become a favorite pastime of your family's fitness adventure.
Swimming
Going swimming is not only an awesome activity, but it provides a ton of exercise. The best part is that you are having fun the entire time, so you don't even realize it's exercise. All members of your family will be more than happy to hit up a swimming pool or even a full blown swim park on a hot day.
Safety should always be a big concern when swimming. Be sure to have swim lessons under each child's belt and always be certain to keep everyone in sight at all times. If you need to, invest in a couple life jackets until you are feeling comfortable enough with your family's swimming abilities. I was raised in a family of eleven and some of us were wearing life jackets until we were ten or older. We obviously were no Michael Phelps, but we still always had a great time, regardless of the life jacket tan lines.
Dance Class
Dancing is an extraordinary exercise. There is a reason that all these fitness videos constantly have large groups of people doing dance routines. Now I realize as a father that does not like to dance, this one might not be high on your list. However, if you can put your pride aside, the rest of your family might really enjoy taking dance lessons. You don't have to jump in there trying to do hip-hop or throw on a tutu, although if you did it would be a family memory that would last forever. You only have to support the rest of your family as they experience fitness through dance and then try joining in with them when you feel like your talent can shine.
Twister War
Twister may be thought of as just a kid's game, or a naughty adult party activity, but think of what you are doing with Twister. People pay good money for yoga and Pilates fitness classes when they could just be spinning the dial in their own home and putting left foot on yellow.
Your family will gain some serious strength and flexibility by playing a few Twister games a week. In fact, you could even make out special awards and create a trophy for the weekly winner. This will incorporate a bit more of strength training since you will have to support your body weight with your arms throughout the game. While cardio exercises are needed and fun to do, you always need a bit of strength building exercises to balance everything out.
Jump Rope Contests
Jumping rope is an unbelievable exercise. In fact, just having a few family sessions per week will leave you burning about a 1,000 calories every seven days. Plus, you can do it in your own home if the weather is not cooperating outside. There is a reason boxers are always doing it. It really is a full body workout. Make it fun by challenging members of your family to a jump rope elimination tournament. Play the soundtrack from Rocky for inspiration.
Kayak and Canoeing
Want to build some serious arm muscle? Take a kayak out on a lake or a river and start rowing. Your arms will be sore the next day, but it is a good sort of sore. It lets you know that muscles are being worked that have not been worked for a while.
It can be easy to find a local lake that rents out kayaks or canoes just in case you don't have these. The family will be having some serious fun as they experience nature and get a great workout at the same time. Set a goal of doing whitewater rapids with your family in the future as their skills improve. It will give everyone something to shoot for.
Family Basketball
Playing basketball as a family is one of the most amusing experiences you will ever have together. Basketball is a fabulous sport and provides valuable calorie-burning fitness into your daily life. Splitting up teams can be quite entertaining as well. If you want to experience an overload of cuteness, make your two youngest children the team captains. Seeing who they choose as their number one draft pick, mommy or daddy, will give you insight on what they think of your skills.
What Are You Waiting For?
You now have several family exercises you can do with your loved ones. Perhaps you no longer have to have that awkward talk with your kids when they are putting on too many extra pounds. All you have to do is get them out of the house and experiencing new activities. But remember, health and fitness is about 25 percent physical training and 75 percent healthy eating. So don't neglect the proper diet that your family will need to experience the best results possible.
Ryan Crawley
Writer, The Fit Father Project
Ryan is a fitness expert from Illinois with two decades of experience under his belt. Never one to turn down a challenge, he has taken every class any gym has to offer, even the Dance Kickboxing class. If 70s disco dance music starts playing, everybody should run for cover. You have never lived until you have kicked somebody in the head to Dancing Queen.
If you're interested in a proven and completely laid out "done-for-you" weight loss meal plan & workout routine – designed for you as a busy man…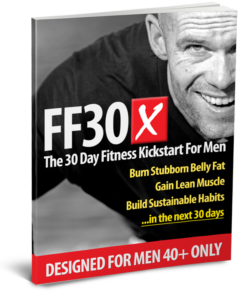 I'd recommend you read the program overview letter for our Fit Father 30-Day Program (FF30X). Inside FF30X, you'll receive:
The simple & delicious Fit Father Meal Plan
The metabolism boosting Fit Father 30X Workout (under 90 min/week)
VIP email coaching where I'll personally walk you through the program
Read the FF30X Program overview letter here to see how our plan can help you lose weight – without the complication & restriction of normal diets.
*Please know that weight loss results & health changes/improvements vary from individual to individual; you may not achieve similar results. Always consult with your doctor before making health decisions. This is not medical advice – simply very well-researched info on getting healthy.