It pays to have a strategy in place to boost motivation when weight loss or muscle gain is your goal. Successes and rewards are subjective, but when you've achieved certain milestones during your healthy lifestyle journey, reward success! It can pay off big time.
Benefits of Rewarding Success
Just like you're probably motivated to boost sales numbers at work or achieve commission-based goals at the office, rewarding yourself for healthy lifestyle choices provides numerous benefits. What better way to help you stay on track than by having a few strategies in place to reward success?
Greater Weight and Fat Loss
Believe it or not, you might actually have better weight and fat loss success by giving yourself some "cheat days," which are days you don't have to abide by your usual healthy eating plan.
One study published in 2018 in the International Journal of Obesity examined effects of having cheat days vs. continuous strict eating (dieting) on obese men ages 25 to 54 years old. Researchers split the men into groups in the following way: group 1 was instructed to reduce calorie intake for 16 weeks continuously, and group 2 alternated lower calorie eating for 2 weeks with 2-week periods of eating regular foods (that is, eating to maintain body weight rather than for weight loss).
Researchers found that over a period of six months, intermittent calorie restriction (alternating 2 weeks of lower-calorie dieting with 2 weeks of regular healthy eating) actually resulted in more weight and fat loss than continuously eating reduce-calorie meal plans with no "cheat days."
This seems counter-intuitive, so you might be wondering why the strategy worked? Researchers think it might be because eating more food causes a boost in metabolism and calories burned throughout the day. The body often responds to calorie restriction with a slower metabolism (conserving energy by burning fewer calories over the course of the day).
Long Term Goal Success
When choosing healthy meal plans for weight loss or weight maintenance dieting, eliminating too many essential food groups and nutrients is difficult to maintain long term. That's because your body requires a good mix of healthy carbs, protein and nutritious fats to function properly and maximize energy levels. Cutting out carbs, for example, often leads to weight loss — but also fatigue and water weight loss. The minute you add carbohydrates back in your diet, weight regain can happen.
Allowing yourself a cheat day (boosting carbs for a day, for example) each week helps ensure you're meeting your body's nutritional needs, and it's easier to follow less restrictive diets long term. While your weight loss rate might be slower initially compared with continuous strict low-calorie eating, your chance at keeping lost weight off long term goes up. A 1- to 2-pound per week weight loss goal is a safe bet, as the Centers for Disease Control and Prevention (CDC) says this rate is most effective for long term healthy weight management.
A More Enjoyable Life
Life is too short to be overly strict about your diet. If having a cheat day (or rewarding yourself for healthy eating in other ways) once per week is a time for you to enjoy life to the max, you should do it! Treat yourself by eating out once per week as your cheat day, or simply indulge in your favorite not-so-healthy vice. But of course you don't have to choose junk food as a way to reward success on a cheat day. Treat yourself to a massage, soak in a hot tub, lay out on the beach, make a new purchase, or go out with friends as a way to unwind, de-stress, and treat yourself for a job well done during the week.
Sample Celebrity Cheat Days
Even celebrities with perfect physiques allow themselves a cheat day as a reward every now and then. While each person chooses cheat-day meals based on individualized preferences, the one thing many fit celebrities have in common is they know the importance of not being overly strict about their diets — and giving into temptation one day a week.
1. Dewayne "The Rock" Johnson
You've probably seen Dewayne "The Rock" Johnson in movie favorites like Hercules, Baywatch, San Andreas, and Jumanji. He's well known for his muscular build and body-builder physique. Johnson is also known for indulging in cheat meal days to change things up from his usual strict healthy eating regimen. You might find "The Rock" splurging on sourdough French toast with maple syrup, oatmeal chocolate chip cookies, or apple pie. He also takes it easy one day a week to rest from his rigorous workout schedule.
2. Hugh Jackman
Hugh Jackman, well-known for his role as Wolverine in the X-Men film series, follows a strict diet most days of the week — but indulges in cheat days once and awhile too. On his day off from strict healthy eating, you might find Jackman devouring large quantities of ribs — or indulging in Tim Tams chocolate biscuits to fulfill junk food cravings.
3. Zac Effron
Zac Effron, well known for his chiseled body and roles in movie flicks Neighbors, Dirty Grandpa, Baywatch, and The Greatest Showman,  also allows himself a cheat day to reward success and take a break from strict dieting. Effron's cheat day meal might consist of steak, mac and cheese, potatoes, cheese, bread and butter, caviar, and a variety of desserts!
4. Alex Rodriquez
Former New York Yankee, Seattle Mariner, and Texas Ranger short stop and third baseman Alex Rodriquez splurges from time to time as well — even when he's at his new UFC gym. While sugar doesn't tempt Rodriquez, he'll still find ways to splurge on salty foods like chips and Cheetos.
5. Chris Hemsworth
Sometimes the least-suspecting celebrities admit to indulging in cheat day meals. Chris Hemsworth, known for starring in roles like Avengers, Star Trek and Thor, confessed to Jimmy Kimmel that he's eaten almost a whole pizza (about 10 slices) during one of this cheat meals — which he indulges in about once time per week. Hemsworth is also known to splurge on beer, hamburgers, and sugary treats from time to time.
6. Chris Pratt
Chris Pratt, known for starring in Jurassic World, Avengers, and Guardians of the Galaxy, knows what it takes to stay in shape for his superhero-type roles — but also knows the importance of rewarding success. Pratt is known to indulge in cheat day sweet treats when he's not chowing down on lean proteins and veggies. He admittedly has an addiction to desserts, such as cream scones with butter and jam.
7. Joe Mangeniello
Famously known for his role in the movie Magic Mike, Joe Mageniello knows what it takes to rock six-pack abs. But even he and his wife (Sophia Vergara) say having a cheat meal once and awhile is a good thing. On Joe's cheat days, which happen to be once a week, you might find him enjoying onion rings, burgers, or cheesy tots.
8. Alexander Skarsgård
Starring in hit movies and shows such as Tarzan, True Blood, Zoolander, Generation Kill, and Big Little Lies, Alexander Skarsgard is an expert on what it takes to stay fit and trim. He no doubt follows a strict eating schedule most days of the week to maintain his shredded physique, but does mix in cheat days. Skarsgard is known to reward success by splurging on pasta and fried mozzarella.
9. John Cena
Despite his chiseled body-builder physique, professional wrestler John Cena gives in to food cravings from time to time. Cena rewards success by loading up on French toast, muffins, pancakes, pies, cookies, ice cream, potato dishes, fried rice and hash browns — which are carb-rich starches he doesn't typically indulge in. Cena's usual diet consists of eating clean, and focusing on protein and vegetables most days of the week.
10. J.J. Watt
Three-time defensive player of the year J.J. Watt schedules in cheat days to keep up with the high demands of his rigorous training regimen, as his energy needs are extremely high. Watt claims he saves most of his cheat days for the end of football season, however. During that time, you might find him splurging on Oreos and other sugary treats.
11. Ryan Reynolds
When Deadpool star Ryan Reynolds caves in on cheat day, you'll probably find him at the nearest pizza joint. Reynolds admits he'd rather eat out than be in the kitchen preparing meals. Splurging on pizza for cheat days doesn't seem to hinder Reynolds from maintaining a seamless physique. And his fit and flawless wife Blake Lively splurges from time to time as well — on burgers!
Don't Overdo It
Having a cheat day one day per week can fit into any healthy eating plan (and is even recommended in some cases), but overdoing it is detrimental to your weight loss or healthy weight maintenance journey. Find ways to battle every day urges, and avoid giving in to too many cravings.
Battle Addictive Foods
Splurging too often is linked with food addictions, which can halt your weight loss journey abruptly. Sugar and high-fat foods are main culprits when it comes to being addicted to high-calorie foods. A study published in 2017 in the British Journal of Sports Medicine found that sugar produces symptoms (such as intense cravings, brain chemistry changes, behavior changes, dependency, and symptoms of withdrawal) of addiction similar to drug addictions. So if you're somebody who can't have just one cookie (or eat sweet treats just one day a week) avoiding junk food entirely may be a better strategy.
When you're feeling the urge to splurge on sugar and it's not your cheat day, try going for a walk instead. A study published in 2015 in Plus One found that exercise reduces urges for chocolate and other sugar snacks in people with healthy weights — and in overweight adults. Study subjects simply briskly walked for 15 minutes when they felt sugar cravings coming on, and found that exercise significantly reduced urges — especially in response to stressful situations.
Set Daily Goals
Many fit celebrities who indulge in not-so-healthy foods on cheat days reward success by splurging one time each week. But how often you choose food or other rewards is really up to you. Setting goals is an excellent way to keep you accountable, and set up your goal schedule. This strategy makes it easier to stick with healthy eating plans long term.
A 2016 study published in the Journal of Human Nutrition and Dietetics found that weight loss was greater (at the end of a 12 month period) for study subjects who set goals. Researchers who conducted the study say people who set four goals (or more) achieved the most weight loss. Goal setting helps you help you determine when reward are in order. Meeting weekly goals might mean a cheat day for you at the end of the week — but avoid rewarding yourself when goals aren't met.
Tracking daily and weekly accomplishments is an excellent way to determine if you've met target goals. In fact, keeping a food journal means you're twice as likely to shed pounds. You can also keep journals for daily exercise, calories burned, sleeping patterns (aim for at least seven hours each night), and moods during meals. You'll likely start to notice specific patterns in your daily routine.
Choose Non-Food Rewards Too
Rewarding success in other ways (besides junk food cheat days) is just as important as indulging in your favorite foods. That way you can reward success more than just once a week, without worrying about weight gain associated with sweet treats and other high-calorie foods.
The non-food rewards you should pick can be based on your interests and lifestyle. Pick something relaxing like a walk on the beach, a nap, a massage, a movie, vacation, or a new purchase (if it's within your budget).
Play it Safe
Be cautious when rewarding success with food so you don't overdo it. Having one cheat day each week shouldn't affect your overall results. But if you're struggling with an added sugar (or other junk food) addiction, non-food rewards may be your best bet. Remember, if you fall off the wagon for awhile it's okay! Many healthy dieters (even celebrities) have had failed attempts before they established regular routines.
Erin Coleman
Writer, The Fit Father Project
A 15-year freelance writing veteran, Erin is registered dietitian and health educator who is passionate about health, fitness and disease prevention. Her published work appears on hundreds of health and fitness websites, and she's working on publishing her first book! Erin is a wife and mom of two beautiful children.
If you're interested in a proven and completely laid out "done-for-you" weight loss meal plan & workout routine – designed for you as a busy man…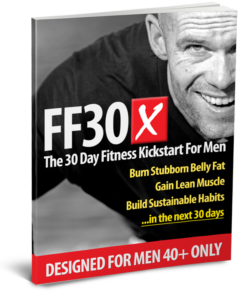 I'd recommend you read the program overview letter for our Fit Father 30-Day Program (FF30X). Inside FF30X, you'll receive:
The simple & delicious way to stick to a diet
The metabolism boosting Fit Father 30X Workout (under 90 min/week)
VIP email coaching where I'll personally walk you through the program
Read the FF30X Program overview letter here to see how our plan can help you lose weight – without the complication & restriction of normal diets.
*Please know that weight loss results & health changes/improvements vary from individual to individual; you may not achieve similar results. Always consult with your doctor before making health decisions. This is not medical advice – simply very well-researched info on rewarding success.