There are many different types of exercise. Are you looking to get back into regular exercise, but don't know where to start?
As a man over 40, how do you know which exercises are right for you?
Don't be intimidated by guys throwing around weights at the gym or magazines filled with bodybuilders who seem to do nothing but workout.
Getting into great shape and back into the exercise scene doesn't have to mean spending hours on a treadmill or lifting hundreds of pounds.
There are a number of ways to improve your health and fitness with exercises suited specifically to your own goals.
Read on for the 4 best types of exercise for men over 40!
Here's A Free 24-Min Fat Burn Workout For Busy Men 40+
This powerful workout will reignite your metabolism to burn fat 24/7 like you did in your 20s…
The 4 Best Types of Exercises for Men Over 40
1. Cardio Workouts
A lot of times when guys think of cardio, they think that plodding along for hours on a treadmill is the only way to lose weight and get into shape.
Doing mindless cardio without any set goals will never produce the fitness results you're looking for.
There are so many fun cardio exercises out there that will actually make you want to workout.
Many gyms offer fun and challenging workouts, like high-intensity interval circuits, boot camp workouts, or even spin classes.
The change in exercises and intensities throughout these programs keep you motivated throughout the entire workout.
Swimming is another great form of cardio that guys sometimes forget about. Lap swimming and water aerobics are awesome ways to build both strength and endurance without putting a pounding on your joints.
In fact, regular swimming can reduce joint pain and stiffness associated with arthritis and improve muscle strength in middle-aged and older adults.
Online exercises and workout apps are also garnering a lot of attention these days.
You can download some killer programs right to your computer or phone and workout from the comfort of your home.
As the COVID pandemic continues and with many gyms closed, this can be a great way to jump-start your fitness without leaving your house.
Watch this video to learn how to do HIIT and LISS cardio at home!
2. Resistance Exercises
Resistance exercises actually encompass a lot of different strength workouts.
Many guys think of doing workouts with heavy weights as the only way to pack on muscle.
There are so many other resistance exercises that will give you awesome strength gains without increasing your risk of injury.
That's not to say weight training isn't important. But you don't have to bench press 300 pounds at the gym to build muscle.
Working out with weights includes free weights, dumbbells, kettlebells, and machine workouts as well.
You can tailor your workout to your goals and also your current fitness level.
You also don't have to use weights to build muscle with resistance work.
Resistance bands and bodyweight workouts can be incorporated into your fitness routine.
Instead of risking a low back injury with barbell squats, you can instead do bodyweight jump squats to get a workout out of similar leg muscles.
Or do push-ups instead of bench press to strengthen your pecs.
These are just a few examples of how you can adjust your workouts based on your fitness level and what equipment you have available.
Other types of exercise that are gaining in popularity are TRX band workouts.
TRX bands are suspension bands that use your bodyweight and gravity to get you killer full-body workouts.
These exercises can be done just about anywhere where you can hang these bands. And you can modify the moves to match your abilities!
So you don't need to lift a huge amount of weight to gain muscle and get in great shape. Resistance workouts can be tailored to your individual goals and level of fitness to still see great gains.
Here's a great resistance band workout that you can do at home in less than 15 minutes!
3. Balance and Flexibility Workouts
Guys often forget about working on balance and flexibility, but these types of workouts become increasingly important as you age.
Stretching and balance exercises are just as important to maintain healthy muscles and connective tissue and reduce your risk for injuries.
Some guys think that workouts like yoga or Pilates aren't "guy" exercises.
However, these types of workouts are necessary to improve flexibility, range of motion, and coordination.
This, in turn, will improve all of your other resistance and endurance workouts. And these workouts will improve your strength and endurance as well.
A Journal of Strength and Conditioning Research study found that participants in a Pilates class were able to improve their muscular endurance and flexibility using relatively low-intensity Pilates exercises.
If it's good enough for Tibetan monks, it's good enough for you! Check out the 5 Tibetan Rites yoga routine to increase your youth and vitality!
4. Outdoor Activities
A lot of the activities that you do on a daily basis actually hit on all of the types of exercise mentioned above.
Most people equate "exercise" with going to the gym, but that doesn't have to be the case.
Workouts don't always have to be high intensity to get great fitness results.
Even daily light cardio is great for your physical and mental health.
Daily walks around the block or bike rides with your kids are other excellent ways to stay in shape and spend time with your family.
You can also add variety to your exercises and try out some new activities.
Find some cool trails in your area to take your family for a challenging hiking trip.
You will be building lower body and core strength, improved balance, and enhanced cardiovascular fitness all while enjoying the beautiful outdoors.
Water activities other than swimming provide a great boost in fitness as well.
For example, stand up paddleboarding is an activity that has been gaining in popularity for both fun and improved strength and endurance.
A 2016 study found that participants in stand up paddleboarding had improved aerobic and anaerobic fitness, along with increased core strength.
These individuals also reported an increase in quality of life, reiterating the fact that exercise goes beyond just physical fitness, but also mental fitness as well.
Plus, most people forget how activities you do around the house on a daily basis can give you a great workout.
Activities like mowing the lawn and gardening during the summer, or shoveling snow in the winter, will get your heart pumping while also giving you a great full-body strength workout!
This video will show you 10 exercises you can do in your backyard by yourself or with your family!
Get Active!
If you are ready to get in great shape and take control of your health, there are numerous ways to incorporate these types of exercise into your life.
Going to a gym and doing formal workouts is only one of these many options!
At home online classes, bodyweight exercises, and TRX band workouts are a few ways to build strength and get defined muscles without having to throw around heavy weights.
Daily walks, weekend hikes, or paddleboarding with the family are great cardio options that allow you to enjoy the outdoors while improving your heart health.
Every guy is different and will have their own set of fitness goals.
Adding regular physical activity on a daily basis is one of the best ways to get your health into gear and continue to be a Fit Father, even after 40!
Want to know the best way to become a Fit Father? Get the proven system that's helped over 22,000 busy men lose weight, actually keep it off, build age-defying muscle, and get healthy for both themselves and their families.
Here's How Busy Guys 40+ Are Finally Losing Weight…
If you're in your 40s, 50s, & 60s, you need to eat and exercise differently to lose weight & actually keep it off…
Here's How Busy Guys 40+ Are Building Age-Defying Muscle And Strength… Working Out Just 3 Hours Per Week
This proven "Old School Muscle Program For Guys 40+" combines the "old school" bodybuilding secrets with the "new school" science… to produce muscle & strength building results fast.
Only for guys 40+ who want to build muscle.
If you're frustrated with stubborn belly fat, failed diets, and time-consuming workouts, this is the answer you've been looking for…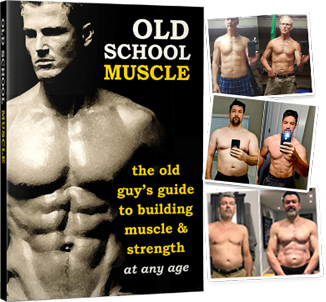 Old School Muscle (OSM) covers every aspect of building muscle for you as a guy 40+:
Old School Muscle (OSM) covers every aspect of building muscle for you as a guy 40+:
The 9-Week Muscle Building Program – safe, joint-friendly exercises
VIP Accountability Coaching – our Fit Father Team will personally walk you to success, step-by-step.
See the Old School Muscle (OSM) Program overview here. You'll discover how this proven program has helped thousands of guys 40+ pack onage-defying muscle and strength – the smart & sustainable way. »
*Please know that weight loss results & health changes/improvements vary from individual to individual; you may not achieve similar results. Always consult with your doctor before making health decisions. This is not medical advice – simply very well-researched info on types of exercise.